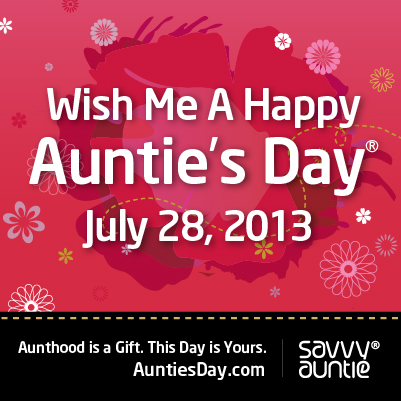 Melanie Notkin, founder of Savvy Auntie, the multi-platform lifestyle brand designed for cool aunt, great-aunts, godmothers and all women who love kids and and national bestselling author of SAVVY AUNTIE: The Ultimate Guide for Cool Aunts, Great-Aunts, Godmothers and All Women Who Love Kids (Morrow 2011) announces the date for the fifth annual national day dedicated to honoring and celebrating aunts and godmothers. Auntie's Day will take place on Sunday, July 28, 2013. Sponsored by Savvy Auntie, Auntie's Day, is a time to thank, honor and celebrate the aunt in a child's life, whether she is an Auntie by Relation (ABR), Auntie by Choice (ABC), or godmother, for everything she does for a child not-her-own. While all aunts are celebrated on this day, the day is especially poignant to one in five American women who identify as PANKs®, or Professional Aunts No Kids. PANKs self-identify as childless or childfree and have a bond with at least one child by relation or by friendship. A study entitled The Power of the PANK released in November 2012 by Savvy Auntie and Weber Shandwick, a global PR firm, with KRC Research, revealed that childless aunts are a sizeable segment of younger women with disposable income, dynamic influence, and a digitally-connected lifestyle who are extraordinarily generous with the children in their lives, those children's parents, and our communities at large. 23 million American women are PANKs and are found to collectively spend $9 billion on gifts for children not-their-own each year. On Auntie's Day – a 'Mother's Day' for aunts - aunts and godmothers will be celebrated with special activities and gifts. The official Auntie's Day web destination (www.AuntiesDay.com) will feature ideas on how parents and nieces and nephews can celebrate the Savvy Auntie in their lives and how aunts can pamper and treat themselves on their special day. "It's time that all women in the American Family Village are honored for their selfless giving to the children in their lives," says Notkin. "An aunt is there to provide 'QualAuntie Time' and experiences as a loving caregiver and "ConfidAunt" to her nieces and nephews from the day they are born and as they grow up. Many women without children of their own also give tirelessly to children all over the world. These BenevolAunts are due their day to be honored."
In 1992 the U.S. Congress passed a law designating July 28 as Buffalo Soldiers Day in the United States. This day commemorates the formation on that date in 1866 of the first regular Army regiments comprising African-American soldiers. African-American soldiers fought for the Union during the Civil War. But it was not until after the war that permanent all-black regiments were established, maintaining the U.S. armed forces policy of segregation. The African-American regiments were deployed in the southwest and in the plains states to serve U.S. interests against Native American tribes, to protect important shipments, and to construct roads and trails. A longstanding debate ranges around the origin of the term "Buffalo Soldier," with some maintaining that the nickname reflected the toughness of the soldiers and others claiming that it was a disparaging racial term used by Native Americans to describe the dark-skinned soldiers they met in battle. The segregated regiments served in the Spanish-American War, World War II, and other conflicts, before being disbanded during the 1940s and 1950s as the U.S. armed forces embraced integration. Since 1992, Buffalo Soldier Commemorations have been held throughout the country and typically include reenactments, museum displays, educational forums, prayer services, and dedication or groundbreaking ceremonies for sculptural or other permanent memorials. A monument to the Buffalo Soldiers was dedicated at Fort Leavenworth, Kans., on the first Buffalo Soldiers Day in 1992 by General Colin Powell, who had originated the idea of a memorial to the black soldiers when he was stationed at the fort. Ceremonies and reenactments honoring the Buffalo Soldiers are not limited to July 28, however. Communities throughout the United States present special programs designed to educate audiences about the history of the Buffalo Soldiers throughout the year, particularly during Black History Month in February and on such patriotic holidays as Memorial Day and Veterans Day, with displays of memorabilia and speeches recounting the accomplishments of the troops.
National Milk Chocolate Day
Chocoholics unite—it's National Milk Chocolate Day! How is milk chocolate different from other chocolates? It's a mix of cocoa solid and either dry or condensed milk. While dark chocolate is traditionally used as a baking ingredient, this sweet treat is used to make chocolate candy bars, hot chocolate, and many delicious desserts. Did you know that chocolate actually has mood-enhancing benefits? That's right—chocolate can make you happy! This is due to the fact that it contains a stimulant called theobromine and a compound called anandamide. Now that's a reason to celebrate! Today, enjoy milk chocolate your favorite way. Happy Milk Chocolate Day!
Many Americans are unaware that our nation has a new day of commemoration called Parents' Day. This is good news for America's parents and families. In 1994 President Bill Clinton signed into law the resolution unanimously adopted by the U. S. Congress establishing the fourth Sunday of every July as Parents' Day, a perennial day of commemoration similar to Mother's Day and Father's Day. According to the Congressional Resolution, Parents' Day is established for "recognizing, uplifting, and supporting the role of parents in the rearing of children." The establishment of Parents' Day was the result of a bipartisan, multiracial and interfaith coalition of religious, civic and elected leaders who recognized the need to promote responsible parenting in our society and to uplift ideal parental role models, especially for our nation's children. Since the creation of this annual day of commemoration, local faith communities, elected officials and activists throughout the nation have creatively launched many activities around the theme of Parents' Day designed to celebrate and strengthen the traditional, two-parent family. The National Parents' Day Council does not envision Parents' Day to be yet "another" day to honor parents, but rather a day when parents honor their children and the God-centered family ideal by rededicating themselves to manifest the highest standard of unconditional true love.
This year on the 28th July we will be celebrating our 6th World Hepatitis Day, working in partnership with the World Health Organization (WHO). This year we are focusing on two main themes: 1. This is hepatitis. Know it. Confront it.: This theme has seen big success since its launch in 2010, as it focuses on the real-life impact of viral hepatitis. This year we are sure it will be just as popular! 2. See No Evil, Hear No Evil, Speak No Evil: The message from this theme is that hepatitis is being ignored around the world, and we are calling for that to change. The proverb is widely recognized, and we have two great events to generate interest around it. We would love you to get involved and help us celebrate World Hepatitis Day.