National Banana Split Day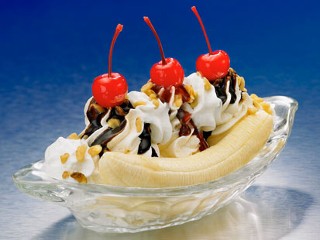 Ready, set, split! August 10th is Banana Split Day. Ice cream lovers rejoice on August 10th, assembling their own versions of the classic sundae favorite. How do you make a banana split? It's easy. Simply slice a banana (lengthwise), and place it in a dish or bowl. Add a few scoops of your favorite ice cream. Top with hot fudge, chocolate, caramel, strawberry or another delicious ice cream syrup (or any combination of these). Spray or spoon whipped cream on the top, and sprinkle the entire creation with colored sparkles, chocolate bits or nuts. Forget the calories, and enjoy. It's Banana Split Day on August 10th - which makes indulgence pretty much a patriotic duty.
Chemistry Set Volcano Day
Did you ever construct a volcano for a school science lesson? August 10th is Chemistry Set Volcano Day. Beat summer vacation boredom with a bunch of youngsters by creating your own volcano. Here are several online articles that offer instructions for making volcanoes at home. (CTRL-click on each title to open that article in a new internet window.) "Activity for Kids: Bubbling Volcano," by Darlene Michaud; "Building a Homemade Erupting Volcano Science Project," by Rodney Southern; "Homeschool Science Lessons: Volcanoes," by Brandy Madison; "Science Experiment for the Homeschool Family: Erupting Volcano," by Angie Shiflett "Smithsonian Science Sets: Giant Volcano," by B.A. Rogers; "Volcano Science Project: How to Make Your Own," by LouLou. Children (and adults) may be amazed what a bit of baking soda can do. Why not make your own volcano on August 10th?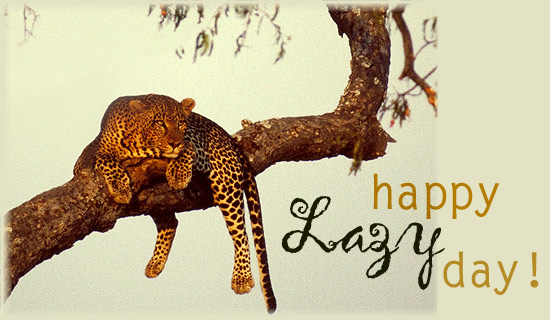 The lazy days of summer are here, and August 10th has been tagged as Lazy Day. In 1963, Nat King Cole climbed to the top of the popular music charts with his hit single, "Those Lazy-Hazy-Crazy Days of Summer." Arranged by Ralph Carmichael, the tune extolled summer fun. Here's the chorus of "Those Lazy-Hazy-Crazy Days of Summer," which seems particularly appropriate on Lazy Day, August 10th. Roll out those lazy, hazy, crazy days of summer, Those days of soda and pretzels and beer. Roll out those lazy, hazy, crazy days of summer. You'll wish that summer could always be here. Perhaps ironically, August 10th is also St. Lawrence Day, lauding the patron saint of brewers and beer makers.
Achoo! Gesundheit. (God bless you.) August 10th is also Ragweed Day, a sternutative (sneezing) holiday for allergy sufferers. Check the pollen counts, and pass the decongestant. Ragweed Day is nothing to sneeze at - unless, of course, you have run out of antihistamine.
Campfires are calling on August 10th. It's S'Mores Day, and everyone wants some more of these popular campfire treats. What's in a s'more? Ask any Girl Scout or Boy Scout. A s'more includes two graham cracker squares, enclosing a square of chocolate and a melted marshmallow. Celebrating S'mores Day, folks will fire up the grill, or gather around a campfire to roast a few marshmallows and make s'mores on August 10th.
National Spoil Your Dog Day
The hottest, most humid summer days are known as the Dog Days of Summer. During this season, the Dog Star (Sirius) is said to be closer to the sun than at any other time of year. Pampering overheated pooches, August 10th is Spoil Your Dog Day. Pet lovers may cater to their cherished canines in many ways: bathing and grooming their dogs, taking their dogs for shady strolls and perhaps offering tasty treats as well. How will you pamper your pet on Spoil Your Dog Day?
National Duran Duran Appreciation Day
English rock band Duran Duran formed in 1978, just one year before the oldest founding member of The Year of Living Unofficially was born. The group quickly became one of the hottest bands of the 80′s, with multiple top hits in the UK and the U.S., and over 100 million records sold. With their interest in fashion and their signature innovative music videos, the band earned itself a cutting-edge image while being nicknamed "the prettiest boys in rock." Original members included Nick Rhodes, John Taylor and Stephen Duffy, and though the lineup had changed over the years, Duran Duran still tours today, with originals Rhodes and Taylor, and added members Simon Le Bon and Roger Taylor. One source claims that National Duran Duran Appreciation Day is celebrated on August 10th because, on that date in 1985, lead singer Simon Le Bon survived a near fatal accident when his yacht capsized during a 608 mile race. The band acknowledges National Duran Duran Appreciation Day on their official website and thanks Durran Durran fans for their continued support. Last year the group offered a "snippet" of one of the songs from the album they released the following Spring; this year the band is offering a free download of Other People's Lives from the single off their new album All You Need Is Now. Everyone knows Duran Duran right? Until today I would have answered that question with a simple, "Yes!" But thanks to the wonderful Spotify I discovered that Duran Duran has way more ! The past few days have been pretty busy at work and today was no exception. I made the best of things though and took full advantage of the opportunity to listen to some Duran Duran tracks to help the day go by. These guys can really rock! While their sound is definitely identifiable as being from the 80′s they also have a sound that is in a sense timeless. It's no wonder that the best band of all time (in my opinion), Incubus, covered probably the most famous Duran Duran song Hungry Like the Wolf. After today I am seriously considering the addition of more Duran Duran to my daily playlist. Not only do they deserve their own day because of Simon Le Bon's close call but for their musical achievements as well.
You've almost finished sifting through those long-abandoned knickknacks — er, treasures — in the basement, right? Are the signs all ready to go? How about the price tags? Surely, you haven't forgotten that National Garage Sale Day is less than two weeks away. Yep, on Aug. 10 — National Garage Sale Day is always the second Saturday in August — we celebrate the coming together of those with belongings they no longer want and those with a want for belongings they don't have. Make no mistake: Garage sales are big business — even if the average selling price of goods at such events is a mere 85 cents. Take 85 cents here and 85 cents there, and, pretty soon, you have $4,222,375. That's the total revenue that U.S. garage sales generate each week, according to the website StatisticBrain.com. "Running a yard sale is not rocket science," J.D. Roth notes on his tip-filled website GetRichSlowly.org. "But if you put a little effort into creating an environment where it is pleasant to browse and easy to find treasures, you'll make a lot more money." Preparation is critical, Roth maintains. And being prepared, he adds, means a whole lot more than simply making sure the merchandise is neatly arranged and the cash box is filled with coins and small-denomination bills. (No one, after all, wants to lose a sale just because of an inability to break a $5 bill.) Roth suggests that proper preparation starts with figuring out why the sale is being held in the first place. "Are you selling things to make money or to get rid of them? This question affects everything you do, from how you price things to how willing you are to negotiate. Surprisingly, you can often make more money (and get rid of more junk) by pricing things low." No. 2 on Roth's recommended to-do list: advertise. Ads should be placed in local newspapers and on websites five or six days before the sale. Neighborhood signs should be eye-catching, simple and, above all, readable. "It's best to use big, bold text like 'HUGE SALE' with an arrow pointing the right direction Consumer Reports offers these tips: • Schedule your garage sale to coincide with a local event that's likely to generate extra traffic near your home. • Place the items with the broadest appeal close to the street to grab attention and lure potential buyers up the driveway. • Sort clothing into categories — by gender, season and age group, for example — and display those items, if possible, on hangers. • Keep a mirror handy if you're selling accessories. • Place fresh batteries in items that require them and keep a power source handy so shoppers can try out electronics and other plug-in appliances. Finally, don't forget what follows National Garage Sale Day by just six days: National Thrift Shop Day.
In 1826, British scientist James Smithson drew up his last will and testament, naming his nephew as beneficiary. Smithson left his estate to his nephew and that young man's future children, stipulating that if his nephew died without heirs—legitimate or illegitimate—(as he would in 1835), his estate was to go to the United States "to found at Washington, under the name of the Smithsonian Institution, an establishment for the increase and diffusion of knowledge among men." Smithson died in 1829, at approximately 64 years old while living in Genoa, Italy. His will was printed in the Times of London, and the exceptional potential windfall for the United States caught the eye of an American editor and was reprinted in The New York American. Hungerford, Smithson's nephew and heir, was only in his early 20s, and it seemed unlikely that this clause would ever go into effect. Six years later, June 5, 1835, Hungerford died of unknown causes in Pisa, Italy, leaving no heirs. The United States government was soon notified of this extraordinary bequest, and President Andrew Jackson announced the bequest to Congress, which accepted the legacy bequeathed to the nation and pledged the faith of the United States to the charitable trust July 1, 1836. The estate was awarded to the United States May 9, 1838. In September 1838, Smithson's legacy, which amounted to more than 100,000 gold sovereigns, was delivered to the mint at Philadelphia. Recoined in U.S. currency, the gift amounted to more than $500,000. For the next eight years, Congress debated what to do with the estate. Finally President James K. Polk signed the legislation Aug. 10, 1846, that established the Smithsonian Institution as a trust to be administered by a Board of Regents and a Secretary of the Smithsonian. Since its founding more than 164 years ago, the Smithsonian has become the world's largest museum and research complex, with 19 museums, the National Zoo and nine research facilities. In 1865, only a decade after the completion of the Smithsonian's first building, the "Castle," the building's top floor was destroyed in a terrible fire; among the losses were Smithson's diaries and papers, his mineral collection and other personal possessions. His library, which was stored in a different part of the building, survived. In later years, the Institution acquired Smithson's remains as well as ephemera related to its founder. In 1903, the cemetery in Genoa, Italy, where Smithson was buried was displaced by the enlargement of a quarry. Alexander Graham Bell, a member of the Board of Regents at the time, personally escorted Smithson's remains from Italy. His remains were reinterred in the Castle. The motive behind Smithson's bequest, which has had such a significant impact on the arts, humanities and sciences in the United States, remains a mystery. He never traveled to the United States and seems to have had no correspondence with anyone in the country. Some have suggested that his bequest was motivated, in part, by revenge against the rigidities of British society, which had denied Smithson, who was illegitimate, the right to use his father's name. Others have suggested it reflected his interest in the Enlightenment ideals of democracy and universal education.
International Biodiesel Day
Every year 10th day of August is celebrated as International Biodiesel day. During the 1850s two scientists named as E. Duffy and J. Patrick had designed the first diesel engine. After that another renowned scientist named as Rudolf Diesel built a prime model of diesel engine with a 10 feet iron cylinder and flywheel at its base. This model was powered for the first time on August 10, 1893 in Augsburg, Germany. Thereafter this day is celebrated as International biodiesel day. Many people believe that Diesel had designed this engine in such a manner that it can run on peanut oil. However, fact is that model designed by diesel could not run on peanut oil. It has been reported that Daniel once said "the use of vegetable oils for engine fuels may seem insignificant today but such oils may become, in the course of time, as important as petroleum and the coal-tar products of the present time". Vegetable Oil and Animal fat Although, petroleum based fuels were widely used during those days, the demand for vegetable oil or animal fats based diesel oils were really high. Records have shown that during the 1920s and 1930s countries like Italy, France, United Kingdom, Portugal, Germany, Argentina, Japan, Brazil and China had tested and used animal fat or vegetable oil based diesel oils which is presently known as biodiesel. However, due to some scientific reasons those oils were no longer used. Also, these oils were poorly efficient as compared to normal petroleum based diesel oils. Thus as a tribute to our environment every year this day many NGOs and local organizations around the world conduct various activities that are beneficial for the environment.