Blame Someone Else Day
"I didn't do it. It wasn't me."
That's the catch phrase for Blame Someone Else Day on August 13th? Do you have an alibi? How about a scapegoat?
Apparently, no one has owned up to the origin of this proverbial buck-passing holiday. Still, folks will shift blame from sunup to sundown on August 13th - it's Blame Someone Else Day.
Blame Someone Else Day may occur on August 13th or on the first Friday the 13th of any given calendar year. Since everyone seems to deny responsibility for this inauspicious occasion, the holiday may take place, as needed.
Eyeglasses Day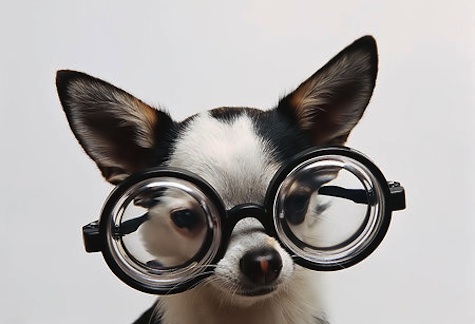 "Hey, four eyes, where did you get those eyeglasses?"
August 13th is Eyeglasses Day. From prescription eyewear to simple readers, bifocals to blinkers, progressive lenses to pince-nez pairs, folks don glasses for better vision on this date.
Although the actual data is difficult to document, many optometric historians attest that the first eyeglasses were created on August 13, 1285 (or possibly 1287). Actually, drawings of hand-held eyeglasses have been found in ancient hieroglyphics as well.
Whatever the origins, eyeglasses are celebrated on August 13th, a dandy day to make a spectacle.
Filet Mignon Day
Do you love steak? Can you tell the difference between a Porterhouse and a T-bone? August 13th is Filet Mignon Day, an epicurean holiday celebrating fine steakhouse cuisine.
Beefeaters, take your marks. It's Filet Mignon Day on August 13th? Fire up the grill, or pick up a menu. How do you like your steak cooked?
International Left-Handers Day
Southpaws, rejoice. August 13th is International Left-Handers Day, created by the Left-Handers Club.
The Left-Handers Club, a society of southpaws, was formed on August 13, 1992, in the United Kingdom. Each year, on August 13th, lefty events are held throughout the U.K. (and several other spots) to celebrate left-handers and the challenges they face in a right-handed world. Left-handed tea parties, left-handed sporting activities, left-handed pub games and other left-handed events are offered.
Did you know that right-handed people tend to function most prevalently from the left side of their brains, while right-handed people rely much more fully on the right side of their brains? Considering this fun fact, which sort of person is most likely to be in his or her right mind most of the time?
Perhaps ironically, on August 13, 1963, left-handed pitcher Warren Spahn set a record for strikeouts by a southpaw pitcher. The Milwaukee Braves star pitched his 2,382nd strike out on this date. By the end of his 21-season Major League Baseball career, lefty pitcher Warren Spahn had accrued 2,583 strikeouts.
Incidentally, the official mascot of the Chicago White Sox baseball team is named Southpaw
Skinny Dipping Day
Swimmers may skip the skivvies on August 13th - it's Skinny Dipping Day. Folks may opt for birthday suits, rather than bathing suits, for recreational swimming, particularly by moonlight.
If you hear a splash in the nigh on August 13th, it just might be a skinny dipper or two. Overnight camp counselors may avert their eyes, as cabins empty after dark, with campers sneaking out for a quick dip.
Skinny dippers better beware, though. The second week of August is National Recreational Scuba Diving Week in the United States, so you never know who might be lurking (and looking) underwater. Best look before you leap.
National Trail Mix Day
Happy trails! August 13th is Trail Mix Day. What do you like in your trail mix? Do you enjoy dried fruits (such as apricots, dates or raisins), grains, granola, nuts or even candy bits in trail mix? Call it gorp, scroggin or a healthy snack.
Toss a handful of your favorite trail mix in a bag, and set out for a scenic hike. It's Trail Mix Day on August 13th.