Bratwurst Day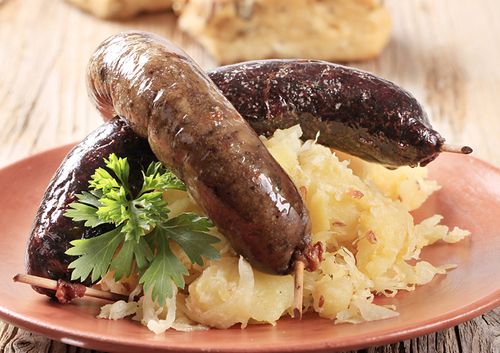 Today is Bratwurst Day! Bratwurst is a heavily spiced sausage, usually enjoyed on a roll with mustard or by itself with a side of sauerkraut. The term "bratwurst" is a compound of two German words—"braten," which means "to fry" and "wurst," which means "sausage."
Bratwursts originated in Germany and have been around since the 14th century. These sausages are generally made from pork, veal, or beef. Truly dedicated fans can attend the annual Bucyrus Bratwurst Festival in Ohio to celebrate this historical dish.
Today, grab a "brat" in honor of Bratwurst Day. Don't forget to wash it down with some beer!
Elvis Has Left the Building Day
Despite rumors to the contrary, Elvis Presley died on August 16, 1977. The popular performer, known as the "King of Rock and Roll," allegedly passed away from complications of multiple health problems (colonitis, glaucoma, heart disease, high blood pressure, liver damage and more).
For decades after his death, Elvis Presley's fans claimed to have spotted the pop star in public places. Rumors circulated that perhaps the King of Rock and Roll's ghost still lingered at his Memphis Graceland estate.
Still, every year on August 16th, Elvis Presley's fans mourn his death once again.
"Don't Be Cruel" or get "All Shook Up" with "A Big Hunk o' Love" and go "Cryin' in the Chapel." Elvis has been "Returned to Sender," but his musical legacy lives on.
International Tell-a-Joke Day
August 16th is International Tell-a-Joke Day, a comical occasion honoring a historic jokester.
Josias (Joe) Miller, a 17th century British comedian and actor, died on August 16, 1738. Joe Miller was the author of nearly 1,500 jokes, many of which were published in a classic humor volume known as Joe Miller's Jests (and later renamed Joe Miller's Joke Book.)
Some of Joe Miller's jokes were considered a bit risqué for his time. Here is an example.
""A famous teacher of Arithmetick [sic], who had long been married without being able to get his Wife with Child. One said to her 'Madam, your Husband is an excellent Arithmetician'. 'Yes, replies she, only he can't multiply.'"
A Joe Miller-esque joke usually relies upon puns, often eliciting groans among listeners. This Joe Miller quip is a prime example:
"A certain Author was telling Dr. Sewel, that a Passage he found fault with in his Poem, might be justify'd, and that he thought it a Metaphor; it is such a one, said the Doctor, as truly I never Met-a-fore."
On August 16th - International Tell-a-Joke Day, celebrants regale one another with trite tales and tired jokes, recalling the memory of 17th century Joe Miller the jokester.
National Rum Day
August 16th is National Rum Day. We don't know why and we don't really care, we'll take any excuse to enjoy one of our favorite liquors. We love rum so much that Zane Lamprey is even creating his own called Monkey Rum. All you need to know about rum is that it is produced from sugarcane, was first distilled in the Caribbean, known as a tropical drink but used in plenty of famous cocktails, and is popular among sailors and pirates.
History of Rum
Rum was discovered in the early 1600s on the sugarcane plantations of the Caribbean islands. Very soon it gathered popularity and became a huge hit among the pirates. The American colonials and the Navy men made it their signature drink. The first distillery to brew rum was set up on Staten Island in 1664. Modern day rum is made by distilling molasses and sugarcane byproducts. Rum is classified as a strong alcoholic beverage. But enough about history, let's get to the drinking.
How to celebrate
Rum is one of the most enjoyable of spirits. The day is best celebrated by inviting your friends over and making a rum punch. Enjoy it just as it is or mix it in a cocktail to get variety. A number of cocktail recipes likes Raspberry Schnapps, Pina colada and Malibu (coconut rum) are popular and can be given a try. Also your favorite local bar might serve special rum punches on this day. Just check it out.
National Airborne Day
Sixty-one years ago, 48 brave volunteer members of the U.S. Army Parachute Test Platoon pioneered a new method of warfare. Their successful jump led to the creation of a mighty force of more than 100,000 paratroopers. Members of this force were assigned to the legendary 11th, 13th, 17th, 82d and 101st Airborne Divisions and numerous other units that fought in every theater during World War II.
The soldiers of the Parachute Test Platoon also forged a unique warrior spirit, a relentless passion for victory, and a reputation that still strikes fear in potential adversaries. Beginning with the first combat jump by the men of the 2d Battalion, 503d Parachute Infantry Regiment, over North Africa in November 1942, airborne and special operations soldiers have made a total of 93 combat jumps. Since World War II, paratroopers have continually distinguished themselves in battle, earning 69 Congressional Medals of Honor and hundreds of other awards for valor.
Today, as we celebrate the anniversary of the first official Army parachute jump, I join all Americans in recognizing these heroes. We salute our Nation's sky troopers, both past and present, for their great service and personal sacrifice in the defense of freedom and liberty around the world.
Best wishes to all for a memorable observance.
National Men's Grooming Day
The third Friday of August is designated as National Men's Grooming Day. Today's holiday was founded and is sponsored by American Crew. Since the inception of this holiday in 2007 participating salons and barbershops throughout the country have held special events in hopes to encourage men to buy and use grooming products, and proactively maintain their appearance.
When it comes to grooming, I've typically been one of the lazier men I know. Up until recently I preferred my hair to be longer. I won't even get started on how much I despise shaving. While in college I once made a bet with someone that I knew I would lose because if I lost I couldn't shave for four months. A few years later I think I made a similar bet/promise and didn't shave for three months. Over the past year things have slowly changed. I've started to get my hair cut a little shorter when it comes time for a haircut, and more recently I have started to shave on a more regular basis.
Bennington Battle Day (Vermont)
Bennington Battle Day is a state holiday unique to Vermont which commemorates the American victory at the Battle of Bennington (which actually took place in New York) during the American Revolutionary War in 1777. The holiday's date is fixed, and occurs on August 16 every year.
In Bennington, there is a battle re-enactment put on by the local history foundation.
The Battle of Bennington is named as such, because the battle was over weapons and munitions stored where the Bennington Battle monument now stands. This site is located in, what is now referred to as, Old Bennington, Vermont.
National Roller Coaster Day
Many people don't realize it, but August 16th is National Roller Coaster Day. It has been ever since the early 1980′s. It's supposed to be a day of fun to celebrate the King of the Thrill Rides, the roller coaster.
From what I've read online, many people claim that August 16, 1898 was chosen as National Roller Coaster Day because it was the day that the roller coaster was first patented. However, my research shows that LaMarcus Thompson was granted the first roller coaster patent in January 1884 for his Switchback Railway at Coney Island, NY. Riders would sit in a coaster car at the top of a wooden structure, then roll straight down a 600 foot, hilly track to the bottom. An elevator mechanism would raise their car up to an identical track, but heading back the opposite direction. After rolling down the second hill, another elevator would raise them back up to where they had started. It cost 5¢ to ride and went all of 6MPH. My, oh my, how times have changed.
The patent for the vertical loop on a roller coaster was issued in August, 1898. I suppose it's possible that this was the day chosen for National Roller Coaster Day, but I'm not sure why. Regardless of why that day was chosen, the point is to go out and have fun by riding a roller coaster. It doesn't have to be a 450′ Strata-coaster, or something with 10 inversions. There are roller coasters to satisfy everyone's personal preference. Just go have fun!
Buffalo Bill's Resort & Casino in Primm, NV, right on the California border, has a decent roller coaster called Desperado. For the last couple of years, they have been offering free rides to anyone who stops by on National Roller Coaster Day, and this year is no exception. Since Six Flags Magic Mountain has more roller coasters than any other park on the planet, I figured they would be doing something special on this day. When I called them up to ask what events they had planned, the lady had never even heard of National Roller Coaster Day. She put me on hold to ask someone else. After a few minutes, she came back and said they don't have anything planned. Perhaps it's just me, but I feel that their Marketing department is really missing a huge opportunity here. Thoughts?