National Aviation Day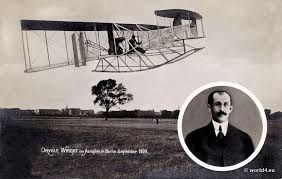 August 19th is National Aviation Day, particularly in the United States. Who wants to take an airplane ride to celebrate?
This high-flying holiday recalls the birthday of Orville Wright, who was born on August 19, 1871. Orville Wright, along with his brother Wilber Wright, pioneered aviation. In fact, Orville Wright was the first human to complete an airplane flight successfully. His short, but memorable, trip took place at Kitty Hawk, North Carolina, on December 17, 1903.
August 19th may also be known as Wright Brothers Day, recalling these groundbreaking aeronautic achievers.
In 1939, 32nd U.S. President Franklin Delano Roosevelt issued an official Presidential Proclamation to recognize National Aviation Day each year on August 19th.
Perhaps ironically, August 19th is also the birthday of screenwriter Eugene Wesley (Gene) Roddenberry, who was born on August 19, 1921. Gene Roddenberry has been credited with the creation of the Star Trek space and science fiction series.
National Potato Day
Why is it important to celebrate National Potato Day?
After wheat, corn, rice and sugarcane, potatoes occupy fifth position in food crops for its popularity and consumption. Because of its delicious taste and high nutritional value, people from all over the world include this in their diet almost every day. With an aim to highlight the importance of its health benefits, every year potato lovers celebrate National potato day on August 19. Even though potato has some thousands of years of heritage history, it had its first recognition at National Organic's 'commitment to biodiversity' event sixteen years back in UK.
Why there is a need for potato day celebrations?
Despite being delicious with high nutritional and medicinal values, potatoes have less importance among vegetables due to its high dietary carbohydrate content. Moreover, as potatoes are considerably cheap and abundantly available, this vegetable is losing its importance day by day. National potato day highlights the significance of world famous spuds and promotes its consumption in healthy diet forms.
How to celebrate National Potato day:
Lot of potato lovers from the community come together, form a group, and celebrate this festival with hundreds of varieties of potato spuds. National potato day provides a great opportunity for the farmers to understand the old heritage varieties of potatoes from different places and get awareness on new cultivating methods.
Apart from getting exposed to several best varieties of potato seeds on National potato day, you can also enjoy some endless potato cuisine items such as – baked potato, mashed potato, home fries, French fries, potato puddings etc. Being a part of such community related potato event is really lot of fun for both small children as well as adults.
National Hot & Spicy Food Day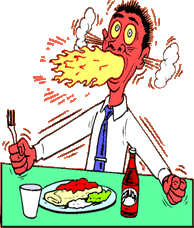 Not only is America experiencing scorching hot temperatures this summer, but many meals will be extra hot and spicy this upcoming Monday, Aug. 19, which marks National Hot and Spicy Food Day.
National Hot and Spicy Food Day is the perfect time to kick up the flavor of your food a notch. It's really easy for any cook to add some spice to their recipes. Condiments such as mustard, hot sauce, salsa and sauces like mole and Sriracha can add a spicy flavor to everything from baked macaroni and cheese to jambalaya or summer grilling favorites such as hamburgers and chicken.
There are many spicy meals to sample this Monday. Prepare Chipotle Aioli Sliders made with a sauce from tomatoes, jalapeno peppers, green tomatillo salsa, green onions and a Chipotle Chili Aioli. Or Spicy Georgia Peach Chicken prepared with both a spicy ranch dressing and Dijon mustard. You can also enjoy Grilled Squab Empanitos with hot sauce. Drinking milk is the perfect accompaniment to enjoy these meals and other spicy foods.
These recipe ideas and more are available courtesy of The Association for Dressings and Sauces (ADS). Visit www.dressings-sauces.org for enticing hot and spicy recipe ideas using condiments.
About National Hot and Spicy Food Day
National Hot and Spicy Food Day is an unofficial day dedicated to the eating of spicy foods, particularly of international origin. The exact origins of National Hot and Spicy Food Day are unknown; however, hot and spicy food has been a part of the human diet for over 6000 years. Many cultures throughout the world use a variety of spices as staples in their cuisine.
National Cupcake Day
It's National Cupcake Day! Cupcakes have been an American culinary icon since the 19th century. Prior to cupcakes, ingredients used in baking were primarily weighed rather than measured. These delightful treats shifted the art of baking from weighing to measuring ingredients.
For many years, cupcakes were known as one-two-three-four cakes because of their recipe: one cup of butter, two cups of sugar, three cups of flour, four eggs, plus one cup of milk and one spoon full of baking soda. This formula is still the traditional cupcake recipe that many people use today. Fun fact: the world's largest cupcake was displayed in July of 2009 at the Covent Garden Real Food Market in London. This cupcake was about 4 feet in diameter and weighed over 330 pounds! It also contained 200 eggs and took over 50 hours to make.
World Humanitarian Day
"Every year on August 19th we mark World Humanitarian Day in honor of aid workers, who have lost their lives in the line of duty. We commemorate their sacrifice and reaffirm our commitment to the lifesaving work that humanitarians carry out around the world every day, often in difficult and dangerous circumstances, where others cannot or do not want to go. This year our World Humanitarian Day campaign is calling on people to answer a question: 'What do you think the world needs more of?'"
Secretary-General Ban Ki-moon
World Humanitarian Day is a time to recognize those who face danger and adversity in order to help others. The day was designated by the General Assembly to coincide with the anniversary of the 2003 bombing of the United Nations headquarters in Baghdad, Iraq.
19 August, 2013 marks 10 years since that tragic event, which claimed 22 lives. This year, the international community will pause to remember those who died, as well as the dozens of aid workers, who have died in the years since.
But World Humanitarian Day is also an opportunity to celebrate the spirit that inspires humanitarian work around the globe.
This year the UN and its humanitarian partners are launching a ground-breaking campaign called The world needs more… This is a first-of-its-kind project that will quite literally turn words into aid.
To get involved and to learn more about the campaign visit: www.worldhumanitarianday.org