National Kiss and Make-Up Day
August 25th is Kiss and Make Up Day. This holiday is similar to Reconciliation Day, celebrated on April 2.
If you have been in a little quarrel recently, today is your chance to apologize and make things right! You can't escape a small spat with a friend, lover or family member, it's natural. Whether there was something you forgot to do, a disagreement, lie or misunderstanding- don't wait, admit your mistake. It's important to keep in mind to never let things escalate too far to the point where you might do or say something you will regret later. Today it's time to kiss and make up.
Holding a grudge does more harm to you than to the person you are angry at. If you truthfully no longer care about the person or issue then let it go. But if you do care, present the person you love with a sincere apology, make amends and settle your differences. Have flowers and chocolate as back-up, they usually do the trick!
Remember to appreciate the lovely people around you and don't take them for granted.
National Secondhand Wardrobe Day
National Second-Hand Wardrobe Day falls on August 25 each year, just in time to remind parents that back-to-school clothes do not have to cost a fortune. Many thrift, resale, second-hand stores have classic, hip, and retro clothes that kids of all ages will love and also won't break the bank. Not only will money be saved and the kids will get some needed new duds, but in most cases the money spent goes to a worthy cause and the recycling, reusing, repurposing cycle is being taught by example to the next generation. Don't think great clothes can be found at second-hand or thrift stores? Check out these examples!
Ruth's Room in Humboldt County is a free clothing ministry run by volunteers at Rio Dell Baptist Church. They had a fashion show at the beginning of this year and 100% of the items worn were second-hand and so cool!
Etsy is a great place to locate retro/vintage clothes for a great price. Whether it's a vintage 60s garden party gown, an 80s school girl plaid romper, a 1970s vest reminiscent of That 70s Show, or Brady Bunch-style orange and brown plaid dress, Etsy can supply the savvy shopper.
Crackerjacks in Oakland is a buy, sell, trade shop that specializes in children's clothes. Whether shopping for a classic girl or a rocker boy, Crackerjacks can help.
Also, don't forget about thrift stores like Goodwill, Salvation Army, and Thriftown.
August 25 is National Second-Hand Wardrobe Day so celebrate not only by taking advantage of the bargains out there at second-hand stores, but take the opportunity to pass on items no longer being worn to someone else. And make second-hand/thrift store shopping a part of life all year round.
National Whiskey Sour Day
When it comes to holidays, Aug. 25 is sure to lift your "spirits!" Not only is it National Banana Split Day and Kiss and Make Up Day, Aug. 25 also celebrates a classic cocktail. Get ready to raise your glass, America. It's National Whiskey Sour Day!
Folks have been sippin' on Whiskey Sours for years. Legend has it this fabulous cocktail first appeared in print back in 1862. This drink was actually the most popular cocktail in the United States for over a century! Not too tart, not too sweet, this simple-to-make drink is the perfect pick-me-up after a hard day at work - or just because. Traditionally made with egg whites, whiskey sours are typically made with bourbon rye or blended whiskey, lemon juice and sugar.
In honor of National Whiskey Sour Day, why not celebrate with one or two of the refreshing cocktail recipes listed below?
Whiskey Sour Cocktail Recipes
Martha's Whiskey Sour - This recipe, from Martha Stewart, looks divine! You'll need bourbon, granulated sugar, fresh lemon and orange juice, Turbinado sugar, lemon wedge, ice cubes and oven-dried orange slices for this cocktail.
Mad Men Whiskey Sour - You'll need whiskey, fresh lemon juice, sugar and a cherry and a lemon slice for garnish.
Rye Whiskey Sour - This cocktail recipe, from Michael Ruhlman, calls for Rye or whiskey of choice, lemon and lime juice, orange zest, egg white and simple syrup.
Fresh Whiskey Sours - This popular 5-star recipe, from Ina Garten, calls for Jack Daniel's Tennessee Whiskey sugar syrup, freshly squeezed lemon and lime juice and Maraschino cherries.
Whiskey Sour - This superfine recipe, from Esquire, calls for bourbon, lemon juice and superfine sugar!
Imbibe Whiskey Sour - Forget the sweet and sour mix! This recipe, from Imbibe Magazine, is the real deal!
Grilled Peach Whiskey Sour - Now we're talking!
Forbidden Sour - This pretty cocktail calls for Pama Pomegranate Liqueur, bourbon, simple syrup, fresh lemon juice and an orange and cherry for garnish.
Simple Whiskey Sours - You'll need whiskey, lemon and lime juice and powdered sugar for this simple Sour version.
New York Sour - This sour recipe, from Bon Appetit, calls for rye or bourbon whiskey, fresh lemon juice, simple syrup and fruity red wine.
Bourbon Sour -You'll need bourbon, an egg white, fresh lemon juice, simple syrup and angostura bitters for this one.
Ward Eight - This recipe calls for rye or bourbon, fresh lemon and orange juice, grenadine and a maraschino cherry.
All-American Whiskey Sour - This drink calls for Maker's Mark Kentucky Straight Bourbon Whiskey, Sweet and Sour Mix and freshly squeezed orange juice.
Whiskey Sour Old Fashioned - You'll need whiskey, sweet and sour mix, cherry juice and bitters for this top-rated drink.
Whiskey Sour Slush - Perfect for a hot summer's day!
Whiskey Hot and Sour - This cocktail calls for bourbon, fresh lemon juice, simply syrup, egg white, hot sauce and an orange slice and Serrano pepper for garnish.
And speaking of spirited holidays, Red Wine Day is almost here! Cheers!
As always - please drink responsibly.
National Go Topless Day
The annual event, also referred to as Go Topless Day, National Go Topless Day and/or International Go Topless Day, is observed on the Sunday closest to Women's Equality Day, an annual holiday that commemorates the ratification of the 19th Amendment to the United States Constitution, which gave women the right to vote.
Rael, the spiritual leader of the Raelian Movement and founder of GoTopless.org, founded the annual "holiday" back in 2007 to help raise awareness about breast inequality. According to the Rael,
"As long as men are allowed to be topless in public, women should have the same constitutional right. Or else, men should have to wear something to hide their chests."
In honor of Go Topless Day, men and women around the globe will take part in various topless rallies, protests and marches to show their "support" for women's rights to go bare up there in public. Folks in Paris, Vancouver, Toronto, London, Amsterdam, Geneva, Tel Aviv and 30 cities across America are expected to attend this year's event. Please visit the "BoobMap" for information on an event near you.
If you need to get something off your chest, show your "support" for breast equality by participating in Go Topless Day!
National Banana Split Day
Today is a great day to go bananas. August 25th is National Banana Split Day! This creamy dessert or snack has been eaten by young and old alike since the turn of the century. After all, who can resist bananas surrounded by scoops of creamy vanilla, chocolate and strawberry ice cream topped with nuts, whipped cream and a maraschino cherry served in a long dish?
While the origins of this holiday are unknown, David Evans Strickler, an apprentice pharmacist, is credited as the "inventor" of these fabulous desserts when he created them at the Tassel Pharmacy in Pennsylvania in 1904.
In honor of the event, the folks at Dole Bananas are hosting a Twitter Party to find healthy recipes which will be featured in the Dole No-Guilt National Banana Split Day Recipe on Facebook. If you want to participate, just tweet your recipe between 12-1:00 today.
10 Delicious Banana Split Recipes
Banana Split Recipe – This recipe, from Rachael Ray, calls for 2 bananas, vanilla ice cream, blackberries and raspberries, chocolate sauce and peanuts.
Traditional Banana Split Recipe – You'll need vanilla, chocolate and strawberry ice cream, 1 banana, chocolate syrup, crushed pineapple, walnut ice cream topping, whipped cream and a cherry for this recipe.
All American Banana Split Recipe – Perfect!
New Orleans Banana Split – This amazing recipe calls for bananas, whipping cream, toasted pecans, flaked coconut, chocolate syrup, vanilla and chocolate ice cream, chocolate chip cookie dough ice cream, dark brown sugar and a splash of dark rum. Yum!
Banana Split in a Cone – You'll need waffle cones, bananas, different flavored ice cream, whipped cream, pistachio nuts and a maraschino cherry for this banana splity recipe.
Banana Split Cheesecake Squares Recipe – If you love cheesecake, and who doesn't, now you can have your cake and eat it too!
Banana Split Bars – You'll need graham cracker crumbs, white sugar, butter, cream cheese, vanilla extract, crushed pineapple, whipped topping, walnuts, cherries and bananas for this one.
Banana Split Cocktail Recipes
Banana Split Shot – Go ahead - try this cocktail on for size!
Banana Split Drink – This cocktail recipe calls for dark rum, Bailey's Irish Cream, vanilla ice cream, nutmeg, ground or powdered hot chocolate mix, a cherry and whipped cream.
Banana Split Cocktail – You'll need banana liqueur, coffee liqueur, pineapple juice, half and half and cherries for this drink.
Enjoy! And don't forget - today is also Kiss and Make Up Day!
English Channel Swim Day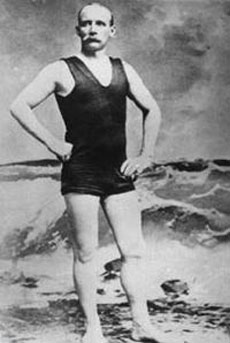 Matthew Webb, a 27-year-old merchant navy captain, becomes the first known person to successfully swim the English Channel. Captain Webb accomplished the grueling 21-mile crossing, which really entailed 39 miles of swimming because of tidal currents, in 21 hours and 45 minutes. During the overnight crossing from Dover, England, to Calais, France, Captain Webb drank brandy, coffee, and beef tea to keep his strength and heat up. He was hailed as a national hero upon his return to England, and a triumphal arch was erected in his honor in his hometown in Shropshire. The Daily Telegraph proclaimed, "At this moment the Captain is probably the best-known and most popular man in the world."
One of 12 children, Webb learned to swim in the Severn River below Ironbridge. At age 12, he joined the mercantile training ship Conway. He was not remembered as a fast swimmer, but his fellow cadets noted his endurance. While traveling the world with the merchant navy, Webb made his mark with several brave and dangerous swims. Endurance swimming was popular in the 1870s, and Webb decided to swim the English Channel after reading in a newspaper about an unsuccessful attempt. He trained along England's south coast, swimming distances of 10 to 20 miles and becoming acclimatized to the cold water. In August 1875, his first attempt to swim the Channel ended in failure, but he decided to give it another try.
On August 24, 1875, smeared in porpoise fat for insulation and wearing a red swimming costume made of silk, he dove off Dover's Admiralty Pier into the chilly waters of the Channel. He began the race in the late evening because of the tides and kept up a slow and steady pace in the dark, using the breaststroke. Accompanying boats handed him beef tea, brandy, and other liquids to sustain him, and Webb braved stinging jellyfish and patches of seaweed as he plodded on. Seven miles from the French coast, the tide changed, and he appeared to be driven backward, but just after 10 a.m. he approached the French shore. The crew of the outgoing mail ship The Maid of Kent serenaded him with "Rule Britannia," and shortly before 11 a.m. Webb waded ashore.
After sleeping 12 hours in France, Webb returned to England by boat, saying, "the sensation in my limbs is similar to that after the first day of the cricket season." He was honored at a welcoming banquet in Dover, where the mayor proclaimed, "In the future history of the world, I don't believe that any such feat will be performed by anyone else." The London Stock Exchange set up a testimonial fund for him. He toured the country, lecturing and swimming.
Within a few years, interest in Captain Webb began to wane. Overexposed on the lecture circuit and having spent or given away most of the money he earned as a result of his Channel swim, he agreed to a series of degrading exhibitions. In March 1880, he floated for 60 hours in the whale tank of the Royal Aquarium in Westminster, and in October he agreed to an extended swim in the freezing waters of Lancashire Lake. He was pulled from the water exhausted and hypothermic, and those close to him said his constitution never recovered. Seeking an alternate form of income, he prided himself on being an inventor, but few ever saw his bicycle, swimming apparatus, or flying machine, which had flapping seagull-like wings. Reportedly, he broke his nose testing the flying machine.
Eventually, Captain Webb traveled to America with his wife and two children and staged swimming exhibitions that attracted varying degrees of attention. Hearing of the exploits of Emile Blondin, a French daredevil who crossed Niagara Falls on a tightrope, Captain Webb came up with a new plan to restore his fame and fortune. He would travel to the Falls and swim a particularly treacherous stretch of the Niagara River that was feared for its lethal rapids and whirlpool.
Upon his arrival in Niagara Falls, he called a press conference to outline what he believed would be his greatest exploit since swimming the English Channel. He would embark in a small boat to a point below the Falls. He would then jump out and float down through the rapids. If it was too difficult to stay on the surface, he would dive down, coming up occasionally to breathe and show off his swimming ability. Then he would make his way around the whirlpool, estimating that it would take him two or three hours to extricate himself from its pull. Once beyond it, he would swim to the shore on the Canadian side.
Locals advised Webb that his plan was suicide, noting that 80 people had died in the rapids in recent memory. Webb ignored them and estimated that he would receive $10,000 from the railroad companies, which he assumed would profit greatly from throngs of spectators traveling to Niagara for the event. Ultimately, the railroads refused to sponsor him, and he was rowed out into the river at 4 p.m. on July 24, 1883, intending to risk his life for what he called the credit of his good name. Clad in the same red swimming suit he wore when he swam the Channel, he dove bravely into the water. A cheer went up from the thousands of spectators gathered along the shore.
At first he was swimming powerfully and looked untroubled, but then the river narrowed, and he was gripped by the rapids. Three times he was pulled under and then came up hundreds of feet from where he was seen last. He was no longer in control and was pulled downstream at a furious pace. As he came upon the whirlpool, he threw up his right arm and then went under. Seconds, minutes, and hours passed, and he didn't come up.
Five days later, his gashed, bruised, and bloated body was found by a fisherman downstream. It had been held by the whirlpool for sometime before being expelled. The body had a huge head wound, exposing the skull, but an autopsy concluded that Webb probably was crushed by the force of the whirlpool and suffered the gash later.
Webb was given a pauper's burial in the Oakwood cemetery at the edge of the Falls, in a small plot known as "The Strangers' Rest." In 1908, in what would have been his 60th year, the Webb Memorial was erected at his birthplace in England. It's simple inscription reads, "Nothing Great Is Easy.".