National Cherry Popsicle Day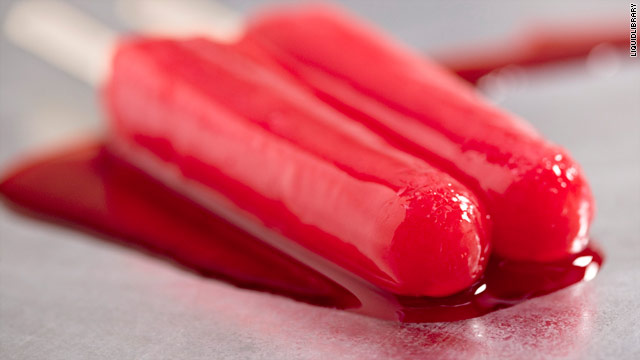 If you want something to celebrate today, now you have reason to do just that. Why? August 26 is National Cherry Popsicle Day.
Eat a cherry popsicle today in honor of National Cherry Popsicle Day. It has to be cherry in order to be true to the day. Any other popsicle won't work.
A cherry popsicle is a frozen treat that is a refreshing way to cool off on a hot August day.
Though sweet, popsicles may not be as sugary as you think. After all, the main ingredients are fruit and water! This makes them a healthy alternative for those moments you crave something sweet and icy.
Today, make your own cherry popsicles with fresh cherries or head to your local grocery store to pick up a box. Look at the ingredients and make sure to choose popsicles that are made from real fruit juice and have little added sugar.
Enjoy your cherry popsicle on National Cherry Popsicle Day.
National Dog Day
Most people have heard, and they also believe that: "A dog is man's best friend."
Dogs have been "man's best friend" for over 15,000 years. These wonderful canine companions keep their owners safe, bring comfort, and love to them unconditionally. There is nothing greater than for a dog to greet his master at the door after a hard day's work.
Almost everyone loves dogs; kids and adults. The average household has a dog and some households have more than one. There are many different kinds of dogs, so if you don't like one kind, you are more than likely to fall in love with another breed.
Since August 26 is National Dog Day, it is a great opportunity to show your deep appreciation for these remarkable canines by helping to find homes for all of the dogs in need of a loving family.
Celebrate National Dog Day by adopting a dog from your local shelter, organizing a play date for all the dogs in your neighborhood, or treating your dog to a new toy.
National Toilet Paper Day
The first written documentation of toilet paper dates back to 6th century China, but Joseph Gayetty is widely credited as having invented modern toilet paper in the United States. Introduced in 1857, Gayetty's Medicated Paper was the first commercially available paper and was sold in flat sheets. Toilet paper has evolved a lot over the past 150+ years, appearing in various plies, colors, textures, scents, and patterns. But one thing hasn't changed: we all consider toilet paper a necessity. According to the Toilet Paper Encyclopedia, 49% of people choose toilet paper as their number one necessity if stranded on a deserted island (ahead of food!), and 69% agree that that toilet paper is the 20th Century "convenience" most taken for granted. Perhaps this is why toilet paper deserves its own holiday, observed every August 26th. This year's National Toilet Paper Day celebration marked a new world record for the largest toilet roll. Manufactured by Charmin, the roll contains over 1,000,000 square feet of paper, and measures more than nine feet in diameter!
Although I've done some "lite" camping, I refuse to pitch my tent anywhere not within walking distance of a toilet. Call me prissy, but I enjoy luxuriating in today's modern conveniences, including toilet paper. I can't imagine having to use pebbles, furs, leaves, or shards of broken pottery for personal hygiene, but according to Wikipedia that's exactly what people used to do! Luckily, we live in a place and time where toilet paper is readily available. And with my recently acquired couponing skills, we always have a hefty supply on-hand; last time I checked I believe we had over 100 rolls! It might sound excessive but when it comes to toilet paper, I'd rather have too much than too little — there's nothing worse than a late-night dash to the store because you're running low on TP.
Women's Equality Day
On Monday, we observe Women's Equality Day, commemorating the passage of the 19th Amendment and the culmination of over 70 years of advocacy fighting for the right to vote for women. Over the decades, advocates conducted countless petition drives, campaigns and marches on behalf of the belief in women's equality and the right to vote following the first formal demand for women's suffrage in 1848. "The vote is the emblem of your equality, women of America, the guarantee of your liberty," said suffragist Carrie Chapman Catt, who founded the League of Women Voters just six months prior, at the August 26, 1920, White House reception celebrating the 19th Amendment.
This week also marks the 50th anniversary of the 1963 March on Washington. Considered to be one of the largest political rallies in U.S. history, the March on Washington - which was also the setting of Dr. Martin Luther King's iconic "I Have a Dream'' speech - is credited with having helped encourage Congress to pass the Voting Rights Act of 1965. Much of the country's progress in creating equal access to the polls can be attributed to the Voting Rights Act. The VRA not only outlawed poll taxes and literacy tests, but also helped block over 700 racially discriminatory voting measures from 1982 through 2006 alone, including thwarting voter discrimination efforts as recently as this past election cycle. "Without that act, we wouldn't be where we are today," said Rep. John Lewis, a civil rights leader who spoke at the 1963 march.
Yet as we celebrate Women's Equality Day and the anniversary of MLK's "I Have a Dream" speech, many Americans - women and men, young and old, rich and poor alike - still face barriers to voting. In June, the U.S. Supreme Court gutted the Voting Rights Act (VRA) of 1965, a move that weakened critical protections to voting rights and put our nation's democratic system at great risk. Within just 24 hours of the Supreme Court's ruling against the VRA, five states moved forward with discriminatory voting measures, including states in which the League of Women Voters had previously succeeded in blocking voter restrictions. As a result of the ruling, thousands of eligible voters are now facing heightened restrictions to access to the polls, including strict voter photo ID laws and cuts to early voting hours and same day voter registration, all of which disproportionately affect the voting rights of seniors and people of color.
Much like the brave suffragists who fought for the vote 93 years ago, today's members of the League of Women Voters refuse to remain silent in the face of attempts to block access to the polls. Rooted in the women's suffrage movement, the League of Women Voters has always been committed to registering, educating and turning out voters, and we're not stopping now. The Supreme Court's decision has opened the floodgates to anti-voter laws that curtail citizens' voting rights, mobilizing League members and voting rights advocates across the country and inspiring a plethora of mass protests and advocacy efforts to protect the right to vote. When North Carolina passed the most suppressive voting law the country has seen in decades, the League of Women Voters of North Carolina (LWVNC) went straight to action, filing a federal lawsuit to challenge the voting restrictions as racially discriminatory. We've also been encouraged by action to protect voting rights taken by the U.S. Justice Department, as well as bipartisan support for the VRA expressed by members of the House and Senate.
Ultimately, however, Congress holds the key to fixing the Supreme Court's mistake and repairing the Voting Rights Act. That's why this Saturday, August 24, the League will join with thousands of Americans in commemorating the 50th anniversary of the March on Washington by calling on Congress to protect voting rights. The League joins fellow voting and civil rights groups as an official partner of the 50th anniversary celebration of the 1963 March on Washington. This weekend won't be the first time that women have gathered in the nation's capital to march for democracy: In 1913, 5,000 suffragists from across the country gathered in Washington, DC, to demand the right to vote, and millions of women have marched for equal rights since.
As we celebrate Women's Equality Day and the anniversary of Dr. King's impassioned plea for equal rights, we seek to galvanize Americans everywhere to voice their support for democracy and join those marching in Washington by urging Congress to work quickly to repair and restore the Voting Rights Act. "Now is the time to lift our nation from the quicksands of racial injustice to the solid rock of brotherhood," said Martin Luther King Jr. in his historic speech at the nation's capital. Ninety-three years after women won the vote and 50 years after the March on Washington, we must continue the fight to ensure that all eligible voters have equal access to the polls.
We need your help in telling Congress that we must act swiftly to stop the damage and repair and restore the Voting Rights Act." Progress is calling to you to make no pause," said Carrie Chapman Catt upon the passage of the 19th Amendment 93 years ago. "Act!"