Damn the Torpedoes and Full Speed Ahead Day
"Damn the torpedoes. Full speed ahead," ordered U.S. Navy Rear Admiral David G. Farragut on August 5, 1864, according to American military lore. During the American Civil War, Farragut commanded a Federal fleet near Mobile Bay, Alabama. As the Confederate ship Tecumseh approached, Farragut reportedly uttered his oft-quoted order. Farragut's bold command has, over the years, taken on a life of its own, becoming a watchword for derring-do, devil-may-care and brash action. August 5th is Damn the Torpedoes and Full Speed Ahead Day. Have you been dreading a decision, stalling a situation or postponing a plan? August 5th is your day.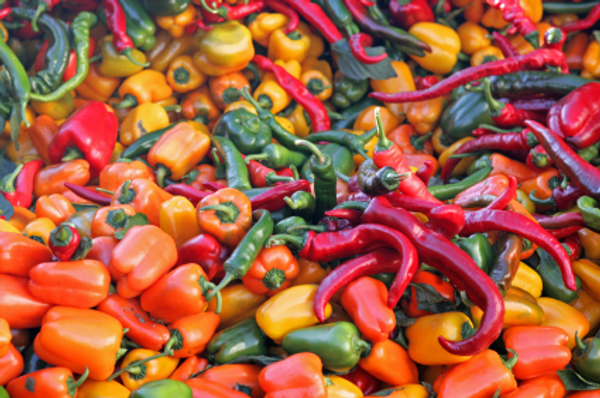 August 5th is Green Peppers Day, a spicy sort of occasion celebrating the bounty of vegetable gardeners everywhere. Do you like green peppers? Which sort of pepper do you prefer? Do you pick bell peppers, chili peppers, jalapeno peppers, pasilla peppers, poblano peppers, Serrano peppers or another variety of green peppers? Have you ever produced pickled peppers? Do you have green pepper recipes to share on Green Pepper Day?
It's reputed that Casanova, that infamous 18th century cad, started his day with breakfast of 50 oysters. Whether he ate them for their aphrodisiac properties or simply because he had penchant for the briny bivalve mollusks we'll never know. What we do know is, aphrodisiac or not, oysters have been enjoyed by humans since prehistoric times so it makes sense to slurp up a half shell on August 5th in honor of Nation Oyster Day. There are over 100 species of true oysters and traditionally they are named after the body of water or bay in which they are grown and are known by a myriad of names such as Wellfleets, Kumamoto and La Saint Simon. The mollusks take on the characteristics of the water in which they live. This impacts their flavor and texture so that tastes can range from sweet to salty to buttery and metallic, with texture running firm to soft and gooey to chewy. Some oysters have hints of seaweed, mineral flavor and hints of melon and mushrooms. The main difference between East Coat and West Coast oysters is East Coast ones are smaller, milder in flavor and saltier, while West Coast varieties are creamy and sweet. The largest oyster-producing body of water is located in Chesapeake Bay on the east coast of the U.S. Large beds of edible oysters are also found in Japan and Australia.
Don't get your undies in a bundle over this one, but August 5th is Underwear Day. The origins of this lingerie holiday no longer linger, but folks may celebrate just the same. According to long john legends, Underwear Day was started as a promotional program for a manufacturer of bloomers, boxers, briefs and other undergarments. Through the years, however, this occasion came to embrace all sorts of unmentionables, from tidy whiteys to skimpy skivvies. At the very least, Underwear Day offers an annual reminder for individuals to change their undergarments on August 5th (in case they somehow forgot to do so). Remember the old story about the military officer's boot camp announcement? The drill sergeant assembled the troops and instructed them that they would have a chance to change their underwear that day. Then he proceeded to instruct them, as to who should change with whom. Undies are the foundation of Underwear Day on August 5th. Maybe this would be a good day to start a load of laundry. Perhaps ironically, August 5th is also St. Afra's Day, honoring the patron saint of fallen women. (One may only wonder if these daunting damsels might have found different fates, had they honored Underwear Day.)
The dog days of summer are upon us on August 5th, and it is Work Like a Dog Day. How will you recognize Work Like a Dog Day? Will you fetch a new contract? How about sitting up and begging for a salary raise, a wage increase or a promotion? What other tricks might you exercise on this career-focused holiday? Let the fur fly on August 5th. It's Work Like a Dog Day. Sic 'em!
International Hangover Day
Good morning and welcome to International Hangover day, the aftermath of International Beer Day! I hope your international Beer Day was as fun and eventful as mine! Now as mayor of this fine holiday I would like to address the accusation going around this year that International Hangover Day has sold out. That is simply not true! Just because this year's holiday has been sponsored by PainGo! pain relief doesn't mean anything has changed here in Headache Land. though I sure am glad I took mine this morning! And how speedy the relief is! I'm feeling better already! In fact I've gone ahead and taken all my Advil and Tylenol out of my medicine cabinet, marched it out the front door of my new beachside condo and thrown it straight into that hole in the gutter with that fish painting on it. Just kidding! I had my live-in maid do that for me. In fact I haven't even gotten out of bed yet! And not because I can barely move my eyes without feeling like I'm on a sailboat in a sea of turbulent vomit , but because I've simply never felt anything so delightfully smooth as my new silk sheets, imported all the way from Marrakesh! Now don't worry, I won't bore you with the numerous merits of this hearty pain reliever, though it'd be a crime not to! I mean I keep a dish full of them on my coffee table and hand them out to visitors like Werther's Original. And when the trick or treaters come by...Don't get me started! Let's just say I've got quite the reputation on my block... Afterwards the kids always come back to toss me their old tomatoes and toilet paper, but with pain relief this good who needs a Bloody-Mary and a roll of vomit rags to get the day started?! PainGo! pain relief is great for all kinds of aches and pains, like:
headache
fever
homework
excessive nibbling
Unitarianism
that scene from Reservoir Dogs with the ear thing I could go on. In fact my contract states I have to. PainGo! is also great for:
polo injuries
having to watch a game of polo
gouging your eyes out on account a' you're Oedipus
biting the inside of your mouth
biting the inside of someone else's mouth
recovering from jaw surgery after Alex bet you couldn't fit a whol- oh wait, I just had to list ten things.
Moving on, I'd just like to reassure everyone that the spirit of International Hangover Day is still as strong as ever. Almost as strong as the pain relief PainGo! disperses throughout my body every 1st Saturday of August. In fact I'm ready for an ice cold one as soon as I pop two of these sexy capsules into the old word-dispenser! Now I know what you're thinking: Isn't it dangerous to take PainGo! with alcohol and an empty stomach? In conclusion: (Mr. Araki had to run off to his tennis date with Serena Williams and Heidi Klum, but on behalf of him and myself (his personal secretary Hilga) we wish you Peppy PainGo! Hangover Day!)