World Suicide Prevention Day
World Suicide Prevention Day is an opportunity for all sectors of the community - the public, charitable organizations, communities, researchers, clinicians, practitioners, politicians and policy makers, volunteers, those bereaved by suicide, other interested groups and individuals - to join with the International Association for Suicide Prevention and the WHO to focus public attention on the unacceptable burden and costs of suicidal behaviours with diverse activities to promote understanding about suicide and highlight effective prevention activities.
Those activities may call attention to the global burden of suicidal behaviour, and discuss local, regional and national strategies for suicide prevention, highlighting cultural initiatives and emphasizing how specific prevention initiatives are shaped to address local cultural conditions.
Initiatives which actively educate and involve people are likely to be most effective in helping people learn new information about suicide and suicide prevention.
Sew Be It Day
Today is Sew Be It Day or Sewing Machine Day which celebrates a very important invention the sewing machine. The first sewing machines were made in France in the 1830s. It wasn't until September 10th 1846, that they were patented in the U.S. What a great invention. Prior to it's creation, clothes items were sewn together by hand...stitch by stitch.
People who know how to use a sewing machine are dwindling in number. Our mothers and grandmothers had a sewing machine in the house. They used it, too. But, look around your house. Do you have a sewing machine? Chance are, the answers is no.
If you have a sewing machine, enjoy today making things with it. If not, consider picking up sewing as a hobby.
Today's Thought Provoking Saying:
"A stitch in time saves nine."
...Saves nine "what"?
The Origin of Sewing Machine Day:
There remains some mystery around the date for this day. Almost all documentation on the internet suggests that June 13th is the date for Sewing Machine Day. But, we found no information why this date was selected. We did find an occasional reference to September 10th as the day for this holiday. And, this is the date that the sewing machine was patented. We also found a single reference to "New Sewing Machine Day" on March 1st.
If you sew, you have two days to celebrate Sewing Machine Day.....lucky you!
Cheap Advice Day
To whom do you go for the best personal advice? Do you read advice columns in the newspaper or online? Do you consult a trusted relative or friend?
September 10th is Cheap Advice Day, commemorating low-cost counselors everywhere, as well as those perhaps well-meaning individuals who seem always to toss in their own proverbial two cents' worth of input, whether invited to do so or not.
On September 10, 1992, cartoonist Charles M. Schultz' Lucy van Pelt (of the Peanuts gang) raised her rates for psychiatric help to 47 cents. Her lemonade-stand shrink sessions had previously cost just five cents. Salute the purveyors of unsolicited advice and low-cost head-shrinking on September 10th.
International Make-Up Day
Those who let us down and make us frown may eagerly await September 10th each year. It's International Make-Up Day.
This altruistic occasion has nothing to do with facial care or cosmetics. Instead, International Make-Up Day is all about reconciliation and the rebuilding of broken relationships.
Instead of singing another someone-done-someone-wrong song, how about extending the proverbial olive branch and seeking to make up with someone on September 10th?
National Swap Ideas Day
American etiquette maven Emily Post said this about polite conversation: "Ideal conversation must be an exchange of thought, and not, as many of those who worry most about their shortcomings believe, an eloquent exhibition of wit or oratory."
No, it's not another Monday holiday where we get a day off from work, but this could be a great day for our community!
One of the perceptions that I have formed about our community through my newstalk radio career is that Yakima has an inordinate amount of negative thinkers. People who are ready to criticise anything or anybody, but really bring nothing to the table in the way of improving the situation. I personally can be pretty cynical, but I try to think positively.
Here's a chance to brainstorm about how to improve the Yakima community. Leave us an idea on what would bring some positive change to Yakima. How do we attract more jobs? How do we engage our youth? How can the community at large deter crime. What would provide more entertainment and activities for our citizens? How can we attract more visitors?
Having said that I can be pretty cynical at times, that's not what I'm looking for. I'm looking for some real, workable ideas for improving Yakima.
I really like what the Iheartyakima.com founders are doing. Getting people to realize that even though we have problems , this is still a great place!
Let's swap some ideas on how to improve Yakima!
TV Dinner Day
In 1953, C.A. Swanson & Sons introduced a new product called, "TV Dinners," and changed the prepackaged meal industry forever. The Smithsonian Institute inducted the original Swanson TV Dinner tray into the Museum of American History in 1986. Today we celebrate this piece of American cultural history with TV Dinner Day!
The term "TV Dinner" is now synonymous with any prepackaged, frozen meal that requires little preparation and contains an entire single-serving meal. Modern-day TV dinners can be cooked in the microwave (instead of the oven) and include gourmet recipes as well as organic and vegetarian dishes.
Want to celebrate TV Dinner Day? Stop by your local supermarket and pick up some old-fashioned TV dinners for your family!
International Creepy Boston Dynamics Robotic Horse Day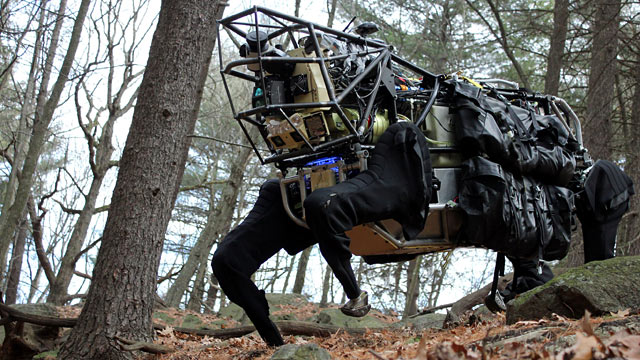 I know you guys might have forgotten to get your favorite robotic horse a gift today, but this is International Creepy Robotic Boston Dynamics Robotic Horse Day, and it's important to get out there and celebrate the magic of the creepy robotic horse.
This new Boston Dymanics robot, the Legged Squad Support System, is a new robot based on Big Dog designed to support squads in the field as they roll through enemy territory. This horsey can carry 400 pounds of payload and travel 20 miles on one charge. It also follows its human master around without the need for external controls.
The important thing here? This monster looks entirely untethered, and if I were coming up against a squad assisted by a creepy robotic horse, I'd probably run the opposite direction. As it stands, however, these creepy robotic horses deserve our praise and admiration if only because they're so freaking cool.