National Cream-Filled Donut Day
A donut is a sweet bread often topped with sugar or glaze or some deliciously-sweet combination of both. Well, what about a fried donut filled with a lathering of creamylicious cream? Well, such a concoction is no mystery to donut lovers across the globe. You see, September 14th is nationally known as Cream-Filled Donut Day!
Similar to a cream puff but less healthy (cream puffs are baked--never fried!), the cream-filled donut is popular in America via the likes of popular chains such as Dunkin Donuts (think Boston Cream donuts) or the long-gone Krispie Kreme scattered generously throughout the country to feed beloved fans of the fried dessert/breakfast/snack/what have you?
Whether you straddle the fence between yeast donuts and cake donuts, rest assured. Your taste buds will never be disappointed with the cream-filled donut, meant to ensnare the toughest donut critic.
The cream-filled donut is so widely popular in Chicago as well as around the country that a spew of donut shops have sprung up to cater to this mass of cream-filled donut aficionados. Here's just a handful of Chicago you may want to sample. Oh, and happy National Cream-Filled Donut Day!
National Eat a Hoagie Day
It's National at a Hoagie Day! The hoagie, also known as a sub or grinder, is a sandwich whose name originated in the city of Philadelphia. One story claims that the Italian immigrants who worked at a shipyard called Hog Island during World War I would bring giant sandwiches for lunch. The workers were nicknamed "hoggies" so eventually the name was associated with the large sandwiches but the spelling evolved over time. There are several other stories, but they all give credit to Philly for the hoagie name.
National Eat a Hoagie Day, for gluten-free eaters, not always an easy day to celebrate. Sandwiches can be sometimes difficult for the gluten free diner, especially if vegetarian, and though cheese is portable, its high saturated fat content make alternative sandwich spreads like these good to have in your repertoire. Instructions follow on how to make these from scratch, but this can be a super-quick lunch solution if canned beans and a store-bought tapenade are used. A few minutes with the food processor, then toast up some gluten-free crispy-crust Italian bread, and this
black and white hero/sub/hoagie
is ready to go!
For more info: If you'd like the recipe for this gluten-free Italian bread you can find it
here
.
Farmers' Consumer Awareness Day
Quincy's Farmer-Consumer Awareness Day (FCAD) started in 1981 when Dennis Higashiyama was listening to the radio. He heard a story on the Paul Harvey show that illustrated how farmers and consumers had drifted apart - leaving many people with little or no understanding about how food actually arrives on their grocery store shelves.
For farmers, FCAD is an opportunity to show off the fruits of their labor and demonstrate the tools and techniques that they use in their work. For the public, it's a great way to learn about where your groceries come from and to talk to the people who grow them for a living. Over the past 31 years, the event has grown successfully with tours of area processing plants and farms, displays of farm equipment, informational and commodity booths, and a farmer's market.
The celebration has been expanded to include the Grand Parade, the Farm to Market Fun Run, live entertainment, cook-offs, arts and crafts, a car show and booths that showcase locally grown delicacies.
The celebration is held annually on the second Saturday in September.
International Drive Your Studebaker Day
Today is International Drive Your Studebaker Day, a great day to get out in your Studebaker and tour the countryside.
Studebaker actually started in 1852, making wagons for farmers, miners and the military. From its inception, though, Studebaker cast itself as an innovator.
In 1902 Studebaker manufactured an electric car which Thomas Edison bought. Studebaker was an innovator in a lot of other areas, too, such as the overdrive, under-the-dash hood releases and high-performance models such as the Super Hawk, Golden Hawk and Silver Hawk. In fact, Studebaker was a stiff competitor with the Corvette that made its debut in 1953.
For a long time, a lot of people considered Studebakers maybe a little 'homely'. But just like everything else, homely has its time to be considered handsome.
And that time is now. Studebakers are probably at their highest point now in collectability. Whether it's their round-nosed pickups that bear a striking resemblance to the Dodge pickup or the Canadian-made Avanti, Studebakers have come into their own.
In fact, they're ready for a comeback.
In 2008, Ric Reed bought Studebaker from Tom Raines and moved the company to Arvada, Colo.
"As the entrepreneur at the helm of Studebaker Motor Company, it is my earnest goal to create vehicles that are in some way reminiscent of classic Studebakers, or in other words, definitively Studebaker, yet brought into the 21st century, and again to see Studebaker Motor Company the American Icon it once was," Reed said on his website. "It is also my dream to develop or reopen factories, employ Americans in those manufacturing and assembly plants, which shall be on American soil. I desire to make vehicles that not only compete, but have a significant cutting edge in a highly competitive world market."
Reed's mission is indeed noble. Despite the fact that the South Bend, Ind. plant ceased production on Dec. 20, 1963, and the last Studebaker automobile rolled off the Hamilton, Ontario, Canada, assembly line on March 16, 1966, Studebakers to this day have a solid reputation of value, quality and excellent fuel mileage - things that appeal every American consumer.
It will be interesting to see how Reed's Studebaker venture fares.
And it will be great to see another great American auto company making cars in our country again.
Star Spangled Banner - Anniversary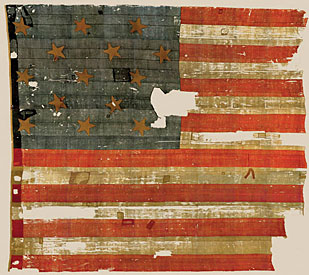 On September 14, 1814, Francis Scott Key composed the lyrics to "The Star-Spangled Banner" after witnessing the massive overnight British bombardment of Fort McHenry in Maryland during the War of 1812. Key, an American lawyer, watched the siege while under detainment on a British ship and penned the famous words after observing with awe that Fort McHenry's flag survived the 1,800-bomb assault.
After circulating as a handbill, the patriotic lyrics were published in a Baltimore newspaper on September 20, 1814. Key's words were later set to the tune of "To Anacreon in Heaven," a popular English song. Throughout the 19th century, "The Star-Spangled Banner" was regarded as the national anthem by most branches of the U.S. armed forces and other groups, but it was not until 1916, and the signing of an executive order by President Woodrow Wilson, that it was formally designated as such. In March 1931, Congress passed an act confirming Wilson's presidential order, and on March 3 President Hoover signed it into law.