National Felt Hat Day
When it comes to holidays, September 15 has a little something for everyone! Not only is it National Linguine Day and National Puppy Mill Awareness Day, it's also Make a Hat Day and National Felt Hat Day!
While the origins of these annual Hat Days Are unknown, why not honor both holidays at once by making a special, one-of-a-kind felt hat? It won't be too long before cooler weather is on the way. And who knows, maybe your creation will really turn some heads!
But if sewing or hat making isn't your cup of tea, why not celebrate Make a Hat Day and National Felt Hat Day by taking a peek at a few famous hats?
Famous Hats & Headwear
Napoleon Bonaparte
Abraham Lincoln
Ronald Reagan
Michael Jackson
Elton John
Frank Sinatra
Jacqueline Kennedy's pillbox hat
John Wayne's cowboy hat
Zoro
Robin Hood
Humphrey Bogart's famous hat in Casablanca
Paul Hogan's character in Crocodile Dundee
Dustin Hoffman in Captain Hook
John Belushi and Dan Aykroyd in the Blues Brothers
Oddjob's hat in the 1964 James Bond film, Goldfinger
Kate Winslet's character, Rose, in the blockbuster, Titantic
Eliza Doolittle's hat in My Fair Lady
Fess Parker's coonskin cap in the television series, Daniel Boone
Indiana Jones famous hat in the Raiders of the Lost Ark film series
Johnny Depp as the Mad Hatter in Alice in Wonderland
Sherlock Holmes
Fred Astaire's top hat in Top Hat
Diane Keaton in Annie Hall
Dr. Seuss's Cat in the Hat
Peter Pan
Popeye the Sailor Man's sailor cap
Uncle Sam
Happy National Felt Hat Day and Make a Hat Day!
Make a Hat Day
Make a Hat Day is is a day for fun. Design, make, and wear your a hat for yourself today. Put your personality into it. Or, make a hat from a character you would like to imitate for a day.
This day is very popular with preschool, kindergarten, and grade school teachers and students. Early in the new school year, teachers look for fun and interesting projects to break up the classroom routine, or for art projects. Kids, who love arts projects by nature, can use their creativity in making a hat that fits them!
The rules for Make a Hat Day are quite simple. Just make a hat, any hat. It can be for you, or for mom or dad. Wearing the hat is optional. But, it's half the fun.
National Linguini Day
If you love pasta, and who doesn't, you'll love this food holiday! September 15th is National Linguine Day! Often spelled "linguini", this type of pasta originated in Italy. Wider than spaghetti and flat like fettuccine, this pasta is long, narrow and flat and often served with seafood, cream-based or pesto sauces.
Whether you buy it in a box, in the refrigerated or frozen section at your local market or make it homemade, linguine is an affordable pasta that can be served many ways. While the origins of this delicious day are unknown, National Linguine Day provides the perfect opportunity to indulge in a little, or a lotta, linguini!
National Puppy Mill Awareness Day
September 15th is National Puppy Mill Awareness Day (PMAD), an annual 'howliday' typically observed on the third Saturday in September. This important event helps raise awareness about the cruel puppy mill industry.
Puppy Mill Industry
This important event shines the spotlight on inhumane puppy mills, the "breeding facilities that produce puppies in large numbers" for profit. Sadly, many of these beautiful animals endure awful conditions. These magnificent animals live their entire lives in overcrowded, filthy cages, and receive little love or attention. These poor pooches receive little if any veterinary care and are often fed poor quality food. Many animals are never touched or get to leave the confines of their disgusting cages.
It is estimated that millions of puppies are sold to people each year via the Internet, newspaper advertising, pet shops, brokers, breeders or in person. Many of these pets come from mills. Sadly, many die or are euthanized due to disease, genetic defects or behavioral issues.
While there are some reputable puppy-friendly pet stores that do not support puppy mills,many pet stores do purchase their animals from mills. By refusing to purchase any animal from mills, we can stop this cruel and inhumane cycle and put these folks out of business for good. Before you ask how much is that adorable puppy in the window of a pet store, ask yourself where this puppy really came from and what kind of conditions the poor little guy had to endure.
Millions of unloved, neglected, abused and unwanted pets are waiting for forever homes at shelters across America. Many will be euthanized through no fault of their own. Please consider opening your heart and home to a beautiful doggy or kitty by visiting your local animal shelter - before it's too late.
Greenpeace Day
On 15th September we celebrate Greenpeace Day, so this is the time to release your inner activist and get passionate about the environment. The now internationally renowned campaign organisation for ecological issues was originally founded by a group of 17 activists in Vancouver protesting against off shore nuclear testing in Alaska on this date in 1971.
Since then, Greenpeace has achieved an abundance of victories over eco-crimes, as well as making an enormous contribution to raising awareness of environmental issues across the globe. They constantly strive for their vision of a society which recognises the Earth as an essential life support system whose resources are not infinite and must be protected and cared for. Their campaigns range from raising awareness of the receding ice of the Arctic to protecting the oceans and rainforests to working towards nuclear disarmament.
To recognise the contribution made by the organisation which came out of such humble roots yet now boasts 2.9 million members, Mayor Gregor Robertson of Vancouver has pronounced September 15th Greenpeace Day. In Vancouver, celebrations include a free family-friendly outdoor festival, tree planting and workshops on activism.
Be inspired by Greenpeace today: sign petitions and encourage others to do the same, be green in the home and out and about by switching off unnecessary light bulbs and throwing that empty wrapper on the street in the bin. Think bigger and look into volunteering and helping raise awareness for Greenpeace issues. Finally let Greenpeace Day act as a reminder that as the anthropologist Margaret Mead once put it: 'Never doubt that a … group of committed citizens can change the world. Indeed, it is the only thing that ever has'.
International Day of Democracy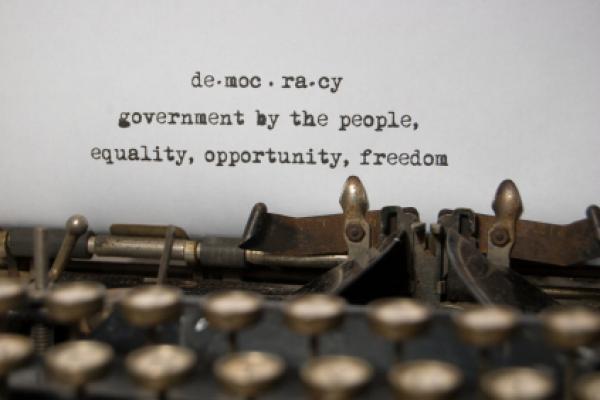 The United Nations' (UN) International Day of Democracy is annually held on September 15 to raise public awareness about democracy. Various activities and events are held around the world to promote democracy on this date.
Many people and organizations worldwide, including government agencies and non-government organizations, hold various initiatives to promote democracy on the International Day of Democracy. Events and activities include discussions, conferences and press conferences involving keynote speakers, often those who are leaders or educators heavily involved in supporting and endorsing democratic governments and communities.
Leaflets, posters and flyers are placed in universities, public buildings, and places where people can learn more about how democracy is linked with factors such as freedom of expression and a tolerant culture. Organizations, such as the Inter-Parliamentary Union (IPU), organize activities such as public opinion surveys about democracy and political tolerance.
There has been a campaign, known as the Global Democracy Day Initiative, which involves a petition being made to the UN and heads of states to officially adopt October 18 as Global Democracy Day to support International Day of Democracy.
The UN strives to achieve its goals of peace, human rights and development. It believes that human rights and the rule of law are best protected in democratic societies. The UN also recognizes a fundamental truth about democracy everywhere – that democracy is the product of a strong, active and vocal civil society.
The UN general assembly decided on November 8, 2007, to make September 15 as the annual date to observe the International Day of Democracy. The assembly invited people and organizations, both government and non-government, to commemorate the International Day of Democracy. It also called for all governments to strengthen their national programs devoted to promoting and consolidating democracy. The assembly encouraged regional and other intergovernmental organizations to share their experiences in promoting democracy.
The International Day of Democracy was first celebrated in 2008. The UN general assembly recognized that the year 2008 marked the 20th anniversary of the first International Conference of New or Restored Democracies, which gave people a chance to focus on promoting and consolidating democracy worldwide.
The UN logo is often associated with marketing and promotional material for this event. It features a projection of a world map (less Antarctica) centered on the North Pole, enclosed by olive branches. The olive branches symbolize peace and the world map represents all the people of the world. It has been featured in black against a white background.
International Dot Day
International Dot Day, a global celebration of creativity, courage and collaboration, began when teacher Terry Shay introduced his classroom to Peter H. Reynolds' book The Dot on September 15, 2009.
The Dot is the story of a caring teacher who dares a doubting student to trust in her own abilities by being brave enough to "make her mark". What begins with a small dot on a piece of paper becomes a breakthrough in confidence and courage, igniting a journey of self-discovery and sharing, which has gone on to inspire countless children and adults around the globe.
And each year on International Dot Day—with the help of individuals, teachers, and students—the inspiration continues. What started as a story in the pages of a book is transforming teaching and learning around the world as people of all ages re-discover the power and potential of creativity in all they do.
National Creme de Menthe Day
If you're looking for something to do today then let's get some flavor on your tongue because it's National Creme de Menthe Day!
Oh yes, it's time for some mint!
Let's get right into celebrating National Creme de Menthe Day!
Why is this a holiday?
Well, so many people love the taste of mint and a good percentage of those people also like tossing back the alcoholic beverages. And creme de menthe is a combination of those two well-liked things so there has to be a highly focused group of people who enjoy this drink, right? And what happens when you get a group of drunk people together? They're all about coming with crazy ideas, like celebrating their favorite drink every year on September 15th!
But you need to realize that, when you use the traditional recipe of making creme de menthe, you're going to end up with quite a strong drink! You start out with Corsican mint or peppermint leaves and you steep them in grain alcohol; this gives the drink a lot of flavor and a green tint. Then you just filter it, pop in some sugar and you're good to go!
And while it is mainly an alcoholic beverage, there are many things out there that are creme de menthe flavored, whether they actually have creme de menthe in them or not. But there are a lot of interesting drinks with creme de menthe in them. I mean look at these names... There's the Dirty Girl Scout, The Flaming Christmas Bastard, the Honest Broker, the Mexican Leprechaun and the Peppermint Penguin.
Which minty path will you choose?
National Google Day
Rumor has it that today is National Google Day and while I have not found any documentation (on google that is) of the accuracy of this rumor, I still think it is appopriate time to express my gratitude for it's development. I believe google is the greatest gift to lies, fact sharing and diagnosis of the chronically ill.
Google has provides multiple hours of entertainment for those of us who do not have children to occupy our time with and on occassion it because an unending well of information when researching ideas or concept for business. As a person who could be considered "chronically ill", it provides multiple medical journals at my fingertips. Let's be honest, everything you read on the internet is true, right? Right? Right? So, when someone who has to manage their health gets a flu symptom of course the first thing they do is sit down at the computer and spend the next 17 hours diagnosing themselves with swine flu or something potentially deadly.
With all of that said, it does have it's good points. You can google your people who have had a significant effect on history and most likely always find a credible source of information with data that you did not know before. You can research a recent diagnosis (from a real doctor that is) and understand how to better take care of yourself. You can find the best place to buy that new watch for your mother for her birthday. If you are lucky, you might just find a person that can bring your heart some joy like a long lost mother, brother or significant other! So, here is to lies, embellishments and truth given to us by the google gods!
National Women's Friendship Day
National Women's Friendship Day (NWFD) is celebrated across the country by individuals, women's groups, retail businesses and others.
It is the creation of one of the most proactive women's organizations in the country, Kappa Delta Sorority.
Kappa Delta Sorority was founded in 1897 in Farmville, Virginia and is currently headquartered in Memphis, Tennessee. It has over 186,000 members, 128 active collegiate chapters and 487 chartered alumnae associations nationwide. Kappa Delta is active in a number of philanthropic causes.
It has given over $7 million to the prevention of child abuse, over $2 million to Children's Hospital in Richmond, Virginia and over $1 million to orthopedic research.
In 1998, Kappa Delta Sorority entered into a partnership with the Girl Scouts of the USA to provide mentoring and funding to young girls across the country.
A year later, the sorority established a collaboration with the Association of Junior Leagues International to study and promote the involvement of women in community leadership.
What does it take to make a day special by proclamation? A tremendous amount of dedication and a masterful talent for organization are the key ingredients.
NWFD has received both local and national publicity. Many newspapers and television stations have covered the day – from Lincoln, Nebraska to Shippensburg, Pennsylvania, from San Antonio, Texas to Anchorage, Alaska. The day has been mentioned in several magazines, including Teen People, Today's Christian Woman, and Memphis Woman. The day continues to capture the attention of the media.
In 2004, General Foods International began a campaign to promote National Women's Friendship Day and its line of premium coffees and teas. For two years, they held an annual GirlFriends Invitation Essay Contest, encouraging women to share their stories of friendship.
This year, Pat Miller, the co-founder of Vera Bradley Designs, a popular line of quilted handbags, luggage and accessories, was named the honorary chairman of National Women's Friendship Day. Past honorary chairmen include Karen Neuburger, founder of Karen Neuburger, Ltd., and Carmen Renee Berry and Tamara Traeder, authors of Girlfriends for Life.
National LGBT Center Awareness Day
Today, September 15, is National LGBT Community Center Awareness Day! Centers serve a vital and multi-faceted role in many communities across the country.
"We're hard at work to coordinate the third annual nationwide day of action focused on LGBT community centers," said Terry Stone, CenterLink's Executive Director. "Over 40,000 people visit the over 200 community centers each week. Centers have more direct access to the LGBT community than any other organization and are the backbone of the LGBT movement. We are excited to highlight that work through Center Awareness Day."
The Pride Center of the Capital Region is the oldest continously-operating LGBT center in the country, serving over 30,000 people each year with a variety of programs and services that span an individual's lifespan. From youth to seniors, the Pride Center works hard everyday to empower the lives of LGBT people, allies, and our families in the nine counties of the Capital Region.
To help celebrate the impact of LGBT Community Centers, several people submitted their testimonials why the Center is important to them, here are just a few of them:
Pride Center Testimonials
"I volunteer at the Pride Center because they were there when I needed someone. I want everyone to have that! If you don't become involved in your community you can't expect the community to be there when you need them. Become a part today so there will be a tomorrow." -Yasmin Dee Delestre
"In numbers there is strength. The Pride Center of the Capital Region is our collective, visual voice! I volunteer to strengthen that voice." -Chuck Zimmerman
"The Pride Center is most important to me because it's "the best" place in town to meet like minded peers. There is always someone there to talk to about every issue you can come up with. I used to be a volunteer firefighter, but giving some of my extra time volunteering for the Pride Center is so much more rewarding. I know that every free moment I give the Pride Center is appreciated beyond words and praise can even express. The Pride Center is a safe and comfortable place to go and not be judged by others who share common interest. The Pride Center is a supportive and safe place to meet that is an excellent alternative to the bar scene!" -Michael, Albany NY
"Volunteering has introduced me to so many wonderful people, people who actively care and engage in what they believe in – and that is an inspiration and a lesson to those of us who tend to err on the side of apathy. It's great to be part of a place that is so welcoming and helpful to everyone, and goes out of its way to ensure that those who most need help and support have a way to get it." –Alan Ilagan
"I so appreciate the life span that the Pride Center tries to serve-from youth to middle aged adults to seniors in our community. The Pride Center has done a really good job of blending activism and the social needs of the community. I think that we're the best of both worlds." –Gwen Wright
"I volunteer at the Pride Center because there is a need for a place like this in our community. I like to be with people that I can be myself around. I love the people and it's my way of giving back to the community. Simply put, volunteering here helps me celebrate a big part of who I am." -Corey Polesel
"Being at the Pride Center means a refuge for a lot of people. It means a safe space for people and I've seen that first hand."-Cole Armstrong
"Because of the Pride Center of the Capitol Region it, I have been given hope for the future knowing, through such activities like Youth Group, that I am not alone. I have looked at the Pride Center as a place of sanctuary that has been working hard over the past forty years to help the LGBT community. It is a place for friendships, laughter, and knowledge.
As a graduate of youth group, past panelist for bullying in schools, and recipient of the JDP Scholarship, I would like to say thank you to the Pride Center. In a way, it saved my life."-Adam J. Sanzone
Together, we can continue the great tradition of the Pride Center and build a stronger community for everyone!