Air Force Birthday
The official date of the founding of the US Air Force is 18 September 1947. It was a momentous event that over six decades later has demonstrated the achievement of an Air Force second-to-none, yet the Air Force's history and heritage goes back a lot further.
From the time that the US military purchased its first aircraft in 1909 up to 1947, the US Air Force did not exist as a separate and independent military service organization. It went through a series of designations: Aeronautical Section, Signal Corps (1909); Aviation Section, Signal Corps (1914); United States Army Air Service (1918); United States Army Air Corps (1926), United States Army Air Forces (1941).
WWII illustrated the value of airpower, and the need to change the basic organization of the US Military Forces. The result was the creation of a single Department of Defense with a strong Joint Chiefs of Staff with Army, Navy, and Air Force chiefs. In 1947 President Truman signed the National Security Act which established this new defense organization, and along with it the creation of the US Air Force as an independent service, equal to the US Army and US Navy. The official birthday of the US Air Force is 18 September 1947.
Through the years history has shown the wisdom and foresight of the creation of a separate Air Force. The US Air Force emerged quickly from its cradle and began to create its own history and heritage.
1949: The flight of the "Lucky Lady II" demonstrated the Air Force's capability to fly, non-stop round the world, showing it could take off from the U.S. and drop bombs anywhere in the world.
1950-1953: USAF engaged in the first completely jet aerial combat During the Korean War. The F-86 Saberjet scored impressive aerial victories against the enemy MiG-15.
1954: The first B-52 Stratofortress came into the USAF Inventory and has served in every conflict since its appearance.
1960s: The development and deployment of Intercontinental Ballistic Missiles (ICBMs) as a major component of the aerial defense capability of the United States.
1964-1973: War in Vietnam
1970s: The development of laser-guided bombs and TV-guided air to ground missiles. Air mobility took a major step forward with the introduction of the C-5 Galaxy in the Air Force Inventory. Other aircraft systems introduced in this decade were the F-15, A-10, AWACS, and F-16.
1980s: Stealth Technology was revealed advent of the F-117; strategic bomber capability was increased with the deployment of the B-1.
1990s: USAF played a major role in the swift defeat of the Iraqi military forces in the first Persian Gulf War: The Air Force underwent a major reorganization with the formation of Air Combat Command, Air Mobility Command, and Air Force Materiel Command. The USAF supported the war in the Balkans, and the US intervention Operation Uphold Democracy in Haiti.
2000 -- Present: The Expeditionary Air Force concept was a major transition in how the Air Force employed forces. The Global War on Terrorism brought the USAF into Operation ENDURING FREEDOM and Operation IRAQI FREEDOM.
New York Times Birthday
The New York Times (or NYT) is an American daily newspaper, founded and continuously published in New York City since September 18, 1851. It has won 112 Pulitzer Prizes, more than any other news organization. Its website is one of America's most popular news site - and most popular among all the nation's newspapers - receiving more than 30 million unique visitors per month.
The paper's print version remains the largest local metropolitan newspaper in the United States and third-largest newspaper overall, behind The Wall Street Journal and USA Today. Following industry trends, its weekday circulation has fallen to fewer than one million daily since 1990. Nicknamed The Gray Lady, The Times is long regarded within the industry as a national "newspaper of record". It is owned by The New York Times Company, publisher of 18 other newspapers including the International Herald Tribune. The company's chairman is Arthur Ochs Sulzberger Jr., whose family has controlled the paper since 1896.
The paper's motto, "All the News That's Fit to Print", appears in the upper left-hand corner of the front page. Its website has adapted it to "All the News That's Fit to Click". It is organized into sections: News, Opinions, Business, Arts, Science, Sports, Style, Home, and Features. The New York Times stayed with the eight-column format for several years after most papers switched to six, and was one of the last newspapers to adopt color photography.
Chiropractic Founder's Day
Founder's Day, the "birthday" of modern chiropractic. September 18, 1895, was designated to celebrate the first chiropractic adjustment performed by D.D. Palmer on Harvey Lillard. Celebrating this date offers the doctors and students of chiropractic a moment of reflection on the history of the profession and its beginnings.
National Respect Day
With Wednesday, September 18th being National Respect Day, what better day to focus on ways we can show our significant other respect. National Respect Day arrives after some particularly disrespectful moves on the part of several famous people in the news. From Joe Wilson yelling "Liar" in the middle of President Obama's speech to Kanye West stealing Taylor Swift's moment at the VMA awards, respect seems to be on a decline.
Treating your spouse with respect is one of the number one ways to say "I love you". It isn't hard to do. All it involves is some quality time in which you focus on your spouse's cares, wants and needs. Here are some of the best ways to show respect to your spouse every day…hopefully not just on National Respect Day:
1. Active listening. By truly listening to what your spouse is saying, you are letting your spouse know you care about what he has to say. Let him know you are truly listening by looking him in the eye. Ask questions about what he is telling you. Take an active interest in what matters to him.
2. Spend time with your spouse. Spending time with your spouse lets him know that he is an important part of your world. Go the extra mile. Watch a football game with him, even if you don't enjoy football. It's a great time to have him teach you some things about the game. Watch a chick flick with your wife. You may find it sappy, but it will give you an opportunity to show your spouse your softer side.
3. Build your spouse up. Say things to your spouse that lets him know you appreciate him. It means a lot to a person to know that their efforts are being noticed and appreciated.
These are only a few ways to show respect to your significant other. Use your imagination and think of more ways. Today may have been National Respect Day, but every day needs to be a day to treat our loved ones with respect.
World Water Monitoring Day
World Water Monitoring Day was established in 2003 by America's Clean Water Foundation as a global educational outreach program that aims to build public awareness and involvement in protecting water resources around the world by empowering citizens to carry out basic monitoring of their local water bodies.
A simple test kit enables everyone, children and adults, to sample local water bodies for a set of water quality parameters including temperature, acidity (pH), clarity (turbidity) and dissolved oxygen (DO). Results are then shared with participating communities around the globe through the WWMD website.
World Water Monitoring Day is celebrated on September 18. It was initially chosen to be a month later (October 18) to recognize the anniversary of the US Clean Water Act, which was enacted by the US Congress in 1972 to restore and protect the country's water resources. In 2007, the date was changed to facilitate participation in parts of the world where temperatures reach freezing at that time.
In 2006, ACWF transferred coordination of the event to the Water Environment Federation (WEF) and the International Water Association (IWA). The collective goal is to expand participation to one million people in 100 countries by 2012.
2008 saw students from Indonesia to Arkansas taking part in water sampling to bring attention to the importance of water quality.
Hug A Greeting Card Writer Day
Greeting card writers provide the words that we send at all life's most basic, personal moments. Whether everyday occasions or seasonal, they are the folks who furnish the sentiments that most people are unwilling or unable to say for themselves to someone dear. Greeting card writers are generally anonymous and often underappreciated, yet their words are present in every nook and cranny of America. As such, the least they deserve is a once-a-year hug! Annually, every Sept 18.
National HIV/AIDS and Aging Awareness Day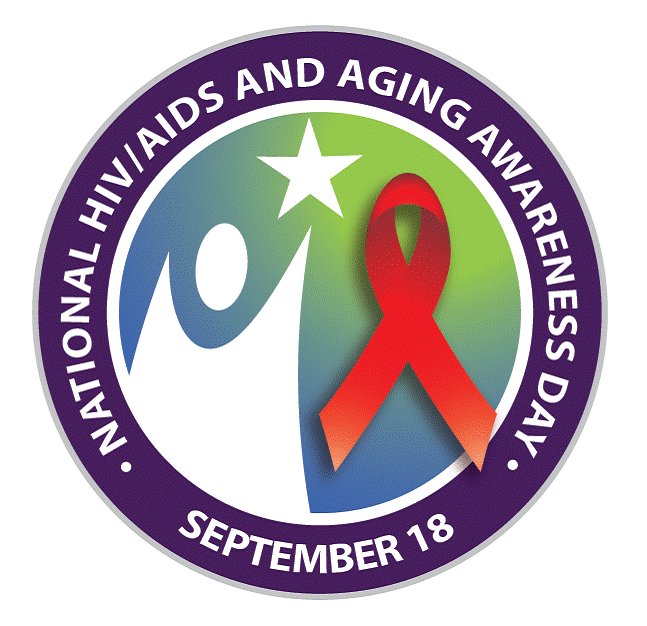 On Sept. 18 the United States government observes National HIV/AIDS and Aging Awareness Day. This commemoration is the latest addition to a series of such HIV-related remembrances and is one that has particular salience given the ever-evolving demographic landscape of the HIV-infected population in the U.S.
On such an occasion one is left to ponder whether the aging of the HIV-positive population is a cause for celebration. Is this day intended to be a celebration?
Currently, 30 percent of persons living with HIV in the United States are 50 or older, with age 50 marked as a demarcation point in terms of age-related physical and cognitive decline and various other health concerns. Data collected by the Centers for Disease Control and Prevention (CDC) suggest that by 2015, fully half of those living with HIV in our country will be 50 or older, a situation that has arisen because of the long-term survival of HIV-positive individuals given effective antiretroviral treatments, and because of the increasing number of individuals contracting HIV in older adulthood.
Within this population of older adults living with HIV is a substantial population of gay men who have lived their entire adult lives with and in the context of the HIV epidemic. For this group of men, the "AIDS generation," there is no life without HIV -- and that life is marked by loss, combating the physical ravages of the illness, and the emotional social burdens engendered by the stigma and discrimination directed at HIV-positive persons in our society.
It would be simple to enumerate the challenges that these men, my generation, have faced and continue to endure in light of this AIDS epidemic. Like soldiers who have fought bravely in the midst of unforgiving circumstances, we find that our bodies are worn from years of living with the disease and the natural process of aging, that our emotions are heavy from the trauma created by the epidemic, and that our social conditions are troublesome in a society where older adults become invisible, and in a gay community where even a 30-year-old is considered "over the hill."
Compounding these conditions is a burgeoning body of research that documents the deficits of aging with HIV in my generation of gay men. Studies demonstrate the accelerated development of cancers and cardiovascular disease; high rates of neurocognitive deficits; life conditions characterized by loneliness, social isolation, and depression; and ongoing battles with substance use sexual adventurism.
I suppose this is one manner in which to view the aging of the AIDS generation, often fueled by sensationalist research that misses the forest for the trees. However, I espouse a different approach to understanding my generation of gay men.
In my view the AIDS generation is the bravest generation. And as we would do for our World War II heroes, whom we honor as the "greatest generation," on this National HIV/AIDS and Aging Awareness Day we should focus on the strength, courage and determination of the AIDS generation. We should celebrate our collective resilience, for in the midst of the most dire and harrowing circumstances, we have managed to not only survive but thrive. I know this not only because I am a researcher in this domain but because I lived it.
Over the course of the last several years, my program of study has provided me with the privilege of speaking with myriad gay men of my generation about their lives, their loves, and their loss. On May 9, 2013, I witnessed a collective outcry from our generation of gay men in a community forum that we organized in New York City. The forum, which was aptly named "Is This My Beautiful Life?" has created national momentum. Similar events are being organized across the country, including one in San Francisco on Sept. 18 that is perfectly named "Definition of Brave."
This is all to say that there is much to learn from the generation of gay men who lived through the darkest hours of AIDS before the turning point in 1996, when our ability to combat the disease was greatly improved in light of effective antiretroviral treatments. Before that time, and to this day, the gay men of my generation fought for their lives physically, emotionally, socially, and politically. We used all the tools in our arsenal to ward off the unfortunate outcome faced by hundreds of thousand of gay men: death at the hands of this despicable disease.
From our experiences we can glean models of resilience and strategies for survival that not only help inform our work with a new generation of gay men (who, sadly, continue to become infected with HIV) but offer hope for all those who battle chronic and life-threatening illnesses. In that regard National HIV/AIDS and Aging Awareness Day is not only a day of remembrance but a day when we should take pride in what we have survived and celebrate the life accomplishments of my generation of gay men, the AIDS generation.
Rice Krispies Treats Day
If your sweet tooth is aching for a sweet treat to eat, you're in luck! Hip hip hooray -September 18 is Rice Krispies Treats Day!
While the origins of this sweet and crunchy food holiday are unknown, who needs an excuse to eat and/or whip up a batch or two of ooey, gooey Rice Krispies Treats? These delicious treats are not only simple to make, they are fun to eat. And for many Americans, Rice Krispies Treats evoke many fond childhood memories.
National Cheeseburger Day
Fire up the grill or head to your favorite restaurant because today is National Cheeseburger Day!
There are several theories about the origins of the cheeseburger. One story claims that the cheeseburger was created between 1924 and 1926 by a chef named Lionel Sternberger. As the story goes, a homeless man dining at Sternberger's restaurant in Pasadena, California, suggested the addition of a slice of cheese to his hamburger order. Sternberger complied, eventually added it to his menu, and the rest is history.
Today, cheeseburgers are a staple at restaurants and backyard celebrations all across the country. Hungry yet? Enjoy a delicious cheeseburger in honor of National Cheeseburger Day!