National Ice Cream Cone Day
For over a century, Americans have been enjoying ice cream on a cone. Whether it's a waffle cone, a sugar cone or a wafer cone, what better way to enjoy a double scoop of your favorite flavor?
The first ice cream cone was produced in 1896 by Italo Marchiony. Marchiony, who emigrated from Italy in the late 1800s, invented his ice cream cone in New York City. He was granted a patent in December 1903.
Although Marchiony is credited with the invention of the cone, a similar creation was independently introduced at the 1904 St. Louis World's Fair by Ernest A. Hamwi, a Syrian concessionaire. Hamwi was selling a crisp, waffle-like pastry -- zalabis -- in a booth right next to an ice cream vendor. Because of ice cream's popularity, the vendor ran out of dishes. Hamwi saw an easy solution to the ice cream vendor's problem: he quickly rolled one of his wafer-like waffles in the shape of a cone, or cornucopia, and gave it to the ice cream vendor. The cone cooled in a few seconds, the vendor put some ice cream in it, the customers were happy and the cone was on its way to becoming the great American institution that it is today.
St. Louis, a foundry town, quickly capitalized on the cone's success. Enterprising people invented special baking equipment for making the World's Fair cornucopia cones.
Stephen Sullivan of Sullivan, Missouri, was one of the first known independent operators in the ice cream cone business. In 1906, Sullivan served ice cream cones (or cornucopias, as they were still called) at the Modern Woodmen of America Frisco Log Rolling in Sullivan, Missouri.
At the same time, Hamwi was busy with the Cornucopia Waffle Company. In 1910, he founded the Missouri Cone Company, later known as the Western Cone Company.
As the modern ice cream cone developed, two distinct types of cones emerged. The rolled cone was a waffle, baked in a round shape and rolled (first by hand, later mechanically) as soon as it came off the griddle. In a few seconds, it hardened in the form of a crisp cone. The second type of cone was molded either by pouring batter into a shell, inserting a core on which the cone was baked, and then removing the core; or pouring the batter into a mold, baking it and then splitting the mold so the cone could be removed with little difficulty.
In the 1920s, the cone business expanded. Cone production in 1924 reached a record 245 million. Slight changes in automatic machinery have led to the ice cream cone we know today. Now, millions of rolled cones are turned out on machines that are capable of producing about 150,000 cones every 24 hours.
National Centenarian's Day
One holiday that is often overlooked but is truly a feat few have accomplished is National Centenarian's Day. National Centenarian's Day is every September 22 and is a day to recognize those individuals who have lived a century or longer. The "holiday" is said to have been created by a Williamsport Retirement Village in 1995. It is celebrated on September 22th each year because it's 100 days before the end of the year.
America holds the largest population of centenarians in the world with about 72,000 people age 100+. This figure has roughly doubled in the past 20 years and is projected to at least double again by 2020. By 2050, the number of centenarians is projected to be more than 600,000 individuals, according to the Census Bureau.
If you have a centenarian in your life, you know this individual is full of knowledge and history.
That's why it's important that you take the time to not only celebrate them, but also engage them. Listen to their stories with a ferocious appetite.
When the centenarian in your life was born in 1912, New Mexico and Arizona were just being admitted to the Union as the 47th and 48th states, the Titanic took is first and last voyage, and Woodrow Wilson won the U.S. presidential election in a rare four-way contested race against William Taft, Theodore Roosevelt and Eugene Debs. Your centenarian has lived through WWII, Vietnam, and the Cold War. He or she is a member of a generation that started with horses and simple automobiles but lived through the development of radio, television and Internet, as well as high-speed rail, cruise ships, commercial air travel and the space shuttle.
Another way to recognize our country's centenarians is to visit an elderly "centenarian" neighbor, assisted care facility or nursing home. Take the time to discover what they have learned as well as honor them and the lives they've lived. They are true witnesses of history.
Plus, who knows, as a bonus you may learn a thing or two about the secret to living a long and fruitful life as centenarians often say they know the secret to longevity.
Dear Diary Day
September 22nd is Dear Diary Day. Let's face it - many people are overworked, overwhelmed and stressed out. Finding one or two minutes a day to write in a diary or journal may provide that rare moment of peace and quiet in a hectic, busy world.
Whether a diary is a personal record of a special trip, occasion or event or food intake diary, people have been writing journals for centuries. In fact, some journals of the past serve as important historical records today.
If you've always wanted to keep a record of your every thought, deepest, darkest secret or the struggles and joys of everyday life, today is the perfect time to start. Keeping a diary or journal is not only fun, but some believe it is therapeutic and beneficial to your health. Besides improving your writing, organizational and problem solving skills, expressing your emotions by writing a daily journal can also reduce stress.
You don't need to spend an arm-and-a-leg on an expensive diary either. All you need is a pen or pencil and something to write in. You can even write your journal on your personal computer or electronic device. And why not take a stroll down memory lane and re-read those old diaries from days gone by?
National White Chocolate Day
It's National White Chocolate Day! White chocolate was invented by the Nestlé company in Switzerland. The first white chocolate bar debuted in 1930.
Despite its long history, for many years the confection we know as "white chocolate" was not officially chocolate at all. White chocolate does not contain cocoa solids—one of the main ingredients in traditional chocolate. In 2004, ten years after chocolate manufacturers filed the first petition, the FDA finally relaxed its definition of "chocolate" and accepted white chocolate into the family. According to the regulations, true white chocolate must contain at least 20% cocoa butter, 14% total milk solids, 3.5% milk fat, and less than 63% sugar.
Pick up a scrumptious white chocolate truffle or a package of white chocolate covered pretzels to celebrate!
World Car-free Day
Every year on or around 22 September, people from around the world get together in the streets, intersections, and neighbourhood blocks to remind the world that we don't have to accept our car-dominated society.
But we do not want just one day of celebration and then a return to "normal" life. When people get out of their cars, they should stay out of their cars. It is up to us, it is up to our cities, and our governments to help create permanent change to benefit pedestrians, cyclists, and other people who do not drive cars.
Let World Carfree Day be a showcase for just how our cities might look like, feel like, and sound like without cars…365 days a year.
As the climate heats up, World Carfree Day is the perfect time to take the heat off the planet, and put it on city planners and politicians to give priority to cycling, walking and public transport, instead of to the automobile.
So take the time, browse the links and resources provided, and join in on the celebrations!
American Women in Business Day
American Business Women's Day is an American holiday, nationally recognized on September 22.
September 22 marks the 1949 founding date of the American Business Women's Association, the mission of which is "to bring together businesswomen of diverse occupations and to provide opportunities for them to help themselves and others grow personally and professionally through leadership; education, networking support and national recognition".
This holiday was recognized in 1983 and 1986 by Congressional resolution and a proclamation issued by President Ronald Reagan. It commemorates the important legacy and contributions of the more than 68 million American working women and 7.7 million women business owners.
Moreover, it provides an opportunity for ABWA chapters and individual business women to celebrate their accomplishments within the American and global marketplace.
Elephant Appreciation Day
and generally deserves to be appreciated and upheld as an example of courage, strength, self-reliance, patience, persistence, and general high quality of being.
Elephant Appreciation Day (a/k/a) Elephant Day is sponsored by WildHeart Productions, a trade style registered with the State of Florida, of Mission Media, Inc., a digital and print publisher of graphics. Mission Media is wholly owned by the Hepburn Family in Sarasota, Florida. Wayne Hepburn, the Publisher and President, established the day for the reasons outlined above.
The founder, Wayne Hepburn, while living in the Chicago area in 1970 received as a gift from his twelve year old daughter a paperweight whose base was encircled by a parade of elephants. He subsequently bought here and there an elephant figure. By 1978 when he moved to Orange Park, Florida he had eighty or so elephants crowding out the books in his living room bookcase.
He became more interested in elephants and began reading and learning about them, seeking them out, riding them, and fed his growing passion for elephants with a collection which in 1997 numbers one thousand nine hundred nine catalogued items. The catalogued items include: figures, toys, clothing articles, books (over 100), music boxes, jewelry, prints and original art ... in short, every imaginable art and artifact bearing or made in the likeness of an elephant. In addition he has collected examples of elephant images used in publicity, advertising, brand identifications, cartoons, and all manner of print and other media applications.
He obtained a world wide web domain, wildheart.com in 1996 and posted the only site of its kind on the web ... WildHeart's ELEPHANTERIA as a place where people who love elephants can find their heart's desires and links to everything not contained in the site.
Elephant Appreciation Day / Elephant Day, unlike community festivals, has no central event. It is to be observed and enjoyed by anyone anywhere on a local level.
Hobbit Day
September 22nd is the Birthday of Bilbo and Frodo Baggins, two characters from J.R.R. Tolkien's popular Middle Earth Cycle books (The Hobbit and Lord Of The Rings respectively) in which Hobbits, typically between two and four feet tall and nothing like your usual 'hero', accomplish great feats and amazing acts of courage. It is in honour of these creatures and those acts that the day is celebrated with events not unlike the birthday party described in the beginning of "The Fellowship of the Ring".
In the United States Hobbit Day has gained some measure of legal dignity due to the elected officials who support the day and the goals of the American Tolkien Society. The Day has also attracted Bipartisan Support from places as the U.S. County Courthouse, to the White House, to the U.S. Capitol.
A separate event to Tolkien Week (although the Week will always fall over Hobbit Day, running Sunday to Saturday), Hobbit Day is perhaps the oldest running day celebrated by fans. There is some debate on the date that Hobbit Day should be celebrated on, due to the differences in the Gregorian and Shire calendars. Tolkien once said that the Shire calendar is ahead by about ten days depending on the month. A suggested alternative date by hardcore fans is September 14th. Although the day was not officially designated until 1978 and has had many names and designations, it has been celebrated since 1973, shortly after J.R.R. Tolkien died on September 2nd of that year.
Fans celebrate by anything from going barefoot all day and having seven meals, to Literary discussions and readings, Lord Of The Rings Movie Marathons, and throwing parties in honour of the 'Long Awaited Party' at the start of the Fellowship Of The Ring with events such as feasts, games, costumes and fireworks.
International Day of Radiant Peace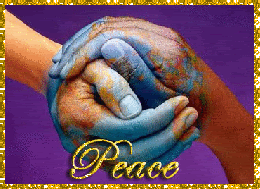 Observed since 1999, this day celebrates and commemorates Radiant Peace. Commemorations of the International Day of Radiant Peace range from Walks for Radiant Peace to citywide and statewide proclamations recognizing the International Day of Radiant Peace, special Radiant Peace projects with children, ringing bells for Radiant Peace and Radiant Peace Picnics. Observed annually on Sept 22.