National Coffee Day
Today is National Coffee Day! Are you one of the millions who will celebrate? Start by sending a free Coffee Day eCard and then find out where you can go to get a free cup of joe. There are number of local and national businesses offering free or discounted cups of coffee to celebrate Coffee Day in 2013.
If you show the National Coffee Day offer via the Dunkin' Donuts app on your mobile phone, you'll receive a free small hot or iced coffee at participating locations. Krispy Kreme is giving away a free cup of joe to any customer - no purchase required - on Sunday at participating locations. And Starbucks will be giving out free samples of their Ethiopian blend coffee. Don't forget to pay attention to social media as some businesses plan to share coupons and specials with their loyal followers.
So, where did coffee come from and how did it become so popular? According to legend, a sixth-century Ethiopian goatherd named Kaldi discovered his goats frolicking from one coffee shrub to another. He realized the coffee berries had a stimulating effect, and he began to experiment with the seeds. A century later, brewed coffee emerged in Arabia and the popularity of coffee grew at an exponential rate.
Today, over 400 billion cups of coffee are consumed each year. It is a world commodity that is second only to oil. Don't forget to take a coffee break (or two) to celebrate this historical and important beverage!
National Poisoned Blackberries Day
Berry picking can be fun, but did you know picking can prove perilous as well?
Today is National Poisoned Blackberries Day. A search of the web reveals various origins, one says this is the day the devil poisoned all of the blackberries in Scotland cursing us all to bad berries forever, and another, Cotolo Chronicles says "In the 1700s blackberries were the cause of more deaths than any other form of fruit from a vine or patch. Since then, tens, if not pairs of people take this day to hunt for blackberries that can kill someone instantly when consumed."
Must we worry about poisoned blackberries in modern times? Perhaps prudent pickers will do well to peek before popping any wild berry bounty into their mouths.
Gold Star Mother's Day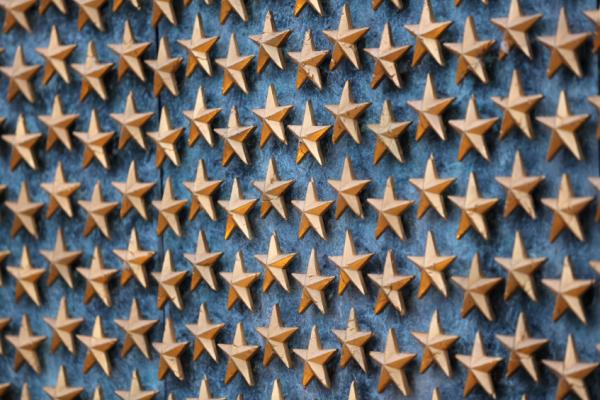 Gold Star Mother's Day is observed in the United States on the last Sunday of September each year. It is a day for people to recognize and honor those who have lost a son or daughter while serving the United States Armed Forces.
What do people do?
Each year on Gold Star Mother's Day the United States president calls on all Americans to display the nation's flag and hold appropriate meetings to publicly express their love, sorrow, and reverence towards Gold Star Mothers and their families. Government buildings are also required to display the flag.
American Gold Star Mothers, Inc. is an organization of mothers whose sons or daughters served and died while serving their nation in times of war or conflict. It organizes major events that take place on or around Gold Star Mother's Day each year. Previous activities included a Gold Star flower wreath laying service, as well as an afternoon tour of President Lincoln's cottage in Washington DC.
The last Sunday in September is also Parents of Fallen Military Sons and Daughters Day in New Jersey. This day is a tribute to all parents whose children died as a result of their service with the United States Armed Forces. It commemorates the contributions, commitments and sacrifices made by those parents individually and through the American Gold Star Mothers, Inc.
Background
The name the Gold Star Mothers was derived from the custom of military families who put a service flag near their front window. The flag featured a star for each family member serving in their country – living members were denoted in blue but gold stars honored family members who were killed while in duty. In 1918 President Woodrow Wilson approved the wearing of black arm bands bearing a gilt star by those who had a family member who died in the military service to the United States. This distinguished them from the blue stars, representing a family member presently serving in the armed forces.
American Gold Star Mothers, Inc. was incorporated in 1929, obtaining a federal charter from the US Congress. It began with 25 mothers living in the Washington DC area and soon expanded to include affiliated groups throughout the nation. On June 23, 1936, a joint congressional resolution designated the last Sunday in September as Gold Star Mother's Day, a holiday that has been observed each year by a presidential proclamation.
Symbols
A gold star symbolizes a family member who died in the line of duty while serving the United States Armed Forces. It may be seen on a service flag or in the form of a pin, which is worn by Gold Star mothers. The pin is not limited to mothers and it is awarded by the US Department of Defense.
Broadway Musicals Day
From an early age, I loved Broadway musicals. My mom and Grandmother bought us musicals on tape: The Sound of Music, Bye Bye Birdie, Oklahoma, Grease… and we'd watch them over and over again. There's just something about being in a predicament that bursting into song can totally cure! I love going to see musicals on the stage, no matter what size of a production it is.
To celebrate Broadway Musicals Day, here's a list of some of my favorite songs from musicals:
1.
"All That Jazz" from Chicago
— I wasn't familiar with Chicago Until the movie came out, but when I saw it, I fell in love. I saw it in the movie theater four times, and then Mom and I saw it on Broadway thanks to my freshman year college friends. If you're familiar with this blog, you know how that went. But I really think if I had a chance to play any character on stage, it would be Velma Kelly!
2.
"For Good" from Wicked
— I know most people's favorite song from Wicked is "Defying Gravity," but I just love "For Good." Makes me tear up everytime I hear it.
3.
"Single" from The Wedding Singer
— I just saw this at the Pennsylvania Playhouse last month, and I absolutely loved it. The Wedding Singer is one of my favorite movies, and they follow that script pretty closely. But then they add some really terrific songs to it, including this one. It's hilarious and so catchy!
4.
"Tomorrow" from Annie
– Annie is another musical we grew up with, and we used to act out with the Foster and Schultz girls. A young Brandon was always Daddy Warbucks.
5.
"Hard Candy Christmas" from The Best Little Whorehouse in Texas"
– The Best Little Whorehouse in Texas was the first La Salle theater production I saw. I loved it, and Tanya had us watch the movie before we saw it as well. There is something so sad yet sweet (get the pun? It has candy in the title!) about this song.
6.
"The Telephone Hour" from Bye Bye Birdie
— This one has a lot of sentimental value because it's one of Mom's favorites. We used to sing it with her all the time.
7.
"All Er Nuthin" from Oklahoma
— Emily and I used to perform this one for our Nanny, and she loved it. I don't remember which one of us was Ado Annie and who had the poor luck to be Will.
8.
"The Time Warp" from The Rocky Horror Show
— I've never seen The Rocky Horror Show on stage, just it's very popular film version, The Rocky Horror Picture Show. I've gotta say the movie is so bizarre and I don't know what to think of it, but I do know the music is awesome!
9.
"Waterloo" from Mamma Mia!
— After Ter and I saw this movie, I would not stop singing "Waterloo." Worst part was, I didn't really know the lyrics. I'm pretty sure my roommates were very close to choking me.
10.
"Suddenly Seymour" from Little Shop of Horrors
— My high school produced this one and I was really impressed how they were able to operate that big ol' plant on such a small stage!
Confucius Day
Confucius Day honors one of the world's greatest philosophers.Born in China on October 18, 551 B.C., Confucius is one of the earliest, and perhaps the the first great philosopher. He was also a teacher, a scholar, and a politician. He gave the world many teachings, and gave the world 499 famous sayings. Celebrate Confucius Day by learning more about this ancient philosopher, and read some of his teachings and sayings.
Note: Over the years, many comical and humorous sayings have been created and referenced as sayings of Confucius, usually titled "Confucius Says". As a rule of thumb, if the saying is humorous, chances are it is not a true saying by this great scholar.
The original Confucius day dates back thousands of years. We do not know who created this special day, and why on this date.
Goose Day
September 29 is going to the birds. It's Goose Day!
How to Celebrate Goose Day
Goose Day could be celebrated by giving those special people in your life a little fun goosing. Or you could always play a good game of Duck, Duck, Goose or read a few Mother Goose stories with the kiddies.
Folks in Mifflin County, Pennsylvania, celebrate Goose Day every year by dining on goose for good luck. But that may not sit well with vegetarians or Paul "The Gooseman" Messerschmidt who was diagnosed with terminal lung disease.
With only a year to live, his doctors advised him to take a daily walk. And so he did. But he didn't go it alone or with friends and family. He walked with his gaggle of baby geese! With a bit of luck (more like bribery of soda pop and Oreos), Messerschmidt even began to train them!
"I started teaching them like preschoolers. When you go to preschool you can't push, shove, poke or pinch anybody."
He even dresses the geese up in their Sunday finest! He's designed more than 16 different outfits for the geese! This "Father Goose" has lost 200 pounds since he began his daily walks and the "Dirty Dozen Puddle Jumpers" are all grown up now. So far, the group has walked more than 1,100 miles so far and have taken their "act" to state fairs and parades around the country. Next year, Messerschmidt plans on starting a new group, the Backyard Boys" with other critters.
VFW Day
On September 29, 1899, a small group of veterans gathered in a tailor shop in Columbus, Ohio to see how they could help surviving veterans of the Spanish-American War. The foundation for the VFW was laid.
In the years that followed, other groups of veterans formed in Colorado and Pennsylvania with the intent of helping surviving veterans from other theatres. These groups would soon merge to create what would become known as the Veterans of Foreign Wars.
For 114 years, the VFW has fought for veterans, giving them a voice when no one else would. Standing up for generations of service members when others have turned their backs. Lending a hand to military families when they need it the most, fostering patriotism among America's youth and serving communities nationwide.
We celebrate a long and storied history and take much pride in what we have accomplished over the years — making a true difference in the lives of countless veterans, servicemembers and their families. And, the VFW will continue to fight for veterans as long as there is a need.
As we celebrate our founding 114 years ago, we would like to thank each and every member of the VFW, and those who are no longer with us. It is because of your commitment, your resolve and dedication in continuing to serve your country that has led VFW to become the nation's leading veterans' service organization.
World Heart Day
September 29 is World Heart Day. In an effort to educate the public about the dangers of cardiovascular diseases (CVD), the World Health Organization (WHO) and the World Heart Federation are working together to raise awareness. People around the world have been observing World Heart Day on September 29th since 2000. Exhibitions, health checks, walks and runs, forums, concerts and tournaments will take place in more than 100 countries.
Heart Disease
More than 17 million people die each year due to heart disease and stroke, the world's leading cause of death. And CVDs continue to rise around the world. By 2030, it is estimated that over 23 million people will die from CVDs. According to the World Heart Federation, at least 80 percent of those deaths could be prevented by avoiding certain risk factors include tobacco use, obesity, lack of physical activity, high cholesterol and glucose levels and improper diet. Did you know that just 30 minutes of exercise and eating at least five servings of fruit and veggies per day, will help prevent heart attacks and strokes? This year, why not participate in a few of the World Heart Day activities and learn more about heart disease. It could save your life.
All Angels Day
September 29th is All Angels Day, also referred to as Michaelmas Day or St. Michael's Day. Some celebrate All Angels Day by attending church, reading scripture or offering prayers. The annual event celebrates the Feast of St. Michael and All Angels.
Michael, the greatest of all archangels, is honored in both eastern and western religions for defeating Lucifer. According to Revelations 12:7, "And there was war in heaven, Michael and his angels waging war with the dragon. The dragon and his angels' waged war and they were not strong enough, and there was no longer a place found for them in heaven. And the great dragon was thrown down, the serpent of old who is called the devil and Satan, who deceives the whole world; he was thrown down to the earth, and his angels were thrown down with him."
Throughout history, people have been fascinated by angels. According to the Bible, God made angels during the six days of creation. Angels are spirits without a physical body that are intelligent and have a will. Angels are protectors of the faithful and believed to be messengers from God. Angels comfort, strengthen and guide us on our journey here on earth.