National Be Late for Something Day
September 5 is Be Late for Something Day. Yeah, I know this article is late, as I tend to publish holidays a day before- but that's the point of this holiday! This late article is the beginning of a day full of tardiness and procrastination. If being late is something you already do on a regular basis because you fall behind schedule, or don't have a schedule at all, then today is just like any other day but with a twist- it's a holiday, so nobody can be mad at you!
However, if you enjoy being on time or even early, you might find it a little difficult to participate. Give it a shot, think of it as a chance to take it easy and relax, even if it's just for 5 minutes. Parties don't count though; being "fashionably late" is not included in this holiday. Be Late for Something Day might also come in handy for those of you who do not want to be late for anything. If you got all the red lights on your way to work, forgot something at home and had to turn around, blame it on Be Late for Something Day and act like you meant to be late.
National Cheese Pizza Day
When it comes to holidays, September 5th has got to be one of the very best food holidays of the entire year. It's National Cheese Pizza Day! While the origins of National Cheese Pizza Day are unknown, folks have been enjoying pizza for centuries!
The earliest form of pizza was bread baked beneath stones of a fire, then seasoned with different toppings. Gennaro Lombardi is credited with opening the first pizzeria in New York City back in 1905. Lombardi's is still considered one of America's best pizzerias today. In 1957, frozen pizzas were introduced and the rest, as they say, is history.
Today's pizzas can be made with just about any topping, sauce or crust combination you desire. Whether you prefer deep dish, stuffed or thin and crispy, one thing's for certain - Americans love pizza! In fact, Americans eat about 350 slices of pizza each second! Yep, per second! While pepperoni is the preferred topping for most American pizza lovers, who can resist a slice of pizza pie loaded with ooey, gooey melted cheese?
Over the past half century a great change has been taking place in the social and economic structure of the United States: mothers are joining the labor force in ever-increasing numbers. At the present time, over half of all the children in America have mothers who work outside the home.
Over forty-three million women are now employed in every area of public and private employment and are continuing to develop new opportunities. They have made, and continue to make, increasingly important contributions to the Nation.
Of these forty-three million working women, over eighteen million simultaneously perform the vitally important role of mother.
These women make substantial contributions both to the Nation's economic growth and to the increasing strength of the American family, often at great personal sacrifice. They deserve our recognition and gratitude.
Most other mothers are working full time in the home. Their work is no less important. The guidance they give their children and the maintenance of a strong and cohesive family unit also contribute to the Nation's economic growth.
By Senate Joint Resolution 53, the Congress of the United States has authorized and requested the President to designate September 5, 1982, as "Working Mothers' Day."
Now, Therefore, I, Ronald Reagan,
President of the United States of America, do hereby proclaim September 5, 1982, as "Working Mothers' Day" and call upon families, individual citizens, labor and civic organizations, the media, and the business community to acknowledge the importance of the mothers who work inside or outside the home and to express appreciation for their role in American society.
In Witness Whereof,
I have hereunto set my hand this 4th day of Aug, in the year of our Lord nineteen hundred and eighty two, and of the Independence of the United States of America the two hundred and seventh.
Did you know that today is National Shrink Day?
Celebrate all psychiatrists and psychologists on the birthday of America's favorite TV shrink, Bob Newhart. Newhart was born on September 5, 1929, at Chicago, Illinois.
What's Bob Newhart's philosophy of life? "All I can say about life is, Oh God, enjoy it!"
The comedian who made the one-sided telephone conversation into a comedic art form turns 84 today. His deadpan delivery was popular enough to win him his own TV shows,The Bob Newhart Show (1972-78) and Newhart (1982-90).
In the final episode of the latter show, Bob wakes up in bed with his first TV wife, Suzanne Pleshette, and he realizes that the entire second series was a dream. (Not bad!)
In 2007, Newhart's Grammy Award-winning recording, The Button Down Mind of Bob Newhart, was inducted into the Library of Congress's National Recording Registry.
'I don't like country music, but I don't mean to denigrate those who do. And for the people who like country music, denigrate means 'put down.' - Bob Newhart (Ouch!)
First Labor Day Observance
For most people Labor Day is a way to say goodbye to summer. The holiday originated not as a way to give working people one more three-day weekend but to honor working people. It's similar to the employer philosophy of rewarding exemplary attendance with a day off. Labor Day was first observed on Sept. 5, 1882.
"The vital force of labor added materially to the highest standard of living and the greatest production the world has ever known and has brought us closer to the realization of our traditional ideals of economic and political democracy. It is appropriate, therefore, that the nation pay tribute on Labor Day to the creator of so much of the nation's strength, freedom, and leadership -- the American worker." -- The Department of Labor
Gerald Ford Assassination Attempt
President Gerald Ford survived not one but two assassination attempts. The first was on Sept. 5, 1975, when a follower of Charles Manson, Lynette "Squeaky" Fromme tried to shoot him. A few weeks later, on Sept. 22, Sarah Jane Moore also shot at Ford.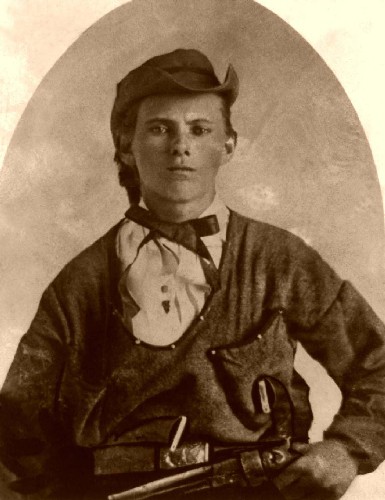 Jesse James was born on September 5, 1847, in Kearney, Missouri. James and his brother Frank served for the Confederate Army before embarking on criminal careers in the Old West. The James brothers made a name for themselves as bank and train robbers, leading the James-Younger gang. Gang member Robert Ford killed Jesse James in 1882, after which James became a legend of the Old West.
American outlaw, robber and legendary figure Jesse Woodson James was born on September 5, 1847, in Kearney, Missouri. Jesse and his brother Frank James were educated and hailed from a prestigious family of farmers. Their father, the Reverend Robert James, was a Baptist minister who married Zerelda Cole James and moved from Kentucky to Missouri in 1842. In the summer of 1863, the James farm was brutally attacked by Union soldiers. Jesse was 16 when he and Frank became Confederate guerrilla soldiers, riding alongside William Quantrill and "Bloody Bill" Anderson.
Some historians accuse Jesse and Frank of being cruel to Union soldiers, while others argue that it was the brutal treatment the brothers received that turned them to a life of crime. Either way, they rebelled against harsh post war civil legislation and took the law into their own hands. They began robbing trains, stagecoaches and banks that were owned or operated by a Northern institution.
There has been speculation that the boys and their gangs were like Robin Hood, robbing the rich and giving to the poor, but there is no evidence for that. Most likely, they kept the money for themselves. From 1860 to 1882, the James Gang was the most feared band of outlaws in American history, responsible for more than 20 bank and train robberies and the murders of countless individuals who stood in their way. They stole an estimated $200,000. They were legends in their own time, popular in Missouri for actively trying to further the Confederate cause.
On December 7, 1869, the gang robbed the Gallatin, Missouri, bank. Jesse asked to change a $100 bill, and thinking that the banker was responsible for the death of Bloody Bill, shot the man in the heart. Local newspapers labeled the actions vicious and bloodthirsty and called for the gang's capture. From that robbery to the end of their careers, members of the James Gang had a price on their heads, dead or alive.
In 1874, Jesse married his longtime sweetheart and first cousin, Zerelda, and had two children. Both James brothers were known as good family men who loved their wives and spent time with their children, but they still continued their life of crime.
Though protected by their community, they were always on the move. Even after other members of the gang had been killed, and their friends the Youngers had been sent to prison for 25 years, in 1879, the James brothers planned one more robbery with Charlie and Bob Ford. Little did they know that Governor Crittenden of Missouri had put together a reward fund so large that the Fords had turned traitor to earn it.
After breakfast on April 3, 1882, Jesse turned to straighten a picture on a wall of his home, and Bob shot Jesse in the back of the head. Jesse died instantly at age 34. People in Missouri were outraged at the method used to capture him and considered it a cowardly assassination. Within three months, Frank surrendered to Crittenden. The juries would not convict on the meager evidence, so Frank resumed a quiet life.
When Joe Rogers, Sr. bought a house from Tom Forkner in Avondale Estates, GA., in 1949, neither one knew where that relationship would take them.
It's the mid 1950's. Joe Rogers and Tom Forkner were neighbors–Joe working for a national restaurant chain, the Toddle House, and Tom in the local real estate business. Since employee ownership was not available with the Toddle House, the idea of starting a business they could own and share some ownership with other seemed like a good idea. Joe and Tom wanted to create a restaurant focused on people–both the associates and customers–while serving quality food at a great value.
On Labor Day 1955, their dream became a reality–and an icon was born–when the first Waffle House restaurant opened its doors for business in Avondale Estates, an Atlanta suburb. After Unit 1 opened there were no plans for another Unit, but the first restaurant established the Waffle House tradition of providing the friendliest service in town. Customer loyalty developed and the business grew steadily. A couple of years (1957) Unit 2 was acquired and by 1961, there were four small restaurants.
In 1961, Joe left Toddle House and went to work full-time at Waffle House®. Tom went full time soon after. The 1960's saw the emergence of a restaurant chain focused on customer service with a short order concept and, true to its founding beliefs, shared the ownership generously with management.
The company began to expand and new units were built in Georgia and neighboring states. The "Yellow Sign" soon became a familiar landmark along city streets and interstate highways across the Southeast. Under the guiding philosophy of "better before bigger," Waffle House restaurants continued to grow in both new and existing markets.
Since day one, each Waffle House
®
restaurant has provided guests with a unique and comfortable dining experience. At every restaurant, the bright "Yellow Sign" greets customers like an old friend, the jukebox plays a variety of the now famous Waffle House songs and associates give customers a heartfelt greeting as they walk through the door. In addition, each restaurant is open 24 hours a day, 365 days of the year, inspiring urban myths such as "Waffle House doors have no locks."
Most established businesses of today started as just an idea among a few people with no expectation of great size and success. Joe and Tom did not envision what Waffle House has become, but they stuck by their concept and their belief in shared ownership. Now more than 50 years later, the southern icon, the southern icon has become A Unique American Phenomenon
®
by serving GOOD FOOD FAST
®
.
As the Waffle House system celebrates more than 50 years of service, we look forward to making the next generation of customers and associates part of the family. At Waffle House® restaurants, success is measured by one thing–PEOPLE.