World Beard Day is celebrated annually on an international level with people from every nation and continent gathering together with their beards. It is held on the first Saturday of September and is characterised by the happiness of all people being with their beards and with each other.
On World Beard Day, it is customary for the bearded members of a family to relax and partake in no jobs or chores. The beardless members of the family traditionally show their support by waiting on the bearded hand and foot. World Beard Day is all about promoting and elevating the global status of the the beard. Whilst many countries and cities practice World Beard Day customs specific to their own region, shaving on World Beard Day is universally considered to be highly disrespectful.
World Beard Day Facts
- In southern Spain, many townships gather to witness a boxing match between a bearded man a beardless boy. The bearded man, normally armed with a sharp pike, is typically the victor.
- In the Swedish village of Dönskborg, anyone without a beard is banished from the town and forced to spend twenty-four hours in a nearby forest. Back in the town, the hirsute burn effigies of their clean-chinned loved ones.
- The exact origins of World Beard Day are unknown, but there is some evidence to suggest that Danish Vikings had a special day dedicated to the glorification of beards as far back as 800 AD. The event was not held on a fixed date, and was often celebrated hundreds of times each year. This early incarnation of what would one day become World Beard Day typically involved the ransacking of neighbouring towns, villages and countries by large groups of heavily-armed bearded men.
- Throughout the world, bearded communities are encouraged to acknowledge this sacred day by organising and staging their own public or private World Beard Day celebrations. These can consist of anything from a relaxing family lunch to a lavish, taxpayer funded street parade.
- Shaving on World Beard Day is universally considered to be highly disrespectful.
Yes, that's right—today, September 7, is National Lazy Mom's Day—the day when all moms everywhere should make an effort to relax… and feel good about it!
Not that you need a silly national holiday to take some time for yourself, but we all know—it's never easy. So today, in celebration of America's greatest holiday (grossly under-recognized, in our opinion!) we've pulled together 10 easy relaxation ideas for moms.
Take a nice long soak in a hot bath. Classic, we know. But it works every time!
Light an aromatic candle, and breathe… You know what they say— focusing on the breath is the key to relaxation.
Enjoy a cup of hot tea.
Get cozy in a warm blanket.
Read a book. Believe it or not, British researchers found that reading a good book works even better and faster than other methods to calm your nerves, such as listening to music, going for a walk or settling down with a cup of tea.
Take a power nap.
Put on some tunes.
Meditate.
Give yourself a massage.
Write in your journal.
National Acorn Squash Day
Not only is today National Acorn Squash Day, September is also Celebrate the Harvest Month, so, just in case you don't have anything planned for dinner tonight consider this member of the squash family. That gives you some pretty tasty choices from soup to dessert.
Starting with the simplest and healthiest, yet tasty, consider just steaming it. Cut the squash in half, remove the seeds and then cut into chunks. Place in your steamer, I prefer the Chinese basket steamers, and steam to desired degree of doneness. Test by simply piercing with a fork and when it's tender it's ready. Serve is with a simple sprinkling of olive oil, a bit of freshly grated nutmeg, a grinding of fresh coarse ground black pepper and a whisper of salt. Further enhancement might be a light drizzle of balsamic vinegar or a wee bit of maple syrup. Yummy and very healthy.
Want something just a bit more involved – paint the halves with olive oil and a bit of maple syrup, sprinkle with a bit each of nutmeg and cinnamon and bake until tender, painting occasionally with more olive oil and maple syrup.
Now, it doesn't get much better than Acorn Squash Soup. Steam the squash until tender. When cool enough to handle, remove the skin and mash the squash. Add the squash to a stock, broth or bouillon of choice and blend with an emersion blender. Add milk, half and half or cream and season with nutmeg, dill weed and salt and pepper to taste. Heat and serve. Delectable! And for a special occasion, serve in a squash shell. Be sure to heat the shells by holding them under hot water first or they will suck all the heat out of the soup.
For something truly special, try homemade acorn squash ravioli, not all that hard. Steam the squash, peel and mash. Add seasonings to taste; caramelized minced onion and garlic, dill week, nutmeg, salt and pepper and just a whisper of sugar or maple syrup. Set aside. Make your pasta using 1 cup all-purpose flour, 1 tablespoon and enough cold water to make a soft dough. Knead well and cut in half. Roll each piece out to be about 1/8th inch thick. Place teaspoons of the filling on one sheets of the pastry and paint the pastry between them with egg wash, (one egg beaten with one tablespoon of cold water). Then place the second sheet of pastry on top and press down between the lumps of filling to seal. Cut apart with a pastry wheel. Place in simmering water for about 5 or 6 minutes. Drain well and add a drizzle of olive oil to keep them from sticking together. Sauce as you will. I like them with a bit of olive oil, sautéed garlic, a touch each of fresh grated nutmeg, a bit of fresh dill weed or fresh basil, and a light sprinkling of Parmesan cheese.
For something truly delectable and not all that hard, stuff them. Cut the squash in half and remove the seeds. Fill them with whatever stuffing you desire, meat, non meat, your choice. Place the stuffed shells in a baking dish, add about a cup of water or broth, cover with aluminum foil and bake at 350° until the squash are tender when pierced with a fork.
And for dessert there's Acorn Squash Pie. Just follow your favorite recipe for pumpkin pie only use mashed acorn squash instead of pumpkin.
National Feel the Love Day
Our pets make our homes — and our hearts — feel complete. And National Feel The Love Day gives us a perfect holiday to share with our pets as well. Even though the holiday is officially celebrated on September 7, any true pet person will tell you that there are reasons to feel the love for our furry friends every day of the year. Why not curl up with your kitty or scratch your pup under the chin as you read through these top ten ways to feel the love for dogs and cats.
Play like a pet! Walk your dog around the block or play hide and seek cat games. The exercise will do you both good.
Have a heart-to-heart talk. Do you have a talking dog or talking cats in your house? You're not alone. Studies show that talking to your pet is even more uplifting than talking to another human. And researchers have found that people feel more support from a pet talk than from a talk with a friend or spouse.
Banish kitty boredom. Is your cat bored? You'd be surprised at all the fun that's just waiting to be had by you and your feline friend — right in your own living room! Like the paper bag playground!
Hit the road with Rover. But first, have you taught your dog travel etiquette? With a little training, the two of you will be ready for the Great American Road Trip.
Pet photography! Why not have a photo shoot at home with your pets? Current photos are always good to have, and pet holiday cards are always a hit. (Your friends and family are sure to feel the love during the holidays when they see pics of your four-legged family members!)
Think safety. Is your pet microchipped? Are they up-to-date on their vaccinations? Is your home free of toxic plants and other pet dangers? If you're not sure, get down on all fours and see things from your pet's point of view.
Make it a double. You know that hanging out with your pet boosts your pet's mood, but did you know that it can lower your stress level, too? In fact, a recent study shows pets contribute to low blood pressure. So a good time for your pet is, in reality, twice as nice!
Sing a song. There's nothing your pet loves to hear more than your voice calling his name. If you really want his ears to perk up, sing a song using your pet's name. Don't worry, you won't be alone, because 97 percent of pet owners talk to their pets. Even if you're out of tune, your voice singing his name is sure to be music to his ears.
Make a difference. Petcentric has joined forces with www.Adopt-a-Pet.com to help homeless pets find loving, permanent homes, and you can help. Share the news with pet lovers who are looking to adopt. Potential pet adopters can visit petcentric.com to find information on cat adoption and dog adoption — including pet photos. And as you know, when you give a forever home to a cat or dog, they will thank you with a lifetime of love.
Pass it on. Celebrate National Feel the Love Day by passing this list along to your pet-loving friends. They're sure to want to celebrate with their pets, too!
National Neither Rain Nor Snow Day
Neither Rain nor Snow Day is celebrated on September 7th of each year in honor of the United States Postal Service. The United States Postal Service has no official creed or motto, though an inscription on the James Farley Post Office in New York City reads:
Neither snow nor rain nor heat nor gloom of night stays these couriers from the swift completion of their appointed rounds.
This phrase was a translation by Prof. George Herbert Palmer, Harvard University, from an ancient Greek work of Herodotus describing the Persian system of mounted postal carriers c. 500 B.C.E. The inscription was added to the building by William Mitchell Kendall of the architectural firm of McKim, Mead & White, the building's architects. It derives from a quote from Herodotus' Histories, referring to the courier service of the ancient Persian Empire:
It is said that as many days as there are in the whole journey, so many are the men and horses that stand along the road, each horse and man at the interval of a day's journey; and these are stayed neither by snow nor rain nor heat nor darkness from accomplishing their appointed course with all speed.
—Herodotus, Histories (8.98) (trans. A.D. Godley, 1924)
Was there really a time before Google? It's hard to fathom an age when phone books, encyclopedias and local librarians helped us with our searches. But ever since Google launched with the mission to "organize the world's information and make it universally accessible and useful," we need travel no further than the blue search box on our computer screen and type our query – 0.25 seconds later, the great oracle replies. More often than not, rather profusely.
The remarkable part is that Google is just a teen, a mere 14 years old this Sept. 7, the date that marks Google Commemoration Day. Although the domain name google.com was registered on Sept. 15, 1997, and the company incorporated on Sept. 4, 1998, the default day to commemorate the site has become Sept. 7.
How is the birthday celebrated? Usually with a festive Google Doodle And a host of Google queries asking "what is google commemoration day?"
10 Google Facts You Might Not Know
1. There are more than 1 billion searches each day on Google.
2. 20 percent of unique queries are new to the site every day.
3. Since 2003, Google has replied to 450 billion new unique queries — searches they have never seen before.
4. Every query has to travel on average 1,500 miles to get the answer back to the user.
5. The first decorated Google logo, now known as a Google Doodle, was created as kind of cryptic, comical "out of office" message in 1998 when Google founders Larry Page and Sergey Brin played with the corporate logo to indicate they were going to the Burning Man festival. Since then, the Google doodlers team has created more than 300 doodles for the United States Google site, and more than 700 have been designed internationally.
6. Google's first tweet: I'm 01100110 01100101 01100101 01101100 01101001 01101110 01100111 00100000 01101100 01110101 01100011 01101011 01111001 00001010. "I'm feeling lucky" in binary code may very well go down in history along with Morse's first telegraph and Bell's first phone call.
7. Google rents goats to graze the lawn at headquarters instead of using mechanical mowers. The company get its goats from a company called California Grazing, an operation that involves 200 goats plus a herder and a border collie.
8. To search with an image instead of text go to images.google.com and click the camera icon in the search box. Paste an image URL, drag and drop it into the search box, or upload a picture from your computer to get associated results.
9. You can read the complete texts of public domain books (like "Moby Dick"!) for free by selecting "books" in the left box of your search results.
10. It's been noted that, like some of the world's best inventions, the name "Google" was an accident, the result of a spelling mistake made by the original founders who thought they were going for Googol — the digit 1 followed by 100 zeros. Apparently, they weren't able to google it.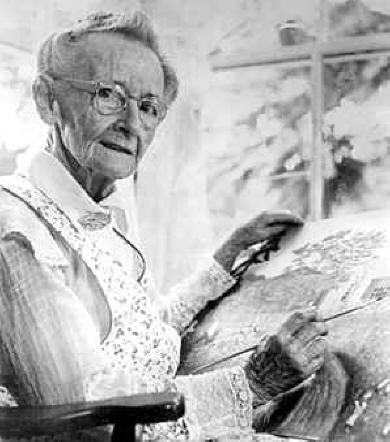 Grandma Moses, by name of Anna Mary Robertson Moses, original name Anna Mary Robertson (born September 7, 1860, Greenwich, New York, U.S.—died December 13, 1961, Hoosick Falls), American folk painter who was internationally popular for her naive documentation of rural life in the United States in the late 19th and early 20th centuries. Anna Robertson had only sporadic periods of schooling during her childhood. At age 12 she left her parents' farm and worked as a hired girl until she married Thomas Moses in 1887. They first farmed in the Shenandoah Valley near Staunton, Virginia, and in 1905 moved to a farm at Eagle Bridge, New York, near her birthplace. Thomas died in 1927, and Anna continued to farm with the help of her youngest son until advancing age forced her to retire to a daughter's home in 1936.
As a child the artist had drawn pictures and coloured them with the juice of berries and grapes. After her husband died she created worsted-embroidery pictures, and, when her arthritis made manipulating a needle too difficult, she turned to painting. At first she copied illustrated postcards and Currier & Ives Prints, but gradually she began to recreate scenes from her childhood, as in Apple Pickers (c. 1940),Sugaring-Off in the Maple Orchard (1940), Catching the Thanksgiving Turkey (1943), and Over the River to Grandma's House (c. 1944). Her early paintings were given away or sold for small sums. In 1939 Louis Caldor, an engineer and art collector, was impressed when he saw several of her paintings hanging in a drugstore window in Hoosick Falls, New York. He drove to her farm and bought her remaining stock of 15 paintings. In October of that year three of those paintings were exhibited at the Museum of Modern Art in New York City in a show titled "Contemporary, Unknown Painters."
From the beginning Grandma Moses's work received favourable criticism. In October 1940 a one-woman show of 35 paintings was held at Galerie St. Etienne in New York. Thereafter her paintings were shown throughout the United States and Europe in some 150 solo shows and 100 group exhibits. Throughout her lifetime Grandma Moses produced about 2,000 paintings, most of them on masonite board. Her naive style (labeled "American Primitive" by art historians) was acclaimed for its purity of colour, its attention to detail, and its vigour. Her other notable paintings include Black Horses (1942), Out for the Christmas Trees (1946), The Old Oaken Bucket (1946), From My Window (1949), and Making Apple Butter (1958). From 1946 her paintings were often reproduced in prints and on Christmas cards. Her autobiography, My Life's History, was published in 1952.
Hope you've got big plans for a evening out on the town, eating some delicious salami. If you prefer a relaxing meal at home, your local grocer should have a variety of delightful salamis to choose from. Or, if you're super lazy, order that pizza with pepperoni, one of the more popular types of salami. No matter what, have a great Salami Day, and wish all your friends a Happy Salami Day as well, as one good sausage party deserves another.
Salami Day was first started in 2006 in Henrico, Virginia, by the Salami Appreciation Society (SAS for short). Salami Day, as well as the SAS, for that matter, were the result of spontaneous inspiration on the part of the founders, Christine and Virginia. The group has grown by leaps and bounds since then, to include upwards of over 10 people! Word is spreading, though, and soon the whole world will be able to participate in the joy of eating this delicious meat product on the exact same day that other salami lovers are doing it as well. To start your own chapter of the Salami Appreciation Society, all you have to do is organize a salami-related party or outing and September 7th. It's that easy!
Salami is a too-often overlooked meat in the world of deli meats, and the Salami Appreciation Society felt that it, too, deserved it's day in the sun. It holds a special place in all of our hearts. Salami has a rich history and is definitely a part of a healthy diet, providing important nutrients such as protein and potassium. It can be eaten on sandwiches, crackers, in pita wraps, tortilla wraps, or even by itself. No one can resist the ultimate duo of salami and cheese, for that matter! Be sure to tell your friends about Salami Day this September 7th, so everyone can share in the joy that salami brings to the world!
To celebrate Raggedy Ann's 98th birthday on Saturday, September 7, Applause by Russ has designed new, exclusive vintage-inspired dolls that match her look in the illustrations from the first Johnny Gruelle books, such as the 1930 book Raggedy Ann in the Deep, Deep Woods. This anniversary doll will make a great baby present to introduce a new generation to this classic children's literature character and doll or a wonderful collector's item for current fans.
Raggedy Ann history
Johnny Gruelle made the first Raggedy Ann doll for his daughter Marcella in 1915 and published the first Raggedy Ann book in 1918. The Strong National Museum of Play inducted the Raggedy Ann doll into its National Toy Hall of Fame in 2002, with the Raggedy Andy doll following in 2007.
Raggedy Ann and Chicago
Chicago has a special connection to Raggedy Ann history. Johnny Gruelle was born in downstate Arcola, IL, and his granddaughter Joni Gruelle Wannamaker opened the only officially licensed Raggedy Ann & Andy Museum in downtown Arcola in May of 1999. Unfortunately, the museum had to close in 2010, but it donated many rare family papers, manuscripts, and Raggedy Ann & Andy toys and dolls to the Strong National Museum of Play in Rochester, NY. The Arcola museum is still open for appointments and special events, and the museum gift shop will take mail orders for books and dolls throughout 2010.
Global Pulmonary Fibrosis Awareness
Awareness Is Critical For Any Disease, but it is even more important for a rare disease like pulmonary fibrosis (PF). This September, as part of a month of awareness activities, the Pulmonary Fibrosis Foundation (PFF) has designated September 7 as the second annual Global Pulmonary Fibrosis Awareness Day.
The PFF is committed to increasing awareness and is asking members of the PF community to join them on September 7, and throughout the month, to do what they can to raise awareness about pulmonary fibrosis. Every effort helps. Every mention of the disease is a step closer to someone getting a timely and accurate diagnosis, receiving essential support, being heard by legislators, and ultimately finding a cure.
Together we will make a difference by letting the world know about pulmonary fibrosis.