31 Day of Halloween Horror
26. Howling III
National Pumpkin Day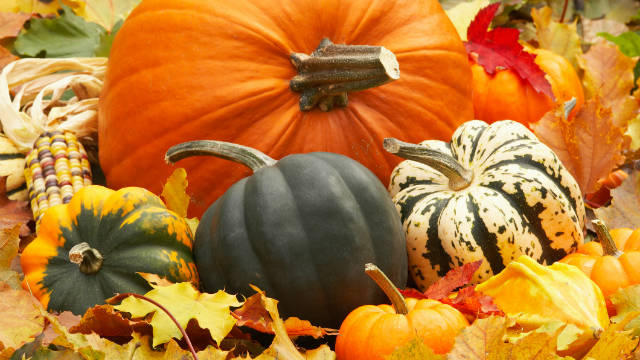 Crown yourself 'Pumpkin King' and Queen of Halloween Town - October 26 is National Pumpkin Day!
You might traditionally look at October as pumpkin central already, but this fall squash deserves its own day outside of Halloween.
Although we're not entirely sure where pumpkins came from, it's almost certain they first appeared in North America. Pumpkins have long been a part of our culture, from folktales about shadowy ghouls with pumpkins for heads to Jack-o'-lanterns scaring off evil spirits, but they also became a part of early American cuisine as well.
That giant orange fruit translates well into baked goods, casseroles and soups, although you can always take a swig of pumpkin juice or munch on roasted pumpkin seeds.Endless Simmer has 100 ways to cook up some pumpkiny goodness, and Claire Thomas shares ways to cure your pumpkin craving with more than just pie.
Of course, if you're not a fan of noshing on pumpkin, you can always enter a pumpkin chuckin' contest.
National Mincemeat Day
National Mincemeat Day celebrates a sweet and tasty meat treat. For those of us that have had it before, we can revel in the great taste. For those of us who have never heard of Mincemeat, don't you think today would be a good time to get introduced to it!?
Mincemeat dates back to medieval times. It was a way to preserve food. It was also a treat, mixed with sweet fruits. Somewhere in the last half of the 1900's, it lost it's popularity. A whole generation has grown up, not knowing what it is, or having ever tasted it. Today, it is most often served as Minced Meat Pie. Over the years, the amount of meat in the recipes was reduced. In older recipes, you will find meat and/or suet among the ingredients. More modern recipes, it contains little or no meat, and is largely a fruity pie. It remains a traditional pie at Thanksgiving for many families.
So, just what is mincemeat? It is a mixture of minced (or chopped up) meats, suet, and fruits. The meat is usually beef, either ground up or sirloin. Fruits include raisins, apples pear, and others. Sometimes liquor is added, most commonly brandy or rum.
It's easy to enjoy this day...... have a slice of Mincemeat Pie. Then, you will most definitely have a happy National Mincemeat Day !!
National Mule Day
One of the lesser-known annual observances that may not have made it on to your calendar is National Mule Day. October 26 is the date designated to celebrate these unique hybrid animals.
Mules are the offspring of a male donkey and a female horse and are more common than hinnies, the offspring of female donkeys and male horses. Because donkeys and horses are actually different species with a different number of chromosomes, their offspring are nearly always sterile.
The size of a mule is largely dependent upon the size of its mother. All kinds of horses are used to breed mules, and draft horses are a popular cross to create heavyweight mules. Today, breeders create designer mules using pinto or Appaloosa horses. Gaited horses often produce gaited mules.
Mules are valued for bringing the best characteristics of horses and donkeys into one animal. They are said to be stronger, smarter and have better endurance than either of their parents and because of these characteristics, they are still valued work animals. In recent years, they have even been used by the United States military to transport equipment in mountainous regions of Afghanistan.
Mule enthusiasts have adapted to a changing equine market, and mules are used as companions and pleasure riding animals. They can be found under saddle and in harness at horse shows and out on the trails.
Worldwide Howl At the Moon Night
With Halloween right around the corner,October 26 is a doozy of a "howliday". Not only is it National Pumpkin Day, it is also Worldwide Howl at the Moon Night, also referred to as Howl at the Moon Day! But no matter what you call it, it's all about howling!
Why do Wolves Howl at the Moon?
If you've ever gone camping or spent the night in the great outdoors, you may have heard a howling wolf during the evening hours. While wolves do howl at night, experts say there is no connection between the wolf's howl and the moon. Wolves are nocturnal and they communicate with other members of the pack by using their voices. While they may appear to be howling at the moon, their howling actually has nothing to do with the moon. When they raise their heads in an upward fashion, their howls carry a longer distance – up to 6 miles in the forest and 10 miles in an area without trees.
Now that's really something to howl about! And tonight is the perfect night to try it yourself!
Make A Difference Day
For more than 20 years, USA WEEKEND Magazine and Points of Light have joined together to sponsor Make A Difference Day, the largest national day of community service. Make A Difference Day is a celebration of neighbors helping neighbors. Millions of volunteers from around the world will unite in a common mission to improve the lives of others on Make A Difference Day, Saturday, October 26, 2013.
Thousands of projects are planned each year involving corporations, communities, nonprofit organizations, entire states and individuals. Many of the 250 HandsOn Network affiliates lead projects across the nation.
The stories told around Make A Difference Day show that anyone - regardless of age, location or resources - can accomplish amazing things when they take on the problems they see in their community. Recognizing the power of Make A Difference Day, other organizations join with USA WEEKEND and Points of Light each year to inspire and recognize the valuable work of volunteers. Newman's Own supports the day by awarding $10,000 to the charities of each of 10 National Honorees and three City Awardees. USA WEEKEND Magazine will feature the All-Star honoree, 10 National and three City Award honorees in a special April 2014 issue coinciding with National Volunteer Week, led by Points of Light.
National Day of the Deployed
Senator John Hoeven announced today that a resolution he introduced to continue honoring the nation's deployed service men and women with a Day of the Deployed has unanimously passed in the Senate. Hoeven launched the first Day of the Deployed in 2006 while serving as Governor of North Dakota and spearheaded the effort to bring the initiative to the national level this year. The resolution, passed last night, calls on all Americans to reflect on the service of the nation's deployed service members and to offer support to their loved ones.
"Our U.S. service men and women currently deployed, along with their loved ones, make untold sacrifices as they serve our nation," said Hoeven. "A national Day of the Deployed pays tribute to their commitment to our country and their work to protect our freedoms. We want to ensure that our military members and their loved ones know of our appreciation and support before, during and after their service."
On Oct. 26, 2006, then-Governor Hoeven launched the first Day of the Deployed in support of Soldiers' Angels, a nonprofit organization that aids deployed American military personnel and their families. The effort spread, and in 2010, 40 states had proclaimed a Day of the Deployed.
"Working with John Hoeven on Day of the Deployed since 2006 in North Dakota has been an honorable way to extend appreciation to the deployed service members and their families. Day of the Deployed is recognition for their hard work, dedication and commitment to the United States of America. This day is all about them," said Shelle Michaels, Soldiers' Angels Deputy Director of Development.
"More than 2 million Americans currently serve in the Unites States Armed Forces. These men and women are making great scarifies to ensure the safety and security of our great nation. Next Wednesday, October 26, is the Day of the Deployed. I encourage people in North Dakota and across our nation to take a moment to recognize and celebrate America's heroes — our men and women in uniform. They deserve our support and the thanks of a grateful nation," said Senator Kent Conrad, a cosponsor of the resolution.
Currently, more than 2.27 million people serve as members of the U.S. Armed Forces, including those in the active guard and reserve components, with thousands of members deployed each year to 150 countries around the world. The resolution calls on Americans to reflect on the service of the nation's soldiers and encourages ceremonies and activities on Oct. 26 to mark the Day of the Deployed.