31 Day of Halloween Horror
30. Howling: New Moon Rising
National Candy Corn Day
Treat yourself! October 30 is National Candy Corn Day.
In the 1880s, American George Renninger came up with the candy that now is synonymous with Halloween. According to the National Confectioners Association, more than 35 million pounds of the tricolored candy will be produced this year. That means if you laid each piece end-to-end, you could circle the moon more than 20 times!
Most of the candy corn consumed at this time of year is of the traditional white, orange and yellow variety. That color combination is popular around Halloween and has made its way to more adult-friendly treats like cocktails and macarons.
Don't worry if you're craving some candy corn in months that don't rhyme with October, these days there's candy corn for Thanksgiving, Christmas, Valentine's Day and even Easter.
Checklist Day
Checklists Day is an opportunity to appreciate the value of using checklists to help avoid tragedy and disappointments and to take advantage of opportunities. Checklists are a great way to take care of things so that you'll have peace of mind. They are a perfect place to add a note about something you don't want to forget the next time you do something.
It appears that the first known (or well known) checklist was inspired by a tragic mishap.
On October 30, 1935, a Model 299 prototype for the Boeing B-17 Flying Fortress crashed during takeoff at Wright Field in Dayton, Ohio. The cause of the crash was identified as a gust lock that was still engaged.
After the mishap, a group of pilots looked for a way to prevent future 'pilot error' mishaps. They came up with checklists for takeoff, flight, before landing and after landing. Boeing delivered 12 of the aircraft to the Air Corps and they flew 1.8 million miles without a serious mishap.
Now there are checklists for almost anything you might want to do.
So, whenever you are about to do something significant, remember to make and/or find a checklist to help you, especially on Checklists Day.
Create A Great Funeral Day
This October 30th is the 14th annual Create a Great Funeral Day. This "holiday" right before Halloween provides an upbeat excuse to start a conversation on a topic most families hesitate to discuss.
The first Create a Great Funeral Day, started by attorney and mediator Stephanie West Allen, took place in 2000. She registered the day at Chase's Calendar of Events in 1999.
A few years earlier, she saw her husband struggling to pull together a meaningful funeral for his mother, who had left no directions before she died. Observing his grief, Allen felt that knowing what her mother-in-law might have wanted would have eased the pain of memorial service preparations.
As a result of that experience, she wrote Creating Your Own Funeral or Memorial Service: A Workbook. She was among the pioneering authors to create helpful funeral planning resources for the general public.
Allen cautions families against holding what she calls a "facelift funeral." A facelift funeral goes through the motions but does not address our emotional needs for mourning the loss.
This concept harkens back to Dr. Maxwell Maltz and his book, Psycho-Cybernetics, a best-seller first published in 1960. Dr. Maltz was a plastic surgeon. He noticed that many of the patients who came to him for a new face were actually seeking to change their personalities.
While patients had their exterior features changed, often they still had emotional issues that plastic surgery could not address. He found that self-image is the key to human personality and behavior.
Facelift funerals are not emotionally fulfilling for the participants. These events might have a "rent-a-minister" who didn't know the deceased and says as much. He might only speak of that religion's views of heaven, hell, the afterlife, or other theological musings.
The problem is, a rising number of families identify their religion as "none." To address this issue, non-religious funeral celebrants are getting certified in the U.S. every year. These people make funerals and memorial services all about the decedent by interviewing the family and creating services with themes of the person's passions and purpose.
Certified funeral celebrants can be found online through two organizations that train celebrants, the In-Sight Institute (www. InSightBooks.com) and the Celebrant Foundation & Institute (www.CelebrantInstitute.org).
Create a Great Funeral Day is an opportune time to talk about what each member of the family would want in their final fling. People can also learn about new avenues available to help families create meaningful, memorable "good goodbyes" to loved ones.
Mark your calendars to start the conversation on October 30!
Haunted Refrigerator Night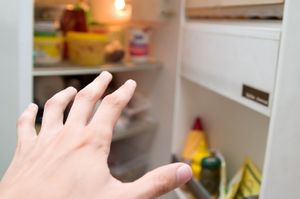 When is the last time you looked in your fridge? Like… REALLY looked? Chances are you've got some frightful things lurking on that lower shelf. And at the very least, some scary science experiments are waiting to be discovered, deep in the very back.
Today is Haunted Refrigerator Night. So be afraid… be very afraid. Gather your friends and family around the kitchen, open the door, and prepare yourselves for what lies beneath that stainless steel door! That furry beast collecting green spots inside your mom's Tupperware is far scarier than the monster hiding under your bed.
National Forgiveness Day
October 30 is national forgiveness day!
Forgiveness is a difficult thing and needs to happen a lot in a family. No family is perfect. It's easy to compare families and think other families have it so much better. However, in the end, every family has problems. Forgiveness helps us to move on.
Philadelphia has many opportunities to forgive.We can forgive our leaders, our schools, a system that failed us and others who have done us wrong.
Forgiving someone takes time and love. When you hurt someone, you need to acknowledge what you did and apologize. The person you hurt needs time sometimes to open their heart so they can forgive.
Sometimes letting go of anger can be difficult because we're afraid of being hurt again. If someone is sincerely sorry, why hold your anger in your heart? Anger can make you sick and bring you down.
Use October 30 and figure out what anger that you have been carrying around. Try to let go and allow more love to flow in your heart.
Mischief Night
Mischief Night (also known as Devil's Night, Hell Night, Cabbage Night, Gate Night, Mizzy Night, Miggy Night or Goosing Night) is an annual tradition in parts of the United Kingdom, Canada, and the United States when people (primarily teenagers and preteens) take a degree of license to play pranks and do mischief in their neighbourhoods. The most common date for Mischief Night in England and North America is October 30, the day before Halloween.
The earliest reference to the night is from 1790 when the fellows of St John's College, Oxford, studied a headmaster who had encouraged a school play which ended in "an Ode to Fun which praises children's tricks on Mischief Night in most approving terms". In the United Kingdom the pranks were originally carried out as part of the May Day celebrations, but as workers moved into urban areas during the industrial revolution Mischief Night was moved to 4 November, the night before Guy Fawkes Night. According to one historian "May Day and the Green Man had little resonance for children in grimy cities. They looked at the opposite end of the year and found the ideal time, the night before the gunpowder plot." In Germany, Mischief Night is still celebrated in the night before 1 May.
The separation of Halloween tricks from treats seems to have only developed sporadically, often appearing in some areas but not at all in others nearby. In Northern New Jersey's Passaic County, Somerset County, and Essex County and parts of Sussex County, it is called "Mischief Night". In some towns in Northern New Jersey, and parts of New York State, it is known as "Goosey Night". In South Jersey and the Philadelphia region (as well as Westchester County in New York and Fairfield County in Connecticut), October 30 is referred to as "Mischief Night", where mischievous teens rub soap bars on car windows, throw eggs at houses, adorn trees with toilet paper, and run away after ringing doorbells. In some areas of Queens, New York, Cabbage Night involved throwing rotten fruit at various neighbors, cars, and buses. Pre-teens and teens would fill eggs with Neet and Nair and throw them at unsuspecting individuals. In the mid-1980s garbage was set on fire and cemeteries were set ablaze. In Camden, New Jersey, Mischief Night had escalated to the point where widespread arsons were committed in the 1990s. Over 130 arsons were committed in that city on the night of October 30, 1991.
It is known as "Gate Night" in Trail, British Columbia, Winnipeg, Manitoba, Thunder Bay, Ontario, Suffern, NY, Nanuet, NY, Stony Point, NY, New City, NY, Valley Cottage NY, North Dakota and South Dakota (USA) and as "Mat Night" in Quebec, Canada, always on 30 October, the eve of Halloween. It is also commonly known as "Devil's Night" in many places throughout Canada and western Pennsylvania.
It is also known in Yorkshire as "Mischievous Night", "Miggy Night", "Tick-Tack Night", "Corn Night", "Trick Night" and "Micky Night" and is celebrated on November 4. In Widnes, it is known as "Mizzy Night" and is celebrated on October 30.. In Liverpool, from 1995-1998, it was known as "If Anyone Sees Stiggy, Kick Him in Because He's a Wool" night.
Popular tricks include toilet papering yards and buildings, powder-bombing and egging cars, people, and homes, using soap to write on windows, "forking" yards, setting off consumer fireworks, and smashing pumpkins and jack-o'-lanterns. Local grocery stores often refuse to sell eggs to pre-teens and teens around the time of Halloween for this reason. Occasionally though, the damage can include the more serious spray-painting of buildings and homes.
Less destructive is the ever-popular prank known as "Knock, Knock, Ginger", "Ding-Dong Ditch" and "knock-a-door-run" among many other names. in this 'game' people ring doorbells or knock on doors, and then run and hide somewhere nearby.One variation involves pranksters inserting a pin into a doorbell so that it rings continuously. Also known in London.UK as "Knock down ginger".
Among younger children, the practice of trick-or-treating on Halloween night itself traditionally carried the implied threat of minor pranks (or "tricks") in the absence of the requested "treats"; in modern times, however, this threat is rarely if ever acted upon.
Frankenstein's Monster Day
Frankenstein Monster Day is always on October 30th!
Theres more than one Frankenstein Holiday and as a result, a little confusion. We will try and clarify these days the best we can.......
National Frankenstein Day: is on August 30. This day is in honor of author Mary Wollenstone Shelley who was born on August 30,1797. She wrote the book "Frankenstein "in 1818. This day in in honor of her birth. The way the story goes is like this... "In the summer of 1816, Mary Shelly was 19 years old (some information says 21) and visiting a villa in Switzerland." "Stormy weather forced the guests to stay indoors, so they spent the time reading ghost stories." "One night, Mary was challenged to write her own ghost story - and this became Frankenstein."
Frankenstein Friday: is the last Friday in October and is a Movable Holiday. Originally, we traced some references back to a website on Frankenberry cereal, which suggests a commercial origin. Our research shows this special day was created by Ron MacCloskey from Westfield, New Jersey in 1997. Our research shows that Ron MacCloskey, the creator of this special day awards "The Franky Award" to someone who has made a significant contribution to the promotion of Frankenstein.
Frankenstein Monster Day: is always on October 30th. This holiday seems to be all about the Monster Frankenstein himself and many celebrate by wearing the best Frankenstein costumes at parties and compete in the best monster makeup contests.
Frankenstein's monster (or Frankenstein's creature) is a fictional character that first appeared in Mary Shelley's novel, Frankenstein, or The Modern Prometheus. In the novel, the creature has no name—a symbol of his parentlessness and lack of human sense of self and identity. He does call himself, when speaking to his creator, Victor Frankenstein, the "Adam of your labours". He is also variously referred to as a "creature," "fiend," "the dæmon," "wretch," "zombie," "devil," "being," and "ogre" in the novel.
The monster's namelessness became part of the stage tradition as Mary Shelley's story was adapted into serious and comic plays in London, Paris, and France during the decades after the novel's first appearance. Mary Shelley herself attended a performance of Presumption, the first successful stage adaptation of her novel. "The play bill amused me extremely, for in the list of dramatic personae came, _______ by Mr T. Cooke," she wrote her friend Leigh Hunt. "This nameless mode of naming the unnameable is rather good."
Into this vacuum, it is understandable that the name of the creator—Frankenstein—would soon be used to name the creation. That mistake was made within the first decade after the novel was published, but it became cast in concrete after the story was popularized in the famous 1930s Universal film series starring Boris Karloff. The film was based largely on a play by Peggy Webling, performed in London in 1927. Curiously, Webling's Frankenstein actually does give his creature his name. The Universal film reverted to the empty cypher, however: the film's credits list the character Karloff plays as a series of question marks. Nevertheless, the creature soon enough became best known in the popular imagination as "Frankenstein".