31 Day of Halloween Horror
4. Land of the Dead
National Cinnamon Roll Day
As if you didn't already have enough reasons to love Sweden, today is a minor national holiday celebrating… wait for it… cinnamon rolls.
The fun just never stops around here, I'm telling you.
And because I take this blogging job very seriously and I consider it a very serious obligation to give you the inside scoop on all important Swedish happenings, I have tasted a lot of cinnamon rolls this week. It's all in the name of duty.
I have eaten A LOT of cinnamon rolls this week. Let this be a testament to my commitment to the art of blogging. Here's the thing, though: no one seems to know why Sweden has a National Cinnamon Roll Day (Kanelbullens Dag). I talked to professional and amateur bakers alike and asked them what it is that makes the cinnamon Roll special among all the other fantastic baked goods in Sweden. Why is the cinnamon Roll so important within Swedish food culture?
Blank stares, giggles, uncomfortable squirming. As it turns out, National Cinnamon Roll Day is a relatively new phenomenon—it was started in 1999 to celebrate the 40th anniversary of Hembakningsrådet, which translates roughly to "Home Baking Council." The Council was established in 1959 with the goal of providing information and inspiration for home bakers. Hilariously enough, the primary funders at that time were Jästbolaget (produces yeast), Kungsörnen (flour), Margarinbolaget (margarine), Saltsjökvarn (flour and grains), and Sockerbolaget (sugar). At present, Nordic Sugar is the primary sponsor of Hembakningsrådet. I feel like the Sugar Plum Fairy should be their Honorary CEO.
The Council's own explanation for celebrating the cinnamon Roll rather than any other Roll isn't much more concrete than anything I heard in person. They cite the feelings of enjoyment, comfort, and happiness that a cinnamon Roll brings, plus its nearly universal popularity among Swedes. Kristina Eriksson, author of an entire cookbook of Cinnamon Rolls and other freshly-baked rolls, wrote that "cinnamon rolls symbolize so many positive things; the fresh-baked smell, warmth, generosity, childhood, and home… a feeling of total contentment."
As vague as people are in explaining why cinnamon rolls are so important, there are no lukewarm opinions as to what separates a so-so cinnamon Roll from the real deal.
A few of the advertisements around town... every bakery I asked said that there's a big increase in demand for cinnamon rolls on their special day.
Another factor people brought up when talking about the greatness of Swedish cinnamon rolls is their versatility. Yes, there are a few aesthetic prototypes (the neatly wrapped roll, the intricately twirled Roll, etc.), but what you put in your cinnamon Roll is up to you. Cardamom, almond paste, pistachios, vanilla sugar, hazelnut paste, chocolate, pecans, even fruit jams… the sky's the limit.
In the meantime, Happy Cinnamon Roll Day! I raise my coffee cup in honor of everyone's favorite buttery, sweet, cinnamony treat. And thank goodness it only comes once a year, because I feel like my stomach is going to explode.
National Taco Day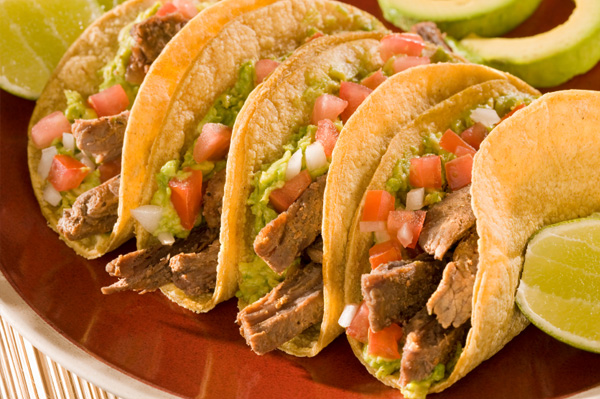 In 2012, Americans ate 4.5 billion tacos!
That's 490,000 miles of tacos, which could take you to the moon and back or, if you prefer, could, at 775-million pounds, equal the weight of two Empire State Buildings.
The word taco is the Mexican equivalent of the English word sandwich. The tortilla, which is made of corn or wheat, is wrapped or folded around a filling that is generally made of spiced proteins such as beef, pork or fish.
For National Taco Day this October 4, consider the countless variations you can create using traditional meats or with seafood, chicken, beans, cheese and eggs. Yank out your garnishes – salsa, cilantro, avocado, tomatoes, onions and lettuce and you have a dish of great versatility and variety.
Some Taco History
For a dish so widely available, the history of the taco is really unknown. But according to taco expert Jeffrey M. Pilcher, the word originates from the silver mines in Mexico in the 18th century, when taco referred to the little explosives workers used to extract the ore. These were pieces of paper wrapped around gunpowder and placed into holes carved in the rock. "When you think about it, a chicken taquito with a good hot sauce is really a lot like a stick of dynamite," says Pilcher in an online article at Smithsonian.com. "The first references [to the taco] in any sort of archive or dictionary come from the end of the 19th century. And one of the first types of tacos described is called tacos de minero—miner's tacos. So the taco is not necessarily this age-old cultural expression; it's not a food that goes back to time immemorial."
Still others claim tacos predate the arrival of the Spanish in Mexico in the 16th century. Anthropologists say there is evidence suggesting inhabitants of the lake region of the Valley of Mexico ate tacos filled with small fish. The fish were replaced by small live insects and ants in the states of Morelos and Guerrero, while locusts and snails were favorite fillings in Puebla and Oaxaca.
Taco Bell is believed to have pushed the widespread popularity of Mexican food in the U.S. Founded in California in 1962, the chain of fast-food restaurants serves up a variety of Tex-Mex foods to more than two billion customers in 5,800 restaurants in the U.S. alone.
The hard-shell taco was invented long before Taco Bell, a discovery that would aid their expansion across North America. The U-shaped version is first noted in 1949 in a cookbook by Fabiola Cabeza de Vaca Gilbert. A device that would hold the taco in its U-shape as it deep fried helped in the mass production of this product. Kits are now available everywhere and
Taco Types
There are many traditional varieties of tacos, some of which include Tacos de Cabeza, which are the brain, tongue, eyes and lips of a cow's head. Others include crispy tripe tacos, shrimp tacos and Tacos dorados, which mean fried tacos. Called flautas because of their flute shape or taquito, these tacos are filled with cooked and shredded chicken or beef and rolled into tube or flute shapes and deep-fried until crispy.
Taco al Pastor, which means shepherd's style taco, is the most popular variety in Mexico. It generally consists of spiced pork, which is cut in slivers from a vertical spit over an open flame. Breakfast tacos are served at many restaurants especially in the American Southwest. This fried corn or flour tortilla is rolled and stuffed with a mixture of meat, eggs or cheese and topped with onions, salsa and avocado. Huevos rancheros, anyone?
Ensenada, Mexico is said to be the birth place of the fish taco, a claim many of the city's restaurants try to make for their own. The best place to sample them is at any of the small food stands that line the streets around the Mercado Negro, Ensenada's fish market. The fish tacos served are small pieces of battered, fried fish in a hot corn or wheat tortilla.
Trivia: Thought Taco Trucks were new ?
One of the first taco trucks is thought to have started in New York when in 1966 two New York housewives operated an early version of the taco truck. Although the truck did not have a full kitchen, it was available for catering.
Ten-Four Day
"Ten-four" means "message received." "Understood," "okay," and "roger that" are some other translations.
Today is 10/4 (October 4), so some CB radio users thought it was a perfect day to celebrate 10-4, the 10 code, and Citizen's Band radio!
Ten-four and other ten-code items got started with CB radio and police radio systems. The codes were meant to make exchanges on the radio clearer and more efficient, but many police departments have moved to using natural language because the codes aren't actually more efficient, after all. The codes that are still used are generally the codes for certain crimes and upsetting situations such as suicide. Use of a code in these cases can lessen the emotional jolt for the family overhearing the radio exchange, and can preserve their privacy for any onlooking strangers, too.
I imagine that many CB radio users still enjoy using phrases and codes like 10-4. Hey, it's always fun to know something that other people don't know!
International Toot Your Own Flute Day
While holidays celebrate all sorts of special occasions, famous people, fabulous food and super-duper inventions, today's holiday celebrates that very special person in your life - you! October 4 is International Toot Your Flute Day, an annual holiday dedicated just to you.
Toot Your Flute Day
In our hustle-and-bustle society, there just isn't enough time in the day to get everything done. Between the kids, chores, work, family and a slew of never-ending activities, who has time for primping and pampering? International Toot Your Flute Day reminds us all to slow down a little and to enjoy life.
Take the day off and do something nice for yourself. You've earned it! Get all dolled up and flaunt your fabulousness! Today is the day to acknowledge everything you've done in your life. Be proud and say it out loud! Go ahead – blow your own horn and toot that flute! No musical instrument required!
Improve Your Office Day
October 4th is officially "Improve Your Office Day." The people that created this day said, "Working in a plain, corporate environment can be demoralizing at the best of times; so why not take some steps to improve your work environment?" They suggest sprucing up your office space with flowers or artwork. Now, you know what I'm going to say, right? Use the excuse of sprucing up your office space to spread a little goodwill to your coworkers, too. For example, if you buy flowers for your desk, consider buying a second batch for someone you work with. If you pick up a colorful mat or picture for your space, get an extra one and ask if someone else in the office wants one.
People are sometimes a little bit shy about becoming friends with coworkers (and yes, there are positive and negative things about friending someone at work), but all in all it's a good thing. You spend eight hours (or more) at your place of work, so why not make it as enjoyable as possible? Becoming friends with at least one of your coworkers can help do that.
National Golf Day
National Golf Day is a major charitable event, sponsored annually since 1952 by the PGA.
On National Golf Day, all of the over 4,300 professional members of the PGA are encouraged to play golf with contributors. The entry fees of contributors goes towards a wide range of charitable causes. Each year, a top ranked golfer is made chairman of this event. This is a truly admirable and worthy event. Many golf course hold their own events, with the proceeds going to charities.
Origin of National Golf Day:
The Professional Golfers Association (PGA) created and sponsors National Golf Day. It has been held every year since its inception in 1952. The first event was held at Cog Hill Golf and Country Club, in Lemont, Il. The first event raised $80,000 for charities.
Did You Know? At the very first National Golf Day event, celebrities Bob Hope, Dean Martin, and Jerry Lewis were in attendance.
We did not find any documentation confirming this to be a "National" day. We found no congressional records or presidential proclamation. However, the contributions of this day to charitable groups, would make this day worthy of national recognition.
National Vodka Day
"The Water of Life"
The versatile, once virtually tasteless and odorless tipple accounts for almost 20 to 25 per cent of spirits sold today in North America, making it our most popular libation, a feat that occurred in the 1970s when it outpaced bourbon as America's favorite spirit. We raise our glass on October 4 to toast National Vodka Day!
The word vodka stems from the Russian word, voda, which means water. Rarely consumed outside of Europe before the Second World War, vodka would eventually draw many hard liquor fans with its flavorless and versatile appeal.
Today, vodka is made from many different things such as beets, potatoes, wheat and even grapes. The final product doesn't depend on the ingredients so much as it depends on the methods of production. You're unlikely to be able to taste the difference, since by law vodka is not even permitted to have a distinctive taste except for those that have been added in after distillation.
Because it's filtered of many dangerous chemicals and has less of an after-effect on the body, many view vodka as one of the least dangerous alcoholic beverages. Still, thanks to an alcohol volume that ranges from 35 to 60 per cent, it is one of the more potent drinks, able to intoxicate quickly and effectively.
Ironically, unlike the drink itself, it's not really clear where vodka was created, though many associate the clear drink with Russia. Its birthplace has also been linked to the grain-growing regions that surround Poland, Ukraine, Belarus as well as Finland and other Scandinavian countries. Still, it's said that the taxation on vodka in Russia helps cover a large portion of the government's revenue. The fact that vodka consumption in Russia is greater than any other country in the world must help must help.
The birthdate of vodka is pegged at around the 12th century. Made initially for medical purposes, it wasn't until the 1350s that the drink gained a reputation for its intoxicating properties.
In Russia, people believed the drink held its own spirit and it was used at religious ceremonies and events. A vessel sometimes containing more than a gallon of vodka would be passed around and those who refused to drink would be considered sinful. By the 1600s, it was custom to drink vodka at Russian Imperial banquets, where all meals started with bread and vodka.
World Animal Day
October 4th is World Animal Day (WAD), an annual event that celebrates animals and the important role they play in our lives. Not to be confused with World Farm Animals Day which occurs October 2, WAD began in 1931 at an ecologists' convention in Florence. October 4 was selected as World Animal Day because it is also the Feast Day of St. Francis of Assisi, the Patron Saint of Animals and environment.
As the human population continues to grow, animal habitat continues to diminish and species continue to decline and vanish. Global warming, over hunting and fishing, pollution and poaching contribute to threaten species. According to the IUCN Red List, more than 4,200 species are now critically endangered or endangered.
WAD encourages individuals, groups and organizations to get involved and highlight the importance of animal welfare issues around the world. In honor of the annual "holiday," activities and various events are held around the world. In 2010, more than 700 events in 85 countries took place. The day serves as an important reminder that all animals are to be celebrated, honored and protected.
How to Participate in World Animal Day
Today is the perfect opportunity to visit your local animal shelter and adopt an animal. Not only will you provide a forever home for the animal, but will save a life too.
Offer to volunteer at your local shelter.
Help stomp out the puppy mill trade.
Stand up to illegal dog fighting.
Switch to a no-meat lifestyle.
Donate to a local animal charity or shelter. Local shelters are always in need of food, litter and supplies.
Stay up-to-date with events on the WAD Facebook page.
View the World Animal Day slideshow presentation with over 30 amazing photographs.
Whether you are a cat-person or a dog-person, or prefer a few fish, animals play such a pivotal role in our lives. Besides companionship, animals provide an abundance of loyalty, laughter and unconditional love.