31 Day of Halloween Horror
5. Diary of the Dead
National Apple Brown Betty Day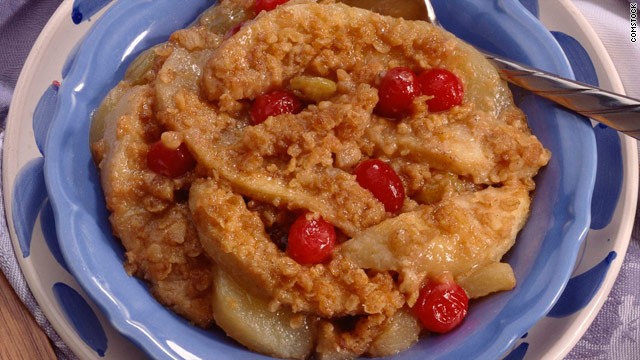 Today is National Apple Betty Day! Apple betty is a crustless apple pie seasoned with cinnamon, nutmeg, and sugar. An apple brown betty is a common variation, which includes layers of sweetened bread crumbs.
This classic American dessert dates back to the colonial period and probably evolved from the traditional English bread pudding. The name "brown betty" first appeared in print in 1864 when it was mentioned in a Yale Literary Magazine article.
In honor of National Apple Betty Day, bake your own version of this scrumptious dessert and top it with lemon sauce, ice cream, or whip cream. Yum!
Do Something Nice Day
National Do Something Nice Day is always on October 5th!
What is this Holiday for?
Do Something Nice Day is a day to do something nice for someone. It doesn't matter how big or how small, doing something nice is good for both the giver and the receiver- heart and soul. Random acts of kindness does everybody good. Think about it, reflect on the power of a single individual who can change the world with a little action.
What is Kindness?
Kindness is the act or the state of charitable behavior to other people.
Kindness is considered to be one of the Knightly Virtues, and is a recognized value in many cultures and religions (see ethics in religion). It is considered to be one of the seven virtues, specifically the one of the Seven Contrary Virtues (direct opposites of the seven deadly sins) that is the direct opposite to envy. The Talmud claims that "deeds of kindness are equal in weight to all the commandments." Paul of Tarsus defines love as being `patient and kind...` (I Corinthians).
In Buddhism, one of the Ten Perfections (Paramitas) is Mettā, which is usually translated into English as "loving-kindness". Tenzin Gyatso, 14th Dalai Lama wrote "my religion is kindness" and authored a book entitled Kindness, Clarity, and Insight.
Confucius urges his followers to "recompense kindness with kindness."
According to book two of Aristotle's Rhetoric it is one of the emotions (see list of emotions), which is defined as being "helpfulness towards someone in need, not in return for anything, nor for the advantage of the helper himself, but for that of the person helped".
One of the four caryatids on the Wallace fountains in Paris represents kindness.
In a study of 37 cultures around the world, 16000 subjects were asked about their most desired traits in a mate. For both sexes, the first preference was kindness (the second was intelligence).
National Noisy Munching Day
Smack that gum. Slurp that soda. Crunch those pretzels and chips. It's Noisy Munching Day on October 5th. Silent snackers need be silent no more, at least for today.
World Teachers Day
In 1994, UNESCO proclaimed 5 October World Teachers' Day, in celebration of the great step made for teachers in 1966 when a special intergovernmental conference convened by UNESCO in Paris in cooperation with the ILO adopted the ILO/UNESCO Recommendation concerning the Status of Teachers.
This recommendation sets forth the rights and responsibilities of teachers, and international standards for their initial preparation and further education, recruitment, employment, teaching and learning conditions. It also contains many recommendations for teachers' participation in educational decisions through consultation and negotiation with educational authorities. Since its adoption, the Recommendation has been considered an important set of guidelines to promote teachers' status in the interest of quality education.
In addition 5 October celebrates the adoption by the UNESCO General Conference in 1997 of the UNESCO Recommendation concerning the Status of Higher-Education Teaching Personnel.
World Teachers' Day held annually on 5 October is a UNESCO initiative, a day devoted to appreciating, assessing, and improving the educators of the world. The real point is to provide a time to look at and address issues pertaining to teachers. Strangely one of the most central, vital professionals to society does not receive the respect it deserves in some parts of the world.
WTD is a natural extension of UNESCO's all year round work of promoting teachers, ensuring that this profession, so vital to the healthy functioning of society, is itself "healthy". Teachers are a normative indicator of social health.
Teachers are producing global citizens, so they are global teachers, who need to situate their advances on a global level. WTD is an opportunity to rethink national issues facing teachers from an international perspective, to benchmark progress made by national teachers in a global context. UNESCO provides the best global context to address and exchange ideas across borders.
Everyone can help by celebrating the profession, by generating awareness about teacher issues, by ensuring that teacher respect is part of the natural order of things. Take the opportunity of the day to discuss, compare, learn, argue, share and improve.
Partners all over the world celebrate and organize events for WTD, you can contact UNESCO (wtd@unesco.org) to find out who may be organizing an event near you or organize your own local event next World Teachers' Day 5 October.
Zinger Day
Not the amazing little cakes. You know, a Zinger: a quick, witty, or pointed remark or retort.
After an afternoon spent recounting every person in the media's take on the debates Wednesday, this is a fun distraction. Do you remember the days of truly entertaining debates? These are the times when we miss our nations first clown Vice-President, Dan Quayle. What? He wasn't a clown, he was for real?! Ohhh, I see. Any ways we can thank him for our fun today.
On October 5, 1988, during the U.S. Vice Presidential debates, Democrat Lloyd Bentsen faced Republican Dan Quayle. Dan the Funny Man stated, "I have as much experience in the Congress as Jack Kennedy did when he sought the presidency."
Bentsen quickly shot back with the oft-parodied zinger: "I knew Jack Kennedy; Jack Kennedy was a friend of mine. Senator, you're no Jack Kennedy."
Since that night, October 5th has been known as Zinger Day. So let the sarcasm roll!
I'm gonna leave you with a little present today... The Best of Dan Quayle. They just don't make vice-presidents like they used to, thank God!