National Spicy Hermit Cookie Day
It turned out that my assumptions about what National Spicy Hermit Cookie Day would yield were way off! This was based on several false assumptions, the most grave of which was that "spicy," in this context, does not refer to a teaspoon of cayenne powder and a few shakes of Tabasco Sauce. Spicy today just means all those other canisters on the spice rack.
Another thing that threw me was the word hermit. Now, of course I know that a hermit is a crazy old miser who lives by himself in a cave or cabin far away from any human interaction, but since I grew up in central of Florida, nine times out of ten, when the word hermit was spoken, it was referring to those crazy little beach crabs that are masters in the housing market.
Both of these assumptions were, of course, wrong, and so it was also that my hermit cookies were completely wrong. I did consult several recipes for instruction on how to make them, and most of them did instruct to pour the batter into a square pan and cut them into squares when done, but since I halved the recipe, I didn't have enough to do that, so I just made some little hermit crab shaped cookies on a cookie sheet and baked them up.
Come to find out while they're baking, that a Spicy hermit Cookie is very specifically square, very necessarily thin, and most certainly full of raisins. The "hermit" part of the name is thought to be due to a religious bunch of Bohemian immigrant in the Pennsylvania and the Carolinas who were known to as Hernhutters, that made little spiced square cookies. Later, in perfect American fashion, hernhutters, was completely shortened and botched to Hermit.
After this realization was made too late, I scrambled to try to use the rest of the batter the right way, but it was too late. Now I didn't have enough to pour into any kind of square anything. I made an attempt in my littlest corningware dish, but it just didn't work out. Oh, well.
Let's just all call this a lesson learned and move on, can we? I'm really a bit embarrassed that I didn't do the leg work beforehand.
America Recycles Day
America Recycles Day (ARD) is the only nationally recognized day dedicated to encouraging Americans to recycle and buy recycled products. ARD is celebrated annually on November 15. The World Recycling Day celebrated in most countries, though falls on July 8. Thousands of events are held across the U.S. to raise awareness about the importance of recycling and to encourage Americans to sign personal pledges to recycle and buy products made from recycled materials.
Started by the recycling sector organization National Recycling Coalition in 1997, America Recycles Day has been a program of national nonprofit Keep America Beautiful since 2009. As the managing entity of America Recycles Day, Keep America Beautiful provides promotional and marketing support and resources to a network of local event organizers. It is sponsored by private and public entities and the EPA.
Although America may not enjoy much of a reputation for environmentalism on the global stage, in some US cities recycling levels are much higher than, for example, in the UK.
Recycling statistics:
251 million – tons of trash in the United States
53.4 – percentage of all paper products recycled in the United States
32.5 – percentage of total waste that is recycled in the United States
100 – approximate percentage of increase in total recycling in the United States during the past decade
8,660 – number of curbside recycling programs in the United States in 2006
8,875 – number of curbside recycling programs in the United States in 2003
95 – percentage of energy saved by recycling an aluminum can, compared with manufacturing a new one
4.6 – pounds of trash per person per day in the United States (most in the world)
1.5 – pounds of recycled materials per person per day in the United States
I Love to Write Day
November 15, 2013 will mark the 11th anniversary of I Love To Write Day, a grassroots effort to have people of all ages practice their writing skills.
Created by Delaware author John Riddle, I Love To Write Day is an opportunity for people of all ages to write something: a poem, an essay, a letter to the editor, a short story, start a novel, finish a novel the possibilities are endless! On the first I Love To Write Day, 11,328 schools all across the country held special writing events and activities. Last year, we signed up over 20,000 schools. This year our goal is to have an I Love To Write Day program in over 25,000 schools.
In the spring of 2002 I was driving from my home in Delaware to the Blue Ridge Mountain Christian Writer's conference in Asheville, North Carolina, where I was scheduled to speak My oldest daughter, Bonnie, was in the car with me; she was a college student at the time and interested in attending some of the workshops. Even though she was already a published writer, she knew the value of learning more about the craft of writing.
As I was passing through the Richmond, Virginia, area, I was thinking about a magazine interview I had to do the following week. Normally I am the one interviewing someone and then writing an article, but this time I was going to be the subject of the article. Writer's Digest magazine wanted to do a profile of me, highlighting my success in writing for so many Websites over the past few months.
When I worked in the fundraising field a number of years ago I loved planning big special events. One time I tried to set the Guinness Book of World Records by having the largest number of people dance the "Twist" in one location. I even got Chubby Checker to tape some Public Service Announcements to help promote the event. As a writer and author, I knew I needed a Website, and when I came up with the name I Love
To Write.com, (that site has evolved into I Love To Write Day.org) it wasn't long before the idea of holding the 'world's largest party for writers' came about.
I told Bonnie to "remember this moment," because I "officially declared"
November 15 to be I Love To Write Day, and I knew that I Love To Write Day would be a success.
However, never in my wildest dreams did I believe how successful it would become! About two weeks after the conference was over, I established the I Love To Write Day Website and began sending out press releases to media outlets all across the United States. I also sent information to schools, bookstores and libraries.
About ten days later I started getting numerous media requests for interviews and more info about I Love To Write Day. And the response from schools was absolutely overwhelming. By the time November 15 rolled around, over 11,000 schools all across the country had signed up to hold special ILTWD events and activities. Bookstores, libraries, churches, community centers and even a few malls joined in the fun. When USA Today published an interview with me on the first ILTWD, my phone didn't stop ringing, and I lost track of how many e-mails I was receiving.
The Governors of 9 states have officially proclaimed November 15 as I Love To Write Day in their states, and urge all of their residents to find time to write and celebrate the day.
My goal for I Love To Write Day is simple: people of all ages are encouraged to write something. A poem, a letter, an essay, start a novel, finish a novel…the possibilities are endless!
Hundreds of people e-mailed or wrote to me shortly after the first I Love To Write Day. They shared samples of what they had written, and how they enjoyed writing again. Unfortunately, many people have stopped writing, and the thought of putting words on a piece of paper (or a computer screen) can be a frightening experience.
I urge everyone to remember how important writing can be. Spend some time writing something today. You don't have to set a goal of writing a novel (unless you have wanted to write one for a long time); just write something that is short, and meaningful to you.
Writing can be fun, but also challenging. People need to be challenged, and writing is but one of many creative ways to express yourself. I am very excited because more I Love To Write Day activities are being planned all across the United States. For many people, that will be the beginning of their writing career.
I Love To Write Day has the potential to launch the career of the next John Grisham, Mary Higgins Clark, Stephen King or Toni Morrison.
American Enterprise Day
American Enterprise Day is observed on November 15 each year. On this day, U.S. residents recognize free enterprise and how it has contributed to the economy.
Free enterprise means that a business is not restricted by government subsidies or regulations. Instead, the business operates under the laws of supply and demand. If a particular product or service is in great demand but supply is low, then it becomes more valuable to the consumer. As a result the price goes up. When supply is high and demand is low, then the price falls.
Healthy competition between businesses is a good thing for consumers. It helps to keep prices in line. Business owners also know that in order to keep customers coming back, they need to offer their products or services at a fair price. Good customer service policies are also a must; otherwise, buyers will choose to do business with another company. Thanks to the free enterprise system, they can make that choice.
Jimmy Carter made a Presidential Proclamation on August 8, 1980 directing that American Enterprise Day be observed. Chevron Corporation provided a grant to fund a program called "Getting Involved" in the 1980s to expose young people to capitalism through Future Business Leaders of America.
Future Business Leaders of America is a non-profit association that helps prepare students for careers in business. Young people from middle school up to the post-secondary level are able to join this organization, which now has 244,000 members and 11,000 advisers.
Local Chapters of Future Business Leaders of America observe Enterprise Day each year. It's an opportunity to not only celebrate the free enterprise system and the advantages of doing business in this way, but also to educate other people about it. Projects undertaken by local groups have included the following:
Presenting ideas about business in the form of skits and songs to elementary school students
Preparing activity books for students in primary grades (K-5)
Running an essay contest for high school students; the winning entry is published in the local newspaper
Providing students in Grade 8 with information about the free enterprise system and how it affects the job market
Preparing a workbook for Grade 8 students with tips on how to choose an occupation, how to research salary information, and how to apply for a job
Have local business operators share information about the joys and headaches of being their own boss
Conduct a seminar about the challenges that women or visible minorities face when running their own business
Enterprise Day is an occasion that deserves to be celebrated. Unless you are self-employed or working for a government agency, the fact that you have a job is due to the fact that someone took a chance on starting their own business. Part of the reason that it is observed is to acknowledge that people living in the United States can choose the occupation they would like to pursue. Business owners make it possible for people buy products and services that they need in their everyday lives.
Through an organization like Future Business Leaders of America, young people who are curious about the world of business can learn the fundamentals of becoming entrepreneurs from experienced advisers. They have the opportunity to participate in activities that will increase their confidence, and also to make valuable contacts with like-minded young people. These contacts can prove to be important in future years as they launch their own business ventures.
National Clean Out Your Refrigerator Day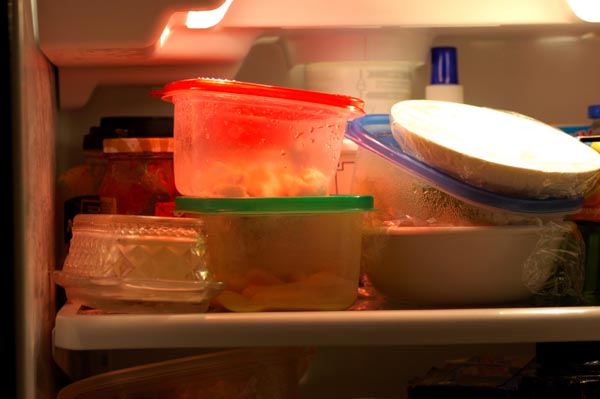 Just in time for Thanksgiving, it's National Clean out Your Refrigerator Day.
Who said springtime was the only season for cleaning?
Get out your trash bags (and plastic gloves and gas masks), because today is National Clean out Your Refrigerator Day.
It's high time to remove the Chinese food cartons that have turned into science experiments and start making room for the Thanksgiving leftovers that will soon be occupying space in your fridge.
The origins of National Clean out Your Refrigerator Day are not entirely clear; one Website pins it on a Whirlpool Appliance Ad campaign from years ago, while other sites say it's to make space for Thanksgiving provisions.
I decided I definitely wanted to participate - and said a prayer that those responsible for cleaning the office fridge would also want to get involved.
Sadly, there wasn't a whole lot in my refrigerator to clean out. There wasn't much in there at all, just a jug of milk, a jar of peanut butter, several sticks of margarine, two cans of frosting, and half of an onion.
True, it's been a while since I actually filled my refrigerator with food that would warrant purging on this most sacred of days. But, should I ever stop living like I'm in college and actually fill my fridge with food, what exactly do I need to know about cleaning it out?
I consulted my friend and registered dietician Lindsay Elshalzly, who was recently certified as a ServSafe food handler. She said it's always good to consult the expiration dates on food labels, but sometimes foods are safe well beyond that date. And, sometimes they expire before. How's that for vague?
"When in doubt, throw it out," she said, adding, "The truth is, bacteria can grow on food whether or not it's in the fridge." The colder temperatures simply slow the process.
To keep food safe, Elshalzly said a refrigerator should be kept at 40 degrees or below. "The danger zone for food is between 41 and 135 degrees. That's when bacteria have the greatest chance for multiplying and contaminating food."
So what about the Thanksgiving leftovers the "refrigerator clean out" are intended to make room for?
The USDA recommends storing cooked leftovers in airtight containers and using them within three to four days.
Elshalzly concurs. So after everyone has gone back for seconds, make sure to chill the leftovers as soon as possible to avoid contamination.
"You don't want to leave food sitting out all day," Elshalzly said.
And thanks to today's clean out, your fridge will have plenty of space for stuffing.
George Spelvin Day
Reference to George Spelvin first appears on November 15, 1886 in the Broadway production of Karl The Peddler by Charles A. Gardiner.
The tradition started in 1907 in a play called Brewster's Millions by Winchell Smith and Byron Ongley. A minor actor in the production doubled in two rolls and used the name George Spelvin for one of the parts. The play was so successful that the author continued to use the name in the rest of his productions for luck.
The play Brewster's Millions was adapted from the 1902 novel by George Barr McCutcheon. The play opened at New York's New Amsterdam Theater on December 31, 1906.
National Bundt (Pan) Day
Love all these food holidays. Today is National Bundt Day. According to Nordic Ware, the original makers of the Bundt Pan, "if there is a kitchen in the home, there is a Bundt pan." Even if there's not, I think my kitchen makes up the difference. I have all kinds of bundt pans. I find the shapes so versatile and fun. I'm always buying unique bundt pans at the flea market or White Elephant Sale. Because of the popularity of the Bundt pan, Nordic Ware designated November 15 as National Bundt Day 7 years ago.
"Today, there are nearly 60 million Bundt pans in kitchens across the continent," says David Dalquist, President of Nordic Ware, and son of the company's co-founders. "Almost a Bundt pan in every pantry... the cultural embrace of The Bundt is now seen as a uniquely American phenomenon.
Pack Your Mom's Lunch Day
November 15th is pack your mom lunch day. That sounds like a nice and thoughtful way to make your mother feel good. It is a way to help save her some time if she packs her own lunch. You could pack a sack lunch or pack lunch in a lunchbox. Make sure you choose the kind of food and drink she likes best. Wrap the food and put the drink in a thermos if she uses one. Packing your mother a lunch can be fun. It is a good thing that November 15th is pack your mom lunch day.
National Philanthropy Day
National Philanthropy Day, November 15, is the special day set aside to recognize and pay tribute to the great contributions that philanthropy and those people active in the philanthropic community have made to our lives, our communities and our world.
What makes philanthropy so special is that no one is required to give of themselves. There are no national laws or regulations which mandate that you must volunteer or get involved. Philanthropy is so powerful and inspiring precisely because it is voluntary that through the goodness of our hearts, through our need to connect, through our desire to see a better world, we come together to improve the quality of life for all people.
Through your generosity, billions of dollars and volunteer hours are given every year to countless nonprofits and charities around the world. Millions and millions of programs from feeding the hungry and clothing the needy, curing the sick, saving the environment happen every day because of you and your commitment to your favorite causes.
On National Philanthropy Day, charities around the world thank you for your support. Your involvement whether it's mentoring, volunteering, giving, staffing an event or showing your support on social media makes philanthropy possible, and makes National Philanthropy Day so special and meaningful.
In 2013, more than 100 communities and 50,000 people around the world will participate in NPD events and celebrations. These events include award ceremonies, galas, luncheons, seminars and other special events. Outstanding donors, volunteers, corporations, foundations, small businesses, youth in philanthropy and others will be honored on NPD in recognition of their work in improving their communities and their world every day.
You are invited to join in the celebration. Use the links on this page to find a local National Philanthropy Day event in your community and learn more about the importance of giving and volunteerism.
National Philanthropy Day is formally supported by the Association of Fundraising Professionals (AFP) and hundreds of other nonprofit and for-profit organizations throughout North America. Click here to learn more about AFP, the leading professional association in the world dedicated to harnessing the spirit of philanthropy.
National Raisin Bran Cereal Day
If you love cold cereal for breakfast, then you have something delicious to celebrate on Nov. 15, National Raisin Bran Cereal Day.
Raisin bran is not only the tastiest cold breakfast cereal, but it's also one of the most popular of all time. Raisin bran is often considered a very healthy breakfast because of its high levels of dietary fiber. You do not have to limit yourself to eating raisin bran cereal in a bowl with milk added at breakfast time. You can eat raisin bran cereal muffins, bread, cookies and cakes. Kellogg's offers 31 recipes featuring their raisin bran cereal including baked apples, zucchini carrot bars, sour cream bran coffee cake, raisin bran pizza cookie, pumpkin cake and peanut butter and jelly muffins. Post cereals have 28 recipes that include cereal yogurt bars, easy cereal pumpkin coffee cake, cookies, and muffins.
Raisin Bran Cereal Nutrition Facts
In a one-cup serving, Kellogg's raisin bran cereal contains 190 calories, 1.5 grams of fat, 350 mg sodium, 19 grams sugar, 7 grams fiber, 360 mg potassium and 5 grams of protein. It also contains calcium, magnesium, iron, vitamin A and vitamin D.
In a one-cup serving, Post raisin bran cereal contains 190 calories, 1 gram of fat, 0 cholesterol, 250 mg sodium, 310 mg potassium, 46 grams of total carbohydrates, 4 grams of protein, vitamins A, D, B6, and B12, along with calcium, iron, thiamin, riboflavin, niacin, folic acid, phosphorous, magnesium, zinc and copper.
In a one-cup serving, Total raisin bran cereal has 160 calories, 1 gram of fat, 0 mg cholesterol, 230 mg sodium, 280 mg potassium, 40 grams of total carbohydrates and 3 grams of protein. It also contains vitamins A, C, D, E and B12, along with calcium, iron, thiamin, riboflavin, niacin, folic acid, pantothenic acid, phosphorous, magnesium and zinc.
So, no matter whether you choose Kellogg's, Post or Total raisin bran cereal, you are sure to get a healthy product.
Enjoy National Raisin Bran Cereal Day