World Toilet Day
World Toilet Day is a UN recognized event, observed annually on 19 November. This international day of action aims to break the taboo around toilets and draw attention to the global sanitation challenge.
Can you imagine not having a toilet? Can you imagine not having privacy when you need to relieve yourself? Although unthinkable for those living in wealthy parts of the world, this is a harsh reality for many – in fact, one in three people on this globe does not have access to a toilet! Have you ever thought about the true meaning of dignity?
World Toilet Day was created to pose exactly these kind of questions and to raise global awareness of the daily struggle for proper sanitation that a staggering 2.5 billion people face. World Toilet Day brings together different groups such as media, the private sector, development organisations and civil society in a global movement to advocate for safe toilets. Since its inception in 2001, World Toilet Day has become an important platform to demand action from governments and to reach out to wider audiences by showing that toilets can be fun and sexy as well as vital to life.
World Toilet Day is not just about toilet humor, or an attempt to make toilets sexy. World Toilet Day has a serious purpose: it aims to stimulate dialogue about sanitation and break the taboo that still surrounds this issue. In addition, it supports advocacy that highlights the profound impact of the sanitation crisis in a rigorous manner, and seeks to bring to the forefront the health and emotional consequences, as well as the economic impact of inadequate sanitation.
World Toilet Days' vision is to grow as a collective campaign uniting on 19 November everybody who is passionate about toilets to ensure that access to proper sanitation, which has been declared a human right, becomes a reality for all.
Equal Opportunity Day/Gettysburg Address Anniversary
On this day in 1863, President Abraham Lincoln delivers what will become one of the most famous speeches in American history, at the dedication of the military cemetery at Gettysburg, Pennsylvania. Using just 272 words, Lincoln articulated the meaning of the Civil War for a public that had grown weary of the conflict.
For some time, Lincoln had been planning to make a public statement on the significance of the war and the struggle against slavery. In early November, he received an invitation to speak at the dedication of part of the Gettysburg battlefield, which was being transformed into a cemetery for the soldiers who had died in battle there from July 1 to July 3, 1863. A popular myth suggests that Lincoln hastily scribbled his speech on the back of an envelope during his trip to Gettysburg, but he had actually begun crafting his words well before the trip.
At Gettysburg, Lincoln, who began his address with the now well-known phrase "Four score and seven years ago," reminded the assembled crowd of the Founding Fathers' vision, which established a nation that was "dedicated to the proposition that all men are created equal." He addressed the country's civil war, which was testing the endurance of American revolutionary ideals, and he honored the soldiers who fought at Gettysburg, suggesting that their struggle had already consecrated the ground "far above our power to add or detract." Lincoln then succinctly stated the purpose of the Northern war effort: "It is rather for us to be here dedicated to the great task remaining before us--that from these honored dead we take increased devotion--that we here highly resolve that these dead shall not have died in vain--that this nation, under God, shall have a new birth of freedom--and that government of the people, by the people, for the people, shall not perish from the earth."
Today, the words of the Gettysburg Address are carved into a wall of the Lincoln Memorial in Washington, D.C.
National Carbonated Beverage with Caffeine Day
For many, life without carbonated, caffeinated beverages would be dismal indeed. The history of these energizing elixirs is quite interesting; they actually owe their original popularity to the health and medical fields.
As far back as ancient Rome, people sang the praises of naturally carbonated water for its curative powers. By the end of the 18th century scientists had unraveled the mystery of carbonation, and were able to make carbonated water by infusing in carbon dioxide. Soon after, flavoring was added, and soda was born. In the late 1800s, caffeine was added, and the rest is history.
Today is "National Carbonated Beverage with Caffeine Day." Why not celebrate with a nice cold carbonated, caffeinated beverage of your choice?
National Alligator Wrestling Day
November 19th is National Alligator Wrestling Day. That's right, sports fans, freestyle Alligator Wrestling is now officially a professional competitive sport.
The Freestyle Alligator Wrestling Competitions (FAWC) was founded by veteran alligator wrestlers to promote the dangerous and extreme sport of alligator wrestling to a professional level.
Alligator wrestling started as a survival technique by the Seminole Indians to capture and transport live alligators back to their camps for food. Generations later, this technique has evolved into a spectator sport that rivals the dangers of any contact sport today.
Alligator wrestling, as a competitive sport, is evolving in many ways like professional bull riding through its heritage and tradition. The founders: James Holt, David Weathers, Ian Tyson and Clinton Holt have over 50 years of alligator wrestling and animal entertainment experience. FAWC requires competitors and officials to meet a certain standard of experience and expertise to ensure that the contest is held at the highest level both for safety and competition.
International Men's Day
International Men's Day is annually held on November 19 to improve gender relations and promote unity.
International Men's Day is a time for many people to reflect on the contributions, sacrifices and progress made by men in society. Such progress includes that of men working together with women to make educational, economic, social, and technological advances in society. Topics that may be discussed or showcased through various media, activities and events on the day may include:
Men's and boys' health.
The importance of gender equality.
Improvements towards gender relations in all societies.
Positive male role models for younger generations.
Men's roles in community, family, relationships and child care.
Healing and forgiveness.
Meetings, workshops or group gatherings may also be held on this day to focus on overcoming challenges such as domestic violence and drug abuse. International Men's Day is supported by various organizations worldwide, including the United Nations (UN) and the Men's Network.
International Men's Day focuses on improving gender relations, promoting gender equality, producing responsible males and highlighting positive male role models. It also looks at addressing issues such as parenting, positive male role models, families and healthy life choices for men.
The inaugural International Men's Day was held in Trinidad and Tobago on November 19 in 1999. Representatives from organizations such as the UN expressed support for the event, although it is not an official UN observance. A petition has called for the UN to make International Men's Day an official UN observance in the interest of equality. International Women's Day is also celebrated on March 8 each year.
The faces of positive male role models of all backgrounds, ages, and nations are seen in various promotions, such as posters, postcards and information booklets, on International Men's Day. Red roses have also been given to men to mark international Men's Day. Various messages and slogans that promote the day are also publicized during this time of the year.
National Blow Bagpipes Day
Bagpipes are cool.
If you already play the bagpipes, that's great. You'll have had plenty of practice for this day, so I'm sure you'll know how to celebrate. If you're lucky enough to know someone with a set of bagpipes (who will also let you blow on them), go make noises. (Just bring some earplugs for your victims. Bagpipes are cool, but a novice bagpiper can terrorize a whole neighborhood.)
On the other hand, those of us who have no access to bagpipes may have a difficult time celebrating National Blow Bagpipes Day this November 19. I guess we might as well start
here
, by listening to "Scotland the Brave" as played by the 51st Highland Division.
Have fun piping!
Have a Bad Day Day
November 19th this year is 'Have a Bad Day' Day. I know, this sounds a little awkward because it is the opposite of what we normally want people to do. This is just one day that people have an excuse to have a bad day. You can tell yourself that it's okay for today. You shouldn't go looking for bad luck or trouble or anything, but if things do happen, this would be why!
This day was actually created because people know that sales people always say have a nice/good day when they are done with their sales pitch. This gets repetitive for people to say and to hear. So, during this day, salespeople should say the exact opposite, 'Have a bad day.' This will throw people off guard and will be something totally different than the norm. People from Wellcat.com actually seem to have created this day for a purpose like this.
So, whatever you're doing on this day, be sure to tell them to have a bad day. Many of you in the state of Wisconsin will be sitting in deer stands trying to bag that big buck. Tell each other to have a bad day in the stand. Who knows, maybe the reverse logic will make the deer come in! Wives, this is your time to tell your husbands to have a bad day and it will be okay!
Play Monopoly Day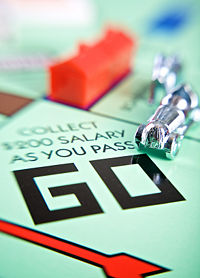 Today is Play Monopoly Day, Monopoly was created in 1935, as a way to act as though the Depression wasn't going on, and pretending that people actually HAD money.
These are some facts straight from the official site:
More than 275 million games have been sold worldwide and it's available in 111 countries, in 43 languages.
The longest MONOPOLY game in history lasted for 70 straight days.
The most expensive version of the game was produced by celebrated San Francisco jeweler Sidney Mobell. Valued at $2 million, the set features a 23-carat gold board and diamond-studded dice.
Many specialized editions of the classic game have been produced featuring your favorite sports teams, brands, television shows, cartoons and more.
The character locked behind the bars is called Jake the Jailbird. Officer Edgar Mallory sent him to jail.
Children play MONOPOLY all over the world, but where they live may determine what they call the highest rent property on the game board. In the U.S., it is named "Boardwalk" after a street in Atlantic City. In Spain, it is named "Paseo del Prado" after a street in Barcelona and in France, "Rue de la Paix" is the name of the most coveted property space.
Escape maps, compasses and files were inserted into MONOPOLY game boards smuggled into POW camps inside Germany during World War II. Real money for escapees was slipped into the packs of MONOPOLY money.
Every few years, national champions from around the globe meet for the MONOPOLY World Championship tournament. World Champions have hailed from 10 different countries, including: United States, Ireland, Singapore, Italy, New Zealand, United Kingdom, Japan, Netherlands, Hong Kong, Japan and Spain.
More than six billion little green houses and 2.25 billion red hotels have been "constructed" since 1935.
Since 1935, more than one billion people have played the game.
Over 20 tokens have been cast since the MONOPOLY game was introduced in 1935 such as the horse, dog, car, elephant, purse and lantern.
Our beloved tokens! In the early 1950s, the lantern, purse and rocking horse were removed from the game. They were replaced by the dog, horse and rider, and wheelbarrow.
In the 1970's, a Braille edition of the MONOPOLY game was created for the visually impaired.
In 1972, the Commissioner of Public Works in Atlantic City, New Jersey, the real life model for the game,, threatened to change the names of the real Baltic and Mediterranean Avenues, but public outcry vetoed the bill.
In 1978, the Neiman Marcus Christmas catalog offered a chocolate version of the game priced at $600.
In 2008, MONOPOLY fans around the world united to set the world record for the most people playing MONOPOLY at the same time to commemorate the launch of MONOPOLY Here & Now: The World edition. Nearly 3,000 people "passed GO" at events around the world.
"Best Mobile Game Award" at the 2008 Mobile Excellence Awards (MONOPOLY Here & Now on feature phone)
"Best Dice Game" at the 2009 Best App Ever Awards (MONOPOLY Classic on iPhone)
"Best Game inspired by a Board Game" at the 2009 AppAdvice App Awards (MONOPOLY Here & Now on iPhone)
In 2009, MONOPOLY and Google partner to launch MONOPOLY City Streets. The 3 month game had more than 1.4MM registered players, from across the world generating 17 million visits and nearly a billion page views while purchasing nearly 9 million streets and constructing more than 175 million buildings.
MONOPOLY's most recent extensions: Apple iPhone - February 2010