National Tie One On Day
While Americans prepare to celebrate the Thanksgiving holiday, the day before Thanksgiving is also a special day. It's National Tie One On Day (NTOOD), and chances are pretty good, it's not what you think!
National Tie One On Day
First observed in 2006, Tie One On Day was created by author EllynAnne Geisel. Geisel wanted to celebrate one of the world's most recognized pieces of clothing in a very special way!
"Tie One On and celebrate the humble apron and the spirit of women of earlier generations who donned the universal symbol of home, family and mothering as the uniform of their daily wardrobe and helped make America the great country it is today. On the eve of Thanksgiving, wrap a loaf of bread in an apron and tuck a prayer or note of hope in the pocket. Tie One On...an apron of course, and deliver the wrapped bread to someone without bounty and in need."
National Tie One On Day is an annual holiday celebrated on the fourth Wednesday in November. This year's event takes place on Nov. 27, 2013.
How to Celebrate National Tie One On Day
Although the economy is improving and unemployment rates are dropping, there are still people who are struggling to get by. National Tie One On Day serves as an important reminder to remember those less fortunate. Why not whip up a batch of homemade cookies, muffins or loaf of fresh bread, wrap the goodies in an lovely apron along with a handwritten note or prayer, and deliver it to an elderly widow, unemployed friend, nursing home or charity? This lovely gesture of kindness could really make someone's day!
As we gather with friends and family this Thanksgiving, let's remember those less fortunate.
National Bavarian Cream Pie Day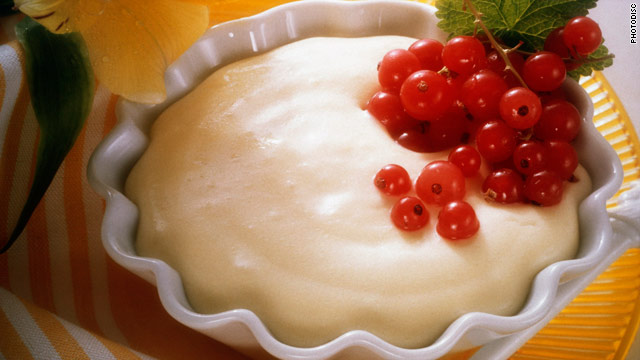 November 27 is National Bavarian Cream Pie Day.
Most food historians accredit the invention of Bavarian cream (a gelatin-based pastry cream) to French chef Marie Antoine Carême (1784-1833), the forefather of haute cuisine and referred to as the "chef of kings, and the king of chefs."
Recipes for Bavarian cream, or crème bavaroise, started to appear in American cookbooks shortly thereafter in the 1880s, as seen in Mrs. Lincoln's Boston Cook Book: What to Do and What Not to Do in Cooking in 1884.
To make the pie version, pour Bavarian cream into a prepared pie crust and refrigerate for approximately two hours until set.
Bavarian Cream No. 2 (With Eggs)
As seen in "Mrs. Lincoln's Boston Cook Book" by Mary Johnson Bailey Lincoln
1/2 box gelatin (sic)
1/2 cup cold water
1 pint cream
1 pint milk
4 eggs (yolks)
1/2 cup sugar
1/2 teaspoonful salt
1 teaspoonful vanilla
1 tablespoonful wine
Soak the gelatin in cold water till soft. Chill and whip the cream till you have three pints. Keep the whipped cream on ice, and boil the remainder of the cream, adding enough milk to make a pint in all. Beat the yolks of the eggs, and add the sugar and salt. Pour the boiling milk on the eggs, and when well mixed put back in the double boiler and cook about two minutes, or just enough to scald the egg. Stir constantly, add the soaked gelatin, and strain at once into a pan set in ice water. When cool, add the vanilla and wine, or half a cup of orange juice. Stir till it begins to harden, then stir in quickly the whipped cream, and when nearly stiff enough to drop, pour into molds wet in cold water
National Electric Guitar Day
Today is National Electric Guitar Day. It's also, not-so-coincidentally, Jimi Hendrix's birthday.
Guitar legend Jimi Hendrix is born in Seattle. Hendrix grew up playing guitar, imitating blues greats like Muddy Waters as well as early rockers. He joined the army in 1959 and became a paratrooper but was honorably discharged in 1961 after an injury that exempted him from duty in Vietnam. In the early 1960s, Hendrix worked as a pickup guitarist, backing musicians including Little Richard, B.B. King, Ike and Tina Turner, and Sam Cooke. In 1964, he moved to New York and played in coffeehouses, where bassist Bryan Chandler of the British group the Animals heard him. Chandler arranged to manage Hendrix and brought him to London in 1966, where they created the Jimi Hendrix Experience with bassist Noel Redding and drummer Mitch Mitchell. The band's first single, "Hey Joe," hit No. 6 on the British pop charts, and the band became an instant sensation.
In 1967, the Jimi Hendrix Experience made its first U.S. appearance, at the Monterey Pop Festival. Hendrix made a splash by burning his guitar and was quickly established as a rock superstar. In the next two years, before the band broke up in 1969, it had released such classic songs as "Purple Haze," "Foxy Lady," and "The Wind Cries Mary." The band's albums included Are You Experienced? (1967), Bold as Love (1969), and Electric Ladyland (1969).
After the band dissolved because of creative tensions, Hendrix made his famous appearance at Woodstock, playing a masterful, intricate version of "The Star Spangled Banner." Later that year, he put together a new group called the Band of Gypsies, which debuted on New Year's Eve in 1969. The band put out only one album, Band of Gypsies(1969). (A second album, Band of Gypsies II, was released in 1986.) Hendrix then recorded another album, without the band, called The Cry of Love, which was released in 1971.
Hendrix, one of the most innovative guitar players of the rock era, established an advanced recording studio in New York called the Electric Lady, boasting 46-track recording technology. The studio opened in August 1970, shortly before Hendrix died in London in September 1970, following a drug overdose. He was 27.
National Pins and Needles Day
At first glance you would think that this holiday has something to do with sewing wouldn't you? Well through our research of this holiday, we found out it had nothing at all to do with sewing pins and needles at all, but was a holiday founded in 1937 to commemorate the opening of a play named Pins and Needles by a man named Harold Rome.
-Researching this holiday, it was a pro-labor play with the cast and crew from the International Ladies Garment Workers Union. (so that's where the pins and needles most likely came into play) The play played on weekends only so the women could keep their day jobs. Our research shows that the play ran for more than 1000 performances.
The Meaning of this holiday changed over time
Time passed and the play closed, but November 27 is still Pins and Needles Day. The meaning of the day changed with the passing of the play. Now it is referred to as a day of anticipation.
"Pins and Needles" is a saying that refers to Anticipation.
The meaning of Anticipation
Anticipation or being enthusiastic, is an emotion involving pleasure (and sometimes anxiety) in considering some expected or longed-for good event, or irritation at having to wait. A name for pleasured anticipation is excitement. Anticipation can be shown in many ways; for example, some people seem to smile uncontrollably during this period.
Pins & Needles final thought
Our research shows that the most popular things that people are anxious about at this time of year is the excitement of the Christmas season.
This is the time of the year that children are on "pins and needles" waiting for Christmas. Just thinking about Santa Claus coming and bringing gifts is exciting in itself. Even adults get excited about new gifts they're going to receive. And last but not least, we all get excited when we think about all the holiday food that is enjoyed during the holiday season.
When it comes to getting all the holiday shopping done on time, plays a role in this holiday as well. Being on pins and needles can be shown in many ways. The definition of "Anticipation" can also be a bit on the negative side as well as the positive side. for example, some people seem ill or sick when feeling they are pushed for time. It is not uncommon for the brain to be so focused on an event, that the body is affected and they get that pins and needles feeling.
Turtle Adoption Day
November 27th is Turtle Adoption Day! Have you ever heard of a Mini-turtle? Itty-bitty. Adorable. Only costs $1. Lives in a bowl of water.
Oh…, the Mini-turtle, sounds like a pretty awesome pet… How do you tell someone their cute bright green little pet was only a baby and not a Mini-turtle? It was a tragic victim of accidental turtle neglect. It was maybe even purchased as a 'throw-away' pet. Do you even tell them?
But if we never talk about it, we won't be able to shed light on these issues. So, I thought today would be a good day to talk about mythical Mini-turtles, and common misconceptions when it comes to adopting a turtle.
Turtles do start out small, but there are no known species of miniature turtles. A hatchling uses a single small tooth in the front of her beak to pierce through her egg and break into the world. This is the only tooth she will ever have, and it soon falls out on its own. After the turtle hatches, a portion of the yolk sac remains connected to her, and will continue to feed the turtle as she grows. So, if you do adopt a baby turtle, it is important not to clean her off or remove any remaining yolk sac, especially since she may not begin immediately eating on her own. Hatchlings are very fragile to begin with, so try to avoid handling them when possible.
If you are currently in possession of the mythical Mini-turtle, I encourage you to find out what species of turtle it really is, since each species has different needs. If you take the proper steps to care for your Mini-turtle, you may be able to transform him into an adult Red Eared Slider, or perhaps even a Painted Turtle, and give him a long healthy life. I came across some videos a few years ago that I think are really great for teaching you how to care for and how to set up a habitat for baby turtles. You can view them on ReptilesTV.com.
The deceptive sale of Mini-turtles (when they are in fact, baby turtles) leads to many problems. An owner who is told the turtle can thrive in a bowl of water, will have a bad surprise when he finds out the turtle is ill and won't eat. Or if the turtle does eat, the owner will be shocked at the turtle's growth and initially overwhelmed by the resources and expenses required to care for the turtle. Many turtles end up at the animal shelter when they begin to grow and mature into something not quite as cute as a Mini-turtle. And to release an unwanted captive-raised turtle into the wild is never a good idea. Its chances of survival are minimal.
The bigger the turtle, the less chance it has of being adopted, since everyone seems to gravitate toward small turtles. The irony in this is that all turtles will grow. No matter how small it is when you adopt it, your turtle is going to grow if you care for it. Whether you start out with a baby turtle and buy a small tank now, and upgrade all your equipment in size as your turtle grows, or you adopt an adult turtle to begin with, you will still eventually need a massive tank if you intend on keeping your pet. You will actually save money in the long run if you skip setting up mini-habitats and start big.