Thanksgiving Day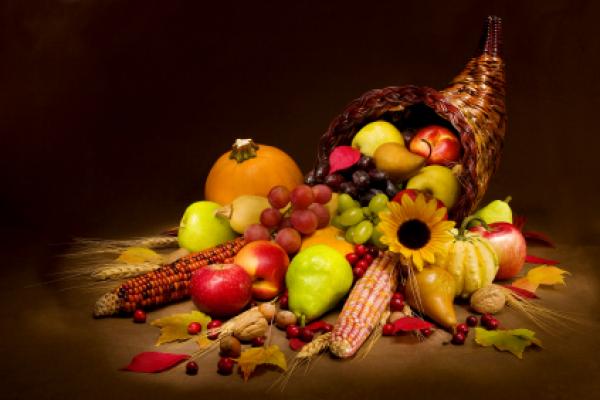 Thanksgiving Day in the United States is a holiday on the fourth Thursday of November. It precedes Black Friday.
Thanksgiving Day is traditionally a day for families and friends to get together for a special meal. The meal often includes a turkey, stuffing, potatoes, cranberry sauce, gravy, pumpkin pie, and vegetables. Thanksgiving Day is a time for many people to give thanks for what they have.
Thanksgiving Day parades are held in some cities and towns on or around Thanksgiving Day. Some parades or festivities also mark the opening of the Christmas shopping season. Some people have a four-day weekend so it is a popular time for trips and to visit family and friends.
Most government offices, businesses, schools and other organizations are closed on Thanksgiving Day. Many offices and businesses allow staff to have a four-day weekend so these offices and businesses are also closed on the Friday after Thanksgiving Day. Public transit systems do not usually operate on their regular timetables.
Thanksgiving Day it is one of the busiest periods for travel in the USA. This can cause congestion and overcrowding. Seasonal parades and busy football games can cause disruption to local traffic.
Thanksgiving Day has been an annual holiday in the United States since 1863. Not everyone sees Thanksgiving Day as a cause for celebration. Each year since 1970, a group of Native Americans and their supporters have staged a protest for a National Day of Mourning at Plymouth Rock in Plymouth, Massachusetts on Thanksgiving Day. American Indian Heritage Day is also observed at this time of the year.
There are claims that the first Thanksgiving Day was held in the city of El Paso, Texas in 1598. Another early event was held in 1619 in the Virginia Colony. Many people trace the origins of the modern Thanksgiving Day to the harvest celebration that the Pilgrims held in Plymouth, Massachusetts in 1621. However, their first true thanksgiving was in 1623, when they gave thanks for rain that ended a drought. These early thanksgivings took the form of a special church service, rather than a feast.
In the second half of the 1600s, thanksgivings after the harvest became more common and started to become annual events. However, it was celebrated on different days in different communities and in some places there were more than one thanksgiving each year. George Washington, the first president of the United States, proclaimed the first national Thanksgiving Day in 1789.
National Maize Day
November 28 is National Maize Day each and every year!
This Holiday is set aside for people to appreciate Maize and learn just what part it played in our food history. Did you know that many crops first domesticated by indigenous Americans (Native American Indians) are now produced and/or used globally. Largest among these is maize or "corn", arguably the most important crop in the world! So on National Maize Day remember how sweet and delicious corn is and have some fun learning about it's history. Have even more fun by learning the many ways to eat corn. Everything from cornbread to corn casserole can be cooked up into some mouth watering corn dishes. Share in the good taste with all your friends, family and neighbors too.
What is Maize??
Maize, known as corn in some countries, is a cereal grain domesticated in Mesoamerica and subsequently spread throughout the American continents. After European contact with the Americas in the late 15th century and early 16th century, maize spread to the rest of the world.
Maize is the largest crop in the Americas (270 million metric tons annually in the U.S. alone). Hybrid maize, due to its high grain yield due to heterosis ("hybrid vigour"), is preferred by farmers over conventional varieties. While some maize varieties grow 7 metres (23 ft) tall at certain locations, commercial maize has been bred for a height of 2.5 metres (8 ft). Sweet corn is usually shorter than field-corn varieties.
Tell me about the name
The term maize derives from the Spanish form (maíz) of the indigenous Taino term for the plant, and is the form most commonly heard in the United Kingdom. In the United States, Canada and Australia, the usual term is corn, which originally referred to any grain (and still does in Britain), but which now refers exclusively to maize, having been shortened from the form "Indian corn" (which currently, at least in the US, is often used to refer specifically to multi-colored "field corn" cultivars.
In the United States and Canada, the primary use for maize is as a feed for livestock, forage, silage or grain. Many forms of maize are used for food, sometimes classified as various subspecies:
Flour corn — Zea mays var. amylacea
Popcorn — Zea mays var. everta
Dent corn — Zea mays var. indentata
Flint corn — Zea mays var. indurata
Sweet corn — Zea mays var. saccharata and Zea mays var. rugosa
Waxy corn — Zea mays var. ceratina
Amylomaize — Zea mays
Pod corn — Zea mays var. tunicata Larrañaga ex A. St. Hil.
Striped maize - Zea mays var. japonica
Human consumption of corn and cornmeal constitutes a staple food in many regions of the world. Corn meal is made into a thick porridge in many cultures: from the polenta of Italy, the angu of Brazil, the mămăligă of Romania, to mush in the U.S. or the food called sadza, nshima, ugali and mealie pap in Africa. It is the main ingredient for tortillas, atole and many other dishes of Mexican food, and for chicha, a fermented beverage of Central and South America. The eating of corn on the cob varies culturally. It is common in the United States but virtually unheard of in some European countries.
Sweet Corn is a genetic variation that is high in sugars and low in starch that is served like a vegetable. Popcorn is kernels of certain varieties that explode when heated, forming fluffy pieces that are eaten as a snack.
Maize can also be prepared as hominy, in which the kernels are bleached with lye; or grits, which are coarsely ground corn. These are commonly eaten in the Southeastern United States, foods handed down from Native Americans. Another common food made from maize is corn flakes. The floury meal of maize (cornmeal or masa) is used to make cornbread and Mexican tortillas. Teosinte is used as fodder, and can also be popped as popcorn.
The grain used in most of Native American cooking was maize, while wild rice (not a true grain) was found in certain southern regions. The seeds from various plants were also commonly utilized: pine nuts (western white pine, western yellow pine, pinyon pine), anglepod, dropseed, pigweed, spurge, sunflower seeds, tumbleweed, unicorn plant.
The Native Americans are credited as the first in America to create fire-proof pottery to place in direct flame. In what is now the Southwestern United States, Native Americans also created ovens made of adobe called hornos in which to bake items such as breads made from cornmeal.
Ornamental Maize
Some forms of the plant are occasionally grown for ornamental use in the garden. For this purpose, variegated and coloured leaf forms as well as those with colourful ears are used. Additionally, size-superlative varieties, having reached 31 ft (9.4m) tall, or with ears 24 inches (60cm) long, have been popular for at least a century.
Maize Crafts
Corncobs can be hollowed out and treated to make inexpensive smoking pipes, first manufactured in the United States in 1869. Corn shucks are very common made into dolls.
Corncobs are also used as a biomass fuel source
Maize is relatively cheap and home-heating furnaces have been developed which use maize kernels as a fuel. They feature a large hopper which feeds the uniformly sized corn kernels (or wood pellets or cherry pits) into the fire.
Fun Corn Mazes
An unusual use for maize is to create a maize maze as a tourist attraction. This is a maze cut into a field of maize. The idea of a maize maze was introduced by Adrian Fisher, one of the most prolific designers of modern mazes, with The American Maze Company who created a maze in Pennsylvania in 1993. Traditional mazes are most commonly grown using yew hedges, but these take several years to mature. The rapid growth of a field of maize allows a maze to be laid out using GPS at the start of a growing season and for the maize to grow tall enough to obstruct a visitor's line of sight by the start of the summer. In Canada and the U.S., these are called "corn mazes" and are popular in many farming communities.
Fish Bait
Maize is also used as fish bait called "dough balls". It is particularly popular in Europe for coarse fishing.
Herbal Supplement
Stigmas from female corn flowers, known popularly as corn silk, are sold as herbal supplements.
Corn kernels can be used in place of sand in a sandbox-like enclosure for children's play.
Origin of Maize
Perhaps as early as 1500 BCE, maize began to spread widely and rapidly. As it was introduced to new cultures, new uses were developed and new varieties selected to better serve in those preparations. Maize was the staple food, or a major staple, of most the pre-Columbian North American, Mesoamerican, South American, and Caribbean cultures. The Mesoamerican civilization was strengthened upon the field crop of maize; through harvesting it, its religious and spiritual importance and how it impacted their diet. Maize formed the Mesoamerican people's identity. During the 1st millennium CE (AD), maize cultivation spread from Mexico into the Southwest and a millennium later into Northeast and southeastern Canada, transforming the landscape as Native Americans cleared large forest and grassland areas for the new crop.
In 2005, research by the USDA Forest Service indicated that the rise in maize cultivation 500 to 1,000 years ago in what is now the southeastern United States contributed to the decline of freshwater mussels, which are very sensitive to environmental changes.
Make Your Own Head Day
This holiday is observed & celebrated on November 28, every year.
Make Your Own Head Day is a crafty day. A day to be an Artist of yourself and make your own head. It is a very popular thing to do in grade schools, and art classes. Use any medium you can think of. Just be creative using clay, paper mache, oil paints or any other item you can be creative with. How about trying to draw or sketch your head. You can make a picture with charcoals, colored pencils or crayons.
Like most holidays, they can have a double meaning. This holiday is about seeing yourself for who you are. Knowing your positive traits and negative traits and knowing the difference between the two. Make your own head can be a reference to being your own person and being the wiser of it. Make your own head day can be for contemplating on the "you" and being a better person for it. In order to do that you have to look at yourself. Hence, "Make Your own Head Day."
Cultural importance as wiki encyclopedia explains it:
For humans, the head and particularly the face are the main distinguishing feature between different people, due to their easily discernible features such as hair and eye color, nose, eye and mouth shapes, wrinkles, etc.
People who are more intelligent than normal are sometimes depicted in cartoons as having bigger heads, as a way of indicating that they have a larger brain; in science fiction, an extraterrestrial having a big head is often symbolic of high intelligence. However, minor changes in brain size do not have much effect on intelligence in humans. In English slang, sometimes a boastful individual is said to have a "big head."
The weight of the average adult human head is about 3.6 kilograms or 8 pounds.
National Day of Mourning
Every year since 1970, United American Indians of New England have organized the National Day of Mourning observance in Plymouth at noon on Thanksgiving Day. Every year, hundreds of Native people and our supporters from all four directions join us. Every year, including this year, Native people from throughout the Americas will speak the truth about our history and about current issues and struggles we are involved in.
Why do hundreds of people stand out in the cold rather than sit home eating turkey and watching football? Do we have something against a harvest festival?
Of course not. But Thanksgiving in this country -- and in particular in Plymouth --is much more than a harvest home festival. It is a celebration of the pilgrim mythology.
According to this mythology, the pilgrims arrived, the Native people fed them and welcomed them, the Indians promptly faded into the background, and everyone lived happily ever after.
The truth is a sharp contrast to that mythology.
The pilgrims are glorified and mythologized because the circumstances of the first English-speaking colony in Jamestown were frankly too ugly (for example, they turned to cannibalism to survive) to hold up as an effective national myth. The pilgrims did not find an empty land any more than Columbus "discovered" anything. Every inch of this land is Indian land. The pilgrims (who did not even call themselves pilgrims) did not come here seeking religious freedom; they already had that in Holland. They came here as part of a commercial venture. They introduced sexism, racism, anti-lesbian and gay bigotry, jails, and the class system to these shores. One of the very first things they did when they arrived on Cape Cod -- before they even made it to Plymouth -- was to rob Wampanoag graves at Corn Hill and steal as much of the Indians' winter provisions of corn and beans as they were able to carry. They were no better than any other group of Europeans when it came to their treatment of the Indigenous peoples here. And no, they did not even land at that sacred shrine called Plymouth Rock, a monument to racism and oppression which we are proud to say we buried in 1995.
The first official "Day of Thanksgiving" was proclaimed in 1637 by Governor Winthrop. He did so to celebrate the safe return of men from the Massachusetts Bay Colony who had gone to Mystic, Connecticut to participate in the massacre of over 700 Pequot women, children, and men.
About the only true thing in the whole mythology is that these pitiful European strangers would not have survived their first several years in "New England" were it not for the aid of Wampanoag people. What Native people got in return for this help was genocide, theft of our lands, and never-ending repression. We are treated either as quaint relics from the past, or are, to most people, virtually invisible.
When we dare to stand up for our rights, we are considered unreasonable. When we speak the truth about the history of the European invasion, we are often told to "go back where we came from." Our roots are right here. They do not extend across any ocean.
National Day of Mourning began in 1970 when a Wampanoag man, Wamsutta Frank James, was asked to speak at a state dinner celebrating the 350th anniversary of the pilgrim landing. He refused to speak false words in praise of the white man for bringing civilization to us poor heathens. Native people from throughout the Americas came to Plymouth, where they mourned their forebears who had been sold into slavery, burned alive, massacred, cheated, and mistreated since the arrival of the Pilgrims in 1620.
But the commemoration of National Day of Mourning goes far beyond the circumstances of 1970.
Can we give thanks as we remember Native political prisoner Leonard Peltier, who was framed up by the FBI and has been falsely imprisoned since 1976? Despite mountains of evidence exonerating Peltier and the proven misconduct of federal prosecutors and the FBI, Peltier has been denied a new trial. Bill Clinton apparently does not feel that particular pain and has refused to grant clemency to this innocent man.
To Native people, the case of Peltier is one more ordeal in a litany of wrongdoings committed by the U.S. government against us. While the media in New England present images of the "Pequot miracle" in Connecticut, the vast majority of Native people continue to live in the most abysmal poverty.
Can we give thanks for the fact that, on many reservations, unemployment rates surpass fifty percent? Our life expectancies are much lower, our infant mortality and teen suicide rates much higher, than those of white Americans. Racist stereotypes of Native people, such as those perpetrated by the Cleveland Indians, the Atlanta Braves, and countless local and national sports teams, persist. Every single one of the more than 350 treaties that Native nations signed has been broken by the U.S. government. The bipartisan budget cuts have severely reduced educational opportunities for Native youth and the development of new housing on reservations, and have caused cause deadly cutbacks in health-care and other necessary services.
Are we to give thanks for being treated as unwelcome in our own country?
Or perhaps we are expected to give thanks for the war that is being waged by the Mexican government against Indigenous peoples there, with the military aid of the U.S. in the form of helicopters and other equipment? When the descendants of the Aztec, Maya, and Inca flee to the U.S., the descendants of the wash-ashore pilgrims term them 'illegal aliens" and hunt them down.
We object to the "Pilgrim Progress" parade and to what goes on in Plymouth because they are making millions of tourist dollars every year from the false pilgrim mythology. That money is being made off the backs of our slaughtered indigenous ancestors.
Increasing numbers of people are seeking alternatives to such holidays as Columbus Day and Thanksgiving. They are coming to the conclusion that, if we are ever to achieve some sense of community, we must first face the truth about the history of this country and the toll that history has taken on the lives of millions of Indigenous, Black, Latino, Asian, and poor and working class white people.
The myth of Thanksgiving, served up with dollops of European superiority and manifest destiny, just does not work for many people in this country. As Malcolm X once said about the African-American experience in America, "We did not land on Plymouth Rock. Plymouth Rock landed on us." Exactly.
National French Toast Day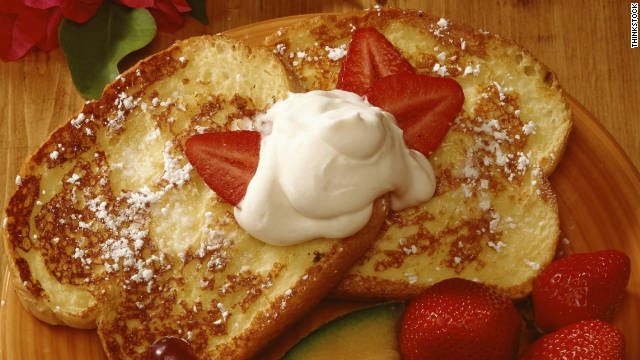 If you are wondering what to have for a nice change of pace breakfast, here is something to try especially if you have not had it in a while. November 28 is National French Toast Day.
French toast is the perfect way to start your day. It is typically made with bread soaked in eggs and milk and then fried on both sides until the slices are brown and cooked through.
Day-old bread is often recommended by chefs because the stale bread will soak up more egg mixture without falling apart.
Cinnamon or sugar may be added before frying. However, you might want to reconsider using sugar especially if you are going to top the French toast with maple syrup. French toast can be topped with fruit, jelly, jam, marmalade, honey, molasses, yogurt, applesauce, ice cream, whipped cream, nuts or other toppings of your choice.
French toast was known in England as "poor knight's pudding" because it was a simple and inexpensive dish that a knight with no money could afford. In France, it was called "pan perdu" or lost bread, because it was a way of using lost or stale bread.
Even though most people eat French toast for breakfast, it can be eaten for breakfast, lunch or dinner.
Do something different. Celebrate French Toast Day by surprising your family with French toast for dinner. Put the above toppings on the table for your family, and let them choose their own toppings. This will make your dining experience more exciting.
Red Planet Day
Red Planet Day is celebrated on November 28th of each year to commemorate the first launch of Mariner 4, the first spacecraft to obtain and transmit close range images of Mars. After its launch on November 28, 1964 and a journey of hundreds of millions of kilometers, Mariner 4 passed within 9844 kilometers of Mars on July 14, 1965.
Beginning at a range of 16,900 km, the probe acquired a surface image composed of 200 lines, consisting of 200 pixels each every 48 seconds until, at a range of 11,900 km, 22 television pictures of the Martian surface had been stored on the spacecraft's 4-track tape recorder. It took 4 days to transmit the image information to Earth and the spacecraft returned useful data until October 1965, when the distance from Earth and its antenna orientation temporarily halted the signal acquisition. Data acquisition resumed in late 1967 and continued until December 20, 1967.
Auto Race Day
On this Thanksgiving Day in 1895, piloting a gas-powered "horseless carriage" of his and his brother's own design, the mechanic, inventor and now racecar driver Frank Duryea wins the first motor-car race in the United States. The race, sponsored by the Chicago Times-Herald, was intended to drum up publicity for the nascent American car industry. It worked, especially for the Duryeas: In the year after the Times-Herald race, the brothers sold 13 of their eponymous Motor Wagons, more than any other carmaker in America.
The race course was originally supposed to loop from Chicago to Waukegan, Illinois, and back (a harrowing 92 miles) but, thanks to the sudden arrival of a spectacular blizzard, race organizers decided to abbreviate the route. ("With eight inches of snow," one journalist wrote later, "Waukegan might as well have been Timbuktu.") The racers would be driving just 50 miles, from Chicago to Evanston, Illinois, and back again. The other rules would remain the same: Vehicles had to have at least three wheels, all wrapped in twine to give traction in the snow, and they also had to be able to carry at least two people, the driver and a race-appointed umpire who would ride along to guard against cheating.
Because of the bad weather, only six of 89 racers made it to the starting line: the Duryea; three Benz cars, one sponsored by Macy's in New York; and two electrics whose batteries died almost immediately after the race began.
About 10 hours after the race began, the Duryea chugged across the finish line. The only other finisher was one of the Benzes (not the one from Macy's: that one collided with a streetcar on the way to Evanston and with a sleigh and then a hack on the return trip), which sloshed to a finish almost two hours later. The victorious Duryeas won $2,000 and enough publicity to establish themselves as the American motor-car company. From then on, for the Duryeas and all who followed, automobile manufacturing was a business—not just a hobby.