Sinkie Day
Every year, the day after Thanksgiving (Friday, November 29, 2013)
Christmas shopping and Thanksgiving leftovers provide the perfect reasons to enjoy a quick meal. It's the day many people discover the benefits of becoming a Sinkie and go on to many years of dining with a view overlooking the water.
Eating and snacking over the kitchen sink.
Millions of people around the world have been enjoying this casual dining style for many years.
Their casual dining style can also include standing in front of their open refrigerators, rummaging around the leftovers, taking inventory of the contents.
Drinking milk straight from the carton.
Eating on the run.
Grabbing a jelly doughnut, while racing out the door in the morning, late for work.
Dashboard dining in the car.
Having a desk lunch of M&Ms and Diet Pepsi from the vending machines in the break room.
In other words, if it has anything to do with having a quick bite, it has everything to do with being a Sinkie.
All of us at Sinkie.Com have been standing at our kitchen sinks since 1991 and we're beginning to get a little weak in the knees. Therefore, we've decided to take what we believe is a well-deserved break.
In the meantime, Bon Appétit!
National Flossing Day
Whereas, This Nation will once again have spent a full day focused on food, on Thanksgiving Day, November 28, And since it is good for each of us to floss after meals,
Therefore, It is befitting and proper that the following day, November 29, 2013 be celebrated as National Flossing Day.
During that day each and every person is encouraged to consider the role flossing has played in his or her life during the previous year, and to celebrate flossing so they can Help Spread "Peace of Mouth"
in their own lives and the lives of others around them, in ways with and without floss.
All citizens are encouraged to search for ways to experience the JOY OF FLOSSING and thereby move beyond negative reasons to floss.
On this special day, our children should also be made aware of the richness and health that flossing can bring to life. Especially at this time when dental care is becoming available to nearly 9 million needy kids!
Be this day so proclaimed in the name of all the Volunteers who have devoted time to the work of the National Flossing Council and to Help Spread "Peace of Mouth!"
National Day of Listening
The National Day of Listening is an unofficial day of observance where Americans are encouraged to set aside time to record the stories of their families, friends, and local communities. It was first launched by the national oral history project StoryCorps in 2008 and now recurs on the Friday after Thanksgiving Day, when families are more likely to spend time together. It was proposed as an alternative to "Black Friday", a day many businesses see as a high volume pre-Christmas sale day.
Tens of thousands of Americans interviewed one another as part of the National Day of Listening in 2008, including President George W. Bush and his wife Laura, who were interviewed by President Bush's sister Dorothy Bush Koch. National Public Radio personalities including Scott Simon, Liane Hansen, Steve Inskeep, Renée Montagne,Frank Deford, Susan Stamberg, and Noah Adams also conducted National Day of Listening interviews and broadcast them on the air.
There are no restrictions on who may conduct an interview as part of the National Day of Listening or what type of interview format may be used. StoryCorps provides Do-It-Yourself Resources and equipment recommendations to guide people through the interview process. guides are available to help teachers and librarians to incorporate The National Day of Listening into the classroom and library.
StoryCorps is a national nonprofit organization modeled after the Federal Writers' Project of the Works Progress Administration of the 1930s. In addition to collecting and archiving interviews at the American Folklife Center at the Library of Congress, StoryCorps helps Americans engage with oral histories at the grassroots level.
American Indian Heritage Day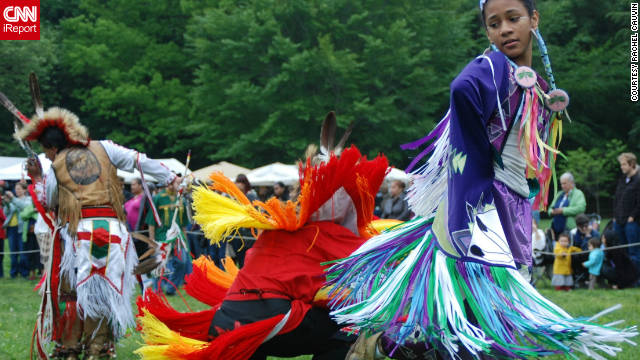 American Indian Heritage Day, also known as Native American Heritage Day, annually recognizes the rich cultural heritage, history and vital contributions of American Indians on the Friday after Thanksgiving Day in the United States.
Some individual states, such as Maryland have taken legislative action to recognize this day as a state holiday.
Many people observe American Indian Heritage Day with activities, programs, and ceremonies that promote the historical and present day status of Native Americans and the Native American tribal governments. These events celebrate the culture, traditions, and languages of Native Americans that all Americans enjoy today.
The day also encourages public elementary and secondary schools to educate students about the history, achievements, and contributions of Native Americans by providing classroom instructions and activities.
American Indian Heritage Day is a civil holiday but some individual states, such as Maryland recognize this day as a state holiday. Maryland state agencies, libraries and public schools are closed on this day and most state employees and many others have the day off from work.
Native Americans are the descendants of the aboriginal, indigenous, native people who were the original inhabitants of the United States. American Indian Heritage Day aims to highlight the relationship between the United States government and the Native American governments, as well as honor the achievements and contributions of Native Americans to the US.
Native Americans have made distinct and significant contributions to the United States and the rest of the world in many fields, including agriculture, medicine, music, language, and art. Throughout history, Native Americans have distinguished themselves as inventors, entrepreneurs, spiritual leaders, as well as scholars.
Black Friday
Black Friday is the day after Thanksgiving Day in the USA and falls on the Friday after the fourth Thursday in November. It is a busy shopping day and is a holiday in some states.
Many people have a day off work or choose to take a day from their quota of annual leave on Black Friday. Some people use this to make trips to see family members or friends who live in other areas or to go on vacation. Others use it to start shopping for the Christmas season.
Shopping for Christmas presents is also popular on Black Friday. Many stores have special offers and lower their prices on some goods, such as toys.
Black Friday is not a federal holiday, but is a public holiday in some states. Many people take a day of their annual leave on the day after Thanksgiving Day. Many organizations also close for the Thanksgiving weekend.
Public transit systems may run on their normal schedule or may have changes. Some stores extend their opening hours on Black Friday. There can also be congestion on roads to popular shopping destinations.
Black Friday is one of the busiest shopping days in the USA. There are two popular theories as to why the day after Thanksgiving Day is called Black Friday. One theory is that the wheels of vehicles in heavy traffic on the day after Thanksgiving Day left many black markings on the road surface, leading to the term Black Friday.
The other theory is that the term Black Friday comes from an old way of recording business accounts. Losses were recorded in red ink and profits in black ink. Many businesses, particularly small businesses, started making profits prior to Christmas. Many hoped to start showing a profit, marked in black ink, on the day after Thanksgiving Day.
Buy Nothing Day
Buy Nothing Day (BND) is an international day of protest against consumerism. In North America, Buy Nothing Day is held the Friday after U.S. Thanksgiving; elsewhere, it is held the following day, which is the last Saturday in November. Buy Nothing Day was founded in Vancouver by artist Ted Dave and subsequently promoted by Adbusters magazine, based in Canada.
The first Buy Nothing Day was organized in Canada in September 1992 "as a day for society to examine the issue of over-consumption." In 1997, it was moved to the Friday after American Thanksgiving, also called "Black Friday", which is one of the ten busiest shopping days in the United States. In 2000, advertisements by Adbusters promoting Buy Nothing Day were denied advertising time by almost all major television networks except for CNN. Soon, campaigns started appearing in the United States, the United Kingdom, Israel, Austria, Germany, New Zealand, Japan, the Netherlands, France, and Norway. Participation now includes more than 65 nations.
Electronic Greeting Card Day
Electronic Greeting Card Day is today. Send Ecards to everyone you know.
Most people love to send and receive Ecards. They a fun, and they're free... a great combination.
In exchange for the free cards, you may have to put up with a lot of pop-up ads. They support the sites, and make it possible for you to get, and send these cards for free.The ads are easily closed and deleted, a small price for all of the fun.
Hop on an electronic greeting card site, and send a few animated cards today. Don't just limit the fun to today. The online greeting card sites have cards for every day of the year.
Tip: You may have to get the ball rolling and send out Ecards. Then, many of the recipients will send you one back.
International Day of Solidarity With The Palestinian People
The United Nations' (UN) International Day of Solidarity with the Palestinian People is annually observed on November 29. The day is also known as Solidarity Day.
Special meetings may be held to observe Solidarity Day in some UN offices, councils, government bodies and organizations that have a special interest in the issues encompassing the event. The day may also be publicized through newspapers, magazines, radio and television news, and online media. Some topics that may be publicized or discussed include the status and plight of Palestinian refugees, as well as general information on Palestinian culture and society.
On November 29, 1947, the UN General Assembly adopted the resolution on the partition of Palestine (resolution 181 (II)). On December 2, 1977, it was recorded that the assembly called for the annual observance of November 29 as the International Day of Solidarity with the Palestinian People (A/RES/32/40 B). On December 1, 2003, the assembly encouraged member states to continue to provide support and publicity to observe the day. So the day was observed on December 1 in 2003.
The assembly also requested that the Committee on the Exercise of the Inalienable Rights of the Palestinian People and the Division for Palestinian Rights of the Secretariat should continue to organize an annual exhibit on Palestinian rights or a cultural event with the Permanent Observer Mission of Palestine to the United Nations.
The UN logo is often associated with marketing and promotional material for this event. It features a projection of a world map (less Antarctica) centered on the North Pole, inscribed in a wreath consisting of crossed conventionalized branches of the olive tree. The olive branches symbolize peace and the world map depicts the area of concern to the UN in achieving its main purpose, peace and security. The projection of the map extends to 60 degrees south latitude, and includes five concentric circles.
National Square Dance Day
Are you ready to Dosey Do and swing your partner round and round?
This holiday is dedicated to square dancing! Let today be the day you learn to square dance and see for yourself just how fun it is.
Our research did not find the creator, or the origin of this day.
This holiday is referred to as a "National" day. However, we did not find any congressional records or presidential proclamations for this day. Even though we didn't, this is still a holiday that is publicized to celebrate. So have fun with it and celebrate it!
Two types of square dancing
Traditional square dance, which is also called "old time square dance". Traditional square dance is not standardized and can be subdivided into regional styles. The New England and Appalachian styles have been particularly well documented; both have survived to the present time. There are several other styles; some have survived or been revived in recent years, some have not. Traditional square dance is frequently presented in alternation with contra dances or with some form of freestyle couple dancing. One ancestor of New England style square dances is the quadrille, and older New England callers occasionally refer to their squares as "quadrilles."
Modern Western square dance, which is also called "Western square dance", "contemporary Western square dance", or "modern American square dance". The basis of modern Western square dance was established during the 1930s and 1940s by Lloyd Shaw, who solicited definitions from callers across the country in order to preserve traditional American folk dance. Since the 1970s modern Western square dance has been promoted and standardized by Callerlab, the "International Association of Square Dance Callers". Modern Western square dance is sometimes presented in alternation with round dances.
You're Welcome-giving Day
You're Welcome-giving Day encourages us to simply say "You're welcome". It helps to put manners back into society.
This very special day comes the day after Thanksgiving. On Thanksgiving Day we say "Thanks" for what we have. So, it only seems natural, that "You're Welcome" immediately follows a thank you.
Participating in this day can happen anywhere that you are, and anywhere that you go today. Just speak a profusion of "thank you's" for even the slightest of reasons. When you say thank you, make sure to be sincere. It will go a long ways.
Are you enjoying this special day? If so, You're welcome!
Determining the proper date of celebration:
We surfed through countless sites. We found that this day is referenced as occurring on either November 23, 24, 25, 28, or 29. The 23rd was the most common date. We also discovered that most sites that also noted the year, had it occurring the day after Thanksgiving. Recognizing that the single reference to the meaning and content of this day had it noted on the day after Thanksgiving, one can only conclude that this is the correct day of celebration.
In our experience, this is a classic case of individuals and websites copying a date for a special day, without understanding that it may not occur on the same date every year. Keeping the dates correct, takes a lot of effort and research.
Origin of You're Welcome-giving Day:
It is very likely that this special day originated on a blog in 2002. The blog was posted on blogs.salon.com, declaring that day, the day after Thanksgiving, as You're Welcome-giving Day . Unfortunately, the creator did not identify themselves.