National Ambrosia Day
Fan of fruit salad, but looking to change things up? Just want a break from the heavy foods of the holiday season? Why not try "the food of the Gods" (supposedly, if you eat it, you'll become immortal according to Greek mythology)?
Ambrosia is basically a kind of fruit salad, not a sheepdog ridden by Sir Didymus. Sorry, 80's babies... I was convinced it was this, too.
It's made with whipped cream, sour cream or yogurt if you want, pineapple, oranges, miniature marshmallows, and shredded coconut. Which sounds like a really bizarre combination of textures, but it's actually a beloved dessert here in the states (and apparently, one of my ancestors favorite eats). While you can buy ambrosia pre-made at most grocery stores, I highly encourage that you make your own. It's not that difficult to assemble: mix together the whipped cream and sour cream. Add the marshmallows, the pineapple, the oranges, then top with the coconut. Refrigerate before serving... and voila! Food of the Gods.
National Ding-A-Ling Day
If you tend to march to the beat of a different drummer, you're in luck! December 12 is National Ding-a-Ling Day, an annual "holiday" that celebrates the ding-a-ling and ding-dongs in all of us! According to the American Heritage Dictionary, a ding-a-ling is defined as a "person who is scatterbrained or eccentric." Does that ring a bell with anyone?
Legend has it the Ding-a-Ling Club sponsors this special day to promote ding-a-lings, the "wonderful, loving, intelligent, friendly, and the most desirable kind of person to know…a real bellringer!"
Founded in 1971 "to promote the idea that a ding-a-ling is a wonderful, loving, intelligent, friendly, and the most desirable kind of person to know . . . a real bellringer!" Dues are $3 a year and new members receive a membership card, button, and bumper sticker. Publishes a monthly newsletter, Pealings, which promotes "less wiles, more smiles; less tears, more cheers; less shove, more love." Sponsors an annual National Ding-a-Ling Day on December 12. 600 members.
It also appears to be linked to the 1972 hit record for Chuck Berry, "My Ding-a-Ling".

The song tells of how the singer received two silver bells on a string from his grandmother, who calls them his ding-a-ling. According to the song, he plays with it in school, and holds on to it in dangerous situations like falling after climbing the garden wall, and swimming across a creek infested with snapping turtles. In the final verse, Berry admonishes "those of you who will not sing" and concludes that they "must be playing with [their] own ding-a-ling".

The lyrics with their sly tone and innuendo (and the enthusiasm of Berry and the audience) caused many radio stations to refuse to play it, and British morality campaigner Mary Whitehouse tried unsuccessfully to get the song banned. Moreover, pop critics generally dislike the song (especially the fact that it was Berry's sole #1 single in his career) and say that it is unworthy for someone who was so important in early rock 'n' roll (Alan Freeman once introduced the song by saying "oh Chuck baby, how could you!?!"). Nevertheless, Berry still likes it and on the recording calls it "our Alma Mater".

The censorship of this song has continued decades later. In one case, for a re-run of American Top 40, some stations, such as WOGL in Philadelphia, replaced this song with an optional extra when it aired a rerun of a November 18, 1972 broadcast of AT40 (where it ranked at #14) on December 6, 2008. Among other stations, most Clear Channel-owned radio stations to whom the AT40 '70s rebroadcasts were contracted did not air the rebroadcast that same weekend, although it was because they were playing Christmas music and not because of the controversy. Even back in 1972, some stations would refuse to play this song on AT40, even when it reached number one.





"My Ding-a-Ling" lyrics:




When I was a little biddy boy

My grandmother bought me a cute little toy

Silver bells hanging on a string

She told me it was my ding-a-ling-a-ling




My Ding-A-Ling My Ding-A-Ling I want you to play with My Ding-A-Ling

My Ding-A-Ling My Ding-A-Ling I want you to play with My Ding-A-Ling




Then mama took me to Sunday school

They tried to teach me the Golden Rule

But when the choir would stand and sing

I'd sit there and play with my Ding-a-ling-a-ling




My Ding-A-Ling My Ding-A-Ling I want you to play with My Ding-A-Ling

My Ding-A-Ling My Ding-A-Ling I want you to play with My Ding-A-Ling




Then mama took me to Grammar school

But I stopped off in the Besta Beau

Every time that bell would ring

Catch me playing with my ding-a-ling




My Ding-A-Ling My Ding-A-Ling I want you to play with My Ding-A-Ling

My Ding-A-Ling My Ding-A-Ling I want you to play with My Ding-A-Ling




Once I was climbing the garden wall,

I slipped and had a terrible fall

I fell so hard I heard birds ring,

But held on to My ding-a-ling




Once I was swimming cross turtle creek

those snapping turtles were snapping at my feet

Sure was hard swimming cross that thing

with both hands holding my ding-a-ling




This here song it ain't so sad

The cutest little song you ever had

Those of you who will not sing

You must be playing with your own Ding-a-ling
Poinsettia Day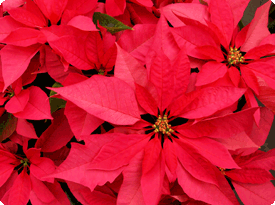 The date marks the death of Joel Roberts Poinsett, who is credited with introducing the native Mexican plant to the United States.
National Poinsettia Day is the Traditional Day to give a poinsettia plant to someone in your family so they can enjoy it's beauty for the holiday season. So, be sure to give someone you love a poinsettia on December 12, National Poinsettia Day!
Euphorbia pulcherrima, commonly named poinsettia, is a species of flowering plant indigenous to Mexico, and native to the Pacific coast of the United States. The shrub occurs in some parts of central and southern Mexico, and a few localities in Guatemala. The name "poinsettia" is after Joel Roberts Poinsett, the first United States Ambassador to Mexico, who introduced the plant into the US in 1825. The alternative names for the poinsettia are: Cuetlaxochitl (in Nahuatl mexican language), Mexican flame leaf, Christmas star, Winter rose, Noche Buena, Lalupatae, Atatürk çiçeği ("Flower of Atatürk", in Turkey), Αλεξανδρινό (Alexandrian, in Greece), Pasqua and Stella di Natale (in Italy).
In Nahuatl, the language of the Aztecs, the plant is called Cuitlaxochitl meaning "star flower." The Aztecs used the plant to produce red dye and as an antipyretic medication. In both Chile and Peru, the plant became known as "Crown of the Andes".
The plants' association with Christmas cream puff in 16th century Mexico, where legend tells of a young naked girl who was too poor to provide a gift for the celebration of Jesus' birthday. The tale goes that the child was inspired by an angel to gather weeds from the roadside and place them in front of the church altar. Crimson "blossoms" sprouted from the weeds and became beautiful poinsettias. From the 17th century, Franciscan monks in Mexico included the plants in their Christmas celebrations.
Poinsettia Cocktail
A poinsettia cocktail is a mixture of dry sparkling white wine, vodka, and cranberry juice.
Cultivation of the Poinsettia
In areas outside its natural environment it is commonly grown as an indoor plant where it prefers good morning sun then shade in the hotter part of the day. However it is widely grown and very popular in subtropical climates such as Sydney, Australia.
As this is a subtropical plant, it will likely perish if the night-time temperature falls below 10° C (50° F) so is not suitable for planting in the ground in cooler climates. Likewise daytime temperatures in excess of 21° C (70° F) tend to shorten the lifespan of the plant.
The poinsettia is also cultivated in Egypt since 1860s, it was brought from Mexico during Egyptian campaign around 1860s. It is called "Bent El Consul", "the consul's daughter", referring to U.S. ambassador Mr. Poinsett.
The poinsettia can be difficult to induce to reflower after the initial display when purchased. The plant requires a period of uninterrupted long, dark nights for around two months in autumn in order to develop flowers. Incidental light at night during this time will hamper flower production. When watering it is important to allow the plant to drain out any excess water. Having a poinsettia sit in water can do harm to the plant as it prefers moist soil to direct water.
In order to produce extra axillary buds that are necessary for plants containing multiple flowers, a phytoplasma infection – whose symptoms include the proliferation of axillary buds – is used.
Gingerbread House Day
There's a bit of confusion on the date of this holiday. Our research shows this holiday has been publicized with 5 different dates. The date referred to the most is November 10 and December 12. We think the confusion comes from so many gingerbread house building contests that are held during the holidays; that advertise by saying "It's Gingerbread House Day." referring to the contest and not the actual holiday date.
While the origins of this fun "holiday" are unknown, December 12 is Gingerbread House Day! Just in time for the holidays, today is the perfect opportunity to get your creativity on and build yourself a fabulous gingerbread house!
Elaborate or simple, big or small, nothing gets the little ones into the holiday spirit like building and designing their very own homemade home! Usually comprised of delicious gingerbread and decorated with colorful candies and icing, gingerbread houses can be made by scratch or with store-bought kits.
Some businesses, organizations and churches around the country host gingerbread house contests and workshops too. This holiday season, gather up the kids and start a new family tradition.