National Cocoa Day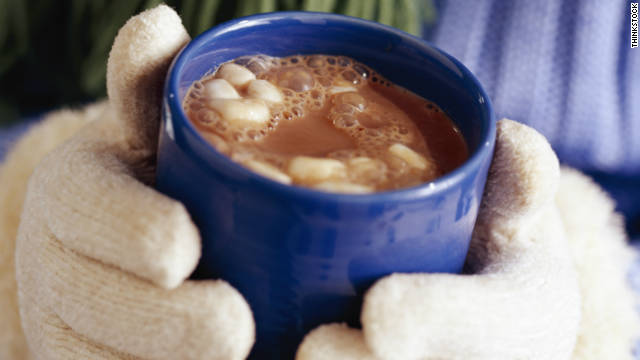 The weather outside may be frightful, but cozening up with a mug of hot cocoa can make the day more delightful.
There is nothing any better than a cup of hot cocoa on a cold day. Celebrate with a hot cup of cocoa today December 13 is National Cocoa Day.
The Mayans are first credited with cultivating the cacao bean to brew xocoatl, an unsweetened version of modern-day hot chocolate. Much later in the 17th century, Spanish doctor Antonio Colmenero de Ledesma published the first recipe as an elixir, adding different spices to treat a number of ailments. Even President George Washington washed down his breakfast of cornmeal hoe cakes with a cup of hot chocolate.
Even though "hot chocolate" and "hot cocoa" are often used interchangeably, purists stress that there is a difference. Hot chocolate is made from mixing heated water or milk with melted chocolate pieces, while hot cocoa is made from cocoa powder and warmed water or milk.
In 1828, Dutch chemist Coenraad Van Houten patented his process of extracting some of the cocoa butter from the beans, leaving behind a cocoa powder with a reduced fat content. He added alkaline salts to the cocoa powder so that it would dissolve more easily with liquid. The final product is "Dutch-process" or "Dutched" cocoa powder. An added advantage to having a naturally lower fat cocoa powder is that you can pile on the marshmallows and whipped cream!
Cocoa doesn't taste the same in every place. Its flavor differs depending on where it is grown.
Make a cup of cocoa to celebrate National Cocoa Day. Add a candy cane for more of a holiday treat.
National Salesperson's Day
If you're not a salesperson, you've met a few in your lifetime. If you haven't, you've been living under a rock, stuck in an elevator for many years, or you're Moammar Gadhafi.
Those of us who are unfamiliar with the pressures of selling something may be the same people who find the art of selling distasteful. But in good times, good salespeople can boost a business's fortunes, and those of everyone else who works for that business.
So, today, we honor the people who "bring home the bacon" for our employers. It's the 13th annual National Salesperson's Day, when we pay tribute to those who sell their companies' products and services.
The average non-salesperson may think that working in sales is easier than their own jobs, and all you have to excel at is schmoozing and befriending would-be clients. I've never worked in sales, and I used to think that way before I worked more closely with sales teams in previous roles over the last 15 years.
Sales (getting businesses or someone to fork over their money) has a lot in common with job seeking (getting an employer to pay for your services). In fact, salespeople and job seekers need many of these same five skills:
Listening to Your Audience. Salespeople need to hear their clients and potential clients address the things that keep them up at night. Job seekers need to know what challenges the employer is facing. When you know your audience's pain, you can tailor your sales pitch to show you can offer solutions.
Knowing Your Product. Salespeople need to know every detail behind what their companies sell, so they can articulate what their products and services can do for a client. Job seekers need to know their own unique qualifications and value for the same reason.
Flexibility. A sales pro can plan what they're going to do for an entire day, but must be prepared in case something more urgent mucks it up, such as a prospect with a laundry list of questions, or a procurement manager who wants a conference call with you and his boss to review sales terms before they buy. Likewise, job seekers must be ready for whatever an interviewer might throw their way.
Presentation Skills. Salespeople need to be comfortable giving live presentations, using presentation software such as PowerPoint, and answering tough questions. Ditto for job seekers trying to impress prospective employers (and yes, some people have even done presentations in their job interviews).
Relationship Building. It's not enough to make the sale and go away. You need to follow up with a client to see how your product or service has helped them, and see if there's something else you and your company can do for them. Relationship building is key at every stage of the job hunt, from networking to interviewing, follow-up, and on-the-job success.
If you're looking for a sales job, it looks like a good time to land one. The U.S. economy is rebounding, which means employers need people to boost revenue and help them grow.
If you're not in sales and have some of these skills, you may have what it takes to work in a sales role—even if you don't want to admit it. In some way, there's at least a little salesperson in each of us.
Violin Day
Violin Day is celebrated on December 13th of each year. I was unable to discover the origin of Violin Day, however I believe it may be due to the numerous concerts centered around the holiday season.
The violin is a string instrument, usually with four strings tuned in perfect fifths. It is the smallest, highest-pitched member of the violin family of string instruments, which includes the viola and cello.
The violin is sometimes informally called a fiddle, regardless of the type of music played on it. The word violin comes from the Middle Latin word vitula, meaning stringed instrument; this word is also believed to be the source of the Germanic "fiddle". The violin, while it has ancient origins, acquired most of its modern characteristics in 16th-century Italy, with some further modifications occurring in the 18th century. Violinists and collectors particularly prize the instruments made by the Gasparo da Salò, Giovanni Paolo Maggini, Stradivari, Guarneri and Amati families from the 16th to the 18th century in Brescia and Cremona and by Jacob Stainer in Austria.
Someone who plays the violin is called a violinist or a fiddler. The violinist produces sound by drawing a bow across one or more strings (which may be stopped by the fingers of the other hand to produce a full range of pitches), by plucking the strings (with either hand), or by a variety of other techniques. The violin is played by musicians in a wide variety of musical genres, including Baroque music, classical, jazz, folk music, and rock and roll. The violin has come to be played in many non-western music cultures all over the world.
Pick A Pathologist Pal Day
Wellcat.com strikes again with Pick A Pathologist Pal Day claiming Pathologists and coroners are an especially jovial lot, and befriending one of them offers an ongoing reminder that "tomorrow" is not necessarily a guarantee.
They consider coroners and pathologists a happy group of people. They suggest being friends with one will help you realize tomorrow is no guarantee. Buddhists would call this "living in the now." Live in the Now suggests these methods for enjoying each moment:
Say yes to the present moment by accepting it or taking action to make changes now (not later).
Just breathe, focus on your breath.
Stop and enjoy the details of your life.
Clip-on-Tie Day
Today in History – December 13, 1928 – Today is Clip-on Tie Day. That's right, on this day, 79 years ago, someone (and I couldn't find out who) invented the clip-on tie. This fine fashion accessory often gets a bad wrap. People belittle it as the tie for people that don't know how to tie a tie themselves.
If you are somehow unfamiliar with what a clip-on tie is, it is essentially a bow tie or four in hand tie which is permanently tied into its knot with a dimple just below the knot. Instead of looping around the neck, this tie is simply fixed to the front of the shirt collar with a metal clip. Though it doesn't look as much like a real tie to fool everyone, and may accidentally come off with a too-hard tug, many people use clip-on ties every day.
The fact that a clip-on tie is likely to come off should it be tugged is actually a wonderful safety feature, especially for people such as police, paramedics, and engineers. Many of these occupations require personnel to use clip-on rather than full ties. Others might be mocked for wearing clip-ons because they don't know how to tie a tie, or because they feel it is less restrictive, but the good old clip-on redeems itself by helping many wearers stay out of harms way. So here's to that mysterious inventor of the clip-on tie. Harrah!
National Day of the Horse
Simply put, the "National Day of the Horse" was declared to pay homage to the contribution the horse has played in the history of the United States of America. The horse is linked to battles fought, to celebrations; what would a parade be without horses? The horse industry plays a huge part in the nation's economy to the tune of well over a hundred billion dollars each year. We need the horses, but perhaps even more importantly, the horses need us.
Horses rely on us for their care. Even the wild horses, which are dwindling in numbers, rely on us for their well-being. This is not a romantic notion, this is a fact. Without the horse, we would not be where we are today. Some might argue we have forgotten just how important the horse is to man. Some might even say we are taking a step backwards in our feelings toward the horse. The horse slaughter issue is unfortunately once again on the forefront. There are also wild-horse herding practices under fire for the danger it poses to the horses.
With the vastness of land in this country, surely there is room for wild horses. Surely there is compassion for the horse. Triple Crown winners capture our hearts, we dream of the Chincoteague ponies, we cry when a work horse falls. We love our horses.
We eagerly await the latest Clydesdale commercials, we fill the stands at horse shows. We haul warm water out to the horses on cold winter nights. We remember the cavalry. When presidents die, the riderless horse depicts honor, boots backwards in the stirrups. The beauty of mounted police take our breath away. As Americans, we take pride in our equestrian heritage, rightfully so. Happy National Day of the Horse!