Look for an Evergreen Day
Finally, it's the 19th of December -- Look for an Evergreen Day! On this day, even the most holiday-stressed adult recalls the childhood magic of picking out a real tree. Since evergreens are a basic holiday tradition, the week before Christmas is a good time to recognize the importance of evergreens in family holiday celebrations.
The use of evergreens at Christmas has a long and richly layered
history
. During the darkest days of winter, pagan people valued the evergreen as almost magical. It remained green when every other plant had lost its leaves. Surely plants such as firs, spruces, pines, hollies and mistletoe had special powers!
These northern countries were later brought under the influence of the Christian church. Wise missionaries adapted the pagan traditions to Christian teachings, making it easier for the pagan people to understand and accept the new ideas. From the eighth century on, Christmas evergreens factored into centuries of celebrations, taking on a few characteristics from each era.
Using evergreens
For the traditionalist there is only one kind of Christmas tree: a real tree. Whether you choose spruce, fir, pine or some other evergreen, the aroma and authenticity are prized qualities. Who cares if the trunk has a slight bend or the top is a little crooked? It's real; it's tradition.
New sturdy stands make bringing a real tree into your home much easier. These stands hold plenty of water and are simple to use. Still, you need to check the reservoir daily and add water as needed. Placing your tree away from heat vents, doors and sunny windows will help maintain its freshness.
(Hint: Cutting off an inch or so from the bottom of the tree will expose new, green wood, helping the tree absorb more water. Leaving the trimmed tree in a bucket of water in a warm place for a few days allows the tree to absorb a lot of water before it goes into your home.)
Wreaths and garland
For those who cannot accommodate a full-size tree, wreaths and garlands are the perfect way to bring evergreens into the home. Wreaths have almost as long a history as the evergreens themselves, symbolizing eternal life and renewal. After all, a swag of evergreens either over a doorway or draped across the mantel is always a classic touch.
Centerpieces
Save the trimmings from the bottom of the tree to use for centerpieces. Mixed with holly, other evergreens and red berry-bearing plants such as holly or winterberry, the results are dramatic, even for those who flunked flower-arranging class. Just place trimmed stems of varying heights in a large vase of water. Of course, you can also order professionally crafted evergreen centerpieces if perfection is the goal.
When the needles begin to drop, it's time to bid your Christmas evergreens farewell. By then, the next Look for an Evergreen Day should be less than a year away! Some December holiday traditions are worth keeping, including half-day trips around the Christmas tree farm, frozen toes and all.
National Oatmeal Muffin Day
Today is National Oatmeal Muffin Day and what a better way to start your day than with a fresh oatmeal muffin for breakfast or mid-morning snack! Not only are they tasty but it's a great way to enjoy the health benefits of oatmeal that's different from the everyday bowl of oatmeal in the morning. It's a whole grain food that not only tastes good but it's a healthy way to start your day. Try adding nuts, raisins, pumpkin, blueberries, applesauce, or cinnamon to your oatmeal muffins for added nutrients and an additional boost of flavor.
Benefits of oatmeal (per ½ cup)
low in fat and calories
no cholesterol or sodium
10% of RDA for iron
high in fiber containing 4 grams, 15% of RDA!
Oatmeal contains 2 grams of soluble fiber and 2 grams of insoluble fiber. You may be thinking, "What's the difference? I thought fiber is fiber?" Overall we need a total of 25 grams of fiber for women and 38 grams a day for men but all fiber is not the same.
Soluble fiber dissolves in water and attracts water to form a gel, essentially slowing down digestion. You will feel full longer which can help with weight control. A slower digestion process may also help insulin sensitivity and can help with diabetes control. Soluble fiber also interferes with the absorption of LDL cholesterol and can aid in lowering this type of cholesterol.
Sources of soluble fiber include oatmeal, lentils, apples, oranges, pears, oat bran, strawberries, nuts, flax seeds, beans, dried peas, blueberries, cucumbers, celery, and carrots.
Insoluble fiber does not dissolve in water and therefore passes through the gastro-intestinal tract speeding up the digestion process by eliminating wastes. It is considered the "gut-healthy fiber" and promotes the movement of materials through the digestive system, preventing constipation. Insoluble fibers are mainly found in whole grains and vegetables such as barley, couscous, brown rice, bulgur, nuts and seeds, zucchini, celery, broccoli, cabbage, onions, tomatoes, carrots, cucumbers, green beans, and dark leafy vegetables.
It's not necessary to worry about which type of fiber you are consuming; just be sure that you are getting the recommended amount each day. So start you day with a tasty fiber-filled oatmeal muffin! But there's one thing to keep in mind. The muffin you are buying in the local bakery shop can pack as much as 400 or more calories and 15 or more grams of fat. And, the pre-packaged muffins are often labeled as one muffin equaling two servings. Read those labels carefully and watch for trans fat!
Making your own muffins is fairly easy. You can freeze them, then pop one in in the microwave when ready to eat. Try my recipe below!
Banana Oatmeal Muffins
Ingredients
1 cup old-fashioned oatmeal
3/4 cup unbleached white flour
1/2 cup soy flour
1/2 cup sugar
1 tbsp. baking powder
1/2 tsp. baking soda
1/2 tsp. salt
3 medium very ripe bananas, peeled
1 cup plain nonfat yogurt
2 tbsp. unsweetened applesauce
Instructions
Preheat oven to 375 degrees F. Line 12 medium muffin cups with paper liners or spray bottoms with non-stick spray.
In a food processor, process oatmeal until it resembles coarse flour, about 15 seconds.
Add flours, sugar, baking powder, baking soda and salt. Pulse a few times to combine. Transfer mixture to a large mixing bowl.
In processor, pulse bananas until coarsely mashed. Add yogurt and applesauce. Process until smooth.
Add wet ingredients to dry ingredients and stir by hand, quickly and lightly, until just mixed (batter will be thick).
Divide batter evenly between prepared muffin cups. Bake for 20-25 minutes in preheated oven.
Yield: 12 muffins
Serving Size: 1 muffin
Per Serving: 189 calories, 2 grams fat, 36 grams carbohydrate, 4 grams fiber
How creative are you with your muffin recipes? What do you add to your muffins besides banana?
National Hard Candy Day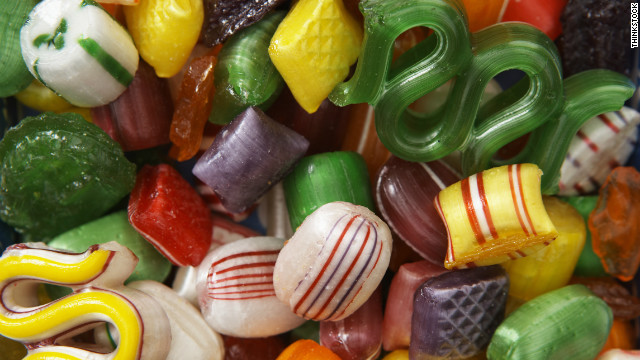 Almost everyone loves a piece of hard candy now and then. Hard candy is sweet. Its sugary taste is pleasing to the mouth. December 19th is National Hard Candy Day.
Hard candy is available in stores all year long. However, it is sold mostly at Christmas time. Among the most common hard candies are the candy cane and the lollipop.
Hard candy can be traced back to Ancient Egypt, Arabia, and China. Traces of hard candies have been found by archaeologists. This form of hard candy was simply fruits and nuts that had been dipped in honey to preserve the candy.
Sticks were stuck into candy treats to keep people's hands from getting sticky as they ate them, just like our modern-day lollipops.
Today is a celebration of all types of hard candies even though people think of the chunks of hard candy that is around during the Christmas holiday as the only hard candy available. Hard candies come in many different forms. It is everything from lollipops to candy canes to caramels.
Go by your co-workers' desk this time of year and you are sure to find a bowl of hard candy there. If not, put some hard candies on your desk for a nice sweet treat for your boss and co-workers.
Celebrate National Hard Candy Day by enjoying a piece (or two) of your favorite hard candies. And don't feel guilty about it.
National Re-gifting Day
National Re-gifting Day is an annual observance held each year on the Thursday before Christmas. Many office holiday parties are held on this day, and research shows that 40 percent of office party gifts are re-gifted—that is, something given to someone and then re-given to another person without use.
On October 24, 2008, the state of Colorado declared December 18, 2008, "National Regifting Day," in an official proclamation issued by the state's governor, Bill Ritter, Jr..Money Management International made NationalRegiftingDay.com and Regiftable.com to give people a fun way to learn more about re-gifting dos and don'ts, and to start the conversation on a topic many people are reluctant to discuss—holiday spending and financial worries.
The idea of re-gifting was made possible in a popular Seinfeld episode, wherein the etiquette of re-gifting is discussed.