Go Caroling Day
Go Caroling Day is celebrated annually on December 20 every year.
It's all about singing door to door in celebration of the Christmas Season!
This holiday celebrates carols of the past by dressing up in period costume and celebrating this holiday by going door to door singing Christmas carols as a caroling group.
Definition of a Christmas Carol: A Christmas carol (also called a noël) is a carol (song or hymn) whose lyrics are on the theme of Christmas, or the winter season in general and which are traditionally sung in the period before Christmas.
Definition of Wassailing: Wassailing as a practice falls into two distinct categories; the House-Visiting wassail; very much similar to caroling, is the practice of people going door-to-door singing Christmas carols. In modern times it is most commonly known through reference in various traditional Christmas carols (e.g., "Here we come a-wassailing / among the leaves so green"). And the Orchard-Visiting wassail. The term refers to the practice of singing to trees in apple orchards in cider-producing regions of England to promote a good harvest for the coming year.
The tradition of Christmas carols hails back as far as the thirteenth century, although carols were originally communal songs sung during celebrations like harvest tide as well as Christmas. It was only later that carols began to be sung in church, and to be specifically associated with Christmas.
Carols suffered a decline in popularity after the Reformation in the countries where Protestant churches gained prominence (although well-known Reformers like Martin Luther authored carols and encouraged their use in worship), but survived in rural communities until the revival of interest in carols in the 19th century. The first appearance in print of "God Rest Ye Merry, Gentlemen", "The First Noel", "I Saw Three Ships" and "Hark the Herald Angels Sing" was in Christmas Carols Ancient and Modern (1833) by William B. Sandys. Composers like Arthur Sullivan helped to repopularize the carol, and it is this period that gave rise to such favorites as "Good King Wenceslas" and "It Came Upon the Midnight Clear", a New England carol written by Edmund H. Sears and Richard S. Willis.
Today carols are regularly sung at Christian religious services . Some compositions have words which are clearly not of a religious theme, but are often still referred to as "carols". For example, the sixteenth century song "A Bone, God Wot!" appears to be a wassailing song (which is sung during drinking or while requesting ale), but is described in the British Museum's Cottonian Collection as a Christmas carol.
It is often difficult to draw a distinction between a Christmas carol and a Christmas song. To be sung by a church choir or sung in the street by amateurs, a song would have to have a fairly rapid, regular beat, which would therefore exclude a meandering crooning song such as "White Christmas". A country music song such as "Blue Christmas" might qualify, but in this case it would have to be adopted by many choirs, over many years to be truly "vernacular", and so far it has failed to gain wide acceptance. The Concise Oxford Dictionary is more generous, as it defines a carol as a "religious song...associated with Christmas".
International Human Solidarity Day
The United Nations' (UN) International Human Solidarity Day is annually held on December 20 to celebrate unity in diversity. It also aims to remind people on the importance of solidarity in working towards eradicating poverty.
On International Human Solidarity Day, governments are reminded of their commitments to international agreements on the need for human solidarity as an initiative to fight against poverty. People are encouraged to debate on ways to promote solidarity and find innovative methods to help eradicate poverty.
Activities may include promoting campaigns on issues such as:
Banning land mines.
Making health and medication accessible to those in need.
Relief efforts to help those who suffered the effects of natural or human-made disasters.
Achieving universal education.
Fighting against poverty, corruption and terrorism.
The day is promoted through all forms of media including magazine articles, speeches at official events, and web blogs from groups, individuals or organizations committed to universal solidarity.
Solidarity refers to a union of interests, purposes or sympathies among members of a group. In the Millennium Declaration world leaders agreed that solidarity was a value that was important to international relations in the 21st century. In light of globalization and growing inequality, the UN realized that strong international solidarity and cooperation was needed to achieve its Millennium Development Goals. The UN was founded on the idea unity and harmony via the concept of collective security that relies on its members' solidarity to unite for international peace and security.
On December 22, 2005, the UN General Assembly proclaimed that International Solidarity Day would take place on December 20 each year. The event aimed to raise people's awareness of the importance of advancing the international development agenda and promoting global understanding of the value of human solidarity. The assembly felt that the promotion of a culture of solidarity and the spirit of sharing was important in combating poverty.
The UN emblem may be found in material promoting International Human Solidarity Day. The emblem consists of a projection of the globe centered on the North Pole. It depicts all continents except Antarctica and four concentric circles representing degrees of latitude. The projection is surrounded by images of olive branches, representing peace. The emblem is often blue, although it is printed in white on a blue background on the UN flag.
Mudd Day
What act would be so heinous that it would soil your family name for more than a century? Aiding a presidential assassin, like Samuel A. Mudd (Dec. 20, 1833 to Jan. 10, 1883) did. He was imprisoned for life for medically treating John Wilkes Booth, President Abraham Lincoln's assassin. Mudd was later pardoned by President Andrew Johnson, but his name has been dragged through the mud ever since his sentencing.
Although calling someone "mud" or "a stupid twaddling fellow" was used before Mudd's grave error in judgment, according to The Phrase Finder, his actions gave the phrase "Your name is mud" a whole new lowly meaning.
National Sangria Day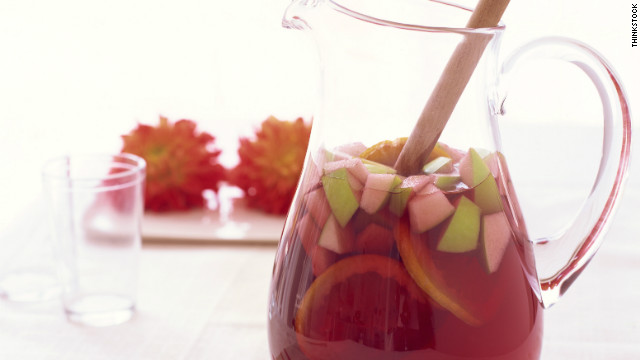 A Summer Classic Celebrated in December...
If you're looking to add a little Olé to your life, why not try that fruity wine punch named for the Spanish word sangre, which means blood. Yes, we're talking about that deliciously crimson drink everybody loves known as sangria.
This uncomplicated mix of red wine, spirits, simple syrup and a ton of chopped, seasonal fruit has long been considered the perfect summertime tipple, a refreshing concoction to be sipped whiling away a hot afternoon or added as a pick-me-up to your patio party's line-up of refreshing beverages.
It's ironic then that National Sangria Day comes on December 20. But if you think about it, quaffing an alcoholic beverage filled with fresh fruit is good any time of year.
Sangria 101
There are practically as many recipes for sangria as there are drinkers of the fruity punch. How this drink varies centers on the type of fruit, the presence or lack of carbonation and the kind of spirits added, if any at all.
While all fruits are worthy, the key is to use fruit that's in season in order to optimize flavor. So while citrus and berries are mainstays for sangria, also consider peach, pineapple, mango, melon and apple. Try to let the fruit marinate in the wine a day ahead or at least a few hours before serving.
Brandy is commonly used in sangria, but you can add a few shots of your favorite liquor and a splash of orange juice or try a liqueur such as Triple Sec.
If you'd like to add bubbles, consider soda water or a citrus-flavored soda pop. Some sangria lovers add honey or sugar as well.
While connoisseurs say it's important to use a good quality red wine such as Rioja to get the authentic Spanish flavor, many agree that you should choose something you like. Inexpensive wines are perfect for this drink. Sangria can also be made with white wine and is known as sangria blanca. In some parts of Southern Spain, sangria is called zurra and is made with peaches or nectarines.
Sangria was introduced to the United States in 1964 during the World's Fair in New York, but it's believed this wine punch has been around in Europe in various incarnations for hundreds of years.
The Brits favored something called Claret Cup Punch in the 1700s and 1800s, a similar libation to sangria made with Bordeaux wine (which they called Claret), which is a blend of cabernet sauvignon, cabernet franc and merlot.
Centuries earlier in the Middle Ages a wine known as hippocras, a mix of wine, fruit, sugar and cinnamon, was produced. The drink was sometimes warmed. Apparently, the recipe for hippocras was brought back to Europe from the Orient. The drink became extremely popular and was regarded as an aphrodisiac and as having various medicinal properties.
It's speculated that Europe's heavy emphasis on wine came from a widespread fear that water was unsafe for consumption. It was thought alcohol would kill any bacteria so the thinking went that the only safe liquid to drink was one with alcohol in it.
It's thanks to the Romans that Spain became home to many good wines. They planted vineyards as they swept through Spain in and around 200 B.C. Red grapes grew very well in Spain and a busy wine shipping trade began in which the country supplied much of Rome's drink.