National Pepper Pot Day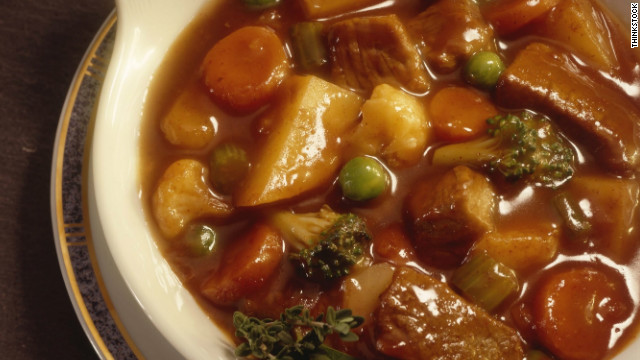 Today is a day to celebrate another food. It might or might not be one you are familiar with. December 29 is Pepper Pot Day.
What exactly is pepper pot? Pepper pot is a thick spicy soup first created on December 29, 1777.
Pepper pot became known as "the soup that won the war." Here's why.
During the Revolutionary War, the Continental Army experienced an exceptionally harsh winter in Valley Forge. The farmers in the area had sold their supplies to the British Army for cash instead of selling the supplies to the Continental soldiers for the little currency they had. Therefore, the soldiers were low on food the entire winter.
Christopher Ludwick, the baker general of the Continental Army, gathered whatever food he could find to feed the frail soldiers. The chef found scraps of tripe, meat, and some peppercorn. He mixed the ingredients together with some other seasonings and created the hot spicy soup we now know as pepper pot.
We can celebrate this historic dish by finding whatever scraps we have in our refrigerator and try making our own pepper pot soup. It's the perfect way to warm up on a chilly December day. However, the fun of making pepper pot is to search for your own scraps.
Tick Tock Day
December 29th is Tick Tock Day, a day to review your dreams and goals and start making them into a reality! The end of December is a popular time for looking back on the year's accomplishments — a helpful process when it comes to shaping your resolutions for the coming year. So now is the time to make your list, check it twice (no, wait — that's Christmas), and see which boxes you haven't been able to check off for 2013. Use the remaining days of the year to complete your goal or come up with a fool-proof plan to get it done in 2014!
I'm definitely a planner. It's a quality that I know Chris appreciates when it comes to things like getting the bills paid, scheduling our dentist appointments, and keeping our household in order. But at other times I know it can be really, really annoying. For instance, I am constantly coming up with projects I'd like us to do around the house. And when we don't have the time, energy, money, or ambition to start or complete those projects I complain about it. I've worked hard to separate the wish-list "some day" fantasy projects from those that will actually help us lead more efficient lives. And that work shaped four of the major goals I'd set for 2013:
Clean out the basement
Organize the tool shed and garage
Organize my home office
Clear out my email inbox
Unfortunately, goals 1 through 3 are going to have to carry into the new year. Although we've made progress on all three they still aren't complete. But I think we'll be finding a little extra time on our hands when our year of living unofficially is over so I don't see why we can't have these completed by this time next year. At least I hope so. Right? Anyway, I'm setting priorities and creating a plan of action since I'd really like it all done before we add a new Neigh to the family. The last thing I need is to lose the baby's birth certificate in the great black hole I call my home office
But, I also have good news to report! This evening, in celebration of Tick Tock Day, I spent a few hours working on the fourth goal by cleaning up my Gmail Inbox. I'd really let it go this year and it was shockingly full, mostly with stupid emails from places I had to unsubscribe from. Some of the almost two thousand messages (1400 of which were unread!) had also become obsolete due to the time they'd been sitting in my inbox. Most of these were coupons or sale announcements and these messages were almost a relief since I didn't need to do anything with them except hit the delete button! I also got to revisit a few emails I'd kept for their humor factor, so I had some good laughs during the cleanup process. And — almost as good as the laughs — I now have the satisfaction of an inbox with less than twenty messages in it!
YMCA Founded
In 1844, industrialized London was a place of great turmoil and despair. For the young men who migrated to the city from rural areas to find jobs, London offered a bleak landscape of tenement housing and dangerous influences.
Twenty-two-year-old George Williams, a farmer-turned-department store worker, was troubled by what he saw. He joined 11 friends to organize the first Young Men's Christian Association (YMCA), a refuge of Bible study and prayer for young men seeking escape from the hazards of life on the streets.
Although an association of young men meeting around a common purpose was nothing new, the Y offered something unique for its time. The organization's drive to meet social need in the community was compelling, and its openness to members crossed the rigid lines separating English social classes.
Years later, retired Boston sea captain Thomas Valentine Sullivan, working as a marine missionary, noticed a similar need to create a safe "home away from home" for sailors and merchants. Inspired by the stories of the Y in England, he led the formation of the first U.S. YMCA at the Old South Church in Boston on December 29, 1851.