Repeal Day
The 21st Amendment to the U.S. Constitution is ratified, repealing the18th Amendment and bringing an end to the era of national prohibition of alcohol in America. At 5:32 p.m. EST, Utah became the 36th state to ratify the amendment, achieving the requisite three-fourths majority of states' approval. Pennsylvania and Ohio had ratified it earlier in the day.
The movement for the prohibition of alcohol began in the early 19th century, when Americans concerned about the adverse effects of drinking began forming temperance societies. By the late 19th century, these groups had become a powerful political force, campaigning on the state level and calling for national liquor abstinence. Several states outlawed the manufacture or sale of alcohol within their own borders. In December 1917, the 18th Amendment, prohibiting the "manufacture, sale, or transportation of intoxicating liquors for beverage purposes," was passed by Congress and sent to the states for ratification. On January 29, 1919, the 18th Amendment achieved the necessary three-fourths majority of state ratification. Prohibition essentially began in June of that year, but the amendment did not officially take effect until January 29, 1920.
In the meantime, Congress passed the Volstead Act on October 28, 1919, over President Woodrow Wilson's veto. The Volstead Act provided for the enforcement of Prohibition, including the creation of a special Prohibition unit of the Treasury Department. In its first six months, the unit destroyed thousands of illicit stills run by bootleggers. However, federal agents and police did little more than slow the flow of booze, and organized crime flourished in America. Large-scale bootleggers like Al Capone of Chicago built criminal empires out of illegal distribution efforts, and federal and state governments lost billions in tax revenue. In most urban areas, the individual consumption of alcohol was largely tolerated and drinkers gathered at "speakeasies," the Prohibition-era term for saloons.
Prohibition, failing fully to enforce sobriety and costing billions, rapidly lost popular support in the early 1930s. In 1933, the 21st Amendment to the Constitution was passed and ratified, ending national Prohibition. After the repeal of the 18th Amendment, some states continued Prohibition by maintaining statewide temperance laws. Mississippi, the last dry state in the Union, ended Prohibition in 1966.
Bathtub Party Day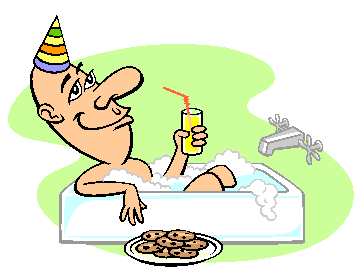 Some people get so tangled up in their hectic lives that they forget to slow down and enjoy the most simple and relaxing things. Sure, a shower may be a fast way to clean off the grime each day, but when was the last time you stopped to take a nice bubble bath? Or better yet, when was the last time you threw a party in your bathtub?
December 5th is National Bathtub Party Day, which is probably one of the more ridiculous made up celebrations I have ever heard of and yet…it sounds like a lot of fun! You can create any kind of bath tub party that you'd like. Here are some of our suggestions:
1.) Romantic Bathtub Party: Get some scented candles, a bottle of wine or champagne, some fancy treats like chocolate covered strawberries or maybe a simple plate of cheese, crackers and grapes, and something that smells wonderful to go into the tub. If you're lucky enough to have a Lush store near you, my top pick would be their Sex Bomb. Don't have a Lush store near you? Go online, stock up for next year, and this year just grab some yummy smelling bubble bath or a nice scented oil. Either way, when was the last time you and your partner slowed down, relaxed, and just enjoyed a hot bath together?
2.) Bathtub Party for Kids: Crank up some bath themed tunes like Splish Splash by Bobby Darin, grab some bubble bath, bath crayons or colored bath foams, a couple new bath toys and you've got an instant tub party that kids will love. Hit up the dollar store and get some inexpensive decorations and a couple helium filled balloons. Entertain the kids with fun activities such as shampoo hairstyle makeovers (Mohawks for the girls!), and washcloth puppet shows! Check out the Hubbard Family Swim School website for more kid Bathtub Party tips than you can shake a towel at.
3.) Grownup Bathtub Party: Take parts of the last two suggestions and mix them up to fit your group of bathtub partiers. Wellcat.com claims to have created this awesome day and suggests that you:
Plan ahead so you don't have to hop out of the bubbly warmth to pour a glass of wine or serve a platter of snacks. Assign each guest a task: keeper of the towels; cleaner of the ring around the tub; trimmer of the candle wick; guardian of toiletries.
Day of the Ninja
Day Of The Ninja - This is no longer about disguise. Your disguise was the everyday life you have been leading. It's finally time to show the world that YOU are a ninja!
On 5 December you have the chance to show everyone your ninja identity. Depending on what your plans are for Day Of The Ninja you can surprise your co-workers by wearing a ninja mask to work. If you happen to have that day free, you can invest in some ninja fancy dress costumes and run crazy in the streets! Ahem, in a mysterious, undercover way though of course …
Get as many people involved as you can! Post the day on your facebook, twitter or online blog if you have one. Like pirates, ninjas are celebrated with good humour in the modern world. But who were the real ninjas? Well, it's difficult to know the exact history behind them.
It is thought that ninjas first began to emerge as an uprising against the wealthier feudal Samurais.
Next the Chinese monks arrived and so began ninja schools - and the teachings of techniques! They fought in the Nambokucho Wars and the Onin War until a couple of hundred years later peace was brought to Japan and ninjas moved out of reality and into movies and comic books instead.
I know you're all too sensible but just as a reminder, remember to keep it fun and safe - don't do anything crazy that might hurt yourself or others. It's easy to get carried away once the freer life of a ninja takes over!
For more information to get you into the spirit of Day of the Ninja there are loads of fun quizzes and games to play at ninja burger. The name generator has given me the
ninja name
of 'Kinjiro Tsuchiya -san'. I'll start as I mean to go on!
Don't forget you can also download the all-time favorite '
Everybody needs a Ninja
' in preparation for the day!
International Volunteer Day for Economic & Social Development
The United Nations (UN) annually observes the International Volunteer Day for Economic and Social Development on December 5. The day, which is also known as International Volunteer Day (IVD), gives volunteers a chance to work together on projects and campaigns promoting their contributions to economic and social development at local, national and international levels.
This day hopes to heighten people's and governments' awareness of the voluntary contributions. It also focuses on stimulating people to offer their services as volunteers, both at home and abroad. Over the years, governments, businesses, nonprofit organizations, and individuals contribute the International Volunteer Day through various activities including:
Voluntary community projects.
Parades, marches, or rallies.
Award ceremonies for volunteers who made significant contributions to their communities.
"Time donation" campaigns that involve people pledging hours of voluntary service to specific projects.
Companies launching voluntary programs as part of their corporate responsibility.
Volunteer competitions.
Activities and events for the day help promote the impact of volunteering and the UN's Millennium Development Goals, via volunteering to:
Help eradicate poverty.
Achieve universal primary education.
Promote gender equality and empower women.
Reduce child mortality and to improve maternal health.
Reverse the spread of HIV/AIDS, malaria and other major diseases.
Help ensure environmental sustainability.
Many people participate in many of these events through the World Volunteer Web, which the United Nations Volunteers (UNV) operates in partnership with various organizations.
Each year UN General Assembly invites governments to observe the International Volunteer Day for Economic and Social Development on December 5 (A/RES/40/212 of 17 December 1985). As a result of the resolution from December 17, 1985, governments, the UN, and civil society organizations work together with volunteers around the world to celebrate the Day on December 5 each year.
In 2001, the International Year of Volunteers, the Assembly adopted a set of recommendations on ways that governments and the UN could support volunteering and asked that they be widely disseminated. The International Year of Volunteers aimed to stimulate national and international policy debate around, and to advocate for, recognizing, facilitating, networking and promoting voluntary action. The year led to a much better appreciation of the power of volunteerism in its many forms and the ways to support it.
The IVD logo is used to promote the day. The logo features two olive branches that encapsulate three Vs in a cup-like manner. Each V has bullet points at the top of each tip of the letter, so the Vs are drawn in a way to resemble simple figures of people in unity. The words "International Volunteer Day" are under the olive branches. The image, including the words, is in orange on a white background.
National Sachertorte Day
Vienna waits for you - December 5 is National Sachertorte Day!
If you're craving this highly exclusive cake, you'd better put your order in early to ensure delivery by Christmas! The Original Sachertorte, created in 1832, is only made in Vienna and Salzburg, but they're kind enough to ship globally.
The cake itself is made up of two layers of dense chocolate sponge cake, separated by a layer of apricot conserve in the middle and covered with a lush, dark chocolate icing, whipped cream optional. While not overly sweet, the dessert is rich with powerful flavors.
The Sachertorte came to be when Prince Wenzel von Metternich demanded that his personal chef create a special dessert for his ridiculously important guests. But the chef was ill and unable to take on the task, so it was up to his 16-year-old apprentice, Franz Sacher, to do the culinary creating. Given his last name, you can see where this is going.
Sachertorte became a sensation and his son, Eduard, perfected and developed the Sachertorte that is so well-known and loved today.If you don't want to wait for delivery by Vienna, you can always take a stab at creating the Sachertorte yourself with
Wolfgang Puck's recipe
.
But you might not be able to completely duplicate the icing - the original consists of three special types of chocolate, produced by different companies just for the Sachertorte bakeries. Now that is some exclusive icing!
Blue Jeans Day
Are you sporting your favorite blue jeans today? Because you should, Wednesday, Dec. 5, is National Blue Jeans Day!
This holiday can be celebrated by simply wearing blue jeans all day to honor this iconic denim style that has been around for ages. With so many different jean designs today, participating in National Jeans Day shouldn't be too difficult. Only blue jeans count today though, so don't wear colored denim.
Choose from high-waisted, low-rise, capris, boot cut, overalls, ripped or faded jeans, skinny jeans, straight jeans, shorts, bell-bottoms, hip-huggers, you name it. As long as the jeans are the original blue color (a light or dark shade is allowed too) it's fair game.
According to American Greetings, Levi Strauss designed the first blue jeans on this date in 1880.
Remembrance of Flight 19
The Bermuda Triangle: a region of the North Atlantic ocean that creates a triangular area from the south of Florida, to Puerto Rico, and back up to the island of Bermuda. For centuries, this part of the sea has been notorious for the disappearances of ships and airplanes, with entire crews lost to the waves. The cause of these occurrences? The fact is, nobody has ever found a straightforward answer. Reasons has ranged from the mysterious rogue wave, to freak disturbances in the magnetic fields of the area, to the actions of some malicious extraterrestrial race looking to conquer our species by genetically engineering human/alien hybrids. Needless to say, some reasons may be more realistic than others.
The fact remains, these inexplicable occurrences happen, and on December 5th, 1945 one of the largest documented disappearances occurred, when an entire squadron of U.S. Navy Avenger torpedo-bombers was completely and utterly lost to the mythos of the Devil's Triangle. At 2:10 p.m., five U.S. Navy Avenger torpedo-bombers comprising Flight 19 take off from the Ft. Lauderdale Naval Air Station in Florida on a routine three-hour training mission. Flight 19 was scheduled to take them due east for 120 miles, north for 73 miles, and then back over a final 120-mile leg that would return them to the naval base. They never returned.
Two hours after the flight began, the leader of the squadron, who had been flying in the area for more than six months, reported that his compass and back-up compass had failed and that his position was unknown. The other planes experienced similar instrument malfunctions. Radio facilities on land were contacted to find the location of the lost squadron, but none were successful. After two more hours of confused messages from the fliers, a distorted radio transmission from the squadron leader was heard at 6:20 p.m., apparently calling for his men to prepare to ditch their aircraft simultaneously because of lack of fuel.
By this time, several land radar stations finally determined that Flight 19 was somewhere north of the Bahamas and east of the Florida coast, and at 7:27 p.m. a search and rescue Mariner aircraft took off with a 13-man crew. Three minutes later, the Mariner aircraft radioed to its home base that its mission was underway. The Mariner was never heard from again. Later, there was a report from a tanker cruising off the coast of Florida of a visible explosion seen at 7:50 p.m.
The disappearance of the 14 men of Flight 19 and the 13 men of the Mariner led to one of the largest air and seas searches to that date, and hundreds of ships and aircraft combed thousands of square miles of the Atlantic Ocean, the Gulf of Mexico, and remote locations within the interior of Florida. No trace of the bodies or aircraft was ever found.
Although naval officials maintained that the remains of the six aircraft and 27 men were not found because stormy weather destroyed the evidence, the story of the "Lost Squadron" helped cement the legend of the Bermuda Triangle, an area of the Atlantic Ocean where ships and aircraft are said to disappear without a trace. The Bermuda Triangle is said to stretch from the southern U.S. coast across to Bermuda and down to the Atlantic coast of Cuba and Santo Domingo.