National Miners' Day
The worst mining disaster in American History occurred in the community of Monongah, West Virginia on December 6, 1907. On that dreadful day, 362 men and boys lost their lives. Some say the number is closer to 500.
On January 2, 2006, another mine disaster in West Virginia occurred at Sago, West Virginia, and resulted in the deaths of 12 miners.
Then on January 20, 2006 . . . yet another mining accident has happened at the Aracoma mine near Melville, West Virginia. Unfortunately, two more miners lives have been lost.
February 2, 2006 . . . Two more coal miners have died in separate accidents in Boone County, West Virginia.
You'd think that with the history of accomplishment, sacrifice and tragedy that exist in the annals of West Virginia mining, there would be a day set aside for acknowledgment.
But no, there isn't such a day exclusively dedicated to miners. At least not yet.
An old mining song contains this powerful, but truthful verse:
A miner's life is like a sailor, aboard a ship to cross the waves,




Every day his life's in danger, still he ventures, being brave,

Unlike you or me, a miner goes to work every day,

Knowing that he is placing his life in grave danger.
Throughout our Nation's history, the American miner has risked life and limb in order to produce the raw materials that fuel our economy, the energy that heats our homes, and the resources that ensure our security. Without these selfless and dedicated miners, American society would never have flourished, nor would it continue to function. It is fitting, therefore, that we recognize and honor these brave workers who have served our Nation quietly and faithfully for so many years.
As a lifelong advocate for America's miners, I recently introduced a resolution, H. Res. 1006, in the U.S. House of Representatives supporting the goals and ideals of a "National Miner's Day" to celebrate and honor the contributions that miners have made to America throughout our history. I am grateful to have been joined by Representative Alan Mollohan (D-WV) as an original cosponsor of the resolution. I also commend Homer Hickam, one of West Virginia's inspirational figures, a best-selling author who grew up on the coal fields and went on to a successful career at NASA, for being a leading proponent of establishing a national day of recognition.
In southern West Virginia, the very heart of our Nation's coal country, we know that generations of hardworking, God-fearing miners and their families have helped to forge our Nation's proud history and the set of values Americans hold dear.
In southern West Virginia, we also know that every minute a miner is at work, he faces gas explosions, equipment failure, roof falls, and fires. He knows that he is a spark or a slip of a tool away from never seeing his family again. Still, as the song says, he "ventures being brave." He must.
Fatality rates in our Nation's coal fields once resembled the casualty lists from the battlefields when our Nation was at war.
December 1907 is remembered in the coal fields as "bloody December." On December 1st, a gas explosion killed all 34 men in a mine in Fayette City, Pennsylvania. Five days later, 362 miners perished in the Monongah disaster in West Virginia—the worst industrial accident in American history. Ten days later, an explosion in Yolande, Alabama, killed 57 men. On December 19th, in Jacobs Creek, Pennsylvania, an explosion killed 239 miners.
Laws, safety inspections, and better, safer equipment, thankfully, have helped to reduce the casualty rates among our Nation's miners. The tragedies in 2006 at Sago and Aracoma in West Virginia, however, reminded Americans that mining is still very much a dangerous profession—that, "every day his life's in danger, still he ventures, being brave."
Today the battle cry of Mother Jones continues to ring throughout the hills and hollows of West Virginia and in all the mines across this land: "Pray for the dead and fight like hell for the living."
I am proud to be a part of this historic resolution—sought by many West Virginians, including Homer Hickam and the History and Culture Institute of Mining—that pays tribute to the contributions that miners have made to America throughout our history.
The role of the miner is just as important today as it was 100 years ago to our State and to our Nation. Celebrating a National Miner's Day is a simple, yet very important, way a grateful Nation can acknowledge these men and women who have done so much for us and will continue to do even more throughout our future.
National Gazpacho Day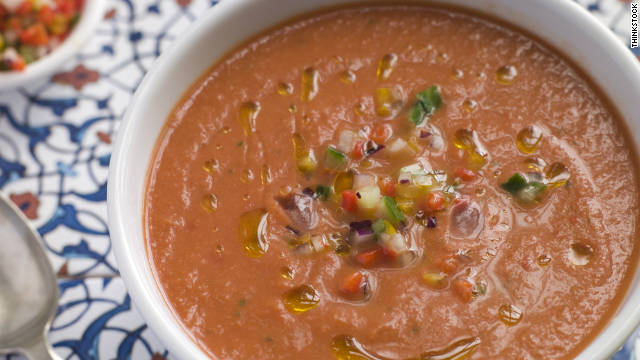 You might not have heard of gazpacho. Even so, this is the day to celebrate. December 6 is National Gazpacho Day. Gazpacho is not a word we hear in our everyday conversations.
What is gazpacho?
Gazpacho is a classic Spanish soup. Gazpacho is a tomato-based soup made with an assortment of vegetables such as tomatoes, cucumbers, peppers, onions, and garlic. In addition to the blended vegetable ingredients, gazpacho is also usually accompanied by different garnishes. These include the same vegetables the soup already contains, chopped up, as well as croutons. The garnishes are served separately so the consumers can add them to the soup themselves.
Gazpacho is a very refreshing and tasty dish served chilled. Usually gazpacho is enjoyed during the summer months.
So, why is National Gazpacho Day celebrated in December?
Perhaps the intent was to give people something to look forward to as they prepare for the cold winter weather. However, it is safe to say gazpacho is a delicious meal that can be enjoyed anytime of the year.
Gazpacho is easy to make. Here is
a quick and easy recipe
. Make gazpacho for dinner tonight in honor of National Gazpacho Day.
National Microwave Oven Day
Today, over 90% of American households own a microwave oven. In fact, there is an entire food industry based on this one appliance. Just think of everything you can cook in the microwave—frozen meals, leftovers, popcorn, "mug brownies," and much more.
To celebrate National Microwave Oven Day, pick up your favorite microwaveable meal for dinner tonight! Bon appétit!
National Pawnbrokers Day
Today is a day to honor the pawnbrokers of the world. Why you ask? The reason is simple, pawnbrokers offer lending services to those who may not have another avenue to turn to. In addition they offer retail services for products that people who defaulted on the repayment of loans. Alternately those who need to sell items can go into a pawnbroker and get a fair payment for the goods they have for trade.Did you know that St. Nicholas is held in reverence today. He's the patron saint of Pawnbrokers and pawnbroking.
So to celebrate this day, you can grab some of your unwanted things and bring them to a pawnbroker for an estimate of value, or you could spend the day watching Pawn Stars on the History channel, or Hardcore Pawn on truTV.
St. Nicholas Day
The tradition of Saint Nicholas Day, on 6 December, is a festival for children in many countries in Europe related to surviving legends of the saint, and particularly his reputation as a bringer of gifts. The American Santa Claus, as well as the British Father Christmas, derive from these legends. "Santa Claus" is itself derived in part from the Dutch Sinterklaas.
While feasts of Saint Nicholas are not observed nationally, cities with strong German influences like Milwaukee, Cincinnati and St. Louis celebrate St. Nick's Day on a scale similar to the German custom. As in other countries, many people in the United States celebrate a separate St Nicholas Day by putting their shoes outside their bedroom doors or hanging an empty stocking by the fireplace on the evening of 5 December. St Nicholas then comes during the night. On the morning of 6 December, those people will find their shoes/stockings filled with gifts and sugary treats. Widespread adoption of the tradition has spread among the German, Polish, Belgian and Dutch communities throughout the United States. Americans who celebrate Saint Nicholas Day generally also celebrate Christmas Day (December 25) as a separate holiday. Some of the traditions and rituals of Christmas, such as leaving out a shoe or stocking to be filled, are similar to the traditions of Saint Nicholas Day.
Put On Your Own Shoes Day
Hummmm.... I don't really know…
As I researched this special day, we kept on asking Why, why why?....... why does this day exist? We found no answer.
I understand the meaning behind Wear Brown Shoe Day, celebrated just a few days ago. But, what could possibly cause someone to create Put on Your Own Shoes Day....hmmmmm. I found very little information about this holiday except that it does exist. It looks like it could mean different things - but which one is the correct?
Put on your own shoes could relate to "walk your own path in life"
Put on your own shoes could simply be an encouragement to children to learn how to put on their shoes by themselves.
Well, regardless of what you think of the special day, I celebrate all of the holidays and special days. We are going to put our own shoes on today, and enjoy doing so. As for you....put your stinky toes into your own shoes!
Have a happy Put on Your Own Shoes Day.