55-MPH Speed Limit Day
On this day in 1974, President Richard M. Nixon signs the Emergency Highway Energy Conservation Act, setting a new national maximum speed limit.
Prior to 1974, individual states set speed limits within their boundaries and highway speed limits across the country ranged from 40 mph to 80 mph. The U.S. and other industrialized nations enjoyed easy access to cheap Middle Eastern oil from 1950 to 1972, but the Arab-Israeli conflict changed that dramatically in 1973. Arab members of the Organization for Petroleum Exporting Countries (OPEC) protested the West's support of Israel in the Yom Kippur War by stopping oil shipments to the United States, Japan and Western Europe. OPEC also flexed its new-found economic muscle by quadrupling oil prices, placing a choke-hold on America's oil-hungry consumers and industries. The embargo had a global impact, sending the U.S. and European economies into recession. As part of his response to the embargo, President Nixon signed a federal law lowering all national highway speed limits to 55 mph. The act was intended to force Americans to drive at speeds deemed more fuel-efficient, thereby curbing the U.S. appetite for foreign oil. With it, Nixon ushered in a policy of fuel conservation and rationing not seen since World War II.
The act also prohibited the Department of Transportation from approving or funding any projects within states that did not comply with the new speed limit. Most states quietly adjusted their speed limits, though Western states, home to the country's longest, straightest and most monotonous rural highways, only grudgingly complied. Even after OPEC lifted the embargo in March 1974, drivers continued to face high gas prices and attempted to conserve fuel by buying revolutionary Japanese economy cars. For many, a desire for fuel-efficient automobiles became the standard until the trend toward gas-guzzling sport-utility vehicles (SUVs) emerged in the 1990s. In 1987, Congress authorized states to reset speed limits within their borders, but proponents of the national maximum speed limit law claimed it lowered automobile-related fatalities, prompting Congress to keep it on the books until finally repealing it on November 28, 1995.
Today speed limits across the country vary between 35 and 40 mph in congested urban areas and 75 mph on long stretches of rural highway. U.S. drivers now drive almost as fast as their European counterparts, who average between 75 and 80 mph on the highway. On some roads in Italy, it is legal to drive as fast as 95 mph.
Happy Mew Year for Cats Day
While many folks are recovering from a hectic holiday season, January 2nd is a special day of the year for felines of all shapes and sizes. It's Happy Mew Year for Cats Day, an annual "howliday" created by Thomas and Ruth Roy. This special day celebrates those "purrfect" pussycats we love so much.
And just in case you didn't know, there are quite a few holidays dedicated to cats. Besides National Cat Day, there is Hug Your Cat Day, Cat Herders Day and Black Cat Appreciation Day, to name a few.
Cats Rule
While there's no disputing Americans their love dogs, there are more than 86 million owned cats in the United States compared to 78 million owned dogs. And more than half of the fine folks who "own" a cat, have more than one. Yessir, cats really do rule!
Adopt, Adopt, Adopt
While many holidays are all in good fun, many animal-related holidays also help raise awareness about the millions of unwanted, unloved, neglected and abused cats (and dogs) that end up in animal shelters across the nation. Many, through no fault of their own, are euthanized waiting for their "furever" home. While 21 percent of owned cats have been adopted from animal shelters, 4 million cats and dogs are put down in animal shelters in the United States each year, according to the Humane Society. 4 million!
Besides welcoming in the New Year, won't you consider opening your heart and your home to a new four-legged friend? Please consider adopting an animal in need – before it's too late.
National Buffet Day
Is losing weight, getting in shape, or following a healthier diet one of your new year's resolution? Well it's going to have to wait, because on January 2, its National Buffet Day.
While many prefer to celebrate this food holiday by visiting their favorite buffet style restaurant, others prefer to prepare a variety of food to serve at their house or workplace. If this sounds more like you, consider making a wide range of finger foods.
To avoid the guilt trip of betraying your new year's resolution, keep in mind that standing in the buffet line and walking back and forth to your table for more food can count as a form of exercise. If saving money is also one of your resolutions, then National Buffet Day will fit your budget perfectly.
According to National Food Holiday Tour, the modern buffet originated in 18th Century France. The name came from the side table where food was served. The way in which the food was presented on this piece of furniture was referred to as a buffet.
National Cream Puff Day
Sweet stuff: January 2 is National Cream Puff Day.
What do cream puffs, profiteroles and beignets have in common? They're all made from the same type of dough – pâte à choux. Unlike beignets, which are fried, cream puffs are baked. This French confection doesn't contain a leavening agent. Instead they puff up from steam that's created when they bake.
Pâte à choux is not your typical dough, it's not made in a mixer, it's made over heat. The ingredients, eggs, flour, water and sugar and combined in a pot over a burner. When they come out of the oven, the little balls of puffiness are 'popped' so that some of the steam collected inside can escape. This prevents them from collapsing in on themselves.
Then comes the fillings. Cream puffs and their relatives, churros and éclairs, are typically filled with whipped cream, pastry cream and in some cases ice cream. Cream puffs are cut in half with the filling sandwiched in between. And, while éclairs are mostly covered in chocolate, cream puffs might only have powdered sugar dusted over them.
Once you get the technique down, cream puffs are easy to make and a great dessert or treat. They can also be made with savory fillings and if you've got a fryer you could make churros too.
National Personal Trainer Awareness Day
In the beginning of each new year, millions of Americans make resolutions. Some vow to quit smoking, others vow to spend more time with their family, and some even vow to smile more! In any event, the most common resolution of the year is to lose weight and maintain a permanent healthy lifestyle. To actually make the time to go to the gym when you're mentally exhausted from work, or take that early power walk/run, even though your eyes are not open yet has been proven to be very difficult. Therefore, fitness professionals Jim Labadie and Joey Atlas decided to make January 2nd, National Personal Trainer Awareness Day. This way, the general public could be more aware of personal trainers at the time of the year when having a professional relationship with them could play a crucial role in helping them to actually achieve their fitness and health goals.
National Motivation and Inspiration Day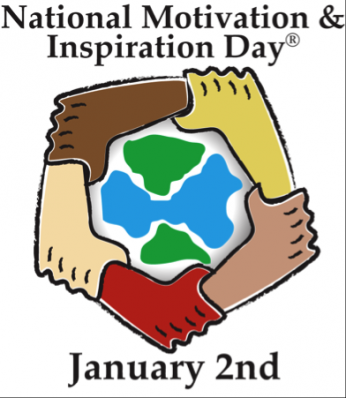 January 2nd is National Motivation & Inspiration Day, a day created by Kevin L. McCrudden, President of Motivate America, Inc. a Long Island, NY company focused on motivational, leadership and training programs for businesses, schools, athletic teams and individuals.
The United States Congress passed H. Res 308 on December 18, 2001 after the tragic events of 9-11-2001 making January 2nd of every year National Motivation & Inspiration Day. "I created National Motivation & Inspiration Day after the tragic events of 9-11-2001, because in all of the loss, despair and sadness, I saw Americans working side-by-side to accomplish amazing things," says McCrudden.
The focus of Motivate America and National Motivation & Inspiration Day is to help Americans "become the very best U that U can be" and establish realistic annual goals and work toward the achievement of those goals. One of the company slogans is "take action to make things happen," which is why they encourage people, especially young adults to establish the habit of creating annual goals and then work diligently toward the accomplishment of those goals. "Statistically, we know that the top 3% of highly successful people write down and track their goals on an annual basis. If we know this to be true, then why doesn't everyone establish annual goals and then set out to achieve them?" asks McCrudden.
One of Motivate America's 2014 goals is to have 10 million people, especially young adults, establish their goals on Monday, January 2nd National Motivation & Inspiration Day! They have a Success Calendar iPhone APP that can be used to establish and track individual goals daily throughout the year and can be accessed through their web sites.
National Run it Up the Flagpole and See if Anybody Salutes It Day
"Let's run it up the flagpole and see if anyone salutes it" is a catchphrase which became popular in the United States during the late 1950s and early 1960s. It means "to present an idea tentatively and see whether it receives a favorable reaction." It is now considered a cliché. Sometimes it is used seriously, but more often it is used humorously, with the intention that it be recognized as both hackneyed and outdated. A non-joking equivalent would be "to send up a trial balloon."
The phrase was associated with the advertising agencies then located on Madison Avenue in New York, and with the "men in the gray flannel suits." Comedians, when mocking corporate culture, were certain to use it, along with expressions such as "the whole ball of wax" and the use of invented words ending in "-wise" (e.g. "We've had a good year, revenue-wise").
The phrase was also used as an ice breaker between serious moments in the Motion Picture film '12 Angry Men' starring Henry Fonda.
National Science Fiction Day
National Science Fiction Day Is January 2, Isaac Asimov's Birthday.
Isaac Asimov was born January 2, 1920–officially, that is. Unofficially, of course, is another matter. He was born in Russia, and I imagine that in those turbulent times people were more concerned about living to see another day than recording the exact day a baby joined the living. However, when the Asimovs arrived in America in 1923, little Isaac's date of birth had to be declared. It was probably January 2, but who could be sure? What better day to select, the Asimovs may have thought, than the day after the New Year is celebrated? As the year begins, so does our son's life.
During his lifetime, Asimov received numerous degrees, awards, and other emblems of distinction. I bet that one of his favorite modes of recognition, though, was having his official birthday function as National Science Fiction Day. Of course, Isaac did more than scientifically imagine and create works of science fiction. He wrote between 400 and 500 works of fact, fiction, criticism, religion, and everything in between. (Even Asimov lost count.) Nevertheless, the architects of National Science Fiction Day knew what they were doing. Asimov may have been a PhD chemist, professor, and a member of Mensa (R), but envisioning the future seemed to fire up his imagination more than science, teaching, and interactions with geniuses. He must have been proud of his scientifically fictitious images of space and robots–which sometimes turned out to be more truth than fiction.
To tell the truth, Asimov's beginnings as a writer were humble. He actually started his career as an author of infamous pulp fiction. He was paid by the word rather than the work, but he had the company of Robert Heinlein and Arthur C. Clarke. Sci-fi fans certainly know those names.
Science fiction fans also know the influence science fiction has upon the future–the future of our children. (But I'm being redundant.) Do you know someone in the field of space exploration or robotics? Then you can test a hypothesis. Ask this brilliant person is she/he has read one of Isaac Asimov's robots stories or space fantasies. The answer is more likely to be yes than no.
Have you read any of Asimov's novels, short stories, or works of non-fiction? Have you read any works of science fiction? If not, then–whether it's Asimov or not–do it today! You truly don't know the wonderful worlds you are missing. Are you already a sci-fi aficionado or an Asimov lover? That's all the more reason for you to honor the day that does the Great One honor! What else are you going to do the day after New Year's? Keep the celebration going with Science Fiction Day!