National Clean Off Your Desk Day
All the people that go to work or work at home most likely have a desk or work surface of some sort at their disposal. On this surface is usually an in and out bin, a telephone, calculator, a picture frame with the family, computer as well as a pad and pens and pencils. At least that is what you usually start out with when you set up your work station.
Over time a collection of other items seem to appear by magic. And we're not talking about files dropped on your desk from your boss or co-workers. We're talking about clutter. Lots of notes, post-its, newspaper clippings, a story book reference books or manuals, bills, receipts, knick knacks, snacks, wrappers, coffee mug, water bottle and who knows what else.
Your desk seems to be the place that everything seems to find its way to. Today,Jan. 10 is "National Clean Off Your Desk Day"! We all are guilty of having a messy desk from time to time. Or we just don't have the time to file things away saying we'll get to it tomorrow and that day never seems to arrive either.
Today is the day to take action and move all the old useless notes to the trash can and file all those receipts, cancelled checks and manuals and put them in their proper places. Once you have cleared all the clutter away the desktop which hasn't been seen for a while really needs a good wipe down. Once you're done you will feel better about yourself and have a place to put things on your desk to work with without having an avalanche of papers topple down over what you are working on or make a splash on the floor.
Now that your desk is ship shape try and minimize the items you place on your desk so it doesn't get out of control again. Set a time or day each week to organize your papers and file things away, recycle items that shouldn't remain there and shred all those documents that can't just be tossed in the trash can.
Clear the clutter, get organized and enjoy a neat desk while celebrating "National Clean Off Your Desk Day"!
National Peach Melba Day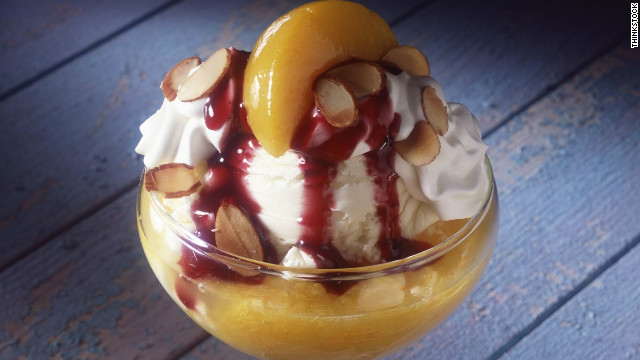 Today, everything is just peachy - January 13 is National Peach Melba Day!
If you're yearning for warmer temperatures, it's the perfect time to indulge in this fun, vintage dessert that combines the best summer fruits and treats.
Peach Melba is simply great, big scoops of vanilla ice cream lovingly topped with thick slices of peach, all doused in a rich raspberry purée. Nothing could be sweeter - or easier.
The Peach Melba was created by the Savoy Hotel's chef, Auguste Escoffier, in honor of Australian soprano, Nellie Melba, when she came to perform Wagner's "Lohengrin" opera at Covent Garden in 1892. Escoffier used a swan ice sculpture to display the dessert, which was topped with spun sugar.
In 1900, he made a few changes for the opening of the Carlton Hotel, taking out the ice swan and topping the peaches with raspberry purée. Of course, over time, pears, apricots and strawberries have stood as substitutes for the peaches, and red currant jelly has often replaced the purée.
Making the real thing is easy enough - if you can find decent peaches and raspberries right now. If you find yourself in the middle of a winter fruit kerfuffle, don't worry. Your cravings will still be safe with peach melba shortbread bars.
National Rubber Ducky Day
What iconic American symbol is yellow, waterproof and loved by young and old alike? Yessir, today is National Rubber Ducky (Duckie) Day.
It's hard to believe, the iconic rubber ducky has been floating people's boats since the 1970's when Ernie first sang about his favorite fowl friend on the popular Sesame Street television series. And by the way, it just happens to be Rubber Ducky's birthday on January 13th. Coincidence, perhaps?
Did you know rubber ducks have been around since the 1800s? But today, most yellow ducks are made of other materials besides rubber. And just in case you don't happen to have a yellow ducky at home, why not take the, er, plunge? Rubber ducks are super-affordable, cute to boot and don't eat a heck-of-alot either! Plus, they're sure to make a great big splash with the kids! And speaking of ducks, be sure to check out the adorable cupcakes and cake recipes below.
How to Celebrate National Ducky Day:
If you are in the area, stop by the Children's Museum at the Seattle Center for a "quack-tacular" day. Take part in the ducky races, ducky parades and ducky-inspired programs.
When was the last time the kids played "Duck, Duck, Goose?"
OMG – Check out these super-adorable Rubber Ducky Cupcakes!
Betty Crocker shows you how to whip up this yellow Rubber Ducky Cake.
And speaking of food – Check out this cute Just Ducky Tub Cake recipe from FamilyFun Magazine!
Make this Duck Finger Puppet out of an empty pill bottle or film container. Cute!
Rubber Ducky - America is awfully fond of you!
Public Radio Broadcasting Day
Birth of public radio broadcasting is credited to Lee de Forest. A 1907 Lee De Forest company advertisement said,
It will soon be possible to distribute grand opera music from transmitters placed on the stage of the Metropolitan Opera House by a Radio Telephone station on the roof to almost any dwelling in Greater New York and vicinity... The same applies to large cities. Church music, lectures, etc., can be spread abroad by the Radio Telephone.
On January 13, 1910, the first public radio broadcast was an experimental transmission of a live Metropolitan Opera House performance of several famous opera singers.
The first public radio broadcast consisted of performances of Cavalleria Rusticana and Pagliacci. Riccardo Martin performed as Turridu, Emmy Destinn as Santuzza, and Enrico Caruso as Canio. The conductor was Egisto Tango. This wireless radio transmission event of the Italian tenor Enrico Caruso of a concert from the Metropolitan Opera House in New York City is regarded as the birth of public radio broadcasting.
Make Your Dreams Come True Day
How often do you stop and think of your dreams? Have you checked how close or far you are from it? Or do you just keep on working for it, praying hard, learning from the stumbling blocks along the way, and picking yourself up each time you fall?
There is no record as to the origin of this special day. As to its purpose, one can only make deductions. Subjective as it is, it is something shared by the whole human race. We all dream. Dreams are liken to goals which require hard work, lots of prayers and some luck.
This worldwide fun day gives us a chance to stop, look and listen. We need to stop, once in a while, in our daily routine to look around. It's the only way for us to see how far we have traveled on the road towards our dream. In so doing, we need to listen to our heart to assure us that we're on the right track.
Sending e-cards can be a nice way to spend this day. Any other way to inspire a friend to attain his dream can be an appropriate way to celebrate this day. On the personal side, it would be nice if this day is spent to recall the purpose of our dreams. Unlike daydreaming, making our dreams come true require action, belief, persistence, patience, openness and flexibility.
This day is imperative for achievers. Achievers, after all, are dreamers and positive thinkers. They need this day to measure their efforts, reaffirm their purpose and strengthen their faith. Reaching one's goal isn't easy. But with a little help from a friend, the journey can be less stressful.
Stephen Foster Memorial Day
Many Americans pay tribute to one of the United States' finest musicians on Stephen Foster Memorial Day, which is on January 13 each year. Stephen Foster was a songwriter who lived in the 19th century. His songs, such as Oh! Susanna and My Old Kentucky Home, are still popular in modern times.
The United States president may issue an annual proclamation calling on people in the country to observe Stephen Foster Memorial Day with:
Appropriate ceremonies.
Pilgrimages to Stephen Foster's shrines.
Musical programs featuring his compositions.
Events for the day may be organized at places that pay tribute to Stephen Foster, such as the Stephen Foster Culture Center State Park in Florida. Some schools provide music and history lessons that focus on Stephen Foster's life and works around this date. Many music appreciation societies and organizations dedicated to the songwriter, such as the Stephen Foster Citizen Support Organization, also pay tribute to Stephen Foster.
Stephen Foster was born in Lawrenceville, Pennsylvania, on July 4, 1826. He received his early musical training from German immigrant Henry Kleber and became one of the most famous musical composers in the United States. Much of his work celebrates the African American portion of the population at a time when slavery was an important and controversial issue. His most popular songs included:
Oh! Susanna (or O Susanna by some texts).
Laura Lee.
My Old Kentucky Home.
Old Folks at Home, which is Florida's state song with revised lyrics. The original was The Swanee River (Old Folks at Home).
Foster also composed instrumental music, including the Social Orchestra, a collection of 73 arrangements for flute, piano, violin and other instruments. He was not well known to the public during his lifetime as he did not perform music professionally. He composed more than 200 works in his lifetime.
Stephen Foster died in New York City on January 13, 1864. One of his best loved works, Beautiful Dreamer, was published shortly after his death. Stephen Foster Memorial Day was first officially observed on January 13, 1952, after President Harry Truman dedicated January 13 as the day to remember Foster through a proclamation in October 1951.
The Stephen Foster Culture Center State Park, situated on the Suwannee River banks in Florida, honors the memory of Stephen Foster. The center exhibits Foster's most famous song and his music can be heard in the park during the day. Many of Foster's songs are also remaining legacies of his achievements.
A memorial at the University of Pittsburgh, in Pennsylvania, is dedicated to the songwriter, as well as a sculpture of Foster near the Carnegie Museum of Natural History's entrance. A musical, called Stephen Foster – The Musical has also been performed since 1958.