National Winnie the Pooh Day
Winnie the Pooh Day - On 18th January 1882, the creator of Winnie the Pooh was born. AA Milne has created many children's characters and is the author of many books. Now, every year we celebrate Pooh Bear on the day of the author's birth.
His most famous creation springs to life on the page along with Eeyore, Piglet, Tigger and don't forget Christopher Robbin!
With his caring nature the oh-so-loveable old bear appeals to all ages. Who could resist a bear that utters the words "If you live to be 100, I hope I live to be 100 minus 1 day, so I never have to live without you." It just makes me melt inside!
So on 18 January make sure you celebrate Winnie the Pooh Day with Pooh and Friends. Perhaps you can create some Winnie the Pooh artwork? Or dress the kids up in Winnie the Pooh costumes, create your own Hundred Acre Wood and have a teddy bear's picnic?
With a whole choice of things to do you can really get involved. I'm going to watch all the Disney films and cuddle up to my very own cuddly Pooh toy! Or why not dust off your Winnie the Pooh books and make a visit to the House at Pooh Corner - you could also take a walk through your own local "Hundred Acre Wood" to find "The Enchanted Place" or why not have a game of poohsticks, just like the characters in the book!
Whatever you do, celebrating on January 18th is the perfect way to get in the classic Winnie mood!
Thesaurus Day
Today is Thesaurus Day! Peter Mark Roget, the author of Roget's Thesaurus, was born on this day in 1779. In 1840, Roget retired from a successful career in medicine and spent the rest of his life working on "Roget's Thesaurus of English Words and Phrases." He published his dictionary of synonyms in 1852. Since then, it has never been out of print!
Did you know that the word "thesaurus" is Latin for "treasure"? Roget's original treasure trove of information included 15,000 words organized into six primary categories—existence, relation, quantity, number, and time. Today the book boasts over 230,000 words, but it is still organized by ideas and concepts as opposed to alphabetically.
Pull out your thesaurus, use some new words, and stretch your vocabulary in honor of Thesaurus Day!
National Peking Duck Day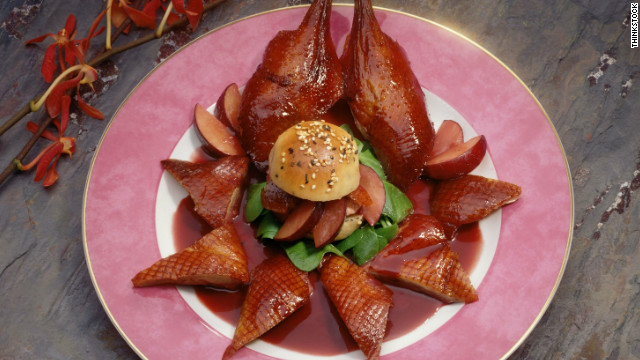 It's National Peking Duck Day! Peking Duck is a delectable dish that originated in Beijing, China during the Imperial Era. It became one of the main dishes on the court menus of the Ming Dynasty in the 1500's and is now considered one of China's national foods.
Peking Duck is made with a specific breed of duck—the Imperial Peking. It is typically roasted in a brick oven, which causes the skin to become crispy. Peking Duck can be eaten with pancakes, spring onions, and either hoisin sauce or sweet bean sauce.
To celebrate National Peking Duck Day, visit a Chinese restaurant and enjoy a traditionally prepared Peking Duck or, if you are feeling adventurous, try cooking one at home!