Groundhog Day
Groundhog Day falls on February 2 in the United States, coinciding with Candlemas. It is a part of popular culture among many Americans and it centers on the idea of the groundhog coming out of its home to "predict" the weather.
Groundhog Day is a popular observance in many parts of the United States. Although some states have in some cases adopted their own groundhogs, the official groundhog, Punxsutawney Phil, lives at Gobbler's Knob near Punxsutawney, Pennsylvania. The town has attracted thousands of visitors over the years to experience various Groundhog Day events and activities on February 2.
The Punxsutawney Groundhog Club plays an important role in organizing Groundhog Day in the town. Club members, news reporters, locals and visitors meet at Gobbler's Knob on February 2 each year to await Phil's appearance and his weather prediction. Pennsylvania's governor has been known to attend Groundhog Day ceremonies. Many weather researchers questioned the groundhog's accuracy in predicting the weather but some of the groundhog's fans may not agree.
Thousands of years ago when animalism and nature worship were prevalent, people in the area of Europe now known as Germany believed that the badger had the power to predict the coming of spring. They watched the badger to know when to plant their crops. By the time the first German immigrants settled in Pennsylvania they probably understood that this was not true but the tradition continued.
Unfortunately there were not many badgers in Pennsylvania so the groundhog substituted the badger. Tradition has it that if the groundhog will sees its shadow on February 2 it will be frightened by it and will return to its burrow, indicating that there will be six more weeks of winter. If it does not see its shadow, then spring is on the way.
Punxsutawney held its first Groundhog Day in the United States in the 1800s. The first official trek to Gobbler's Knob was made on February 2, 1887. It is said that Punxsutawney Phil (the groundhog) was named after King Phillip. He was called Br'er Groundhog prior to being known as Phil. Canada also celebrates Groundhog Day.
The groundhog, also known as the woodchuck or marmot, is believed to make weather predictions relating to winter and spring according to superstition. Movies, advertisements, cartoons and other media have portrayed the legendary role of the groundhog in popular culture. The term "Groundhog Day" is a phrase that is sometimes used to express if the same events or actions occur repetitively for a period of time.
While we all look forward to Groundhog Day on February 2nd and the forecast for an early spring from the two greatest weatherhogs on the planet - Wiarton Willie in Wiarton, Ontario and Punxsutawney Phil in Punxsutawney, Pennsylvania, the truth behind this 200 year-old tradition is oftentimes forgotten.
Long before the advent of Groundhog Day on February 2nd, the Romans observed a similar event thousands of years ago on the exact same day. Rather than use the North American groundhog, the Romans used the hedgehog.
"If during hibernation, he (the hedgehog) looks out of his den on 2nd February and sees his shadow it means there is a clear moon and six more weeks of winter so he returns to his burrow.
The only difference between this ancient event and the present day version (aside from the hedgehog, of course) is the fact that the Romans would look to see if the hedgehog saw its shadow under a clear moon at night.
Here in North America, where we have no indigenous species of hedgehog, we replaced the hedgehog with the native groundhog. To this day Punxsutawney Phil and Wiarton Willie battle it out to see who is the better weather forecaster, but little do they or their handlers know that the original prognosticator of spring was a hedgehog.
Marmot Day
Marmot Day is an Alaskan holiday established to celebrate marmots and Alaskan culture. Although local festivals have been part and parcel of frontier life for decades, Marmot Day became an official holiday on April 18, 2009, when the 26th Alaska State Legislature officially passed Senate Bill 58. Marmot Day is celebrated on February 2, replacing Groundhog Day with a holiday honoring Alaska's marmots. From Juneau to Anchorage to Fairbanks, and all the cities in between, Marmot Day has become an Alaskan institution.
Senate Bill 58, sponsored by Sen. Linda Menard, R-Wasilla, was first introduced by the late Dr. Curtis Menard, Linda Menard's husband and former state legislator. Concerned by the gradual decline of Alaska's folk values, and worried that the 49th state would become a suburb of Houston both culturally and economically, Dr. Menard drew a line in the sand with his idea of creating Marmot Day in the 1990s. After getting stuck in a committee while politics was played, the controversial Marmot Day bill died in the legislature. Sen. Linda Menard reintroduced the bill for the 26th Alaska Legislature, and the bill passed by a Marmot's whisker on the second to last day of the legislative session, and Sarah Palin signed it into law. As Senator Menard said, "By recognizing the marmot, our state built a tradition and legacy to be built on for future generations.
Groundhog Job Shadow Day
Job shadowing is an activity designed to give young people an up-close look at the world of work and to answer the question, "Why do I have to learn this?" Through this experience, students get to see, first-hand, how the skills learned in school relate to the skills necessary to succeed in the workplace.
On February 2nd, nearly 1,000 students will visit worksites and shadow professionals for half a day, observing and even assisting them with their work.
The PIC facilitates the event from start to finish. PIC Career Specialists work one-on-one with students to prepare them for this half-day experience through a series of career- readiness workshops. Employers provide a brief job description to ensure that PIC staff can match students' career interests with relevant businesses. The PIC provides the shadow host with a handbook of suggested activities to help structure the event.
Launched jointly by the Boston PIC and the Boston Public Schools in 1996, Groundhog Job Shadow Day was established to introduce Boston students to the world of work. This event is dedicated to helping young people explore careers and make the connection between the classroom and the "real world". Job Shadow Day is now a national initiative, thanks to a coalition of sponsors that includes America's Promise, Junior Achievement, the U.S. Department of Education, and the U.S. Department of Labor. View the coalition's website at
www.jobshadow.org to learn more.
Nationwide, over 500,000 students participate in Groundhog Job Shadow Day each year. Last year, the PIC organized more than 100 employers in the greater Boston area and nearly 800 students from Boston's public high schools. Job Shadow sites varied from small businesses hosting one student to larger companies that hosted 75 students in various departments.
National Heavenly Hash Day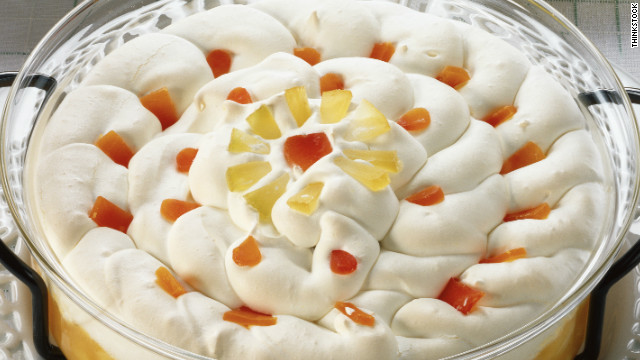 This treat is fit for the pearly gates - February 2 is National Heavenly Hash Day!
Whatever mental image the name of this mystery dish conjures up in your mind, you're probably right! That's because the name "heavenly hash" has been given to several things, and indeed, they all sound divinely inspired.
If heavenly hash is mentioned around the holidays, it's most likely that fluffy white fruit salad that can contain any number of yummy ingredients all swirled together. Typically, sour cream, mini marshmallows, mandarin oranges, coconut and pineapple chunks are mixed and left to sit in the fridge overnight.
The next day, you've got some serious magic going on in the bowl because the acidity of the fruit and sour cream breaks down the marshmallows for a sweet chilled salad that is reminiscent of days gone by. You can add pretty much anything to this salad and it will still taste marvelous. Grapes, bananas, apples, maraschino cherries or even Cool Whip add distinctive flavors. This is also known as five-cup or Millionaire Salad, which your grandparents are sure to recognize as a childhood favorite.
Heavenly hash is also the name of a candy, which you can make with chocolate, walnuts and mini marshmallows. Heavenly hash cakes and brownies are also popular. And just think, no matter what you go with, you're sure to get your daily serving of marshmallows in!
National Girls and Women in Sports Day
National Girls and Women in Sports Day (NGWSD) celebrates girls' and women's participation and achievements in sports and helps to raise awareness about providing balanced and equal sporting activities for females. This holiday originated from a single event in Washington D.C. in 1987 to honor Olympic volleyball star Flow Hyman. It has since grown into a nationwide celebration. The Washington D.C. festivity is organized by five organizations for girls and women -- Girls' Incorporated, Girl Scouts of the USA, National Association for Girls and Women in Sport, National Women's Law Center and the Women's Sports Foundation.
Although the first Olympic Games can be traced back to 776 B.C., women did not participate until 2,676 years later. Women first competed in the 1900 Olympic Games when a historic 22 women participated in the sports of tennis, sailing, croquet, horseback riding and golf.
Today, of course, women are a vital part of the Games. The 2012 Summer Olympics were even referred to as the "Year of the Woman," when for the first time in history every country participating in the Games sent female athletes. In fact, 45 percent of the athletes in the 2012 Summer Olympic Games were women.
Today is "National Girls and Women in Sports Day," which gives us the opportunity to reflect on the role women now play in sporting events in America. Women are no longer relegated to gymnastics and figure skating. Danica Patrick has proven that you don't have to be a man to be competitive in auto racing, and women like Diana Taurasi have shown that basketball isn't just for boys anymore.
Sled Dog Day
Sled dogs have been a part of human society since the 10th century and share a noble part of history in North America and Europe. The Iditarod Sled Dog race, held annually in Alaska, covers 1161 miles from Willow, AK (outside of Anchorage) to Nome. Teams are typically comprised of 16 dogs who work in partnership with their musher. While the race has received criticism from those advocating animal welfare, the spirit of the human-canine partnership is an age-old tradition.
During a 1925 diphtheria epidemic in Nome, AK, Inuit children were particularly susceptible to the disease – but the antitoxin was hundreds of miles away. Sled dog Balto guided his Norwegian musher Gunnar Kaasen on the last leg of the "Great Race of Mercy," a heroic mission to deliver the life-saving serum. With no available planes to make the journey from Seward to Nome, the serum was sent by train the first 298 miles. The last 674 miles of the journey were divided among dog sled teams who ran in relays, with Balto and Kaasen arriving in Nome on February 2nd at 5:30 a.m. While Balto and Kaasen ran the final leg of the relay, Leonhard Seppala and his lead dog, Togo, covered the longest and most perilous part of the terrain.
February 2nd is celebrated annually as Sled Dog Day, honoring sled dog heroes, both known and unsung. These sled dogs are typically Alaskan Malamutes, West Greenland Huskies, East Greenland Huskies, Mackenzie River Huskies, and Greenland Dogs, although a wide range of dogs have been used in sled races, from poodles to mixed breeds.
Tragically, during this celebration of sled dogs, animal lovers around the world are mourning the untimely death of 100 sled dogs in Whistler, BC. The dogs were culled after a decline in business at a Whistler adventure company. While the cull occurred in April, 2010, news reports are just now surfacing. The SPCA is currently investigating this case.
During this celebration of sled dogs worldwide, it is important to recognize the sacrifice and dedication that these dogs have had throughout human history – and to be thankful for the partnership of such committed companions.
Super Bowl Sunday
Super Bowl Sunday, sometimes referred to as Super Sunday, is the Sunday on which the Super Bowl is played (early February). On Super Bowl Sunday, thousands of people gather to watch the Super Bowl. Some such gatherings are known for the large amount of food that is consumed by attendees.
As the most watched annual television program in the United States, a significant portion of the country follows the same routine on Super Bowl Sunday. Although it has never been made an official holiday, several commentators refer to it as a holiday due to the way it causes families and friends to gather and celebrate together. Many Americans who are not typically football fans will still gather and watch the game. There are several references and resources available to those who host Super Bowl parties.
Stores are often empty during the game, particularly in the regions represented by the two teams playing in the Super Bowl. Water usage drops, with significant rises in use during halftime and after the game as fans go to the bathroom. Although sports bars have been busy on Super Bowl Sunday in the past, it is becoming more common for people to view the game from home. This is due in part to the increasing size of home televisions in the United States as well as the attempts of budget conscious consumers to save money. Expatriate Americans often hold gatherings abroad, although due to the time difference the events occur overnight in some areas.
Some commentators have applauded the idea of making Super Bowl Sunday a national holiday, citing its ability to unite Americans of different races, religions, and economic classes. It has even been characterized as a "holy day" for secular Americans. In recent years, NFL executives have called for a three-day weekend in order to allow fans to celebrate the event. Some NFL fans find Super Bowl Sunday depressing, however, if their favorite team was eliminated from the NFL Playoffs.
Churches sometimes cancel their afternoon or evening services for Super Bowl Sunday. Others hold football-themed charity drives or deliver sermons designed to appeal to male members of the congregation. Some churches host Super Bowl viewing parties, and evangelize during halftime.
The television network carrying the game (either CBS, Fox, or NBC) will usually devote the entire day's programming schedule to the game, with extended pregame shows, NFL Films retrospectives of the previous season, and special versions of the Sunday morning talk shows in the morning and afternoon hours leading into the game. Competing networks, due to the severe loss of viewers to the Super Bowl festivities, generally resort to low-cost counter programming measures such as marathons, reruns, infomercials, and novelty shows like the Puppy Bowl.
Large amounts of food are typically consumed on Super Bowl Sunday. Super Bowl Sunday is the second-largest day of food consumption in the United States after Thanksgiving. Large amounts of alcohol are consumed during the Super Bowl as well, and some police departments have noticed a dramatic increase in drunk driving on Super Bowl Sunday.
Rather than a sit-down dinner, on Super Bowl Sunday food is usually served buffet style. Foods that are traditionally eaten on Super Bowl Sunday include buffalo wings, pizza, chili, potato chips, and dipping sauces. Many pizza delivery businesses see their amount of orders double because pizza comprises roughly sixty percent of the take out ordered on Super Bowl Sunday. Roughly 28,000,000 pounds (13,000,000 kg) of chips which if laid end to end would stretch for 293,000 miles (472,000 km) 90 million chicken wings, and 8,000,000 pounds (3,600,000 kg) of guacamole are consumed during the Super Bowl, if all the guacamole consumed was to be spread over a football field the spread would be 11.8 feet deep.