Love Your Pet Day
On the "heels" of Valentine's Day, another special day in February is dedicated to love. Get ready to pamper that pooch or cuddle the kitty, folks! Feb. 20 is Love Your Pet Day, an annual "howliday" devoted to all our furry friends.
Love Your Pet Day
For many of us, pets are valued members of the family. They give us unconditional love without asking too much from us in return. Whether you prefer dogs, cats, rats, horses, birds, ferrets or pot-bellied pigs, pets bring so much to our lives, dont they? Love Your Pet Day reminds us to do something special for our two or four-legged friends.
Adopt, Adopt, Adopt!
Love Your Pet Day is the "purrfect" time to adopt an unloved, neglected and/or abused animal from the local shelter. Each year, millions of beautiful dogs and cats are euthanized waiting for special people to give them "furever" homes. Please consider opening your heart and your home to an animal in need. Visit your local animal shelter and give a pet a once-and-forever home - before it's too late.
How to Celebrate Love Your Pet Day
Change your Facebook or Twitter pic to a photo of your beloved pet or an animal that is urgently awaiting adoption.
National Dog Biscuit Day is coming right up. Why not celebrate early and whip up a few homemade doggy treats and treat Fido?
Take an extra long walk with Fido in honor of the occasion.
Surprise Fluffy with some catnip in honor of Love Your Pet Day.
Make it Movie Night with flicks all about pets. Just make sure to have some extra Kleenex on hand! 101 Dalmatians, Bambi, Buddy, Benji, Beethoven, Garfield, Hachi: A Dog's Tale, Homeward Bound, K-9, Lassie, Lady and the Tramp, Marley & Me, Old Yeller, Secretariat, That Darn Cat, The Aristocats, Turner and Hooch
Why not treat Fido to a brand new bowl? The Slo-Bowl, created by the creative folks at Kyjen, is not just any doggy dish. According to an online interview, this "natural, healthy and playful" bowl not only helps pooches prevent bloat and obesity from gobbling up their food too quickly, the unique designs make eating way more fun and enjoyable. Instead of scarfing the food down in one ginormous mouthful, Fido gets to hunt for his food. Eating has never been more fun with the colorful, top rack dishwasher safe Slo-Bowls.
National Cherry Pie Day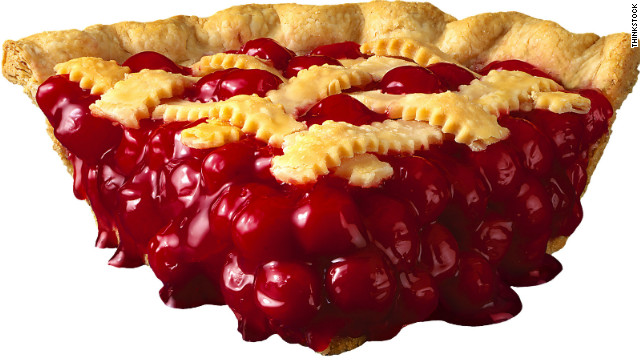 If your sweet tooth has been aching lately, today may just be your lucky day. Today is National Cherry Pie Day! This annual food holiday is celebrated each year on February 20th.
To make a good cherry pie, you've got to start with the right cherries. Bing, Lambert, Montmorency, Rainier and Royal Ann are just a few types available. Each have their own distinct characteristics, but most are farmed on the west coast. While it's not quite cherry season just yet, pie cherries can be found almost year round in the frozen section of your grocery store.
The best kinds of cherries for pies are tart and a little sour. Bing, Morello and Montmorency cherries are some of the better options for pie since they hold up well in the baking process and have a great tart flavor.
Whether you prefer your slice cold or warm and/or topped with a scoop of ice cream or whipped cream, who can resist the sweet yet tart cherry filling surrounded by a delicious, flaky pie crust? And February is also National Cherry Month.
Legend has it that Queen Elizabeth I actually "invented" the cherry pie, which happened to be her favorite pie and George Washington's too. Come to think of it, isn't there some reference to Washington and a cherry tree? And since Americans celebrate Washington's birthday in February, perhaps the timing of this food holiday is just a coincidence?
National Handcuff Day
It's on this date in 1912 that the US Patent office issued patent 1,017,955 to George A. Carney for a "swinging bow ratchet - type" adjustable handcuff. Before that handcuffs were heavy and bulky and there was no standard style. Carney's design was always ready and was light weight compared to older models. Since that patent, most modern handcuffs around the world have been made with the same swing through design, with minor modifications. The Carney Patent was bought by The Peerless Handcuff Company of Springfield, Mass., and the first models were manufactured for them by Smith & Wesson.
Why is there a National Handcuff Day
There are National days for donuts, potato chips, silence, clam chowder, and the Tooth Fairy, so why not a National Handcuff Day? Handcuffs are a necessity in a modern society. Police, jails, prisons, and other law enforcement agencies could not function without the modern handcuff. They are easy to use, reusable, and inexpensive. Also, there are many collectors who try to preserve the history of handcuffs, and escape artists have entertained people for over 100 years trying to escape from them.
National Hoodie Hoo Day
Today is National Hoodie-Hoo Day. Sounds like a made up Dr. Seuss sort of thing, but Hoodie-Hoo day falls on the 20th of February every year and is celebrated at high noon. This is a particularly fun day for preschoolers and preschool teachers alike, because at noon on Hoodie-Hoo Day, you go outside and yell, "HOODIE-HOO!" at the top of your lungs to the sky.
Why? To scare away winter and bring on spring, of course.
Hoodie-Hoo day is an actual copyrighted holiday developed by Wellcat.com, and is only celebrated in the United States.
What makes National Hoodie-Hoo Day such an awesome day?
For teachers, you can incorporate an entire weather unit filled with sensory play, scientific experimentation, and lots of cloud watching.
For students, you get to yell and not get in any trouble at all, learn about all of the cool things in the realm of weather, and make art projects like puffy cloud painting and tin foil lightning bolts.
So, if you're in the Northern Hemisphere, and you hear the call of, "Hoodie-Hoo!" off in the distance, it's not a strange new breed of owl in trouble, it's more likely a group of children yelling at the sky to scare winter away. You might want to join them.
World Day for Social Justice
The United Nations' (UN) World Day of Social Justice is annually observed on February 20 to encourage people to look at how social justice affects poverty eradication. It also focuses on the goal of achieving full employment and support for social integration.
Many organizations, including the UN and the International Labour Office, make statements on the importance of social justice for people. Many organizations also present plans for greater social justice by tackling poverty, social and economic exclusion and unemployment. Trade unions and campaign groups are invited to call on their members and supporters to mark the day. The Russian General Confederation of Trade Unions declared that the common slogan would be "Social Justice and Decent Life for All!".
Schools, colleges and universities may prepare special activities for the day or plan a week of events around a theme related to poverty, social and economic exclusion or unemployment. Different media, including radio and television stations, newspapers and Internet sites, may give attention to the issues around the World Day of Social Justice.
It is hoped that particular coverage is given to the links between the illicit trade in diamonds and armed conflicts, particularly in Africa, and the importance of the International Criminal Court. This is an independent court that conducts trials of people accused of genocide, crimes against humanity and war crimes.
The World Summit for Social Development was held in Copenhagen, Denmark, in 1995 and resulted in the Copenhagen Declaration and Programme of Action. At this summit, more than 100 political leaders pledged to make the conquest of poverty and full employment, as well as stable, safe and just societies, their overriding objectives. They also agreed on the need to put people at the center of development plans.
Nearly 10 years later, the UN's member states reviewed the Copenhagen Declaration and Programme of Action when they gathered at a session of the Commission for Social Development in New York in February 2005. They also agreed to commit to advance social development. On November 26, 2007, the UN General Assembly named February 20 as the annual World Day of Social Justice. The day was scheduled to be first observed in 2009.
Introduce a Girl to Engineering Day
"Introduce a Girl to Engineering Day" is an outreach program held in collaboration with the Girls Scouts and the Women in Science and Engineering Program. This event takes place during Engineers Week in February. Girl scouts are invited to learn about opportunities in the field of engineering and science.
Started in 2001 as a joint effort between NSPE, IBM, and National Engineers Week Foundation, "Girl Day" 2013 marks the 12th year of a special focus whereby women engineers, and their male colleagues, have the opportunity to introduce more than one million girls and young women to engineering. More than just one day, Introduce a Girl to Engineering is a national movement that shows girls how creative and collaborative engineering is and how engineers are changing our world.
US Post Office 222nd Birthday
On this day in 1792, President George Washington signs legislation renewing the United States Post Office as a cabinet department led by the postmaster general, guaranteeing inexpensive delivery of all newspapers, stipulating the right to privacy and granting Congress the ability to expand postal service to new areas of the nation.
William Goddard, a Patriot printer frustrated that the royal postal service was unable to reliably deliver his Pennsylvania Chronicle to its readers or deliver critical news for the paper to Goddard, laid out a plan for the Constitutional Post before the Continental Congress on October 5, 1774. Congress waited to act on the plan until after the Battle of Lexington and Concord on April 19, 1775. Benjamin Franklin promoted Goddard's plan and served as the first postmaster general under the Continental Congress beginning on July 26, 1775, nearly one year before the Congress declared independence from the British Crown. Franklin's son-in-law, Richard Bache, took over the position on November 7, 1776, when Franklin became an American emissary to France.
Franklin had already made a significant contribution to the postal service in the colonies while serving as the postmaster of Philadelphia from 1737 and as joint postmaster general of the colonies from 1753 to 1774, when he was fired for opening and publishing Massachusetts Royal Governor Thomas Hutchinson's correspondence. While postmaster, Franklin streamlined postal delivery with properly surveyed and marked routes from Maine to Florida (the origins of Route 1), instituted overnight postal travel between the critical cities of New York and Philadelphia and created a standardized rate chart based upon weight and distance.
Samuel Osgood held the postmaster general's position in New York City from 1789, when the U.S. Constitution came into effect, until the government moved to Philadelphia in 1791. Timothy Pickering took over and, about a year later, the Postal Service Act gave his post greater legislative legitimacy and more effective organization. Pickering continued in the position until 1795, when he briefly served as secretary of war, before becoming the third U.S. secretary of state. The postmaster general's position was considered a plum patronage post for political allies of the president until the Postal Service was transformed into a corporation run by a board of governors in 1971.