The Great American Spit Out
Operation Fresh Start: Pitch the Dip
Are you ready to step up to the plate? On Sunday, February 23, join Quit Tobacco – Make Everyone Proud for the Great American Spit Out, and pitch the dip.
By participating in Operation Fresh Start: Pitch the Dip you're accepting the mission to become tobacco-free. It's one of the toughest operations you can undertake, but the reward for a successful mission is a better life.
But what's so bad about smokeless tobacco? Where there's no smoke, there's no fire, right? Wrong. Cancer of the mouth, tongue, cheek, gum, throat, esophagus, stomach and pancreases are all cancers caused by smokeless tobacco. Not to mention the havoc it wreaks on your mouth – tooth loss, receding gums, stained teeth and bad breath. You don't always get three strikes when it comes to your health.
Tips on carrying out Operation Fresh Start during the Great American Spit Out:
Instead of using a nicotine patch, think about using nicotine gum or a nicotine lozenge. You'll need something else to do with your mouth instead of putting in dip.
Make a list of what's most important to you, and look at it every day. Watching your daughter grow up, reaching a tenth anniversary, smiling with a full set of white teeth – all of these are being jeopardized by smokeless tobacco.
Exercise is one of the best ways to keep a craving at bay. Working out regularly will make you healthier overall and help you beat your nicotine addiction.
Find a support group and talk to someone about quitting. You're twice as likely to be successful in your mission if you get support.
The rate of smokeless tobacco use in the military is at 12.8 percent, that's nearly 10 percent higher than the civilian population. Make it your mission to start fresh and become an example for those who look up to you. Visit www.ucanquit2.org to learn more and knock your quit attempt out of the park during the Great American Spit Out.
Curling is Cool Day
Although some fashionistas may be disappointed to learn this particular holiday has nothing whatsoever to do with hair, today's holiday has everything to do with a team sport that, at first glance, some may consider a bit peculiar.
Curling, a sport that began in Scotland centuries ago, is actually played during the Winter Olympic Games. In fact, curling is actually considered one of the fastest growing sports in America!
Curling is Fun
In a nutshell, four players on two teams slide eight heavy polished stones across ice toward a target at the other end of the ice. And just in case you are wondering why a broom is used in curling, sweeping makes the rock travel a longer distance and curl less. The goal is to get your stone closer to the center of the target. The team with the highest score total, wins.
Curling was invented in medieval Scotland, with the first written reference to a contest using stones on ice coming from the records of Paisley Abbey, Renfrewshire, in February 1541. Two paintings, 'Winter Landscape with a Bird Trap' and 'The Hunters in the Snow' (both dated 1565) by Pieter Bruegel the Elder depict Flemish peasants curling—Scotland and the Low Countries had strong trading and cultural links during this period, which is also evident in the history of golf.
Evidence that curling existed in Scotland in the early 16th century includes a curling stone inscribed with the date 1511 uncovered (along with another bearing the date 1551) when an old pond was drained at Dunblane, Scotland. Kilsyth Curling Club claims to be the first club in the world, having been formally constituted in 1716; it is still in existence today. Kilsyth also claims the oldest purpose-built curling pond in the world at Colzium, in the form of a low dam creating a shallow pool some 100 × 250 metres in size.
The word curling first appears in print in 1620 in Perth, in the preface and the verses of a poem by Henry Adamson. The game was (and still is, in Scotland and Scottish-settled regions like southern New Zealand) also known as "the roaring game" because of the sound the stones make while traveling over the pebble (droplets of water applied to the playing surface). The verbal noun curling is formed from the Scots (and English) verb curl, which describes the motion of the stone.
In the early history of curling, the playing stones (or rocks) were simply flat-bottomed river stones that were sometimes notched or shaped; the thrower, unlike those of today, had little control over the stone, and relied more on luck than on skill and strategy. Additionally, because of the variance and inconsistency found in the size of river stones, the velocity of so-called curls varied hugely.
It is recorded that in Darvel, East Ayrshire, the weavers relaxed by playing curling matches. The stones they used were the heavy stone weights from the weavers' warp beams, fitted with a detachable handle for the purpose. Many a wife would keep her husband's brass curling stone handle on the mantelpiece, brightly polished until the next time it was needed.
Outdoor curling was very popular in Scotland between the 16th and 19th centuries, as the climates provided good ice conditions every winter. Scotland is home to the international governing body for curling, the World Curling Federation, Perth, which originated as a committee of the Royal Caledonian Curling Club, the mother club of curling.
Today, the game is most firmly established in Canada, having been taken there by Scottish emigrants. The Royal Montreal Curling Club, the oldest established sports club still active in North America, was established in 1807. The first curling club in the United States was established in 1830, and the game was introduced to Switzerland and Sweden before the end of the 19th century, also by Scots. Today, curling is played all over Europe and has spread to Japan, Australia, New Zealand, China, and Korea.
The first world championship for curling was limited to men and was known as the Scotch Cup, held in Falkirk and Edinburgh, Scotland, in 1959. The first world title was won by the Canadian team from Regina, Saskatchewan, skipped by Ernie Richardson.
International Dog Biscuit Appreciation Day
On the "heels" of Pet Theft Awareness Day and Love Your Pet Day, today is going to the dogs! Literally! Today is National Dog Biscuit Day also known as International Dog Biscuit Appreciation Day. While the origins of this annual "howliday" are unknown, February 23 pays homage to man's best friend. Yessir, dogs really do get their day today!
The History of Doggy Treats
Canines have enjoyed treats for centuries, although earlier versions were quite a bit different than today's variety. Dog treats used to include stale, moldy bread, rotting leftovers and rock-hard biscuits made out of grain. Pretty "ruff", right? But American James Spratt changed all that on a trip to England in the mid-1800s when he saw hungry, stray dogs scavenging for leftover food. It wasn't long before he developed a cake-like biscuit comprised of meat, grains and vegetables called "Meat Fibrine Dog Cakes" and the rest, as they say, is history. Then in 1908, the F. H. Bennett Biscuit Co. of New York developed hard-baked, bone-shaped biscuits comprised of various minerals, cow's milk and meat products, the Milk-Bone.
Doggy treats have come a long way over the years. Today's treats come in a slew of flavors, shapes and sizes. Whether you buy them in a box or at a gourmet pet food store, nothing gets more tails-a-waggin' than a little treat to eat. Doggy treats not only taste good, they can help clean dogs' teeth and be used as a reward for good behavior too.
National Banana Bread Day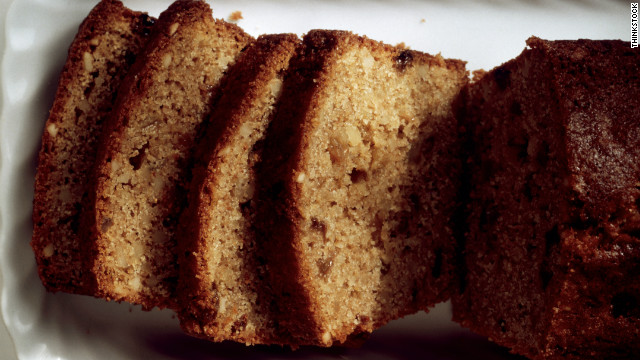 Go bananas over this sweet, sweet bread because February 23 is National Banana Bread Day!
If you've got a bunch of bananas wasting away on your counter and you're thinking about giving them the heave-ho, STOP in the name of banana bread! You'll never have a better excuse to grab a fork and mash up old bananas than this moist quick bread.
When baking soda and baking powder gained popularity in the 1930s, the landscape of breads, cakes and cakey breads changed forever. Although there is evidence that housewives in the 1700s experimented with a type of banana bread using pearlash, both Pillsbury and Chiquita published recipes for banana bread in 1933 and 1950, respectively.
The home baking revolution that swept the U.S. during the early 1960s carried banana bread on its wave of explosive popularity, and it soon became a staple in households everywhere. Variations including raisins,chopped walnuts or pecans and chocolate chips also continue to thrive.
Get even funkier with your banana bread making and bake peanut butter banana bread, featuring one of the best combinations known to man. It's a little bit fruit serving, a little bit of protein, and a whole lot of love.
Play Tennis Day
Sports activities are good as they prove to be good exercise for all people of all ages. A wide array of choices make sports a very entertaining activity as well. Health conditions and body built are important factors to consider when choosing a sport. But nothing beats availability and convenience. If you want a large group game, you can always learn basketball or baseball. But if you're contented with one or three, tennis is just right for you!
The first observance of this fun holiday has not been recorded. However, this date is the anniversary of the lawn tennis being patented in 1874 by Walter Wingfield of Pimlico, England. Its purpose is to play tennis and promote this game.
On this day, many schools and sports organizations conduct games worldwide. Tennis is a sport that people usually play individually against a single opponent (singles) or between two teams of two players each (doubles). This game is always part of any school's varsity game listings for competition with other schools or locality.
If this day turns to be sunny, playing a set of lawn tennis with friends would be a good way of celebrating the day. Otherwise, watching tennis games on the television or playing online tennis games would be alternatives. Sending ecards or tennis crossword puzzles to friends on the fun day will surely help in the awareness objective of the day.