Benjamin Harrison Day
Benjamin Harrison followed the distinguished example of his grandfather William Henry Harrison all the way to the White House, winning election as the nation's 23rd president in 1888. While his support for protective tariffs led to rising prices for consumers and arguably paved the way for the nation's future economic woes, his bold pursuit of America's foreign policy goals (including his proposal to annex the Hawaiian Islands) displayed his expanded vision of the nation's role in world affairs. In 1890, Harrison signed into law the Sherman Antitrust Act, the first piece of legislation designed to prohibit industrial combinations, or trusts. Before the end of his first term, support for Harrison was waning even within the Republican Party. In 1892, he lost his bid for reelection to Grover Cleveland by a wide margin; he remained active in public life as a lawyer and public speaker until his death in 1901.
Harrison was born on August 20, 1833, in North Bend, Ohio; he grew up on a farm located near the Ohio River below Cincinnati. His father, John Harrison, was a farmer, and his grandfather, William Henry Harrison, was elected as the ninth president of the United States in 1840, but died of pneumonia only one month after he took office. Benjamin Harrison graduated from Miami University in Oxford, Ohio, in 1852 and married Caroline Lavinia Scott the following year; the couple would go on to have two children. After studying law in Cincinnati, Harrison moved to Indianapolis, Indiana, in 1854 and set up his own law practice.
Though his father had warned Benjamin of the pressures of a life in politics, his wife encouraged his political ambitions. The young Harrison became active in state politics in Indiana, joining the fledgling Republican Party, which had been built on the opposition to slavery and its extension into the western territories. He supported the first Republican presidential candidate, John C. Frémont, in 1856 and Abraham Lincoln in 1860. When the Civil War broke out in 1861, Harrison joined the Union Army as a lieutenant in the 70th Indiana Volunteer Infantry Regiment, and he would attain the rank of brevet brigadier general by 1865. Back in Indiana after war's end, Harrison resumed his law practice and political activity, campaigning unsuccessfully for the Republican gubernatorial nomination in 1872. Four years later, he won the nomination but lost a close race in the general election.
BENJAMIN HARRISON'S ROAD TO THE WHITE HOUSE
From 1881 to 1887, Harrison represented Indiana in the U.S. Senate, arguing for the rights of homesteaders and Native Americans against the expanding railroad industry and campaigning for generous pensions for Civil War veterans, among other issues. A highly principled and devoutly religious man, Harrison broke with the Republican Party to oppose the Chinese Exclusion Act of 1882 (which aimed to close the United States to Chinese immigrants) due to its violation of rights given to the Chinese under an earlier treaty; the act passed without his support.
Harrison lost his Senate seat after a Democratic victory in the Indiana state legislature in 1887, only to gain the Republican nomination for president the following year. Rather than travel around the country during the campaign, he gave numerous speeches to delegations that visited him in Indianapolis–an early example of so-called "front-porch campaigning." In a controversial general election, Harrison lost the popular vote to the incumbent President Grover Cleveland by 90,000 votes but carried the electoral college, gaining 233 electoral votes to Cleveland's 168 thanks to victories in the key swing states of New York and Indiana (where Harrison's opponents later suggested that his campaign had purchased votes in order to win).
BENJAMIN HARRISON'S DOMESTIC & FOREIGN POLICY
During Harrison's term in the White House, the lingering effects of an economic depression led to calls for more expansive federal legislation. A longtime protectionist, Harrison supported the passage of the McKinley Tariff Act of 1890 (backed by the Ohio congressman and future president William McKinley). For the first time in peacetime, Congress appropriated a billion dollars during Harrison's administration, angering many Americans who saw the president and his fellow Republicans as too supportive of wealthy interests. On the other hand, Harrison lent his support to the Sherman Silver Purchase Act, which required the government to purchase 4.5 million ounces of silver per month, and bowed to the pressure of agrarians and reformers by signing into law the Sherman Antitrust Act, designed to prohibit industrial combinations or trusts. (Ohio Senator John Sherman sponsored both acts.) Harrison also continued his support of veterans' benefits as well as his advocacy of forest conservation and the expansion of the U.S. Navy.
In the foreign policy arena, Harrison's administration (including the president and secretary of state, James G. Blaine) displayed a growing American influence in world affairs. The First International Conference of American States (later the Pan-American Union) took place in Washington, D.C. in late 1889. In addition, Harrison's State Department successfully negotiated with Germany and Great Britain to set terms for an American protectorate in the Samoan Islands, and opposed Britain and Canada in order to prevent the overharvesting of seals in the Bering Sea. Harrison was unsuccessful, however, in his attempts to convince Congress to back the construction of a canal in Nicaragua, as well as in his efforts to annex Hawaii in 1893.
BENJAMIN HARRISON'S POST-PRESIDENCY CAREER
Up for reelection in 1892, Harrison struggled to overcome growing populist discontent, including a number of labor strikes. In the general election, he faced Grover Cleveland again, along with a third-party challenge from the Populist, or People's, Party. The revelation that Caroline Harrison was seriously ill led to modest campaign efforts by both men and caused Harrison to limit his appearances in key swing states, contributing to the margin of his defeat. Caroline died of tuberculosis in late October, and two weeks later Harrison lost to Cleveland by an electoral vote of 145 to 277, the most decisive victory in 20 years.
After leaving the White House, Harrison returned to Indianapolis and his law practice. At the age of 62, he married Mary Lord Dimmick, his late wife's niece and caretaker; they had one child. In 1898, Harrison served as leading counsel for Venezuela in the arbitration of its boundary dispute with Great Britain. After spending almost a decade as a respected elder statesman and acclaimed public speaker, he died in 1901 of pneumonia.
Courageous Follower Day
We are a country built on the myth of "rugged individualism," in love with the concept of leadership. But all leaders require followers and, in fact, virtually all of us are followers at some times and leaders at others. This day honors the too-often disparaged role of follower. Its purpose is to dispel the myth that followers are passive and to raise awareness that good followership is energetic and at times courageous. In fact, only through active and courageous followership can leaders be counted on to use their power wisely and well.
Being a follower is not necessarily a negative thing: Following your heart; Following your dreams; these can all be positive ways to get you to the right place in your life.
Today is a good day to be mindful of the path you are on. Are you following your heart? Do you dream of a different place to live? a different career? a more adventurous life? Following your passions takes courage. It may require you to step outside of your comfort zone, or adopt a new way of thinking.
I encourage you to explore your life plan today- honor your responsibilities, but allow yourself the luxury of imagining your possibilities. Find others you admire who have achieved what you are dreaming of and dare to follow their example.
International Scrapbooking Industry Day
March 4, is International Scrapbooking Industry Day. This is the perfect excuse to take some time out and confront all those Christmas photos still stored in your digital camera, on your computer, or in the drawer.
Scrapbooking is the ideal way to get your holiday pictures out of the shoeboxes and archived in a beautiful album that will not only be pulled out year after year at Christmastime but will also be handed down from generation to generation. If you are new to scrapbooking, you can get a great introduction to this king of hobbies by visiting www.scrapbooking101.net . Spotted Canary is another great site for nudging your creative muse.
For even more yuletide inspiration, you can feast on pages of Christmas eye candy when you do an image search in Google. Type in Christmas scrapbook pages and you will be treated to over two million results. In no time at all you'll be craving sparkly stickers, embossed borders, satin ribbons, festive inks and all the other trappings of Christmas scrapbooking. Pay a visit to local craft stores like Michaels, Jo-Ann, A.C. Moore and Hobby Lobby for everything you need to get started. Supplies can be expensive and it's easy to get carried away so be sure to check out the stores' weekly flyers and coupons in The Buffalo News. Also, don't overlook the many Web sites offering supplies along with a ton of layout and project ideas. These sites include www.paperwishes.com, www.scrapbook.com and www.scrapbooking-warehouse.com. The list goes on so use your favorite search engine to find others.
For a truly modern approach to showcasing your treasured Christmas memories, you'll want to explore digital scrapbooking. Creating scrapbook pages on your computer comes with advantages. There's no set-up, no clean-up, no bulky supplies to store, and you also have the ability to edit pages. In addition, it gives you the convenience of sharing your albums worldwide through e-mail as well as printing unlimited copies of your pages. As a tech savvy scrapbooker, you'll want to check out www.designerdigitals.com for starters. You'll also want to visit Smilebox for an easy, all-inclusive approach to digital scrapbooking.
Whether your methods are traditional or digital, scrapbooking preserves Christmas memories for today and for generations to come. It is an undertaking that your relatives, current and future, will appreciate.
March Forth (Do Something Day)
Today we are urged to march forth into our lives and DO SOMETHING!
Some people who write about the beckoning call of this special day encourage us to spend a bit of time thinking about our life and where we want to be next March Forth/Fourth. They challenge us to try something completely new today, and they urge us to pamper ourselves at least for a few minutes today.
Have you ever wanted to jump off the high dive of the high school pool? To try lawn bowling or tennis? To ride a horse or adopt a cat? To cook an 8-course meal? To start drawing lessons at the community center or local craft-supplies store?
Use the inspiration of the March Forth holiday to actually do that goal that you've been putting off for so long!
A slightly different way of celebrating is to find a project you can do to make the world a better place. You could call up the local soup kitchen and see if you can help set up tables or ladle out soup. You could get a group of friends together to clean up trash on a local beach. You could hold a bake sale to raise money for an animal rescue group. Follow your own passion, look for opportunities in your own community, but do something!
Here are two things I want to do today:
Reorganize a room that has old projects and artworks stacked up.
Do the finishing touches on a science fiction book for kids that I want to e-publish.
Mardi Gras (Fat Tuesday)
Mardi Gras, or "Fat Tuesday," is the last day of the Carnival season as it always falls the day before Ash Wednesday, the first day of Lent. Most visitors will plan to arrive no later than Saturday, March 1, 2014 in order to enjoy an extended weekend of festivities.
The origins of Mardi Gras can be traced to medieval Europe, passing through Rome and Venice in the 17th and 18th centuries to the French House of the Bourbons. From here, the traditional revelry of "Boeuf Gras," or fatted calf, followed France to her colonies.
On March 2, 1699, French-Canadian explorer Jean Baptiste Le Moyne Sieur de Bienville arrived at a plot of ground 60 miles directly south of New Orleans, and named it "Pointe du Mardi Gras" when his men realized it was the eve of the festive holiday. Bienville also established "Fort Louis de la Louisiane" (which is now Mobile) in 1702. In 1703, the tiny settlement of Fort Louis de la Mobile celebrated America's very first Mardi Gras.
In 1704, Mobile established a secret society (Masque de la Mobile), similar to those that form our current Mardi Gras krewes. It lasted until 1709. In 1710, the "Boeuf Gras Society" was formed and paraded from 1711 through 1861. The procession was held with a huge bull's head pushed alone on wheels by 16 men. Later, Rex would parade with an actual bull, draped in white and signaling the coming Lenten meat fast. This occurred on Fat Tuesday.
New Orleans was established in 1718 by Bienville. By the 1730s, Mardi Gras was celebrated openly in New Orleans, but not with the parades we know today. In the early 1740s, Louisiana's governor, the Marquis de Vaudreuil, established elegant society balls, which became the model for the New Orleans Mardi Gras balls of today.
The earliest reference to Mardi Gras "Carnival" appears in a 1781 report to the Spanish colonial governing body. That year, the Perseverance Benevolent & Mutual Aid Association was the first of hundreds of clubs and carnival organizations formed in New Orleans.
By the late 1830s, New Orleans held street processions of maskers with carriages and horseback riders to celebrate Mardi Gras. Dazzling gaslight torches, or "flambeaux," lit the way for the krewe's members and lent each event an exciting air of romance and festivity. In 1856, six young Mobile natives formed the Mistick Krewe of Comus, invoking John Milton's hero Comus to represent their organization. Comus brought magic and mystery to New Orleans with dazzling floats (known as tableaux cars) and masked balls. Krewe members remained anonymous, and to this day, Comus still rides!
In 1870, Mardi Gras' second Krewe, the Twelfth Night Revelers, was formed. This is also the first recorded account of Mardi Gras "throws."
Newspapers began to announce Mardi Gras events in advance, and they even printed "Carnival Edition" lithographs of parades' fantastic float designs (after they rolled, of course - themes and floats were always carefully guarded before the procession). At first, these reproductions were small, and details could not be clearly seen. But beginning in 1886 with Proteus' parade "Visions of Other Worlds," these chromolithographs could be produced in full, saturated color, doing justice to the float and costume designs of Carlotta Bonnecase, Charles Briton and B.A. Wikstrom. Each of these designers' work was brought to life by talented Parisian paper-mache' artist Georges Soulie', who for 40 years was responsible for creating all of Carnival's floats and processional outfits.
1872 was the year that a group of businessmen invented a King of Carnival, Rex, to preside over the first daytime parade. To honor the visiting Russian Grand Duke Alexis Romanoff, the businessmen introduced Romanoff's family colors of purple, green and gold as Carnival's official colors. Purple stands for justice; gold for power; and green for faith. This was also the Mardi Gras season that Carnival's improbable anthem, "If Ever I Cease to Love," was cemented, due in part to the Duke's fondness for the tune.
The following year, floats began to be constructed entirely in New Orleans instead of France, culminating with Comus' magnificent "The Missing Links to Darwin's Origin of Species," in which exotic paper-mache' animal costumes served as the basis for Comus to mock both Darwin's theory and local officials, including Governor Henry Warmoth. In 1875, Governor Warmoth signed the "Mardi Gras Act," making Fat Tuesday a legal holiday in Louisiana, which it still is.
Like Comus and the Twelfth Night Revelers, most Mardi Gras krewes today developed from private social clubs with restrictive membership policies. Since all of these parade organizations are completely funded by their members, New Orleanians call it the "Greatest Free Show on Earth!"
National Grammar Day
Grammar. It's a beautiful thing, or a thing that is beautiful. In its honor there is National Grammar Day, a day that grammarians have been celebrating since 2008, as instituted by Martha Brockenbrough, founder of the Society for the Promotion of Good Grammar. She picked that particular date because it's a sentence: March forth. That day, Grammar Day, is today.
So, you like words! You care about punctuation! Perhaps you're wondering, What in heaven's name should I do to honor such a day? It might be tempting to grab the nearest red pen and start correcting everything you see. To dig up your favorite mistakes and corrections from years past and review them yet again, and laugh. Or to keep a sharp eye out for misplaced apostrophes and commas, lesses when there should be fewers, yours instead of you'res—and to shout and point when you see anything that offends. There is a certain curmudgeonly joy in noting and fixing an error, as many a copy editor is aware, and each of us have pet peeves that we are happy to note and mock. This makes us feel like we're smart, and maybe like we're doing something good for society, teaching those supposed dimwits who didn't know the rules a lesson. But, no. This is not what we're supposed to do on Grammar Day at all.
Linguist and lexicographer Ben Zimmer was one of the judges for this year's Grammar Day Haiku Contest (stay tuned for the results, which will be announced later today by Mark Allen. Update: The winning haiku is here!). Zimmer told me he hopes Grammar Day can be about more just curmudgeonly nitpicking. "I have to admit that much of the public talk about grammar fills me with sorrow rather than joy, because so often the conversation is dominated by those clinging to outmoded or flat-out bogus rules, and expressing outrage at anyone who doesn't obey those rules," he says. "Cranky indignation becomes the dominant tone about grammatical issues when the 'peevologists' hold sway." (He points out, too, that certain peeves over spelling, punctuation, and word choice aren't about grammar at all. While such linguistic peeves certainly fall into the trade of a good copy editor, they're not technically grammatical. Whoops.)
Zimmer says, "Let's use National Grammar Day as an opportunity to think about what grammar actually is, and to be open to differing opinions about grammatical propriety. If grammar evokes anxiety or crankiness, relax for a day! Don't get hung up on the rise of singular 'they' or the decline of 'whom.' Don't fret about the correct placement of 'only,' or whether 'none' needs to take a singular verb. Instead, embrace the living, breathing grammar of English in all of its varieties."
Merriam-Webster lexicographer Kory Stamper is in agreement with Zimmer, and has posted a plea for sanity asking people not to turn the day into a free-for-all of railing on bad grammar, running around mocking others for their mistakes. She writes, "You may think you are some great Batman of Apostrophes, flitting through the dark aisles of the Piggly-Wiggly, bringing Truth and Justice to tormented signs everywhere! But in reality, you are a jerk who has defaced a sign that some poor kid, or some poor non-native English speaker, or some educated and beleaguered mom who is working her second job of the day, spent time making... Vigilante peeving does nothing to actually educate people."
But it's fun! It's ... fun? It's fun enough that we spend much of the rest of our year discussing our so-called grammar peeves, loudly and emphatically. Perhaps following Stamper's suggestion could be more fun, if only for its uniqueness and karmic goodness: "Instead of calling people out on March 4th for all the usages they get wrong, how about pointing out all the thing things that people–against all odds–get right?" Commending people for what they do well instead of making fun of what they do poorly? Huh. That could be nice.
And grammar itself is nice. After all, that we are able to communicate and make ourselves understood in a society is no small thing, Oxford commas or not. From grammar comes pretty much everything else. Stamper told me, "One of the things I adore about grammar and linguistics is that English has such a rich, rich history. Until you really delve into it, you don't appreciate what a wonderful, wondrous language it is. It's managed to survive so much--the Norman Conquest, the Viking invasions, the Great Vowel Shift, the 18th-century grammarians, its export to the wider world, and daytime television. You've got to love and admire anything that sturdy." Another word-minded individual, New Yorker editor Silvia Killingsworth, confessed, "I like to think of it as a day of recognition rather than a holiday," she says. "Just like Father's Day! Here is this great thing that is forever intertwined in our lives, and we should acknowledge what a wonderfully complex (sometimes frustrating, other times beautiful) but ultimately vital relationship we have with it."
If you're intent on getting peevish, turn on yourself. Think about your favorite rules, and why you use them. Do some googling for your own edification. Read up on the issues that fascinate you, on Language Log, for example. Zimmer suggests, "If you're feeling really adventurous, check out the Yale Grammatical Diversity Project, where you can get a full dose of multiple modals, positive 'anymore,' and other curiosities." Page through your favorite copy editing books and style guides. Or tweet or read some haiku! Wade into the fascinating subject of the grammar of EMC (electronically mediated communication, or the rules of texting), as Killingsworth recommended: "Is EMC a voice, a tone, a dialect, a vernacular?" Or, delve into a bit of David Foster Wallace. There's so much to consider, much of it virtually snark-free! Think about how you can best get your point across, and understand others, too, and how the way you do that is through this strange and beautiful, long-lasting thing we call grammar.
Stamper writes, "English may be a shifty whore, but she's our shifty whore. Please, this National Grammar Day, don't turn her into a bully, too." I, for one, am inspired to ease up for at least one day on the grammar shaming. We can go full-peeve on that misspelled bathroom sign tomorrow.
National Pound cake Day
So, March 4th is National Pound Cake Day. Why is it called Pound Cake you may ask? Most of the recipes you see are not truly pound cake. A true old fashion Pound Cake was so named because it used a pound of each major ingredient; 1 pound butter, 1 pound sugar, 1 pound eggs and one pound flour. This comes from the time before there were standardized measuring implements.
Pound Cake, not very interesting so why bother. Oh ye of little faith ... a good pound cake is lovely on its own. It is also an excellent starting point to build more exotic desserts on. One of the advantages to a pound cake is that it keeps quite well. You can wrap and it will keep fresh and moist outside the refrigerator for at least a week. In the refrigerator it can keep up to a month or more.
A simple and delicious dessert when you are in a hurry, a slice of pound cake with a scoop of good vanilla ice cream. You want to kick it up a notch? Add a drizzle of your favorite liquored. Think Kahlua ... think Cream d'Minth ... think blackberry cordial ... oh my!
Try a slice of pound cake with fresh fruit on top. In summer how about sliced fresh sweet peaches or strawberries or blackberries. Oh yes! Fresh fruit and vanilla ice cream. Yes indeed!
A bit more involved but try cutting a loaf of pound cake in slices about half an inch thick. Then cut a block of vanilla or chocolate ice cream in half inch thick slices as well and stack them on top of each other in alternate layers. Wrap the whole tightly in plastic wrap and freeze. Slice and serve with sliced fresh peaches or berries. Oh joy!
You might try a slice of pound cake with a smear of your favorite preserves, or the preserves and a scoop of ice cream.
Your pound cake got a bit stale and dried out? Please ... don't throw it away. Slice it and use it to make French toast, add some sliced fresh fruit and dust it with powdered sugar ... now that is an elegant and delectable dessert.
And of course, pound cake is the basic building block for a traditional English Trifle. Make it in a large glass bowl to be served from at table or make it in individual glasses, but always use glass so you can see the delectable layers. Why is it called a trifle? Because it was just a trifling little thing to make.
And a slice of pound cake is perfect in school lunches. Sweet, delicious and not messy.
Since pound cake and fresh fruit are a marriage made in heaven, consider visiting your local Farmers Market to see what is fresh, local and in season.
Old Inauguration Day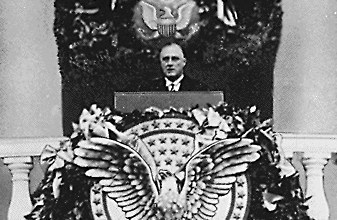 The inauguration of the president of the United States is a ceremonial event marking the commencement of a new four-year term of a president of the United States. The day a presidential inauguration occurs is known as "Inauguration Day" and occurs on January 20 (or 21st if the 20th is a Sunday). (Prior to the Twentieth Amendment, the date was March 4, the day of the year on which the Constitution of the United States first took effect in 1789; the last inauguration to take place on the older date was Franklin D. Roosevelt's first one on March 4, 1933.) The most recent public presidential inauguration ceremony, the swearing in of President Barack Obama to begin his second four-year term in office, took place on Monday, January 21, 2013.
The only inauguration element mandated by the United States Constitution is that the president make an oath or affirmation before that person can "enter on the Execution" of the office of the presidency. However, over the years, various traditions have arisen that have expanded the inauguration from a simple oath-taking ceremony to a day-long event, including parades, speeches, and balls.
From the presidency of Andrew Jackson through that of Jimmy Carter, the primary Inauguration Day ceremony took place on the Capitol's East Portico. Since the 1981 inauguration of Ronald Reagan, the ceremony has been held at the Capitol's West Front. The inaugurations of William Howard Taft in 1909 and Reagan in 1985 were moved indoors at the Capitol due to cold weather. The War of 1812 and World War II caused two inaugurations to be held at other locations in Washington, D.C.
When George Washington was inaugurated, the oath was administered by Robert Livingston, Chancellor of New York State, in 1789, and by William Cushing, Associate Justice of the Supreme Court, in 1793. Since Chief Justice Oliver Ellsworth swore in President John Adams, no chief justice has missed an Inauguration Day. When Inauguration Day has fallen on a Sunday, the chief justice has administered the oath to the president on the Sunday privately and then again the next day publicly.
When a new president takes over mid-term due to the death or resignation of a president, the oath of office is administered but formal, public inauguration events have not been held. The word "inaugurate" means to make a formal beginning of, and the fact that these presidencies (nine of them) were begun without an inauguration attests to the celebratory nature of the event, being passed on during these periods mourning the previous presidency.
Toy Soldier Day
On March 4th of every year, Toy Soldiers, Nurses, and Scouts gather from around the world to celebrate the day that Toy Soldiers Unite was formed in 2005.
Though much has changed in the many years TSU has been around, one thing will never change and that is Toy Soldier Day.
What exactly do we do on Toy Soldier Day?
WE HAVE FUN!
Invade a theme park with your division, gather some friends round for a barbeque, take the giant robot you've been building in your garage for a stroll, or if you're at work, instead of saying 'Have a nice day' say 'Have fun today!'.
One of the greatest invasions to happen on Toy Soldier Day is the invasion of the Disney theme parks. Disneyland in California, Disneyworld in Florida, even Disneyland Paris.
And though times are tough, you don't need to attend a popular theme park to have fun with you friends. Break out the NERF and water guns and head to the park for a showdown of epic proportions!
The Toy Soldier Army shows the world to have more fun, by leading by example, and on TS Day we have FUN!
Unique Names Day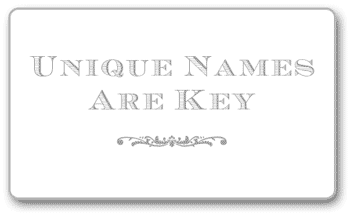 This is the day to salute friends, acquaintances and loved ones who have a unique name. Let's appreciate them for going through life without seeing their names on things such as ready-made key chains, etc. If you or anyone you know has a unique name, discuss it today! Celebrate it!
Do you have any friends who have unique names? Take a moment on Unique Names Day to consider the fact that they have to go through life without ever sharing a name with a famous celebrity, being presented with personalized merchandise at fares, zoos and events, and to probably have to spell their name to everybody they ever meet.
Then again, having a unique name is pretty cool, and a great talking point!
National Pancake Day (IHOP)
Flip for Free Pancakes! March 4, 2014
Since beginning its National Pancake Day celebration in 2006, IHOP restaurants have raised $13 million to support charities in the communities in which they operate. On March 4, 2014, guests from around the country will once again celebrate National Pancake Day at IHOP restaurants and enjoy a free short stack of Buttermilk pancakes*. In return for the free pancakes, guests will be asked to consider leaving a donation for Children's Miracle Network Hospitals© ** or other designated local charities.