National Dentist Day
Dentist's Day is celebrated on March 06, 2014. Dentists aren't the most popular people, but they helps you to keep your teeth healthy - you can thank them for their work today! A dentist, also known as a 'dental surgeon', is a health care practitioner that specializes in the diagnosis, prevention, and treatment of diseases and conditions of the oral cavity.
By nature of their general training, a licensed dentist can carry out most dental treatments such as restorative, orthodontics, prosthetic, endodontic therapy, periodontal therapy, and extraction of teeth, as well as performing examinations, taking x-rays and diagnosis. Additionally, dentists are allowed to engage in oral surgery when performing invasive procedures such as dental implant placement.
Dentists can also prescribe medications such as antibiotics, fluorides, pain killers, local anesthetics, sedatives/hypnotics and any other medication that serve in the treatment of the various conditions that arise in the head and neck. All dentists in the U.S. must graduate from high school and complete required courses such as general biology, general chemistry, organic chemistry, physics, and statistics/calculus.
Dentistry is important in helping us maintain good oral health. Brushing our teeth, flossing each day, and seeing our dentist for maintenance check-ups and treatment are ways we care for our teeth and gums. Our teeth are very important to us. They are the first step in good digestion since they perform the critical step in breaking down food so we can swallow it and so the rest of digestion goes more smoothly. Dentists act as our partners in achieving excellent oral health.
While I was growing up, my mom and dad encouraged me to brush my teeth every day and took me in for regular dental check-ups. I taught good oral hygiene to my children. When they were very young I made their initial appointment and trip to the dentist a field trip to just simply go in and meet the dentist, sit in the chair, have their teeth counted, and get familiar with the tools. The dentist told them about the process. He did a wonderful job familiarizing my children with visiting a dentist. When it was time for their very first real check-up neither of them were afraid.
National Dentist Day can be a reminder to make an appointment with the dentist. Some people are afraid to go to the dentist. Some people have taken the firm stance that they hate the dentist. But fear of and hate for the dentist is not going to fight cavities or gingivitis. Those things are best fought with a dentist's help.
Some people have full blown dentist phobia. Those with a phobia of the dentist usually go through the entire scenario in their minds and predict the worst process and outcomes before they have even made an appointment. One of the first steps that can be taken is to think more realistically about a visit to the dentist. Even if you have had painful experiences in the dentist's office, realistically, not all visits will be very painful if you follow a maintenance plan to keep your teeth and gums healthy.
Overcoming your fear of the dentist is important. A support person, a friend or family member that is not afraid of the dentist, can be a valuable tool in working through the fear of going to the dentist. If your dentist knows you have a phobia he or she will likely be willing to spread needed dental work out over a span of a few appointments instead of having all work done at once.
Sometimes taking small steps can be advantageous in overcoming this fear. You can watch educational videos about dentistry to become more familiar with the ins and outs of dentistry. This knowledge may help you to view the process in a more logical and reasonable way.
Another small step to take in your efforts to overcome the phobia is to tell your dentist of your fear and arrange to just sit in the waiting room once in a while or sit in a dentist's chair for a while. The longer you can sit in these locations, the more benefit you will get from the exposure. In performing these actions, you are exposing yourself to the environment, and the goal, over time, is to form a new impression in your mind about the dentist. Some dentists specialize in treating people who are fearful of the dentist. It is important for you to feel comfortable with your dentist.
If your fear is great, consider finding a therapist who can help you develop coping skills. Relaxation techniques can be learned to assist you when you are feeling distressed about a visit to the dentist. Remember that the dentist is not your enemy; your negative interpretation of the dentist is your enemy. That is not to say that all your negative perceptions about the dentist are unfounded. You may very well have had some very nasty experiences in a dentist's chair. Identifying the ideas that cause you anxiety can help you reformulate how you will think about the situation.
Dentists act as our partners in achieving excellent oral health. On this National Dentist Day, remember to make an appointment with your dentist. If you have a phobia of the dentist, take strides to overcome that fear and establish a working relationship with your dentist so you can have healthy teeth and gums and have a smile you can be proud of.
Nametag Day
If you've ever attended a meeting, reunion or class, chances are pretty good you've been asked to wear one whether you wanted to or not. You know what they are - those annoying identification badges that you either self-stick or pin on your lapel or shirt that say, "Hello. My Name is _______________." Well believe it or not, there is actually a special day of the year dedicated to name tags.
What's in a Name?
Nametag Day, also referred to as National Nametag Day, is an annual event that takes place during the first complete week in March, during the yearly Celebrate Your Name Week. This year's event occurs on March 6, 2014.
Other special days during the week-long event include Namesake Day, Fun Facts About Names Day, Unique Names Day, Discover What Your Name Means Day, Middle Name Pride Day and Descendants Day. No foolin'!
Whether your name is a traditional one, unusual one or trendy one, be sure to celebrate Nametag Day by proudly wearing a name tag all day long. And you never know. Maybe that little tag will come in handy just in case you forget your own moniker! And if you aren't too fond of yours, why not be someone else just for the day and make one up?
National Frozen Food Day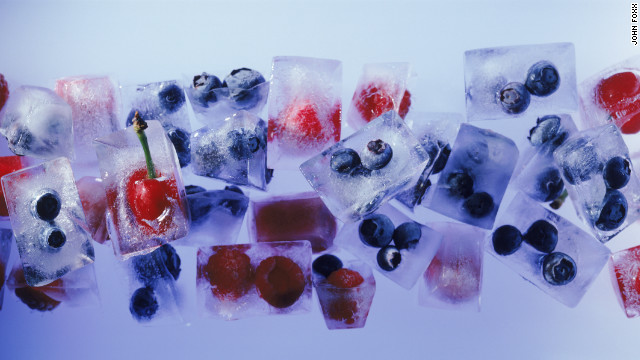 Ice, ice baby! March 6 is National Frozen Food Day.
We're not just talking about the pre-packaged meal you pop in the microwave when you're too tired to cook, we're talking about the four or five or six cases of the freezer section in your grocery store.
Since humans realized that keeping food cold kept it edible longer, the race was on to find the coldest form of food storage possible. Even though the first domestic refrigerator was invented in 1834, freezers were slower to catch on. It wasn't until the mid-20th century that people started keeping both a refrigerator and a freezer in their homes.
The technique for flash freezing food was invented by Clarence Birdseye (you probably recognize his last name from some of the frozen vegetables at the grocery store). In 1924, Birdseye was, of all things, working as a fur trader in Canada. He noticed that when local Inuit caught fish, it froze almost immediately but was still delicious when thawed out months later. He recognized that freezing food quickly meant its taste and texture could be preserved.
The science is relatively simple; slowly freezing food causes large ice crystals to form within the food. These crystals wreak havoc on the food's cells, bursting them open. When thawed, slowly frozen food is mushy, dry and lacked texture. But, flash – or blast – freezing means smaller ice crystals and less cell disruption.
Some people snub their noses at frozen food, and yes, the fresh option is generally better. But, consider this: Some fresh food needs to travel to its final destination over a period of days, so the food is picked right before it's ripe. That means it can't ripen any more once it's been picked, so it's hard to find fresh food that's at its peak ripeness. Frozen food, on the other hand, can be picked at optimal ripeness and then flash frozen on sight before traveling to its final destination.
National White Chocolate Cheesecake Day
Today is National White Chocolate Cheesecake Day! A Greek writer named Athenaeus recorded the oldest surviving cheesecake recipe. The ancient dessert called for just three ingredients—cheese, honey, and flour. Despite its simplicity, the Greeks believed that cheesecake had special powers. Brides and grooms ate it as wedding cake, and athletes enjoyed it before the first Olympic games in 776 BC!
The cheesecake we know and love today relies heavily on cream cheese, which wasn't invented until the 1870's. By the early 1900's, cheesecake appeared on almost every restaurant menu in New York City and soon became a nationwide sensation. People love to experiment with interesting cheesecake flavors like piña colada, turtle, pumpkin pecan, crème brûlée, red velvet, and today's reason to celebrate, white chocolate.
To celebrate National White Chocolate Cheesecake Day, bake a delicious white chocolate cheesecake or pick one up from your local bakery!
Day of The Dude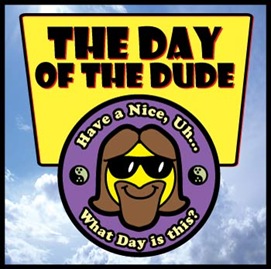 Although Dudeism is a religion of takin' er easy, there's one thing we get all worked up about, and that's…Takin' er Easy!
This year on March 6th we're going to get fired up about chilling and make it official: It'll be the first annual sacred Dudeist high holy day, The Day of the Dude.
Every religion needs its high holidays, and no religion takes taking a break more seriously than Dudeism. Though we considered many days for the holy day, we settled on March 6th because it's the day that The Big Lebowski was bequeathed unto the world way back in the year of our Dude, 1998.
At first we considered April 20, but that had already been taken by the Church of the Subgenius; then we though to have it on September 11th as that's the day the Dude writes on his check for 69 cents at the beginning of the movie, but of course that would be offensive to many folks. So finally we settled on March 6th, the Day of the Dude. So that's when and what you call it. Probably in the future we'll have more high holidays strewn throughout the year but you've got to start somewhere.
We recommend celebrating The Day of the Dude by getting together with like-minded Dudeists, drinking white Russians, watching the sacred film, and going bowling.
However, anything that pays honor to the high principles of Dudeism is fine:
Spend it alone in your private residence by taking a bath with candles and tapes of whale sounds.
Go to the beach (or the river, or the lake, or the swimming pool) with some pals and symbolically scatter the ashes of the previous year (suggestion: the ash from some naturally-occuring herbal substance will do).
Get dressed up in your robes, shorts, sunglasses and sandals and pass out the Take it Easy Manifesto at your local shopping mall.
Organize a full-on Jackie-Treehorn style garden party.
Set up a stand in a public area and ordain people into the Church of the Latter-Day Dude. Yes! If you're ordained as a Dudeist Priest you have that power! You only have to get their name and their email address and email us the list. Or, even better – set up a laptop and a printer and do it for them right there on the website, then give them a free printout of the online certificate. People will definitely dig your style.
Drive around while listening to Creedence, or the movie soundtrack and enjoy the occasional acid flashback.
Make some strongly commendable Dudeist art and send scans of them to us for our online gallery.
Go for a long walk and don't answer your phone all day.
Get a discussion group together to discuss The Big Lebowski, Great Dudes in History, Dudeist philosophy, etc.
Write an article about how you spent the Day of the Dude and send it in to the Dudespaper via center@dudeism.com. The best one will receive a free copy of the Dude De Ching!
Engage in a natural, zesty enterprise with a willing partner. Then tell each other about yourselves over cocktails and what-have-you.
Go to In-N-Out Burger, or make your own.
If you've got any other ideas, please put it in a comment below this article or email us at center@dudeism.com.
This year is an especially timely day for the Day of the Dude because the Academy Awards will be the following evening, on March 7th and we should all be saying dudely prayers on the Day of the Dude that Jeff Bridges will win the best actor award for Crazy Heart! He's the odds-on favorite, so Dude willing, the earthly avatar of our eternal cosmic Dude will finally get the recognition he deserves, at least by the square community.
National Oreo Cookie Day
Most of us have grown up with Oreo cookies. There are photos of us with chocolaty remnants smeared across our faces. They've caused great disputes as to the best way to eat them - dunking them in milk or twisting off one side and eating the middle first. Besides eating them plain, there are recipes galore on how to use Oreos in cakes, milkshakes, and additional desserts. Oreos had become part of twentieth century culture.
Though most of us have spent a lifetime cherishing Oreo cookies, did you know that since their introduction in 1912, the Oreo cookie has become the best selling cookie in the U.S.?
Oreos Are Introduced
In 1898, several baking companies merged to form the National Biscuit Company (NaBisCo), the maker of Oreo cookies. By 1902, Nabisco created Barnum's Animal cookies and made them famous by selling them in a little box designed like a cage with a string attached (to hang on Christmas trees).
In 1912, Nabisco had a new idea for a cookie - two chocolate disks with a creme filling in between. The first Oreo cookie looked very similar to the Oreo cookie of today, with only a slight difference in the design on the chocolate disks.
The shape and design of the Oreo cookie didn't change much until Nabisco began selling various versions of the cookie. In 1975, Nabisco released their DOUBLE STUF Oreos. Nabisco continued to create variations:
1987 -- Fudge covered Oreos introduced
1991 -- Halloween Oreos introduced
1995 -- Christmas Oreos introduced
The Mysterious Name
So how did the Oreo get its name? The people at Nabisco aren't quite sure. Some believe that the cookie's name was taken from the French word for gold, "or" (the main color on early Oreo packages). Others claim the name stemmed from the shape of a hill-shaped test version; thus naming the cookie in Greek for mountain, "oreo." Still others believe the name is a combination of taking the "re" from "cream" and placing it between the two "o"s in "chocolate" - making "o-re-o." And still others believe that the cookie was named Oreo because it was short and easy to pronounce.
No matter how it got named, over 362 billion Oreo cookies have been sold since it was first introduced in 1912, making it the best selling cookie of the 20th century.
World Book Day
World Book Day is a celebration! It's a celebration of authors, illustrators, books and (most importantly) it's a celebration of reading. In fact, it's the biggest celebration of its kind, designated by UNESCO as a worldwide celebration of books and reading, and marked in over 100 countries all over the world.
This is the 17th year there's been a World Book Day, and on 6th March 2014 children of all ages will come together to appreciate reading. Very loudly and very happily. The main aim of World Book Day in the UK and Ireland is to encourage children to explore the pleasures of books and reading by providing them with the opportunity to have a book of their own. That's why we will be sending schools (including those nurseries and secondary schools that have specially registered to participate), packs of Book Tokens and age-ranged World Book Day Resource Packs (age-ranged into Nursery/Pre-School, Primary and Secondary) full of ideas and activities, display material and more information about how to get involved in World Book Day.
Sofia Kovalevskaya Math Day
For more than twenty years Sonia Kovalevskaya Days have been organized and sponsored by AWM and held at colleges and universities throughout the country. Sonia Kovalevskaya Days (SK Days) consist of a program of workshops, talks, and problem-solving competitions for female high school and middle school students and their teachers, both women and men. The purposes are to encourage young women to continue their study of mathematics, to assist them with the sometimes difficult transitions between middle school and high school mathematics and between high school and college mathematics, to assist the teachers of women mathematics students, and to encourage colleges and universities to develop more extensive cooperation with middle schools and high schools in their area.
In recent years AWM provided funding for SK Days with grants from the National Science Foundation and the National Security Agency. AWM awarded grants ranging on average from $1500 to $2200 each ($3000 maximum) to universities and colleges. Historically Black Colleges and Universities are particularly encouraged to apply. Programs targeted toward inner city or rural high schools are especially welcome.
In prior grant periods, applications, not to exceed six pages in ONE pdf file, included:
a cover letter including the proposed date of the SK Day, expected number of attendees (with breakdown of ethnic background, if known), grade level the program is aimed toward (e.g., 9th and 10th grade only), total amount requested, and organizer(s) contact information;
plans for activities, including specific speakers to the extent known;
qualifications of the person(s) to be in charge;
plans for recruitment, including the securing of diversity among participants;
detailed budget (Please itemize all direct costs in budget, e.g., food, room rental, advertising, copying, supplies, student giveaways. Honoraria for speakers should be reasonable and should not, in total, exceed 20% of the overall budget. Stipends and personnel costs are not permitted for organizers. The grant does not permit reimbursement for indirect costs or fringe benefits.)
local resources in support of the project, if any; and
tentative follow-up and evaluation plans.
At this time AWM has not received grant funding to support SK Days for the 2013-2014 academic year. AWM is actively working to secure funding to continue the support of SK Days. When funding has been secured updates will be posted to this website. In the meantime if you have any questions, please contact the AWM office at
awm@awm-math.org
.