National Alcohol Screening Day
National Alcohol Screening Day (NASD) is an initiative first launched in 1999 by the National Institutes Of Health (NIH). The aim of this event is to increase public awareness that alcohol abuse and alcoholism (in which a person is dependent on alcohol), are recognized disorders which can be treated.
Throughout this day, members of the public are invited along to one of many screening centers across the United States. The people who visit the screening centers are dealt with on a case by case basis; they are asked to complete a written self-assessment about their alcohol use. Health care professionals at the centers then tailor advice to the person concerned.
When a persons use of alcohol has been assessed, they are then informed about the different types of alcohol related problems. Where relevant, the person is then given advice as to where help can be sought.
In some cases, it is a friend or family member of the person being screened who has an issue with alcohol. In such cases, professional advice is given on how to approach this other persons problem.
The first screening day in 1999, saw over 50,000 people visit the 1500 screening centers throughout the United States for advice; a higher than expected number of college students attended.
Alcohol abuse can be high in college students, who, whilst typically not dependent on alcohol, abuse it by frequently drinking large volumes. Excessive, often rapid, consumption of alcohol is also known as 'binge drinking'. In a follow up study of Alcohol Screening Day, it was found that 44% of college students interviewed, had consumed over four alcoholic drinks in a drinking session, on one or more occasions within 30 days.
Alcohol abuse can lead to many recognized health problems which can include anxiety, depression, sexual problems. Where alcohol abuse occurs over a longer period of time, there is increased risk of developing certain cancers, liver cirrhosis, high blood pressure and heart problems.
National Alcohol Screening Day has grown into a nationally recognized awareness campaign; there is a
dedicated website
which covers this event.
Four areas of 'response' have been designated for National Alcohol Screening Day. These are titled:
CollegeResponse
WorkplaceResponse
CommunityResponse
Military Pathways
Each response is focussed on different aspects of society in which the public are given an opportunity for alcohol screening.
For example, the CollegeResponse provides alcohol screening to college students. The screenings may be online or in person at a college campus. 'In Person' screening kits are provided to educational establishments so they can run their own screening program on this day. The kits include, screening forms, magnets, posters, and educational information about alcohol abuse and healthy living.
The workplace, community and military response screening programs center around a customized website in which people are encouraged to take an online screening program for alcohol. As with the CollegeResponse, the aim of these screenings is to identify possible problems a person may have with alcohol and direct them to further assistance if required.
National Cinnamon Crescent Day
National Cinnamon Crescent Day is celebrated on April 10 every year in the United States of America. Cinnamon crescent rolls are essentially cinnamon rolls that are made using crescent roll dough (which may either be bought or made at home) filled with cinnamon, sugar, butter and sometimes raisins. They may also be frosted if desired.
The history of cinnamon dates back to ancient times, and it was used by ancient Egyptians as part of the mummy embalming process. Cinnamon has been used as a medicine to treat throat maladies, and was also used to preserve meats. In modern times, cinnamon is primarily grown in tropical areas such as South America and the West Indies.
There is little documentation available for National Cinnamon Crescent Day. The holiday may have been started by a company that makes crescent roll dough or cinnamon, or could possibly be the work of a group or individual that adores this food. Such food holidays are sometimes proclaimed by government officials at the state, federal or local level.
Any celebrations for National Cinnamon Crescent Roll Day are likely to be local and not widespread. Food companies may use the opportunity to promote their products, and thus there may be advertisements about the day. Those who wish to celebrate at home can make a batch of cinnamon crescent rolls for friend and family.
National Sibling Day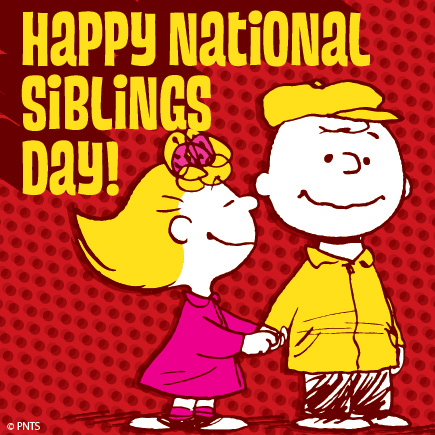 National Siblings Day is an American celebration held annually on April 10 to honor the relationships of siblings. It is not federally recognized, unlike Mother's Day and Father's Day, although this is the stated goal of the National Siblings Day Foundation. Since 1998, the governors of 45 states have officially issued proclamations to recognize National Siblings Day in their state.
The holiday was originally conceived by Claudia Evart to honor the memory of her brother and sister, both of whom died. The organization was incorporated in 1997 and achieved non-profit status in 1999.
Carolyn Maloney, then U.S. Representative for New York's 12th congressional district, officially saluted the holiday and introduced it into the official Congressional Record of the United States Congress on April 6, 2005.
International Safety Pin Day
10 April is International Safety Pin Day.
Apparently the inventor of the Safety Pin, Walter Hunt, was never short on clever ideas – he invented a flax spinning machine, a fire engine gong, a forest saw and a coal-burning stove, among others. But as good as he was with coming up with clever new inventions, finances probably wasn't his strong suit.
Consider the safety pin, for example…
Legend has it that, faced with a $15 debt to a friend, Hunt figured the best way to get the money was to invent something new. So, armed with a piece of sharpened brass wire which he coiled in the middle and equipped with a clasp at the end to hold and shield the sharp edge, he created the first safety pin. He patented the concept on 10 April 1849, sold it to W. R. Grace and Company for $400, paid his friend the $15 he owed, and was left with the rather attractive sum of $385 for his efforts. Not too shabby! Sadly for Hunt the story didn't end there. The new owners of the safety pin patent ran with the concept and is said to have made millions from the invention. I can imagine this must have left Hunt with a rather sour taste in the mouth, but then again, he may not have noticed, most likely being kept busy working on some other new inventions already.
To this day, Walter Hunt's safety pins remains one of those super-useful things to have around in the house, the car and anywhere you may ever have a need for a fastener or a pin. The safety clasp means you won't hurt yourself feeling around for it in a cupboard or the car's cubbyhole, and beyond its function as a 'normal' pin, it's great for holding together torn or damaged clothing, or any variety of other things that need holding together.
And of course, if you're that way inclined, you can even use it as a piece of emergency jewelry!
ASPCA Day
On April 10, 1866, the American Society for the Prevention of Cruelty to Animals (ASPCA) is founded in New York City by philanthropist and diplomat Henry Bergh, 54.
In 1863, Bergh had been appointed by President Abraham Lincoln to a diplomatic post at the Russian court of Czar Alexander II. It was there that he was horrified to witness work horses beaten by their peasant drivers. En route back to America, a June 1865 visit to the Royal Society for the Prevention of Cruelty to Animals in London awakened his determination to secure a charter not only to incorporate the ASPCA but to exercise the power to arrest and prosecute violators of the law.
Back in New York, Bergh pleaded on behalf of "these mute servants of mankind" at a February 8, 1866, meeting at Clinton Hall. He argued that protecting animals was an issue that crossed party lines and class boundaries. "This is a matter purely of conscience; it has no perplexing side issues," he said. "It is a moral question in all its aspects." The speech prompted a number of dignitaries to sign his "Declaration of the Rights of Animals."
Bergh's impassioned accounts of the horrors inflicted on animals convinced the New York State legislature to pass the charter incorporating the ASPCA on April 10, 1866. Nine days later, the first effective anti-cruelty law in the United States was passed, allowing the ASPCA to investigate complaints of animal cruelty and to make arrests.
Bergh was a hands-on reformer, becoming a familiar sight on the streets and in the courtrooms of New York. He regularly inspected slaughter houses, worked with police to close down dog- and rat-fighting pits and lectured in schools and to adult societies. In 1867, the ASPCA established and operated the nation's first ambulance for horses.
As the pioneer and innovator of the humane movement, the ASPCA quickly became the model for more than 25 other humane organizations in the United States and Canada. And by the time Bergh died in 1888, 37 of the 38 states in the Union had passed anti-cruelty laws.
Bergh's dramatic street rescues of mistreated horses and livestock served as a model for those trying to protect abused children. After Mary Ellen McCormack, 9, was found tied to a bed and brutally beaten by her foster parents in 1874, activists founded the New York Society for the Prevention of Cruelty to Children. Bergh served as one of the group's first vice presidents.
National Farm Animals Day
Old MacDonald would love this holiday! April 10th is National Farm Animals Day, an annual event that helps shine the spotlight on the plight of slaughter animals.
This special day also helps find homes for abused, neglected and/or abandoned farm animals and also brings attention to the many benefits of a compassionate, meat-free diet. The annual holiday is the brainchild of animal lover, vegetarian and Celebrity Pet Lifestyle Expert, Colleen Paige, who also founded National Puppy Day.
While many people enjoy a great burger or steak out on the barby, many people don't know or just don't want to think about the cruel horrors many farm animals endure. Sadly, many farm animals are raised in inhumane and downright disgusting conditions and suffer their entire lives only to end up on the dinner plate. This important holiday brings attention to the unnecessary suffering these amazing creatures endure.
The Farm Sanctuary is a vital non-profit organization that has played a role in hundreds of animal rescues throughout its 25 year history. The organization also has a Volunteer Program if you'd like to help. Please consider making a small donation to this wonderful organization that helps defend and rescue farm animals in need.
Vegetarian 'Fair'
There are many health benefits of a meat-free diet. Vegetarians usually have lower cholesterol, lower BMI, lower risk of Type 2 diabetes and certain types of cancer, and a longer life expectancy – about 7 years. Plus you'll save money at the grocery store too. Switching to a vegetarian diet is not only good for you, it's good for the millions of farm animals that are slaughtered each and every day and the environment as well. The Mayo Clinic has some good tips on how to get the best nutrition when you are on a vegetarian diet.
If you have considered switching to a meat-free diet, today is the perfect time to give it a go. With so many people switching to a vegetarian lifestyle, finding delicious meat-free recipes and fabulous meals is easy peasy. Please visit Veg for Life for more information. And speaking of veggie recipes, Vegetarian Times is touted as having the largest collection of vegetarian recipes in the world!
Golfer's Day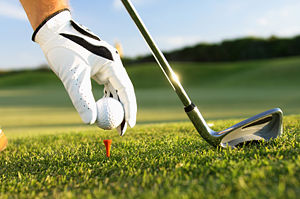 If you've had a "rough" day or are tired of puttering around the house - get a "grip." There's no need to get "teed" off today. April 10 is Golfer's Day.
This annual "holiday", also referred to as Golf Day, is dedicated to those who love the sport of golf. Rodman Wanamaker, along with charter members, founded the Professional Golfers Association of America (PGA) on this day back in 1916.
Folks have been playing golf for centuries. The first recorded game was played in Scotland in 1457 and golf has been a popular sport ever since. It is estimated there are more than 28 million men, women and children golfers in the United States alone. And not only is golfing popular with golfers, the sport also provides jobs for more than 2 million people too.
Regardless of how young or old you happen to be or whether you consider yourself a novice or pro, today is the perfect day to get out on the course, play a round or two and take your best swing.