National Peach Cobbler Day
It's National Peach Cobbler Day! A cobbler is a deep-dish fruit pie covered with a thick crust made from biscuit dough. This delicious dessert originated in the American West during the 19th century. Although for many years people did not consider cobbler fashionable enough to serve to guests, it has now earned a permanent place in the pantheon of wholesome American desserts.
Did you know that the world's largest peach cobbler was 11x5 feet across and 8 inches deep? It appeared at the the Georgia Peach Festival in 2007 and contained 90 pounds of butter, 150 pounds of sugar, 150 pounds of flour, 32 gallons of milk, and 75 gallons of peaches!
To celebrate National Peach Cobbler Day, bake a delicious peach cobbler for dessert tonight!
National Scrabble Day
How many four-letter words do you know? What about eight-letter words? If you are a lover of words and are up for a challenge, it may just be your l-u-c-k-y day! April 13 is National Scrabble Day, an annual holiday that 'spellebrates' one of America's most popular board games - Scrabble.
National Scrabble Day celebrates the Father of Scrabble, who was born on April 13, 1899. Alfred Mosher Butts invented the game back in 1938. Butts, an unemployed architect at the time, invented the game during the Great Depression. He wanted to combine crossword puzzles and anagrams with an element of chance.
The very first boards and tiled letters were actually drawn by hand. Originally called Lexiko and Criss-Cross Words, the name was eventually changed to SCRABBLE. And believe it or not, it took awhile for the game to take off. Today, Scrabble is available in many languages and in Braille and can also be played online.
Butts passed away on April 4, 1993. He was 93 years old.
Scrabble is not only fun to play and educational, being a "word nerd" is good for your brain! Some believe the game can help players learn new words and improve math, dictionary and thinking skills.
In honor of the annual event, why not invite the family or BFFs over for a friendly game of Scrabble? Or why not participate in National Scrabble Day by playing a game on Facebook or by updating your Facebook profile pic with a Scrabble icon? How do you spell F-U-N?
Thomas Jefferson Day
Future President Thomas Jefferson, drafter of the Declaration of Independence and the nation's preeminent political theorist, is born on this day in 1743.
Historian and biographer Joseph Ellis has called Jefferson, who had a monumental role in shaping American politics, the American sphinx for his enigmatic character. Since his terms in office, presidents and politicians from both ends of the political spectrum have borrowed from Jefferson's political philosophy in an attempt to link their own leadership with this most influential and admired founding father.
Jefferson's character--as a man or a president--defies definition in black and white. He was at once an intellectual, architect, philosopher, musician and essayist. His fascination with science prompted his study and collection of fossils. He projected a down-to-earth, relaxed and unconventional attitude and his desire to be seen as a common man was reflected in his penchant for receiving White House visitors in a robe and slippers. Jefferson denounced oppressive government and was a fierce proponent of freedom of speech and religion. He worried that fellow founding fathers George Washington, John Adams and Alexander Hamilton had designs to fashion the American presidency after a monarchy. When Washington and Hamilton proposed a national bank and state assumption of national debt, Jefferson resigned from Washington's cabinet in protest. He adamantly rejected Hamilton's plan to build a strong federal military, fearing it might be used by a tyrannical leader against American citizens.
Though Jefferson was highly principled, he was not above using smear tactics against political opponents. He anonymously assailed his victims in print under a pseudonym and helped to fund the anti-Federalist press.
Although in theory Jefferson desired the abolition of slavery, it is a fact that Jefferson owned other human beings who worked his plantation. Historical accounts indicate Jefferson treated his slaves well within the context of the times. It has long been rumored--and debated by historians--that one of his slaves, Sally Hemings, was Jefferson's lover. She bore a son, named Eston, in 1808. For 200 years, the Hemings affair and Eston's paternity were the focus of intense scholarly analysis. In 1998, DNA testing proved that a Jefferson was Eston's biological father, which many took to mean that he was indeed Thomas Jefferson's son, a fact backed up by the oral tradition of the Hemings family. However, other scholars have disagreed with this conclusion and it remains a topic of fervent debate.
Jefferson, a widower since the death of his wife Martha in 1782, is also thought to have had a relationship with Maria Cosway, a beautiful (and married) British painter and musician whom he met while serving as minister to France. Jefferson's relationship with Cosway inspired him to write the romantic essay A Dialogue Between the Head and Heart in October 1786. One historical account of their affair paints Jefferson as a lovesick schoolboy--as he and Cosway shared a romantic walk in the countryside near Paris, Jefferson attempted to leap over a fence, fell and broke his wrist.
Jefferson's anti-federalist policies and personal attacks on John Adams caused a huge falling-out between the two former friends. After retirement, though, Adams and Jefferson rekindled their personal connection. The last two original revolutionaries living, Jefferson and Adams, died on the same day: July 4, 1826.
The Innocence Revolution: Global Day to End Child Sexual Abuse
Child sexual abuse spans the globe and, as an international society, our silence allows predators to violate and defile children in all countries. Violated children turn to drugs, alcohol, violence, and other self-destructive behaviors. They struggle with depression, alcoholism, drug addiction, eating disorders, cutting, social isolation, and violence. While child sexual abuse is not the cause in every case, we can significantly reduce all of these social ills by eradicating child sexual abuse and assuring that each child enters adulthood with their emotional, physical and sexual boundaries intact.
The Innocence Revolution: A Global Day to End Child Sexual Abuse was created to build awareness and launch a global crusade against the crime of child sexual abuse. Slated to be held in cities throughout the World on April 13, 2014, we ask you to join us in this crucial, historic event.
It's exciting and encouraging to see so many people from around the world reaching out to be a part of The Innocence Revolution: A Global Day to End Child Sexual Abuse. This is a tremendous, history-making event that can truly bring lasting change. As we work to create events and educational programs for April 13, 2014, we know that it will take the efforts of millions of people around the world to make it happen. We also have seen, already, the enthusiasm of those who are eager to be a part of this world-changing revolution.
Right now, you might find yourself wanting to be involved, but you're not quite sure how you can help. Remember that big change starts with small actions, and everything you do to help the cause of The Innocence Revolution makes a difference. As Margaret Mead once said, "Never doubt that a group of thoughtful, committed citizens can change the world. Indeed, it is the only thing that ever has."
Getting involved is as simple as emailing us at TheInnocenceRevolution@gmail.com and letting us know your city, state and country. (If you're part of an organization, let us know that, too.) As you commit to The Innocence Revolution, there are simple ways to join in this initiative:
Talk about it. Tell your friends about this groundbreaking event, and encourage them to be a part of it.
Follow us on Facebook and Twitter (@theinnocencerev) to remain up to date on new ideas and events. Ask your friends to follow us, too!
Visit this blog regularly to get ideas for events or to connect with others in your area.
Share your thoughts. Do you have an innovative idea for an event that others might want to try? We want to hear about it!
Contact local organizations in your area - such as your local Children's Advocacy Center - to gain their support.
In the weeks to come, we'll offer specific ideas about how you can create events, get volunteers to help you and more. For now, welcome to The Innocence Revolution: A Global Day to End Child Sexual Abuse.
Undiagnosed Children's Awareness Day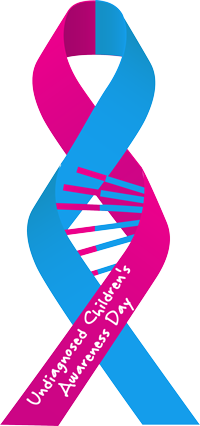 April 13 2014 is Undiagnosed Children's Awareness Day. We aim to raise awareness in the community about the large number of children in Australia and around the world who are living without a medical diagnosis for their genetic condition.
According to current estimates, 1 in 20 children are born with a genetic disorder, yet we only hear about the most common syndromes, or the ones that receive the most funding or have the biggest lobby groups. Of those children who present to geneticists with syndromic features, 60% may not ever receive a diagnosis. Imagine what it would be like to have a child with a syndrome without name and an unknown future.
This is our chance to speak out and increase community awareness of the large number of children who do not have a diagnosis. The facts are that medical science is not moving fast enough and is too expensive or not accessible enough for Australian children, particularly those who are regressing. Other children may have; complex medical needs, intellectual, physical, communication, behavioural and sensory difficulties. The future for thousands of children who are undiagnosed is a mystery.