National Bookmobile Day
Held on the Wednesday of National Library Week since 2010, National Bookmobile Day (NBD) recognizes and celebrates the role of bookmobiles and direct-delivery outreach services in fulfilling the mission of libraries. An integral and vital part of library service in the United States for over 100 years, bookmobiles have delivered information, technology, and resources for life-long learning to Americans of all walks of life.
National Bookmobile Day is sponsored by the American Library Association's (ALA) Office for Literacy and Outreach Services (OLOS), the Association of Bookmobile and Outreach Services (ABOS), and the Association for Rural & Small Libraries (ARSL).
The third annual National Bookmobile will be celebrated on Wednesday, April 16, 2014.
A Brief History
Modern bookmobile service is thought to have its roots in the late 19th Century.
The first bookmobile service in the U.S. is widely acknowledged to have started in 1905 by Mary Lemist Titcomb in Washington County, Maryland. Titcomb, the first librarian of the Washington County Free Library, saw the need to expand library services from the main location in Hagerstown to homes across the largely rural county. Initially, the service saw materials distributed to general stores, post offices, and other locations throughout the county via the library's wagon – initially serving 66 locations.
Unsatisfied by this, Titcomb sought to create what she referred to as a "Library Wagon" and began consulting with wagon makers to design a purpose-built horse-drawn wagon. Staffed by a librarian and a driver, the new Library Wagon began its service, visiting farms and homes across the county. In 1912, the county acquired its first motorized bookmobile, and the service over time has been expanded from rural service to stops at senior citizen centers, schools, and other locations, and continues to present day.
In India, the concept of a mobile library was introduced in 1931 during a meeting of the Madras Library Association. Promoted by S.R. Ranganathan, considered "The Father of Library Science" in India, this two-wheeled cart – the first mobile library in Southern Asia – echoed his ideals of library service as a means to help improve rural education.
Bookmobiles can be found around the world, in many different forms – from the familiar bus or van-like vehicles to other means of transport, including a biblioburro in rural Colombia, a camel library service in Uganda, the M.S. Epos library ship in Norway, and elephant libraries in Thailand.
National Eggs Benedict Day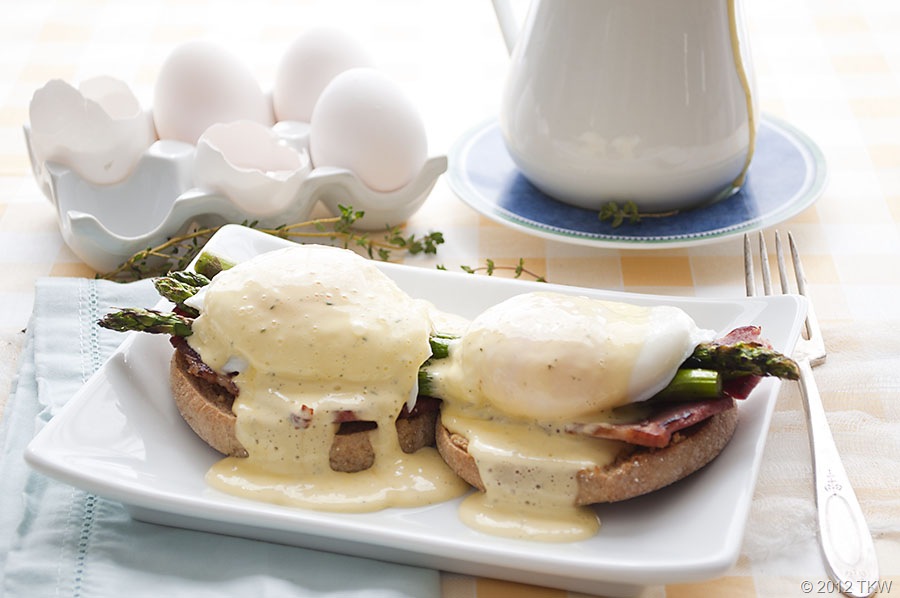 It's National Eggs Benedict Day! Eggs Benedict is a breakfast dish made with two toasted English muffin halves topped with poached eggs, bacon or ham, and tangy Hollandaise sauce.
Many people claim that they invented Eggs Benedict. According to one story, in 1894 a Wall Street broker named Lemuel Benedict went to the Waldorf Hotel to find a cure for his hangover. At the hotel restaurant he ordered buttered toast, poached eggs, crisp bacon, and Hollandaise. The restaurant chef Oscar Tschirky loved the dish so much that he added it to the menu and named it after Mr. Benedict.
Another account comes from a man named Edward P. Montgomery. In 1967 he wrote a letter to The New York Times Magazine claiming that he'd discovered the true inventor of Eggs Benedict. Montgomery's note contained a recipe created by Commodore E.C. Benedict before his death in 1920. Montgomery received the recipe from his mother who was an acquaintance of the Commodore.
Regardless of where the recipe for Eggs Benedict originated, it is now considered a classic. Enjoy this delicious dish for breakfast, lunch, or dinner today to celebrate National Eggs Benedict Day!
National Stress Awareness Day
The 16th National Stress Awareness Day, which is held to celebrate helping people to beat stress will take place on April 16, 2014.
Do you know the main reasons for stress at work? There are increasing redundancies taking place in our current climate for one thing. Inevitably this leads to a lot of worries arising where people might wonder how they'll get by or provide for their families.
Relationship conflicts between colleagues, a build up of accidents caused by a worker and problems linked with the overall upkeep of the organisation's image could also contribute to elevated stress levels. Depression and issues from work are one of the main causes of stress reported by patients in the doctor's surgery.
So do you have a routine that helps you get rid of tension? If the answer is yes, great! When we're happy we're healthy and that sets us up for a longer, more fulfilled life. If the answer is no, don't stress over it! The International Stress Management Association (ISMA) is here to help!
But you don't have to wait around until the day itself, now is the time to start taking action.
You could begin by organizing your own event to raise awareness of how to deal with stress in the workplace on the day! ISMA have provided lots of ideas and tips on how to manage planning the event.
For example, you could set up your own stand and ask local businesses to offer treatments like aromatherapy, massages or reflexology. All are known to be great stress relaxation techniques. For your checklist go to the National Stress Awareness Day website for more information about how you can get involved.
If I'm feeling stressed I can take a bath or write my diary to get rid of any pent up feelings! But it's always good to accept a bit of outside help from time to time.
National Healthcare Decisions Day
The National Healthcare Decisions Day, April 16, will help Americans understand that making future healthcare decisions includes much more than deciding what care they would or would not want; it starts with expressing preferences, clarifying values, identifying care preferences and selecting an agent to express healthcare decisions if patients are unable to speak for themselves.The National Healthcare Decisions Day (NHDD) initiative is a collaborative effort of national, state and community organizations committed to ensuring that all adults with decision-making capacity in the United States have the information and opportunity to communicate and document their healthcare decisions.
National Healthcare Decisions Day exists to inspire, educate & empower the public & providers about the importance of advance care planning. National Healthcare Decisions Day is an initiative to encourage patients to express their wishes regarding healthcare and for providers and facilities to respect those wishes, whatever they may be.
National Healthcare Decisions Day will be a 50-state annual initiative to provide clear, concise, and consistent information on healthcare decision-making to both the public and providers/facilities through the widespread availability and dissemination of simple, free, and uniform tools (not just forms) to guide the process. The day will highlight 50 independent, but coordinated, state events (necessitated by the difference in state laws and dynamics) supported by a national media and public education campaign. In all respects, the event is intended to be inclusive and should bring a variety of players in the larger healthcare/legal/religious community together to work on a common project, to the benefit of patients, families, and providers. To foster growth and improvement in subsequent years, the (initial) design should not be prescriptive; it should, instead, allow for and foster creativity. This will enable best practices to be identified and refined, likely with the aide of a post-event National Conference.
Demystify healthcare decision-making and make the topic of healthcare decision-making inescapable. On Healthcare Decisions Day, no one in the U.S. will be able to open a paper, watch TV, view the internet, see a physician or lawyer, or go to a healthcare facility without being confronted with the topic. The event will help people understand that advance healthcare decision making includes much more than living wills; the process should focus first on conversation and choosing an agent.
Across the country, every single hospital, nursing home, and assisted living facility that is required to provide public education on advance directives as a result of Conditions of Participation with CMS and/or the Patient Self-Determination Act will participate as the flagship venues for the public to obtain the Education and Empowerment mentioned above. Other participating organizations/facilities that have their own physical spaces will engage in activities concurrent with the flagship venues. Those organizations that lack physical spaces will work in conjunction with others or at non-healthcare venues (libraries, grocery stores, etc.) to support the initiative. A variety of churches, synagogues, and mosques around the country will also support the effort by highlighting the importance of the issue with their congregations.
National Wear Your Pajamas To Work Day
Today is National Wear Your Pajamas to Work Day! How many times have you just wanted to roll out of bed and head into work in your cozy, comfortable pajamas? Well, today you can!
National Wear Your Pajamas to Work Day is exactly what it sounds like—a day dedicated to wearing your pajamas to work. This holiday always falls on the weekday after taxes are due because an ultra-casual day is the perfect way to recover. Just make sure to check your schedule to make sure you don't have any big meetings planned!
Check out all the celebrities and companies that celebrate
National Wear Your Pajamas to Work Day
, and sport your favorite PJs to the office today to join in the fun!
Teach Your Daughter to Volunteer Day
I personally believe this is such an important time to have a meaningful conversation with your child regarding the importance of volunteer work and the many benefits associated with it. Starting a dialogue is only the beginning, and you might be highly surprised at the amount of knowledge your child already has about different types of volunteer work and programs. Do you have causes that are near and dear to your heart? Have you been actively involved in programs or charities? Do you seek out those in your community or others in need, to help in your spare time? Well if so that is wonderful, and if not it's never too late to turn your little amount of spare time into time that truly makes a difference. Remember when you are assisting others tell your daughter(s) about it and better yet ask them to come along, provide their own ideas, and get into the spirit of service.
I have a few causes and charities that I get involved in when time permits. One thing I did last year was to volunteer as the Cheerleading Coach at my daughter's school-
Excel Institute
. I knew they were in need of a motivated coach to lead the team and at the time I wasn't working as many hours so I volunteered my services. My daughter was apart of the cheerleading squad and was so excited to have mom as her coach. She knew I was volunteering my time and making a commitment to the squad. It was a lot of work and added quite a bit to my commute time as well but the rewards were far greater. I believe in the school and their mission and they have been a positive and wonderful asset to the community for many years. This school provides so much more than a quality education but gives kids a sense of self esteem, pride, awareness, humility, and constantly teaches them that they are important and can achieve anything in life with perseverance and the right mindset. The school often struggles to make ends meet but always puts students and parents first with keeping costs down as much as possible while providing an education second to none. So you can see why my heart is in this. I have also assisted with other programs and fundraisers within the school and do whatever humanly possible to be a support system. All the while my daughters' see this and get the right idea. This past summer I went directly from an event I volunteered for, to the school to wash cars for a fundraiser. Believe it or not the girls are actually proud of mommy.
American Heart Association
is also on my list for volunteering services and has such a deep meaning; which I share with my girls. I have been a volunteer for the past three years and help to raise money and awareness through their programs; specifically Heart and Stroke Walk. This just scratches the surface; whenever a cause comes along that has special or deep rooted meaning to me I get involved on some level. Now that my girls are 4 and 7, I talk to them frequently about the importance of helping others and giving of themselves as well as their talents and skills to make a difference in someone else's life. The reward is not monetary but so much deeper, and the feeling you get after assisting those in need, or helping with a cause that is highly beneficial is priceless. My girls love to help others. Madison is a natural nurturer and just has a huge heart for anyone she encounters. She makes it her responsibility to help pickup every child that falls (even those older and more experienced than her) at the ice skating arena, during the Public Skate sessions. The parents are in awe of her and the kids she helps just don't know what to make of it. Keep the dialogue going and be a shining example of giving of yourself to others. Our kids are very bright and want to know what they can do to contribute to our world.
My oldest is constantly searching for recyclables while we are on neighborhood strolls. If she sees trash she is eager to pick it up and throw it in the trash bin. When she sees cans or bottles she asks excitedly if we can bring it home to have it recycled. In addition, this week the school is hosting a canned food drive and my girls were on the hunt in the pantry to find canned goods to bring in. I am so proud of the young ladies they are already becoming. While the girls and I were out to dinner last night after Morgan's ice skating lessons we saw a donation box for collecting funds that would benefit high achieving community schools- one beingExcel Institute- so Morgan and I eagerly searched my purse for spare change to drop in the box. These are ways that you can also teach your children about donating to local charities and programs. It's the little things that in turn add up to large amounts and count.
OK the following are some great local charities, organizations, and programs that you and your girls can get involved with together:
Judi's House
which provides support for grieving children and young adults ages 3-24. They have the opportunity to participate in peer-based support groups with those their own age who have had similar experiences relating to death loss. Speaking from personal experience this is a wonderful organization and truly provides both kids and their parents/grandparents/relatives the proper tools to deal with the loss of loved ones. Call 720.941.0331 for more information, to donate, or volunteer.
Heartlight Center
which provides many support groups to those grieving. Once again this is a wonderful and much needed program. Call 720-748-9908
American Heart Association
which provides the latest heart health information, many programs to help you stay healthy, education, prevention, and research for cures. Call 303-369-5433
Epilepsy Foundation
which provides sufferers of Epilepsy and their families' access to critical services. Call (303) 377-9774
St. Baldrick's Foundation
whose mission is to raise awareness and funds to cure children's Cancer. Call 1-888-899 BALD (2253)
March of Dimes
supports programs in the community which aid mothers in having healthy, full term pregnancies. Call (303) 692-0011
Denver Zoo
which provides a wildlife conservatory offering high quality experiences in an urban setting. The Denver Zoo also provides environmental education which motivates the public to be aware of global conservation. Call (303) 376-4886
Denver Botanic Gardens
helping people to understand, appreciate, and connect with plants. Email them @
vol@botanicgardens.org
Don't forget local schools, churches, and community centers always need help as well with accomplishing their mission. Make your spare time count, spend more time with your children, and teach them about the different avenues of giving. Even though Colorado is experiencing a pretty hefty spring storm at the moment, no worries you have plenty of time to volunteer. There are 365 days in the year. Good luck.
Save The Elephant Day
They might be wildlife icons, but, sadly, elephants are in crisis. Save The Elephant Day is a chance to show our love and support for these much-loved giants and raise awareness of the threats to their future in both Africa and Asia, ranging from ivory poachers and traffickers to loss of habitat.
Also known as World Elephant Day, the occasion was founded by the Elephant Reintroduction Foundation, based in Thailand, working together with Canadian film-maker Patricia Sims. The launch of this international initiative in 2012 saw the release of the documentary film 'Return to the Forest', narrated by Star Trek legend William Shatner.
The ideal way to mark the day is to donate to a charity helping elephants or organize an event in aid of these beautiful but threatened beasts. You could also watch a wildlife film about elephants or sign a petition to raise awareness.