Draw a Picture of a Bird Day
In 1943, Dorie Cooper was a 7 year old living in England. Her mother took her to a hospital in to visit her uncle who was wounded in the war. While they were there, Dorie's uncle was very distraught, having lost his right leg to a land mine. In an attempt to cheer him up, she asked him "Draw a bird for me, please" Even though he was unwell, he decided to do as Dorie asked. He looked out his window and drew a picture of a robin.
After seeing her uncle's bird picture, Dorie laughed out loud and proclaimed that he was not a very good artist, but that she would hang the picture in her room nonetheless. Her uncle's spirits were lifted by his niece's complete honesty and acceptance. Several other wounded soldiers also had their day brightened by the event and every time Dorie came to visit thereafter, they held drawing contests to see who could produce the best bird pictures. Within several months, the entire ward's walls were decorated by bird drawings.
3 years later, Dorie was killed after being struck by a car. At her funeral, her coffin was filled with bird images that had been made by soldiers, nurses and doctors from the ward where her uncle had been. Ever since then, those men and women remembered the little girl that brought hope to the ward by drawing birds on her birthday, April 8th.
Draw a Bird Day was never declared an official holiday, but it grew through those soldiers and medical personnel and their families. Today, it is celebrated world wide as a way to express joy in the very simplest of things in life and as a way to help soldiers everywhere forget war and suffering even if only for a short time.
National All is Ours Day
When we think of the entire world that surrounds us, we should also appreciate what we have rather that what we do not and is generally out of our reach. This is what All is Ours Day is about. This is a day which rejoices in the fact that the world is full of things which belong to all of us in the world. National All is Ours Day is celebrated on the 8th of April every year.
Concept of National All is Ours Day
There are two aspects to this day. The first aspect is to highlight all the wonderful things in the world. We should become more aware of our surroundings and what exists in them. The other aspect compels people to actually consider that a lot of these things belong to everyone and so they can actually be shared with all. This is where the "all" comes in.
Activities on All is Ours Day
The first thing to do on this day is to spend time looking around and noticing how many wonderful things exist which can be shared with all of us. For example, the fragrance of a flower can be shared with someone by bringing to their notice what a beautiful thing exists and it is available to all.
Sharing is the main activity of this day, so take time out to share something special with another.
National all is Ours day is also a day of introspection. If we look around, we will realize how much we actually have to be grateful for and we should aim to be contented by what we have, rather than always yearning for what we do not.
International Be Kind To Lawyers Day
Happy International Be Kind To Lawyers Day! (Previously known as National Be Kind To Lawyer's Day!!) Have you not heard of it? Have you not read my article on this Special Celebration from years past? If your answer to these questions is NO, then you, my friend, are missing out (especially if you are a lawyer)!
So, what is this International Be Kind To Lawyers Day? I am so glad you asked! Steve Hughes, a non-lawyer from St. Louis, has been working with attorneys for many years now through his consulting firm Hit Your Stride, LLC. Whenever Steve merely mentions that he works with lawyers, he is more often than not met with snide comments, jokes and scowls. He hears things like, "Lawyers? I bet that's a treat." Or, "Lawyers? You poor thing." So he asked himself, "Is it too much to ask to be nice to lawyers for just one day?" And in answer to his question, not to mention as a result of his playing defense counsel for an entire profession, the idea for National Be Kind To Lawyers Day was born.
The terms "Attorney" and "Lawyer" have always had such a negative connotation attached to them. Steve explains:
Lawyers all over the globe get a lot of grief…just for being lawyers. Jokes are made about them and they consistently rank as one of the least respected professions on the planet. (Sandwiched between financial planners and cigarette manufacturers.) Yet, when regular people need help writing a will, running a business or avoiding jail time, who do they flock to? Lawyers!
He states on his website that one day when he:
…was putting away the decorations from National Bubble Wrap Day (late January) his thoughts drifted to National Ice Cream Day (late July) and then it struck him. Why not a special day for lawyers? Lawyers are just as good as bubble wrap and ice cream, in fact, they're better.
After extensive planning, detailed research and countless reviews by a team of legal experts, NATIONAL BE KIND TO LAWYERS DAY was established as an annual holiday celebrated on the second Tuesday in April
This day, set aside in honor of all attorneys, and other law professionals far and wide, happens to fall on the second Tuesday of April. This date was the date of choice, ironically, "…because it is strategically sandwiched in between April Fool's day and Tax Day April 15th." And I agree with Steve, lawyers are just so misunderstood. Regardless of whether lawyers are misunderstood, Steve says: "I'm thrilled with the growth and acceptance of Be Kind to Lawyers Day. Every year our website gets more and more visitors and the press has supported with numerous positive mentions."
Just the sheer mention of the words lawyer and attorney have probably already stirred up a "Lawyer Joke" or 2 in your mind, even if you are a lawyer! I mean really, isn't it a shame how only 99% of the lawyers can give the whole profession a bad name? I know, I know, bad joke. But you must admit that the entire concept of National Be Kind To Lawyers Day has a bit of a comedic twist to it. In fact I wasn't even surprised to hear that prior to starting his own consulting firm, Steve Hughes was a stand-up comedian.
Steve is funny and lighthearted in his approach. It's nice to see that there are other non-lawyers who, like me, appreciate those within the legal profession. Great job Steve and to all lawyers and non-lawyers within the legal profession, have a VERY HAPPY NATIONAL BE KIND TO LAWYERS DAY!
HOW TO PARTICIPATE
If you are not sure how to celebrate this holiday, Steve is kind enough to offer some suggested idea starters that he calls How To Participate, to get your legal kindness flowing. Here are a small few of my favorites:
Abstain from telling lawyer jokes for 24 hours.
If you can't abstain, tell your funniest lawyer joke but switch out the lawyer with your profession. (I bet it's still funny.)
Do some simple repairs around the house with a gavel instead of your trusty hammer.
Take notes at a meeting on a legal pad. Don't you just feel smarter looking at the glorious yellow hue of that 8-1/2″ x 14″ pad?
FACTS, QUOTES AND JOKES
In keeping with fun spirit and tradition, in order to celebrate the lawyers in our lives I thought I'd share some fun facts, quotes and even some jokes I've found that even the lawyers I know, including my husband, the highly trusted and well respected IPWatchdog himself, patent attorney Gene Quinn, might find humorous. Of course, you might want to refrain from these jokes today, or swap out "lawyer" with "used car salesman" or something like that. Nevertheless, it is jokes like these that lend credibility to the argument that a holiday such as National Be Kind To Lawyers Day is greatly needed.
OK now for the fine print…
Legal Disclaimer: Before we can proceed, let it be known that the information you are about to read is not intended to offend anyone, including my husband, Gene Quinn, and many of his closets friends and colleagues who are all lawyers themselves. This is written solely for fun and given that it is about legal professionals I assume a legal disclaimer is required no matter how silly the actual content of the disclaimer is. Those of you who typically read my stuff know that I am not a lawyer and that this is not actually a legal disclaimer, but when written in small print and read in a fast, monotone dialogue, looks and sounds really cool. Hey, I love MY lawyer! I must, right? I married him!
Now, Let the fun commence!
Funny Quotes About Lawyers
It is better to be a mouse in a cat's mouth than a man in a lawyer's hands. ~ Spanish Proverb
A lawyer with a briefcase can steal more than a thousand men with guns. ~ Mario Puzo, from the God Father
Anybody who thinks talk is cheap should get some legal advice. ~ Franklin P. Jones
A Lawyer will do anything to win a case, sometimes he will even tell the truth. ~ Patrick Murray
The Lawyer's Motto
"Insofar as manifestations of functional deficiencies are agreed by any and all concerned parties to be imperceivable, and are so stipulated, it is incumbent upon said heretofore mentioned parties to exercise the deferment of otherwise pertinent maintenance procedures."
In Other Words:"If it ain't broke, don't fix it." ~ Anonymous
I can't help myself! Some of these jokes are just REALLY funny! I know I'm bad. And although this post has been full of humor, as is Steve's site, I encourage everyone to check out Bekindtolawyers.com especially the Cool Lawyer Facts tab and the How To Participate Tab. In fact here are some of my favorites from both pages:
Cool Lawyer Facts
Here's a list of famous people who attended law school (at least partially), but are known for something other than the law.
Vince Lombardi – Football Coach and Member of the NFL Hall of Fame
Alan Page – Minnesota Supreme Court, Member of the NFL Hall of Fame and one of the Purple People Eaters
Steve Young – NFL Quarterback and Member of the NFL Hall of Fame
Tony La Russa – Former Manager of the St. Louis Cardinals
Ray Manzarek – The Doors keyboardist
26 of 44 U.S. Presidents including such notables as Adams, Lincoln, Arthur (oh yes), FDR, and Obama
Robert Louis Stevenson – Scottish writer ("Arrgh, I've been kidnapped by Mr. Hyde!")
John Grisham – Awesome legal thriller writer and bestselling author
US Senator Fred Thompson – "Law & Order" actor
Ozzie Nelson – "Ozzie and Harriet Show" star
How about some famous and not-so-famous quotes about lawyers and the law?
"Nobody has a more sacred obligation to obey the law than those who make the law." ~ Sophocles
"A jury consists of twelve persons chosen to decide who has the better lawyer." ~ Robert Frost
"He who is his own lawyer has a fool for a client." ~ Anonymous
"Law is nothing unless close behind it stands a warm living public opinion." ~ Wendell Phillips
Random Facts
According to the American Bar Association there are 1,143,358 active and inactive lawyers in the U.S. (Active or inactive, we still think you're top drawer!)
Approximately 140,000 prospective students take the LSAT each year.
Every year American lawyers donate, yes donate, hundreds of thousands of hours of their time (i.e. millions of dollars of billable hours) to work on pro bono cases. For those of you who are not familiar with the term pro bono, pro comes from the Latin word "professional" as in sports and bono refers to the lead singer of U2, the legendary Irish rock band. Just kidding. Pro bono means "done without compensation for the public good." And we never seem to hear about this in the media. Hmmm…
Funny Lawyer Jokes
Q: What's wrong with Lawyer jokes?
A: Lawyers don't think they're funny, and nobody else thinks they're jokes.
Good Vs. Bad Lawyers
Q: What's the difference between a good lawyer and a bad lawyer?
A: A bad lawyer can let a case drag out for several years. A good lawyer can make it last even longer.
Good Vs. Great Lawyers
Q: What's the difference between a good lawyer and a great lawyer?
A: A good lawyer knows the law. A great lawyer knows the judge.
Shark Attack
Q. Why won't sharks attack lawyers?
A. Professional courtesy.
Good Vs. Bad Lawyers
Q. Have you heard about the lawyers' word processor?
A. No matter what font you select, everything comes out in fine print.
What do you call a…
Q. What do you call a smiling, sober, courteous person at a bar association convention?
A. The caterer.
Lawyers Vs. Liars
Q: What's the difference between a lawyer and a liar?
A: The pronunciation.
Lawyer Professors To Change A Light Bulb
Q: How many law professors does it take to change a light bulb?
A: Hell, you need 250 just to lobby for the research grant.
Lawyers Vs. Boxing Refs
Q: What's the difference between a lawyer and a boxing referee?
A: A boxing referee doesn't get paid more for a longer fight.
Lawyers Vs. UFOs
Q: What do honest lawyers and UFOs have in common?
A: You always hear about them, but you never see them.
Where's Your Attorney?
In the middle of a trial, the judge asks the defendant:
"You didn't bring your attorney today?"
"No, your honor. I've decided to tell the truth."
And believe it or not, Gene told me this is one he always liked:
Q: What do you call 10,000 lawyers at the bottom of the ocean?
A: A good start
National Empanada Day
An empanada is a delicious Spanish and Portuguese type of stuffed bread, also known as "delicioco." Empanadas can be served hot or cold as the main course or as a side dish.
Empanadas are made by folding dough around a premade stuffing of chicken, cod, or pork loin. Other ingredients include tomatoes, garlic, and onion sauce.
Though this delectable dish originated in Europe, immigrants brought the recipe to various countries around the world where it was adopted and slightly altered to fit the tastes of that particular country. In Argentina, for example, empanadas are sometimes made with a fruit filling and served as dessert. In Jamaica, empanadas are referred to as "Jamaican patties" and are made with crispy pastry dough.
Empanadas were first served in the U.S. at Taco Bell, however they are now found on menus at Latin American restaurants around the world. To celebrate National Empanada Day, try making your own empanadas for dinner!
Equal Pay Day
Equal Pay Day was originated by the National Committee on Pay Equity (NCPE) in 1996 as a public awareness event to illustrate the gap between men's and women's wages.
Since Census statistics showing the latest wage figures will not be available until late August or September, NCPE leadership decided years ago to select a Tuesday in April as Equal Pay Day. (Tuesday was selected to represent how far into the work week women must work to earn what men earned the previous week.) The date also is selected to avoid avoid religious holidays and other significant events.
Because women earn less, on average, than men, they must work longer for the same amount of pay. The wage gap is even greater for most women of color.
International Roma Day
International Roma Day on April 8 is not just about celebrating Roma culture, it also highlights the persecution and discrimination that Roma people face in all areas of life.
The day was officially declared in 1990 in Serock, Poland, the site of the fourth World Romani Congress of the International Romani Union (IRU), in honour of the first major international meeting of Romani representatives, 7-12 of April 1971 in Chelsfield near London.
nternational Roma Day is an opportunity to celebrate Romani culture but also to highlight the persecution and discrimination that Roma people face in all areas of life.
"Stereotyping and negative perceptions of Roma people, embedded by some media and parts of the European public opinion feed discrimination in all spheres of life," said Jezerca Tigani, Europe and Central Asia Deputy Program Director.
"Governments must set the example and challenge social prejudices that foster discrimination against the Roma and ensure their equality. Instead, only too often governments neglect their responsibilities to their Roma citizens to the detriment of all."
Numbering between 10 and 12 million people, the Roma are one of Europe's largest and most disadvantaged minorities.
"International Roma Day means nothing if governments fail to guarantee basic rights to Roma" said Jezerca Tigani.
Even as events to mark this important annual event take place, Roma living in Belvil, an informal settlement in Belgrade, Serbia, will spend International Roma Day under the threat of forced eviction.
They were told two weeks ago about the eviction, but have no information about where they will go or what will happen to them.
Yet, a year ago on International Roma Day in 2011, the same Belvil residents were told by the City of Belgrade authorities that they would be resettled in prefabricated houses in settlements around the city. 12 months on, these promises have come to nothing
"This has been a really hard year for Roma in Belgrade, with more than eight forced evictions since last April " said Jezerca Tigani.
"The Serbian government continues to deny Roma the right to adequate housing – as they have done since April 2009, when Roma evicted from another informal settlement near Belvil, and spent International Roma Day, homeless on the side of the road."
In Romania, 76 families, the majority Roma, have to live with the consequences of eviction. They were forcibly evicted from Coastei Street in the center of the city of Cluj-Napoca in December 2010, and relocated on the outskirts of the city, where they live in overcrowded rooms next to a garbage dump and a former dump for chemical waste. Some of the Romani families were left homeless in the middle of the winter. For over a year they have been fighting for justice.
"We were already socially integrated when living in Coastei Street, we used to have jobs, the children went to high school, we had decent living standards, we had access to the park, etc. Here, by the garbage dump, we feel like in a ghetto, we feel discriminated against from all points of view," evicted Roma people told Amnesty International.
Millions of other Roma live in informal settlements, without adequate housing and often without access to running water or electricity. They are at greater risk of illness, but less able to access the health care they need.
In some countries Romani children are often placed in special schools designed for pupils with "mild mental disabilities" or segregated in separate schools and classes that offer an inferior education. In turn, they are severely disadvantaged in the labor market.
Unable to find jobs millions of Roma cannot access better housing, afford medication, or pay the costs of their children's schooling.
Socially marginalized, the Roma are also politically excluded.
The cycle continues, aggravated by the discrimination that is routinely denying the Roma equal opportunity, equal treatment and the full enjoyment of all their human rights.
Racially motivated violence against Roma is becoming an alarming trend in recent years, with isolated assaults or vigilante attacks targeting Roma settlements or communities.
Following a march attended by up to 2,000 people in the village of Gyöngyöspata by the far-right party Jobbik on 6 March 2011 three vigilante groups patrolled the village for almost a month. During this time, they were threatening, intimidating and harassing Romani residents. The Hungarian authorities failed to react adequately and prevent the abuses.
Instead of counteracting stereotypes and prejudices that fuel intolerance and hatred towards Roma, some governments and public officials actually strengthen them in their public discourse.
"It is time for governments in Europe to honour their obligations and protect their Roma citizens by ending discriminatory policies and practices that violate the human rights of Roma and keep them in a cycle of poverty and marginalization," said Jezerca Tigani.
Trading Cards For Grown-ups Day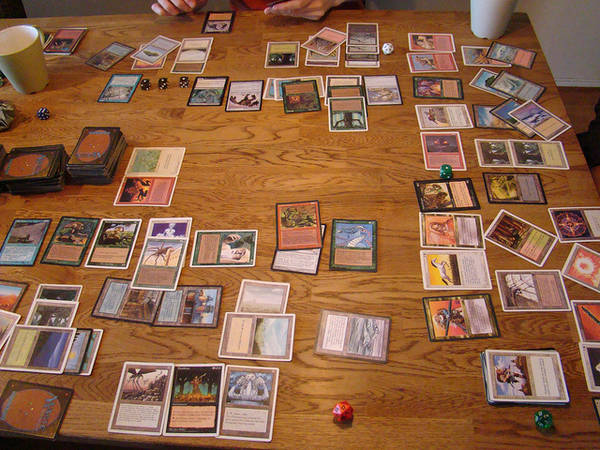 Happy Trading Cards For Grown-ups Day! A day for all those out there who have passed the age where trading cards were "cool" (I say that like they ever were, but really, trading cards kind of left the tiny corner of the playground they occupied by age 12 at the latest right?) but have never quite felt the need to let go of their trading cards. Whether it be for nostalgic reasons or because they will definitely be worth something someday (just like the beanie babies you still have in your closet) get out your trading cards and have a little trip down memory lane. Or, if you still actually use your cards instead of keeping them in your closet to collect dust as I do, perhaps get together with some people and celebrate.
Personally the cards that I have refused to let go of are my Magic: The Gathering cards. In case you missed out on this gaming wonder, put simply, players attempt to eliminate each others "life points" while retaining theirs by attacking and defending with various mythical monster, spell and trap cards. They used to be stupidly expensive and so my friends and I spent a while making do with the much cheaper Magic: The Gathering starter packs until our parents finally gave in.
Magic: The Gathering was first published in 1993 by Wizards of the Coast. Magic was the first trading card game produced and it continues to thrive, with approximately twelve million players.
And just to prove it to you…some of my treasured cards. Don't make the mistake of thinking I only kept some of them either…I have the full deck plus all those booster packs ;)