International Nurses' Day
International Nurses Day is observed on May 12. It is celebrated around the world to mark the contributions nurses make to society. In January 1974, 12 May was chosen to celebrate the day as it is the anniversary of the birth of Florence Nightingale, who is widely considered the founder of modern nursing. Each year, ICN prepares and distributes the International Nurses' Day Kit. The kit contains educational and public information materials, for use by nurses everywhere.
Nursing is a profession within the health care sector focused on the care of individuals, families, and communities so they may attain, maintain, or recover optimal health and quality of life. Nurses may be differentiated from other health care providers by their approach to patient care, training, and scope of practice. Nurses practice in a wide diversity of practice areas with a different scope of practice and level of prescriber authority in each. Many nurses provide care within the ordering scope of physicians, and this traditional role has come to shape the historic public image of nurses as care providers.
The American Nurses Association states nursing is the protection, promotion, and optimization of health and abilities, prevention of illness and injury, alleviation of suffering through the diagnosis and treatment of human response, and advocacy in the care of individuals, families, communities, and populations.
Limerick Day
There was a young fellow named LearWho invented Limericks, we hear,so now we conversein humorous verseon Limerick Day every year
Named for the Irish city of Limerick, this much loved verse form was popularised by Edward Lear (not invented alas, but 'popularize' didn't scan…) and could date back as much as five hundred years. Its distinctive metre and AABBA rhyming scheme lend themselves well to nonsense verse, and so Limericks are often childish or obscene. The best ones tend to be both.
Why not celebrate Limerick Day this year with a copy of Edward Lear's original 1846 opus, 'A Book of Nonsense', and recite all 72 of his Limericks to your astounded family, friends and colleagues? Alternatively, make up some of your own! All it takes is some spare time, a sense of rhythm and a warped or filthy imagination.
Edward Lear (12 May 1812 – 29 January 1888) was an English artist, illustrator, author and poet, and is known now mostly for his literary nonsense in poetry and prose and especially his limericks, a form he popularized. His principal areas of work as an artist were threefold: as a draughtsman employed to illustrate birds and animals; making colored drawings during his journeys, which he reworked later, sometimes as plates for his travel books; as a (minor) illustrator of Alfred Tennyson's poems. As an author, he is known principally for his popular nonsense works, which use real and invented English words.
National Nutty Fudge Day
Between the crunchy nuts and chocolatey smooth fudge flavor, it's hard to resist nutty fudge! Fudge was accidentally invented in the United States in the late 1880's when a baker was trying to make caramel. Following its creation, fudge recipes began appearing around the world in many different variations. To this day, nutty fudge remains one of the most popular fudge recipes.
Did you know that Cole Porter loved fudge so much that he used to have nine pounds of it shipped to him each month from his hometown? Now that's some serious dedication to your taste buds!
To celebrate National Nutty Fudge Day, buy some to enjoy with coworkers, friends and family. Yum!
National Odometer Day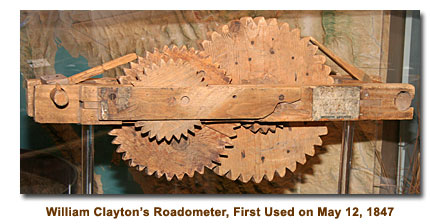 May 12 is National Odometer Day!
An odometer is an apparatus built into your vehicle (whether it be a car, truck, etc.) that records and displays how many miles it has been driven. This number can be important, especially when selling or reselling your car, or for insurance purposes.
May 12 was deemed National Odometer Day because on this day in 1847, William Clayton invented the first odometer (called the "roadometer" back then), however variations existed prior to this day.
An odometer records the distance that a vehicle travels. A speedometer measures the speed of a moving vehicle. A tachometer indicates the speed of rotation of the engine.
Vitruvius
According to Encyclopedia Britannia, "About 15 BC, the Roman architect and engineer Vitruvius mounted a large wheel of known circumference in a small frame, in much the same fashion as the wheel is mounted on a wheelbarrow; when it was pushed along the ground by hand it automatically dropped a pebble into a container at each revolution, giving a measure of the distance traveled. It was, in effect, the first odometer."
Chang Heng
Chang Heng the inventor of the known seismograph, also invented an odometer that had a figure that struck a drum as each li or 0.5 km went by to measure distance.
Blaise Pascal
Blaise Pascal (1623 - 1662) invented a prototype of an odometer, a calculating machine called a pascaline. The pasacaline was constructed of gears and wheels. Each gear contained 10 teeth that when moved one complete revolution, advanced a second gear one place. This is the same principal employed in the mechanical odometer.
Thomas Savery - Odometer used on Ships
Thomas Savery (1650 - 1715) was an English military engineer and inventor who in 1698, patented the first crude steam engine, among Savery's other inventions was an odometer for ships, a device that measured distance traveled.
Ben Franklin - Odometer used to Measure Postal Routes
Ben Franklin (1706-1790) is best known as a statesman and writer, however he was also an inventor who invented swim fins, bifocals, a glass armonica, watertight bulkheads for ships, the lightning rod, a wood stove, and an odometer. While serving as Postmaster General in 1775, Franklin decided to analyze the best routes for delivering the mail. He invented a simple odometer to help measure the mileage of the routes that he attached to his carriage.
William Clayton, Orson Pratt, Appleton Milo Harmon - Odometer called the Roadometer
An odometer called the roadometer was invented in 1847 by the Morman pioneers crossing the plains from Missouri to Utah. The roadometer attached to a wagon wheel and counted the revolutions of the wheel as the wagon traveled. It was designed by William Clayton and Orson Pratt, and built by carpenter Appleton Milo Harmon.
William Clayton was inspired to invent the roadometer by his first method of recording the distance the pioneers travelled each day. Clayton had determined that 360 revolutions of a wagon wheel made a mile, he then tied a red rag to the wheel and counted the revolutions to keep an accurate record of the mileage travelled. After seven days, this method became tiresome and Clayton went on to invent the roadometer, first used on the morning of May 12, 1847. William Clayton is also known for his writing of the pioneer hymn "Come, Come, Ye Saints."
"I walked some this afternoon in company with Orson Pratt and suggested to him the idea of fixing a set of wooden cog wheels to the hub of a wagon wheel, in such order as to tell the exact number of miles we travel each day. He seemed to agree with me that it could be easily done at a trifling expense."
"Brother Appleton Harmon is working at the machinery for the wagon to tell the distance we travel and expects to have it in operation tomorrow, which will save me the trouble of counting, as I have done, during the last four days."
"About noon today Brother Appleton Harmon completed the machinery on the wagon called a 'roadometer' by adding a wheel to revolve once in ten miles, showing each mile and also each quarter mile we travel, and then casing the whole over so as to secure it from the weather." ~ From William Clayton's Journal
Samuel McKeen - Odometer used on Carriage
In 1854, Samuel McKeen of Nova Scotia designed an early version of the odometer, a device that measures mileage driven. His was attached to the side of a carriage and measured the miles with the turning of the wheels.
National Women's Check-up Day
Today is National Women's Checkup Day, an effort started by the U.S. Department of Health and Human Services to remind women across the country to pencil in appointments with their doctors. To coincide with this, Women's Health has also made it the Women's Health Week challenge of the day.
"Being healthy starts with each of us taking control," HHS Secretary Kathleen Sebelius said in a statement. "So Monday on National Women's Checkup Day, and during National Women's Health Week, I encourage you to sit down with your doctor or health care provider and talk about what you can do to take control of your health. There's no better gift you can give yourself–or your loved ones."
And now, thanks to the Affordable Care Act, women have access to 22 different preventive services that are required to be covered without a copay, including well-woman visits (your annual physical) and assorted cancer screenings, all of which have been deemed key to preventing and/or effectively treating future health problems.
Ready to take part in National Women's Checkup Day and call your health care professionals? This guide will help you see how often you should schedule various screenings:
Once a Month Breast self-exam: Check your girls for unusual lumps or bumps monthly so you can stay on top of any changes, says Moore. The best time to do it is a few days after your period ends.
Skin self-exam: The Skin Cancer Foundation strongly recommends that you check out your body once a month for any new or unusual spots or marks. Just remember your ABCDEs: asymmetry, border irregularity, uneven color, diameter bigger than 6 mm, and evolving shape and size.
Every Six Months Dental check-up: Make sure to hit up the dentist's chair twice a year for cleanings and other preventative maintenance, but you should only get dental X-rays on an as needed basis to prevent unnecessary exposure to radiation, according to the American Dental Association's recommendations.
Once a Year Full physical exam: This annual check-up should include a height and weight check, a blood pressure screening, a clinical breast exam, and any blood tests your doctor deems necessary, says Moore. These may include tests for blood sugar, blood count, hormone levels, and other crucial markers.
Pap smear: If you've had three consecutive normal pap smears, are in a mutually monogamous relationship, and have no other risk factors, you could technically go three years between screenings, says Moore. However, most doctors still suggest women see their gynecologist once a year and get a pap smear while they're there. Your pap tests for any changes or abnormalities in the cells in your cervix, which is a way to screen for cervical cancer, says Alyssa Dweck, MD, co-author of V is For Vagina. For women 21-29, any mild irregularities in the pap test will prompt an HPV test to check for the high-risk strains of the HPV virus, says Dweck. Other than that, you probably won't get an HPV test until you're 30. (See below for more info on HPV testing)
Pelvic exam: Even if you aren't getting an annual pap smear, it's important to visit your OB/GYN annually for a routine pelvic exam, where she'll feel around for your uterus and ovaries, says Dweck. This is a way to check for fibroids, cysts or any pain or swelling that might indicate an infection.
HIV tests: Get tested annually at your doctor's office or a health clinic, says Dweck. The most accurate screening is a still a blood test, though you may get a mouth swab in some cases.
Other STD tests: It's recommended that sexually active women get tested for Chlamydia and Gonorrhea annually until age 25, says Dweck. These can be run off your pap or with a separate swab of your cervix. After age 25, it's still recommended that you get tested regularly for the range of STDs—including hepatitis b and c, syphilis, and the lesser-known trichomoniasis—based on your own risk factors, which you should discuss with your doctor. Of course, it's also a smart idea to get tested before you have a new sexual partner or if you have any usual symptoms.
Eye exams: The American Optometric Association recommends eye exams at least once every two years, though annual exams are suggested for anyone with current vision problems (if you wear glasses or contacts, that includes you).
Every Other Year Skin cancer screening: Skin cancer is a huge issue for women in their twenties, so see your dermatologist before your biennial appointment if you notice any suspicious marks, says Moore.
Slightly Less Often HPV test: At age 30, women should start getting an HPV test with their pap every five years, says Dweck. Luckily, it's relatively quick and painless since the test uses the same cervical swab as your pap. Prior to age 30, you should not be getting tested regularly for HPV unless you have an abnormal pap, since strains of the disease are so common in younger woman and they typically go away on their own, says Dweck.
Cholesterol, triglycerides, and blood count: Your doctor will want to check these at least once in your twenties and once in your thirties, though some physicians give a guideline of testing them once every five years, says Moore.
Thyroid test: Starting at age 35, it's recommended that you check your thyroid levels via a blood test and have them re-tested ever five years after that, says Moore.
Down the Road* Colonoscopy: This test should come right around your 50th birthday, unless your family history warrants an earlier screening, says Moore. If you have a first-degree relative with colon cancer, it's recommended that you start your screening 10 years before their age at diagnosis.
Diabetes screening: Routine diabetes screenings (which involve a blood sugar test) start at age 50 and should be done once every three years, says Dweck.
Mammograms: At 40, you'll want to start scheduling annual mammograms, though your doctor may recommended screening earlier if you have a family history, says Dweck.
*For women in their 20's and 30's
Only As Needed Don't be shocked if your doctor orders a blood test outside of these general guidelines, since many health checks are done on an as-needed basis. Things like your hormone levels, blood sugar, vitamin D levels, and iron deficiencies can all be seen in a blood test and may be ordered if you come in with certain symptoms, says Dweck.