Armed Forces Day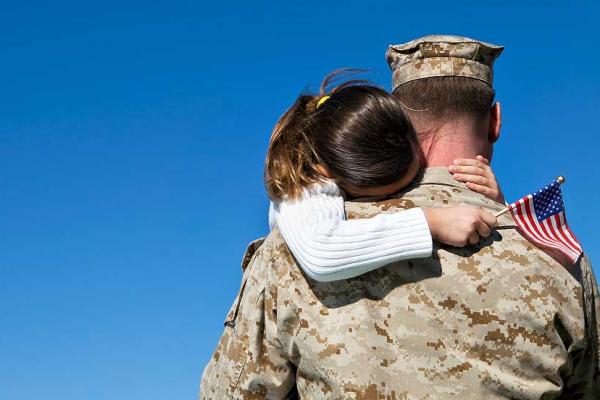 Many Americans celebrate Armed Forces Day annually on the third Saturday of May. It is a day to pay tribute to men and women who serve the United States' armed forces. Armed Forces Day is also part of Armed Forces Week, which begins on the second Saturday of May.
Many events across the United States take place on Armed Forces Day to honor Americans in uniform who served their country in times of war and peace. Those who are honored on this day include people who serve the Army, Navy, Marines, Air Force and Coast Guard. National Guard and Reserve units may celebrate Armed Forces Day/Week over any period in May because of their unique training schedules. Events and activities may include:
Multi-service military displays in areas open for the public.
Various educational activities that teach children about the armed forces.
"Support the Troops" themed motorcycle rides.
Large parades and other local celebrations.
Certain types of music are also played at Armed Forces Day events, including at memorials and at cemeteries, as a way to respect those in the armed forces who died for their country. For example, buglers have played a bugle call, known simply as Taps, on Armed Forces Day in recent years. Taps is usually sounded by the United States military at events such as flag ceremonies, memorial services and funerals.
On August 31, 1949, Louis Johnson, who was the United States' Secretary of Defense, announced the creation of an Armed Forces Day to replace separate Army, Navy and Air Force Days. The event stemmed from the armed forces' unification under one department – the Department of Defense. The Army, Navy and Air Force leagues adopted the newly formed day. The Marine Corps League declined to drop support for Marine Corps Day but supports Armed Forces Day too.
The first Armed Forces Day was celebrated on Saturday, May 20, 1950. The theme for that day was "Teamed for Defense", which expressed the unification of all military forces under one government department. According to the U.S. Department of Defense, the day was designed to expand public understanding of what type of job was performed and the role of the military in civilian life.
Armed Forces Day was a day for the military to show "state-of-the-art" equipment to Americans. It was also a day to honor and acknowledge Americans in the armed forces. Parades, open houses, receptions and air shows were held at the inaugural Armed Forces Day. Armed Forces Day is still celebrated nationwide today and is part of Armed Forces Week.
Posters and other material used to promote Armed Forces Day often show images of Americans in the armed services dressed in their uniforms. Some posters show a collage of images, including images of those in the armed forces with their families or friends, as well as the United States Flag.
Some themes that were used for Armed Forces Day in the past included:
Appreciation of a Nation
Dedication and Devotion
Freedom Through Unity
Liberty
Patriotism
Power for Peace
Prepared to Meet the Challenge
Security
Special Opportunity for Thanks
Teamed for Defense
These are only a few examples, and not a full list, of the Armed Forces Day themes in previous years.
National Cherry Cobbler Day
Today is National Cherry Cobbler Day! Cherry cobbler is a baked dessert made with a rich fruit filling and a biscuit dough crust. In the 19th century, pioneers in the American West were forced to adapt many recipes due to a lack of basic ingredients. The traditional pie evolved into the cobbler, which was often served as the main dish of the meal!
No one knows how cobblers got their name, but there are several theories. One source suggests that the word "cobbler" evolved from "cobeler," which was a specific type of wooden bowl used in cooking. Other culinary historians believe the name may have been inspired by the dessert's resemblance to a cobblestone.
To celebrate National Cherry Cobbler Day, bake your own delicious cobbler and serve it as the main course for dinner tonight!
National Learn To Swim Day
Saturday, May 17, 2014 will be the third annual National Learn to Swim Day, and it's the perfect opportunity to raise awareness about the importance of teaching children to swim. With summer right around the corner, learning this invaluable life skill is even more essential for fun as well as for safety.
According to the American Red Cross, drowning is the second-leading cause of unintentional injury-related death for children ages one to 14. If we work together to promote the importance of swimming, we can improve this scary statistic and make water wonderful for everyone.
Founded by SwimWays® in 2012, National Learn to Swim Day is dedicated to educating parents and children about water safety and the importance and benefits of learning to swim. Held on the third Saturday of May each year, SwimWays encourages parents and caregivers nationwide to celebrate in their own way. (See below for some great ideas and resources!) National Learn to Swim Day can be any day you want – there's no time limit on learning to swim!
National Pack Rat Day
Thursday, May 17, is National Pack Rat Day.
Rather than helping pack rats with tips on cleaning up, this day is meant to encourage others to be pack rats themselves! All for good fun, of course. And just for today…I hope.
What are pack rats? It's just a cute nickname for 'hoarders' – people unable to throw anything away, accumulating and supplying an excessive amount of unnecessary items. It is classified as an obsessive compulsive disorder.
Collecting might be fun, but when these objects begin to take over the house it can be a major problem. There's also a difference between being a pack rack and just being messy. As featured in the television shows Hoarders and Buried Alive, hoarding can get out of control, very fast.
Just for today though, let's put ourselves in their shoes by following these Do's and Don'ts from HolidayInsights:
Don't clean your room, basement, garage or any other area today.
Don't discard anything today...It may be valuable.
Don't even empty the trash today. You might have accidentally thrown out something useful.
Do keep an eye out for useful stuff being discarded by others.
Do go to garage and rummage sales. They can be pack rat gold mines.
Do look around your belongings and be thankful for what you have.
Do spend time thinking of uses for your things. Justification for saving is satisfying.
Hoarding affects up to 2 million people in the United States
Preakness Stakes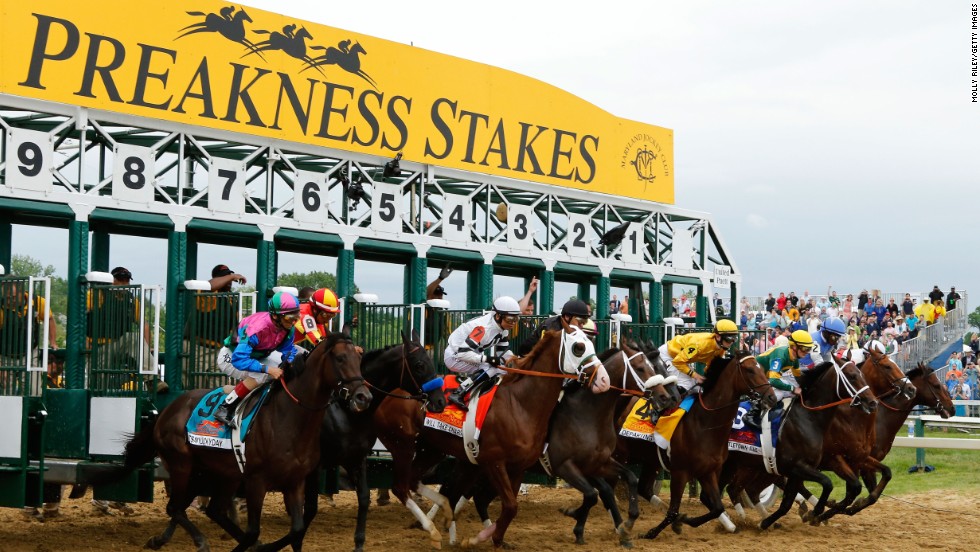 The Preakness Stakes is an American flat thoroughbred horse race held on the third Saturday in May each year at Pimlico Race Course in Baltimore, Maryland. It is a Grade I race run over a distance of 9.5 furlongs (1 3/16 miles) on dirt. Colts and geldings carry 126 pounds (57 kg); fillies 121 lb (55 kg). It is the second leg of the US Triple Crown, following the Kentucky Derby and followed by the Belmont Stakes.
First run in 1873, the Preakness Stakes was named by a former Maryland Governor after a winning colt at Pimlico. The race has been termed "The Run for the Black-Eyed Susans" because a blanket of yellow flowers altered to resemble the Maryland State flower is placed around the winner's neck. Attendance at the Preakness Stakes ranks second in North America only trailing the Kentucky Derby.
The 139th running of The Preakness Stakes will take place on Saturday, May 17th, 2014 for a purse of $1,500,000.
Two years before the Preakness was run for the first time, Pimlico introduced its new stakes race for three-year-olds, the Preakness, during its first-ever spring race meet in 1873. Former Maryland Governor Oden Bowie named the then mile and one-half (2.41 km) race in honor of the colt Preakness from Milton Holbrook Sanford's Preakness Stables in Preakness, Wayne Township, New Jersey, who won the Dinner Party Stakes on the day Pimlico opened (October 25, 1870). The New Jersey name was said to have come from the Native American name Pra-qua-les ("Quail Woods") for the area. After Preakness won the Dinner Party Stakes, his jockey, Billy Hayward, untied a silk bag of gold coins that hung from a wire stretched across the track from the judges' stand. This was the supposed way that the "wire" at the finish line was introduced and how the awarding of "purse" money came to be. In reality, the term "purse", meaning prize money, had been in use for well over a century.
The first Preakness, held on May 27, 1873, drew seven starters. John Chamberlain's three-year-old, Survivor, collected the $2,050 winning purse by galloping home easily by 10 lengths. This was the largest margin of victory until 2004, when Smarty Jones won by 11 1/2 lengths.
In 1890 Morris Park Racecourse in the Bronx, New York hosted the Preakness Stakes after which there was no race run for three years. For the 15 years from 1894 through 1908, the race was held at Gravesend Race Track on Coney Island, New York. In 1909 it returned to Pimlico.
In March 2009 Magna Entertainment Corp., which owns Pimlico, filed for Chapter 11 bankruptcy thus throwing open the possibility the Stakes could move again. On April 13, 2009, the Maryland Legislature approved a plan to buy the Stakes and the Pimlico course if Magna Entertainment cannot find a buyer.
Attendance at the Preakness Stakes ranks second in North America and usually surpasses the attendance of all other stakes races including the Belmont Stakes, the Breeders' Cup and the Kentucky Oaks. The attendance of the Preakness Stakes typically only trails the Kentucky Derby, for more information see American Thoroughbred Racing top Attended Events.
World Telecommunication and Information Society Day
World Information Society Day is celebrated each year on 17 May to remind the world of the vision of the World Summit on the Information Society to build "a people-centered, inclusive and development-oriented information society" based on fundamental human rights.
World Information Society Day promotes people's awareness of the power of information and communication to build societies in which they can create, access, use and share information and knowledge to achieve their full potential. Organizations such as UNESCO actively take part in the day by inviting people to engage in various activities to promote campaigns centered on this event.
The annual observance of World Telecommunication Day, which marks the founding of the International Telecommunication Union (ITU) on May 17, 1865, drew attention to the work of ITU and the challenges of global communication. In March 2006, the United Nations General Assembly proclaimed May 17 as World Information Society Day to recognize the efforts made to advance communication and ITU's role in helping people connect around the world. The UN's first World Information Society Day took place on Wednesday, 17 May 2006.
Prior to World Information Society Day, World Telecommunication Day, which was first held in 1969, was celebrated on May 17 by people and organizations such as ITU. Many now refer to this day as World Telecommunication and Information Society Day, taking into account the UN's observance of World Information Society Day. The purpose of this observance is to help raise awareness of the possibilities that the internet and other information and communication technologies could bring to societies and economies, as well as of ways to bridge the digital divide.
UNESCO has not allocated a specific symbol for the day, although it uses images of modern information and communication technologies to portray the importance of the day.
World Hypertension Day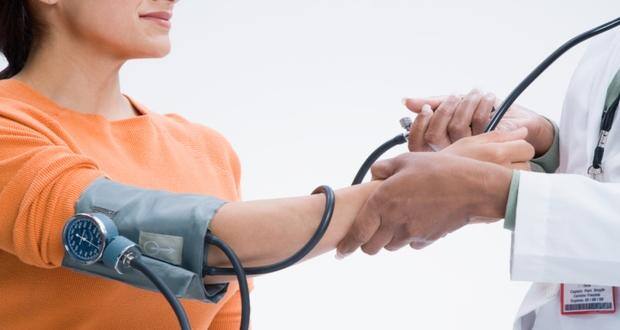 World Hypertension Day is a day designated and initiated by The World Hypertension League (WHL), which is itself an umbrella to organizations of 85 national hypertension societies and leagues. The day was initiated to increase the awareness of hypertension. This was especially important because of the lack of appropriate knowledge among hypertensive patients. The WHL launched its first WHD on May 14, 2005. Since 2006, the WHL has been dedicating May 17 of every year as WHD.
In 2005, as the inaugural effort, the theme was simply 'Awareness of high blood pressure'. The 2006 theme was 'Treat to goal', with a focus on keeping blood pressure under control. The recommended blood pressures are less than 140/90 mmHg for the general population and for the hypertensive population without any other complications, and less than 130/80 mmHg for those with diabetes mellitus or chronic kidney disease. These are the cut-off values recommended by international and Canadian guidelines. The 2007 WHD theme was 'Healthy diet, healthy blood pressure'. Through such specific themes, the WHL intends to raise awareness not only of hypertension, but also of factors contributing to an increase in the incidence of hypertension and on ways to prevent it. In an effort to empower the public, the theme for 2008 was 'Measure your blood pressure…at home'. Recent reports confirm the ease, accuracy and safety of blood pressure measurements using home monitors.