Bay to Breakers Race
San Francisco's Bay to Breakers is the oldest consecutively run annual footrace in the world, a staple to the City by the Bay since May 1912. With a starting point near the San Francisco Bay, a few blocks from The Embarcadero, the 12K race runs west through the city and finishes at the Great Highway where breakers crash onto the Pacific Coast's Ocean Beach. A quintessential San Francisco experience for 102 years, the race is interwoven into the fabric of the city and is a true reflection and celebration of life between the breakers and the Bay. The 2014 edition will take place on Sunday, May 18.
At 5:13am on April 18, 1906, a devastating earthquake destined to become one of history's most notorious natural disasters rocked San Francisco. The subsequent fire and destruction were unimaginable, and many feared the City would never fully recover. But San Franciscans, displaying their typical fortitude, immediately began rebuilding the city and orchestrating events to lift civic morale. One of those events, the Cross City Race – better known today as the Bay to Breakers – was first held on January 1, 1912. It was intended as a precursor to the world-class athletic events being planned for the 1915 Pan Pacific International Exposition. There were 218 registrants, 186 starters, and 121 finishers. Robert Jackson "Bobby" Vlught, a St. Mary's College student, was the first runner to cross the finish line, with a time of 44:10.
Since then, Bay to Breakers has prevailed as a testament to San Francisco's uniqueness and audacity. Each year the race is a glorious celebration of the human spirit – a giant wave of athleticism, fun, frivolity, and determination flowing across the City from the Bay to the Pacific Ocean. Bay to Breakers is one of the largest footraces in the world with 50,000 + participants and 100,000 + spectators annually. As the race grew in size it even set a Guinness Book world-record, with 110,000 participants in 1986. The course is challenging and beautiful, and consistently attracts world-class competitors. But, it isn't just a race for the serious runner.
In the true spirit of San Francisco the race is a celebration for everyone. Thousands of costumed participants join with families, weekend runners, and walkers. As they make their way through the heart of San Francisco, energized by continuous bursts of live music, they are cheered on by thousands of spectators lining the route.
Throughout its long history Bay to Breakers has been a showcase for the City's irrepressible color and its affection for eclectic traditions. Although runners come from across the country and around the globe, the race is still a quintessential San Francisco experience and a true reflection of life between the breakers and the Bay.
International Museum Day
International Museum Day (IMD) is a celebration that held every year on or around 18 May, coordinated by the International Council of Museums (ICOM). The event highlights a specific theme that changes every year and that is at the heart of the international museum community's preoccupations.
The International Museum Day provides the opportunity for museum professionals to meet the public and alert them as to the challenges that museums face. Indeed, following the definition of museums provided by ICOM, a museum is a
non-profit, permanent institution in the service of society and its development, open to the public, which acquires, conserves, researches, communicates and exhibits the tangible and intangible heritage of humanity and its environment for the purposes of education, study and enjoyment.
International Museum Day therefore serves as a platform to raise public awareness on the role museums play in the development of society today, on an international level.
Each year, all museums in the world are invited to participate in IMD to promote the role of museums around in the world, creating unique, enjoyable and free activities around a theme discussed within the ICOM community for this special day. Since its creation in 1977, International Museum Day has gained increasing attention. In 2009, International Museum Day attracted the participation of 20,000 museums hosting events in more than 90 countries. In 2010, 98 countries participated in the celebration, with 100 in 2011, and 30,000 museums in 129 countries in 2012. In 2011, the official IMD poster was translated into 37 languages. In 2012, this number jumped by one to 38.
National Cheese Soufflé Day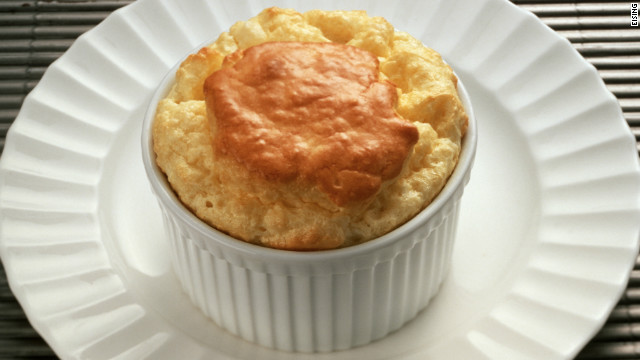 Do we seem a little puffed up today? It's not without reason - May 18 is National Cheese Soufflé Day!!
This savory, airy cake rises to the occasion nearly every time; the name comes from a French verb, souffler, which literally means to "blow up" or "puff up." That's the delicious alchemy that happens when custard and whipped egg whites take a leisurely loll in a hot, closed oven.
And yes, "closed" is key. There's a reason soufflés are so often played for laughs in film and television. They're temperamental little suckers, prone to falling flat as a result of temperature shifts and excess vibrations.
Soufflés also take a goodly chunk of time to make, so if they're desired for dessert, diners are often asked to place their orders along with the main courses.
But a classic cheese soufflé can be a showstopping main course for an at-home dinner party or holiday event - with plenty of careful attention paid to timing. The base can be made and refrigerated ahead of time, but once baked, it's best served steaming hot from the oven. It will deflate a tiny bit on the table, but still earn gasps from guests.
No Dirty Dishes Day
Piles of dirty dishes, endless scrubbing, and careful storing in cabinets: This is what we do every day. Washing up is the mother of all chores which we love to hate. No Dirty Dishes Day helps relieve the pain and resentment we all feel towards this daily obligation. It brings 24 dishwashing-free hours during which not a single dish or other eating utensil may be dirtied. Putting off the chore until tomorrow is not the point; eliminating it altogether and enjoying a sponge- and detergent-free day is!
There are many ways to make No Dirty Dish Day happen. An obvious solution is to switch to plastic plates, but this is by far the least glamorous way to mark this innovative holiday. Going out to a favourite restaurant or planning an outing on which you bring snacks or grill some goodies outdoors are just a couple of options which easily turn No Dirty Dish Day into a true festivity.
Visit Your Relatives Day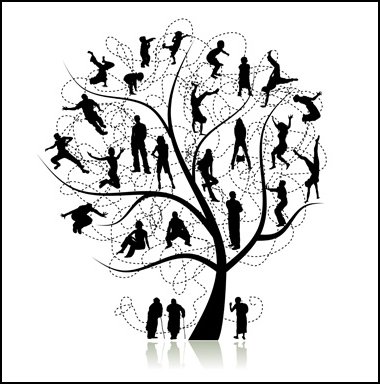 Today is Visit Your Relatives Day! In today's fast paced lifestyle, it is easy to lose touch with the people you care about. Sometimes you only get to see relatives around the holidays or if they live really far away, you may not get to see them at all.
There is a special connection that binds family members together. They provide an unyielding support system to get you through the hardest of times and they are there to celebrate and create memories during important life milestones. Either way, we need our families and they need us.
To celebrate Visit Your Relatives Day, stop by and say hello to family members that you don't get to see that often. Send them an ecard, call them, or better yet, host a family reunion! The older generations of your family will be so proud of you for bringing everyone together and starting a new family tradition.
World AIDS Vaccine Day
World AIDS Vaccine Day, also known as HIV Vaccine Awareness Day, is observed annually on May 18. HIV vaccine advocates mark the day by promoting the continued urgent need for a vaccine to prevent HIV infection and AIDS. They acknowledge and thank the thousands of volunteers, community members, health professionals, supporters and scientists who are working together to find a safe and effective AIDS vaccine and urge the international community to recognize the importance of investing in new technologies as a critical element of a comprehensive response to the HIV/AIDS epidemic.
The concept of World AIDS Vaccine Day is rooted in a May 18, 1997 commencement speech at Morgan State University made by then-President Bill Clinton. Clinton challenged the world to set new goals in the emerging age of science and technology and develop an AIDS vaccine within the next decade stating, "Only a truly effective, preventive HIV vaccine can limit and eventually eliminate the threat of AIDS."
The first World AIDS Vaccine Day was observed on May 18, 1998 to commemorate the anniversary of Clinton's speech, and the tradition continues today. Each year communities around the globe hold a variety of activities on World AIDS Vaccine Day to raise awareness for AIDS vaccines, educate communities about HIV prevention and research for an AIDS vaccine and bring attention to the ways in which ordinary people can be a part of the international effort to stem the pandemic.
I Love Reeses Day
Today I found out the history of Reese's Peanut Butter cups.
A popular chocolate cup filled with delicious peanut butter, Reese's Peanut Butter Cups were created by a man named Harry Burnett (H.B.) Reese. Reese was born May 24, 1879 in Pennsylvania to a farming family. He married in 1900 and went on to have sixteen children. (Yes, 16!) By 1903, not surprisingly, he was struggling to support his growing family, so took on all manner of jobs from butcher to factory worker.
In 1917, Reese found an advertisement to work on a dairy farm owned by Milton S. Hershey, owner of the Hershey Chocolate Company, in Hershey, Pennsylvania. Though he didn't know it at the time, taking the job would shape the rest of Reese's future. He worked on the farm for several years and later began working in the company's chocolate factory, where he became inspired by Hershey and set out to make his own chocolates.
Initially, Reese considered his chocolate venture to be a means of providing a little extra money for his family. He started creating confections in his basement, naming bars and candies after his many children. He used fresh ingredients for his candy creations, along with a large quantity of Hershey's chocolate.
In the 1920s, Reese's basement-born enterprise was doing much better than expected, with the candies selling successfully to the local market. He decided to take the business even more seriously and set up the H.B. Reese Candy Company. In 1928, Reese also started selling chocolate and peanut butter confections he simply called peanut butter cups or "penny cups" as they cost just one penny each at the time. They were so successful that Reese was able to sell five-pound boxes of the cups to local retailers for their candy displays.
Reese was soon able to quit his job at the Hershey factory to concentrate on his own business. He even built a 100,000 square foot factory on Chocolate Avenue in Hershey, Pennsylvania, making a wide assortment of candies including raisin clusters and chocolate covered dates. However, during World War II, Reese was forced to abandon his other projects due to scarcity of supplies and economic hardship. He chose to focus solely on his peanut butter cups, which were his most popular product, and the investment paid off.
Unfortunately, as his cups were growing rapidly in popularity, Reese died unexpectedly of a heart attack in 1956, just a few days before his 77th birthday. Seven years later, six of Reese's sons decided to sell the family business. The Hershey's Chocolate Company, that had inspired Reese, purchased the H.B. Reese Candy Company for $23.5 million in 1963 with H.B. Reese's children getting roughly a five percent share in the Hershey Company (which is today worth about $20B, 5% of which is $1B).
Reese's Cups continued to prosper under Hershey's. There have been dozens of variations on the candy, including "big cups," miniatures, and minis, as well as dark chocolate, white chocolate, caramel, marshmallow, and hazelnut cream flavours. Other variations include Reese's cookies, Reese's Pieces, and Reese's Puffs Cereal (of the "It's Reese's for breakfast!" fame—promoting "healthy" breakfast options for children everywhere).
The candy is now available in many countries around the world and enjoyed by millions of people every year. Starting from its humble beginnings in the basement of a determined entrepreneur just looking for a way to support his enormous family, it's now an extremely popular candy, counted among the top ten favorite chocolate treats in the U.S.
Bonus Facts:
Contrary to popular belief, George Washington Carver did not invent peanut butter. The earliest known people to make such a paste out of peanuts were the Ancient Incas around 1000 BC.
Reese's Peanut Butter Cups are most popular in America. In Australia, they can only be found in specialty candy stores that sell other American candy. Recently, Hershey's products were made available in Tesco stores across the UK.
The cups are a recent sensation in Japan, where they were previously only available on U.S. Army bases. Hershey began selling its products in Seiyu, the Japanese branch of WalMart, where Reese's cups have now become wildly popular. The cups are the top selling chocolate in Seiyu, selling 1.7 times more than the runner-up (KitKat minis).
Reese's Peanut Butter Cups sold overseas have just one difference from those sold in the U.S.- they don't contain a type of preservative called tertiary butylhydroquinone, or TBHQ. The preservative isn't even approved for use in Japan. The controversy surrounding the compound is that in doses above .02% (the FDA allowed concentration in food), it has been shown to damage DNA and cause the precursor to stomach tumors, among other issues. However, studies seem to indicate at the allowable levels found in various food items, like Reese's Peanut Butter cups, there shouldn't be any adverse effects.
Milton Hershey was said to keep a stash of peanut butter cups in his desk. He saw Reese as a customer rather than a rival because Reese used Hershey's chocolate for his peanut butter cups. Reese is buried in the Hershey Cemetery just meters away from Milton Hershey's grave.
Reese's makes so many peanut butter cups each year that it could feed one cup to every person in the USA, Europe, Australia, Japan, China, Africa, and India with its annual production.
May 18 is the official "I Love Reese's" Day. It was established after nearly 40,000 fans joined a campaign page on Facebook asking for their favourite candy to have its own special day.
Reese's Peanut Butter Cups are one of the most popular candies sold during the Halloween season, ranking behind candy corn and Snickers. (KitKats and M&Ms round out the top 5).
The cups are available in different shapes during different holidays, including a heart for Valentine's Day and pumpkins for Halloween. For the release of The Dark Knight in 2008, Reese's even came out with a limited edition cup in the shape of the Batman logo.
Though it's certainly a treat, Reese's Peanut Butter Cups also contain a modicum of positive health benefits to go along with the negative: depending on the size, they contain roughly 5 grams of protein and also have some iron and calcium.
If you're looking for a more in-depth overview of the History of Reese's than is appropriate for an article like this, Andrew R. Reese, the grandson of H.B. Reese, has written a book titled Reese's Peanut Butter Cups: The Untold Story. The book was published in 2008 and contains details of Reese's life and the invention of the peanut butter cup.
Neighbor Day
Even though the exact origins of Neighbor Day cannot be accurately traced, as the holiday seems to have popped up almost randomly in various places at various times, one thing is universally valid : Neighbor Day is all about caring. Whether you're looking to bury the hatchet or just get to know your neighbors better, Neighbor Day is the perfect time to do so.
There are no rules written in stone as to how to celebrate Neighbor Day, so you're free to use your imagination: throw a party, invite some neighbors over or go out with them – everything works as long as it will bring you closer to your neighbors and allow you to get to know them better.
Despite the fact that Neighbor Day lasts just a day, that doesn't mean it should be the only day to care about your neighbors.