International Space Day
Since its launch in 1997, the Space Day educational initiative, which takes place on the first Friday of each May, has evolved into a massive grassroots effort dedicated to the extraordinary achievements, benefits and opportunities in the exploration and use of space. The ultimate goal is to promote math, science, technology and engineering education by nurturing young peoples' enthusiasm for the wonders of the universe and inspiring them to continue the stellar work of today's space explorers.
International in scope, the award-winning program involves hundreds of thousands of teachers and millions of students throughout the United States, Canada and beyond. Space Day events have taken place in 21 countries around the globe on six continents. Thanks to widespread media, millions of people have learned about the Space Day programs since its inception. So effective is this global initiative that it has been honored with the Space Foundation's prestigious Education Achievement Award.
Space Day was originally created in 1997 by the Lockheed Martin Corporation, as a one day event, as a day to get America's youth interested in science and math. Due to it's extreme popularity, it grew into an annual event. In 2001, former astronaut and Senator, John Glenn expanded Space Day to International Space Day.
International Tuba Day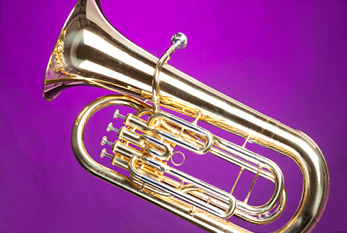 As listed in Chases Annual Events, International Tuba Day was created to recognize tubists in musical organizations around the world who have to go through the hassle of handling a tuba. What hassles do tubists have? Tuba players obviously have hassles due to the size and weight of their instruments, but what is actually more of a hassle for tuba players is the prevalence of stereotyped attitudes among people towards tubists and their role in a musical organization.
Think for a minute: What does the tuba mean to you? Unfortunately, many non-tuba players think of the tuba as just being one of those big, loud instruments that go "oompah" in the back of parades - having no real importance and being easy to play - they're just there to look nice. As for tuba players, many people view them in the old stereotyped way: they have no real musical talent, no personality, just big, fat bodies with puffy cheeks and powerful lungs.
Therefore, International Tuba Day was created for both tuba players and non-tuba players alike. If you don't play the tuba and feel as described above, International Tuba Day is your day to learn more about the significance of the tuba in our musical society. It's your day to see how the tuba is the backbone of the band with the capability of playing much more than just "oompah!" More importantly, International Tuba Day is your day to recognize the tuba player as being a talented master of musical performance who physically comes in all different shapes and sizes. Of course, if you do play the tuba, International Tuba Day is your day to sit back, relax, and enjoy your much deserved recognition!
Joel Day founded International Tuba Day in 1979 while attending Lower Merion High School in suburban Philadelphia, Pennsylvania. Being one of only two tuba players in the band and finding a lack of respect from his fellow classmates, he decided to set a day aside for our recognition as reputable musicians. Joel went on to study at Millersville University, where he established very popular International Tuba Day celebrations that continued for close to twenty years.
Since its inception, International Tuba Day has been celebrated around the world in Australia, Canada, France, Germany, Italy, Japan, and in the American states of Arizona, California, Colorado, Connecticut, Delaware, Florida, Georgia, Hawaii, Illinois, Indiana, Iowa, Kentucky, Massachusetts, Michigan, Missouri, Montana, Nebraska, Nevada, New Jersey, New Mexico, New York, North Carolina, North Dakota, Ohio, Oklahoma, Oregon, Pennsylvania, Rhode Island, South Carolina, South Dakota, Tennessee, Texas, Virginia, Washington, and Wisconsin. In 1986, the Millersville University celebration in Harrisburg, Pennsylvania was photographed to appear in the number one best selling book A Day in the Life of America.
Dr. Sy Brandon, formerly of Millersville University, has completed two books of music for International Tuba Day, including many American Folk and international music arrangements for tuba and euphonium choir to compliment ITD's international flavour. These arrangements include Alouette, Blow the Man Down, Camptown Races, Cielito Lindo, Du, Du, liegst mir im Herzen, Evening Prayer, Israeli Medley, Oh! Susanna, Sailors Horn Pipe, Sakura, Waltzing Matilda, and Yankee Doodle, among others. Copies of these books can now be purchased online through Tuba-Euphonium Press.
National Play Your Ukulele Day
he 2nd of May is National Ukulele Day dedicated to all things ukulele. Also known as "National Play Your Ukulele Today" it is the time to reflect and learn about the history of this unique Portuguese four string guitar-like instrument which became a symbol for the people of Hawaii.
The story goes that the ukulele was introduced in Hawaii about 1879, by a group of Portuguese immigrants from Madeira. João Fernandes, a native of Madeira, is credit with having played the "braguinha" – the original name in Portuguese — in Hawaii for the first time. The Hawaiians renamed the "braguinha" as "ukulele" in reference to "jumping flea" as suggested by the jumping motion of the hands playing the instrument.
The ukulele, was introduced in the mainland United States around 1915, after being featured at the Panama Pacific International Exposition in San Francisco. Later the ukulele gained acclaim in Japan and the United Kingdom and from there around the world.
It became a symbol of the jazz age and musicians such a Elvis Presley, George Harrison, Elvis Costelo, Bruce Springsteen and Tiny Tim were fond of the famous easy to play Portuguese string instrument in Hawaii. Ukulele festivals are popular all over the United States and Canada as well as in many other parts of the world. February 2nd is the International Ukulele Day.
The first Portuguese immigrated to Hawaii around 1794. They were whalers who jumped ship. Many of those sailors were from Faial, Graciosa, and São Jorge. Some were from Cape Verde.
Additional Portuguese settlers came from the Madeira Islands in 1879 to work on the sugar cane fields. Between 1878 and 1913, more than 20,000 Portuguese men, women, and children traveled from Madeira the Azores and Portugal the Hawaiian Islands. An estimated 4 percent (48,527) of the population of Hawaii today is of Portuguese descent.
National Truffle Day
Do the truffle shuffle! May 2 is National Truffle Day.
A little more rare than your average pack of button mushrooms at the grocery store, these underground beauties that seem to magically surface at the foot of trees are definitely special enough to get their own day.
There are plenty of species of truffles, but only a few are prized as edible. White and black truffles are the favorites, with white being a little more dense and pungent. While they are difficult to cultivate, it is possible - and folks still use their specially trained truffle hogs, or even dogs, to help sniff them out among the acorns. If you've got a passion for it, you could turn it into quite a business like this Jack Czarnecki in Oregon.
Truffles are best used sparingly because the aroma itself can be intense. You can serve them shaved over a warm pasta dish or fried eggs. You can also slip thin slices of truffle into the holiday stuffing. Just be warned if you decide to reach for some truffle oil to splash over your fancy fries, there is a chance it has no truffle derivative in it whatsoever.
Now, for those of you who fancy chocolate over a rare mushroom, we hear you. Since there's no rule on which type of truffle today is devoted to, feel free to indulge in the round chocolate confection that bears the same name.
No Pants Day
On the first Friday of May each year, thousands of people celebrate a little-known holiday called No Pants Day. Logically, they celebrate this holiday by not wearing any pants. While some clever people note that you could celebrate by wearing a dress, skirt, kilt or other pants alternative, traditionalists will argue that such clothing is not in keeping with the spirit of the day.
The history of No Pants Day is shrouded in mystery. Some say that the first No Pants Day was either in 1985 or 1986. Others point to the late 1990s as the beginning of the leg liberation movement. Most agree that the holiday has survived and thrived as a result of the efforts of The Knighthood of BUH chapter at the University of Texas in Austin, an organization dedicated to the promotion of humor and individuality. The holiday gets media attention every year, and as a result events celebrating No Pants Day have popped up in cities across the globe.
The promoters of No Pants Day claim that the holiday is really about not taking yourself seriously for a day. It's an example of surreal humor, which relies on an absurd situation (in this case, crowds of people walking around wearing no pants). Similar examples of groups indulging in surreal humor are flash mobs, where a group of people assemble at a predetermined location, engage in some activity (such as singing a song or having a pillow fight) and then disperse.
International Scurvy Awareness Day
International Scurvy Awareness Day is celebrated on 2 May. Scurvy, a condition typified by tiredness, muscle weakness, joint and muscle aches, rash on the legs and bleeding gums, is caused by a lack of Vitamin C. Interestingly, Vitamin C, or ascorbic acid, got it's name from 'scorbutus', the Latin name for scurvy.
Scurvy used to be a common ailment suffered by sailors, soldiers and others who did not have access to fresh fruit and vegetables for extended periods of time.
These days, with most people having ready access to fresh fruit and veges, or alternatively Vitamin C-enriched processed fruit, scurvy is usually only found among people on very restricted diets, people who are under extreme psychological stress, chronic alcoholics or heavy smokers. Babies weaned from breast milk and switched to cow's milk without Vitamin C supplementation may also develop symptoms, including swelling of the legs, fever diarrhoea and vomiting. Once symptoms of scurvy manifests in a patient, it can be effectively treated with a daily dose of between 300 and 1000mg of ascorbic acid (or 50mg taken 4 times a day, in the case of infants). Left untreated, however, the condition can result in death.
The amazing thing is that, despite the cure for scurvy being so simple, and well-known, there are still hundreds of cases of scurvy reported each year.
So, on International Scurvy Awareness Day, the message is to treat yourself to regular helpings of fresh fruit and vegetables, and preferably to also take a daily Vitamin C supplement, especially if you are under stress, on medication, or regularly smoke or use alcohol.
Avoiding scurvy is as simple as anything. To quote Limestrong.com, home of International Scurvy Awareness Day,
"This goal is made even easier by the fact that Scurvy is one of only two diseases known to modern medicine that can be easily cured by drinking a wide variety of readily available cocktails. Just enjoying a Bloody Mary, Margarita, fruit tart, or even just a cool glass of lemonade twice a week will ensure that you stay fit and healthy."
World Tuna Day
A year ago marked the inaugural annual intern international World Tuna Day on 2nd May, a celebration long overdue, at least for us in this part of the world. Tuna, is the most common commodity that all Pacific Island Countries have rights to.
Industrial efforts have been growing in recent decedes however as overcapacity and overfishing in other ocean send fleets looking for new homes our waters grow increasingly susceptible to illegal, unregulated and unreported activities.
World Tuna Day, serves to remind us all, just how valuable tuna is! It is vital to our people as the source of much of our nutrition and continued food security. The welfare, culture and identity of our islands don't have much else to depend on. Revenue our governments derive from this resource continues to support our small island developing economies and the number of jobs that the region's marine resources generate.
What is also crucial to appreciate is that our Exclusive Economic Zones (EEZ) and the wider Western and Central Pacific Ocean (WCPO) is the last remaining healthy ocean in terms of stock status making it the most valuable in the world. The WCPO provisions more than half of the global tuna supply, more than half of the WCPO is encompassed within PIC EEZs.
Tuna fishing has grown from a marginal industry, to lucrative business to a billion dollar industry.
Despite the above well-understood facts and our legally guaranteed birth entitlement to these resources our sovereign rights continue to be challenged.
So whether you enjoy a meal of just rightly seared piece of tuna steak, the traditional Japanese-style sashimi or the good old fashioned island 'ota ika' make sure you think about your right to enjoy the delicious taste that leaves in your mouth. Also think about your right to pass that onto your children and their children.
PITIA calls on Pacific Island Communities in its entirety to place the same importance that we place on what this resource is worth, and extend the level of support that our fisheries managers and developers need to secure the sustainability of the tuna fishery.