Memorial Day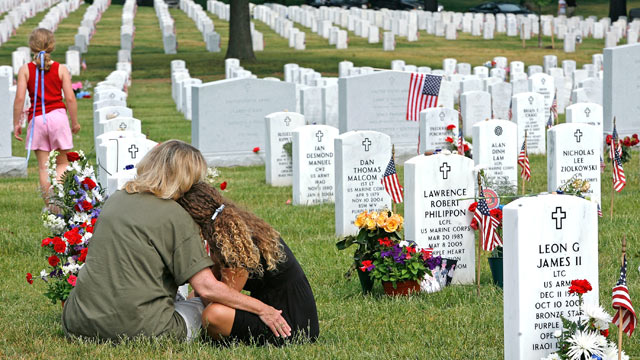 Memorial Day, an American holiday observed on the last Monday of May, honors men and women who died while serving in the U.S. military. Originally known as Decoration Day, it originated in the years following the Civil War and became an official federal holiday in 1971. Many Americans observe Memorial Day by visiting cemeteries or memorials, holding family gatherings and participating in parades. Unofficially, at least, it marks the beginning of summer.
The Civil War claimed more lives than any conflict in U.S. history, requiring the establishment of the country's first national cemeteries. By the late 1860s Americans in various towns and cities had begun holding springtime tributes to these countless fallen soldiers, decorating their graves with flowers and reciting prayers.
It is unclear where exactly this tradition originated; numerous different communities may have independently initiated the memorial gatherings. Nevertheless, in 1966 the federal government declared Waterloo, New York, the official birthplace of Memorial Day. Waterloo—which had first celebrated the day on May 5, 1866—was chosen because it hosted an annual, community-wide event, during which businesses closed and residents decorated the graves of soldiers with flowers and flags.
On May 5, 1862, General John A. Logan, leader of an organization for Northern Civil War veterans, called for a nationwide day of remembrance later that month. "The 30th of May, 1868, is designated for the purpose of strewing with flowers, or otherwise decorating the graves of comrades who died in defense of their country during the late rebellion, and whose bodies now lie in almost every city, village and hamlet churchyard in the land," he proclaimed. The date of Decoration Day, as he called it, was chosen because it wasn't the anniversary of any particular battle.
On the first Decoration Day, General James Garfield made a speech at Arlington National Cemetery, and 5,000 participants decorated the graves of the 20,000 Union and Confederate soldiers buried there. Many Northern states held similar commemorative events and reprised the tradition in subsequent years; by 1890 each one had made Decoration Day an official state holiday. Many Southern states, on the other hand, continued to honor their dead on separate days until after World War I.
Memorial Day, as Decoration Day gradually came to be known, originally honored only those lost while fighting in the Civil War. But during World War I the United States found itself embroiled in another major conflict, and the holiday evolved to commemorate American military personnel who died in all wars.
For decades, Memorial Day continued to be observed on May 30, the date Logan had selected for the first Decoration Day. But in 1968 Congress passed the Uniform Monday Holiday Act, which established Memorial Day as the last Monday in May in order to create a three-day weekend for federal employees; the change went into effect in 1971. The same law also declared Memorial Day a federal holiday.
Cities and towns across the United States host Memorial Day parades each year, often incorporating military personnel and members of veterans' organizations. Some of the largest parades take place in Chicago, New York and Washington, D.C. Americans also observe Memorial Day by visiting cemeteries and memorials. On a less somber note, many people throw parties and barbecues on the holiday, perhaps because it unofficially marks the beginning of summer.
National Blueberry Cheesecake Day
National Blueberry Cheesecake Day is celebrated every year on May 26th. It is for the celebration of Blueberry cheese cake and all the cake lovers. It's a food holiday and has a special place in food lovers heart.
There is no evidence to show the origin of national blueberry cheesecake day. But, Cheesecake originated in ancient Greece and blueberry cheese cake is one of favorites.
How else can you celebrate National Blueberry Cheesecake? Eat lots of blueberry cheese cake. You can also try different varieties of blueberry cheese cake on this day. You can also visit cheese cake factory and feel the experience of cheese cake making. You can also taste the freshly baked blueberry cheese cake. Take your kids along also and they can learn how a cheese cake is made. You can pick up blueberry cheese cake from nearby bakery shops also and can invite your friends and family members to a blueberry cheese cake treat. If you are good in cooking you can even cook your variety of blueberry cheese cake to make it a perfect celebration.
Sally Ride Day
Sally Ride Day is celebrated on May 26th of each year in honor of America's first woman astronaut. Sally Kristen Ride (May 26, 1951 – July 23, 2012) was an American physicist and astronaut. Ride joined NASA in 1978 and at the age of 32, became the first American woman to enter into low Earth orbit in 1983. She left NASA in 1987 to work at Stanford University's Center for International Security and Arms Control and had served on the investigation panels for two space shuttle disasters (Challenger and Columbia)—the only person to serve on both. She founded a company, Sally Ride Science, in 2001. She co-authored five children's science books with her life partner of 27 years, Tam O'Shaughnessy, as well as another dozen or so space-related titles. Ride remains the youngest American astronaut to be launched into space.
Ride was one of 8,000 people to answer an advertisement in a newspaper seeking applicants for the space program. As a result, she joined NASA in 1978. During her career, Ride served as the ground-based capsule communicator (CapCom) for the second and third Space Shuttle flights (STS-2 and STS-3) and helped develop the Space Shuttle's robot arm.
Prior to her first space flight, she was subject to media attention due to her gender. During a press conference, she was asked questions like "Will the flight affect your reproductive organs?" and "Do you weep when things go wrong on the job?" Despite this and the historical significance of the mission, Ride insisted that she saw herself in only one way—as an astronaut. On June 18, 1983, she became the first American woman in space as a crew member on Space Shuttle Challenger for STS-7. She was preceded by two Soviet women, Valentina Tereshkova in 1963 and Svetlana Savitskaya in 1982. The five-person crew of the STS-7 mission deployed two communications satellites and conducted pharmaceutical experiments. Ride was the first woman to use the robot arm in space and the first to use the arm to retrieve a satellite.
Her second space flight was in 1984, also on board the Challenger. She spent a total of more than 343 hours in space. Ride, who had completed eight months of training for her third flight (STS-61-M, a TDRS deployment mission) when the Space Shuttle Challenger disaster occurred, was named to the Rogers Commission (the presidential commission investigating the accident) and headed its subcommittee on operations. Following the investigation, Ride was assigned to NASA headquarters in Washington, DC, where she led NASA's first strategic planning effort, authored a report entitled "NASA Leadership and America's Future in Space", and founded NASA's Office of Exploration.
World Lindy Hop Day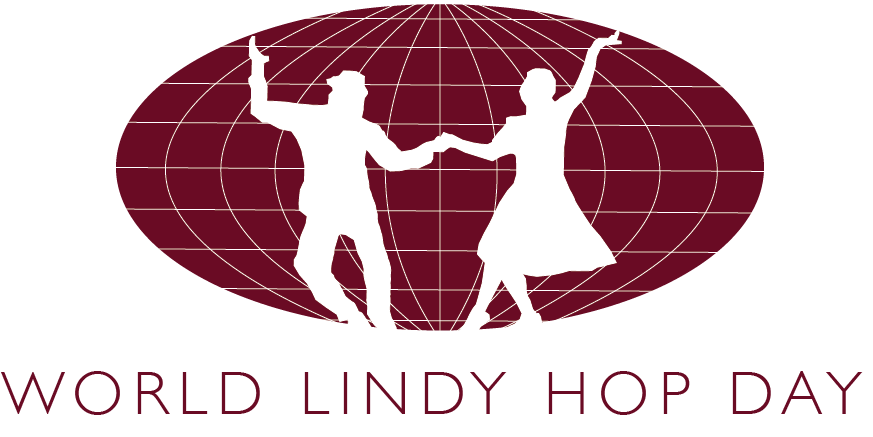 World Lindy Hop Day welcomes people from all walks of life, all ages, and from around the world to experience this exuberant African American social dance. Originating in Harlem, New York City in the 1920s and 1930s, the Lindy Hop is done to the big band jazz of the era. While swing music is generally known, our goal is to spread the dance to a wider global arena.
The universal language of the Lindy Hop (aka swing dancing or jitterbug) features creative and exhilarating movements that allow partners to connect in a way that uplifts the spirit, promotes human connection, and develops generosity. It allows dancers to meet in a positive environment that supports the building of bridges on personal, community, and global levels.
The vision of World Lindy Hop Day dovetails with that of our sponsor, the Frankie Manning Foundation:
"The Lindy Hop will be danced all over the world, to live big band music when possible or to recorded music when live music is not accessible. Everywhere that Lindy Hop is danced, on the dance floors and off, people of diverse backgrounds will treat each other with respect and warmth. The history of the originators of the Lindy Hop at the Savoy Ballroom will be made known to dancers and non-dancers everywhere."
Grounded in unity and collaboration, World Lindy Hop Day, celebrated every May 26th, encourages people from all different backgrounds to enjoy and share the many benefits of this joyous and enduring dance.
The 2014 celebration will be the formal inauguration of May 26th (Frankie Manning's birthday) as World Lindy Hop Day!
The Lindy Hop is an energetic African-American partner dance that came to fruition in Harlem's dance halls, most notably the Savoy Ballroom, in the late 1920s and early 1930s. The Lindy's development was closely linked to and hugely influenced by the music of the time–big band jazz, also called swing music.
The elegant Savoy Ballroom was mecca for Lindy Hoppers because the best bands played there for the best dancers, devotees who pushed the boundaries of ballroom dancing to create a spectacularly exciting form. The Lindy became a worldwide phenomenon during the Swing Era (1935-45), popularized as the jitterbug or swing dancing, lighting up ballrooms, theaters, nightclubs, and films throughout the Great Depression and World War II.
The Lindy developed from several dances, including the breakaway, Charleston, and collegiate, and throughout its history has updated itself by absorbing and adapting popular jazz steps and dances of the era. With roots in solo dances of tribal Africa and partnered dances of Europe, the Lindy can be classified as a jazz dance and is a member of the swing dance family. This exuberant dance's basic step is the eight-count swing-out. While Lindy Hoppers draw on an extensive shared vocabulary of figures, the dance also allows for and encourages improvisational movements as well as personal styling and expression.
When bebop jazz replaced swing music in the 1950s, followed by rock 'n' roll taking center stage in American cultural life, the Lindy went into a period of decline. Beginning in the 1980s, a groundswell of interest in vintage culture brought attention to swing music and dance. Enthusiasts in America, Sweden, and England rediscovered the Lindy and initiated a revival that's been growing in popularity ever since. There are now over forty countries on five continents where swing dance societies, clubs, and studios offer dances, classes, performances, camps, and large-scale festivals. Today's Lindy Hopper can travel the world communicating with people from a diverse range of national and ethnic backgrounds through the universal language of swing dancing.
One of the prime creators of the Lindy Hop, and the most influential person in swing dance history, Frankie Manning was born in Florida on May 26th, 1914. He moved to Harlem as a child, where he first saw dancing at neighborhood rent parties and ballrooms. By the early 1930s, Frankie was a regular at the legendary Savoy Ballroom. While part of the Savoy's inner circle of elite dancers, Frankie introduced many innovations into the Lindy Hop, including the air step and synchronized ensemble routines. His ideas, done to this day, revolutionized the Lindy, catapulting it from ballroom to stage and screen. As chief choreographer and lead dancer for the sensational Whitey's Lindy Hoppers, Frankie created and danced in routines for numerous films, including his masterpiece, Hellzapoppin' (1941), and performed internationally in theaters and nightclubs with Duke Ellington, Cab Calloway, Ethel Waters, Billie Holiday, and many other jazz greats of the Swing Era.
After active service in the United States Army during World War II, Frankie helmed his own troupe. The Congaroo Dancers were a hugely successful act, appearing with Nat King Cole, Sarah Vaughan, Tony Bennett, and other stars. But as musical tastes changed, demand for Frankie's brand of entertainment diminished, and he gave up show business for a day job. After working in the U.S Postal Service for thirty years, Frankie was rediscovered in the 1980s by a new generation of swing enthusiasts. Suddenly in great demand, he traveled constantly for the next twenty-five years to share the dance he never stopped loving—teaching, performing, choreographing, and lecturing for dancers clamoring to study with the master.
Frankie served as a consultant for and danced in Spike Lee's Malcolm X and Debbie Allen's Stompin' at the Savoy. Among many honors, he received a Tony Award for his choreography in the Broadway hit, Black and Blue. Hundreds of articles and dozens of documentaries, including profiles by GQ, People, 20/20, and Jazz: A Film by Ken Burns chronicled his activities. His memoir, Frankie Manning: Ambassador of Lindy Hop, was published by Temple University Press in 2007.
Although Frankie passed away in 2009, he is still beloved, revered, and emulated by swing dancers around the world with an enthusiasm that cannot be quantified. Since the 1980s, his birthday has inspired special events across the globe in celebration of the man, the music, and the dance. On May 26th, Lindy Hoppers everywhere have gathered to swing out to big band jazz, communing via the joyous dance they feel so lucky to share. For these reasons, and in honor of Frankie Manning, we have declared that May 26th forever be known as World Lindy Hop Day.
National Sorry Day
The National Sorry Day is an Australia-wide event observed annually on 26 May since 1998. The day is selected in memory of the 'Bringing Them Home' report being handed to the federal government on 26 May 1997. It is not yet recognised as official holiday, although there have been calls by some Aboriginal leaders to make it one. The National Sorry Day is a commiserative Australian event held annually on May 26th.
The reason for the origin of the national sorry day can be traced back to the Aboriginal Protection Act, 1869. According to this children of the indigenous peoples of Australia and children of mixed descent were forcibly removed from their parents' homes. The government took over guardianship powers over these children and they were placed in government housing and raised away from their families. The government justifies its action in the name of protection of the children and assimilating them into European society.The National Sorry Day was first held on May 26, 1998 a year after the tabling of a report about the forced removal of Aboriginal and Torres Strait Islander children from their families. It is this report called Bring Them Home report that suggested the establishment of the National Sorry Day. The report questions the Australian government's justification to the major wrong done to the native peoples of Australia. In spite of all these, the Australian government has never formally apologized to the indigenous people for what it has done to them. In 2004 the day is renamed National Day of Healing, as it is the first step towards healing. But later it is decides to retain the name National Sorry Day.
The national sorry day is designed to express regret over the historical mistreatment of Aboriginal peoples. This is an occasion for people to come together and share the steps towards healing for the indigenous Australians who were forcibly removed from their families and communities.
The National Sorry Day celebrations include writing messages and sign "sorry books", concerts and barbecues, reconciliation walks, flag hoisting, street marches, morning teas/ lunches, media statements from politicians within federal, state and local governments and speeches from community leaders and educators. All these events are organised to show commitment towards reconciliation. In schools students will light candles and there will be essay competitions and film screening as well