End of the Middle Ages Day is celebrated on May 29th of each year.
In European history, the Middle Ages, or Medieval period, lasted from the 5th to the 15th century. It began with the collapse of the Western Roman Empire and merged into the Renaissance and the Age of Discovery. The Middle Ages is the middle period of the three traditional divisions of Western history: Antiquity, Medieval period, and Modern period. The Medieval period is itself subdivided into the Early, the High, and the Late Middle Ages.
Depopulation, deurbanisation, invasion, and movement of peoples, which had begun in Late Antiquity, continued in the Early Middle Ages. The barbarian invaders, including various Germanic peoples, formed new kingdoms in what remained of the Western Roman Empire. In the 7th century, North Africa and the Middle East, once part of the Eastern Roman Empire came under the rule of the Caliphate, an Islamic empire, after conquest by Muhammad's successors. Although there were substantial changes in society and political structures, the break with Antiquity was not complete. The still sizable Byzantine Empire survived in the east and remained a major power. The empire's law code, the Code of Justinian, was rediscovered in Northern Italy in 1070 and became widely admired later in the Middle Ages. In the West, most kingdoms incorporated the few extant Roman institutions. Monasteries were founded as campaigns to Christianize pagan Europe continued. The Franks, under the Carolingian dynasty, briefly established an empire covering much of Western Europe; the Carolingian Empire in the later 8th and early 9th century, when it succumbed to the pressures of internal civil wars combined with external invasions—Vikings from the north, Magyars from the east, and Saracens from the south.
During the High Middle Ages, which began after AD 1000, the population of Europe increased greatly as technological and agricultural innovations allowed trade to flourish and the Medieval Warm Period climate change allowed crop yields to increase. Manorialism, the organisation of peasants into villages that owed rent and labor services to the nobles, and feudalism, the political structure whereby knights and lower-status nobles owed military service to their overlords in return for the right to rent from lands and manors, were two of the ways society was organised in the High Middle Ages. The Crusades, first preached in 1095, were military attempts by Western European Christians to regain control of the Middle Eastern Holy Land from the Muslims. Kings became the heads of centralized nation states, reducing crime and violence but making the ideal of a unified Christendom more distant. Intellectual life was marked by scholasticism, a philosophy that emphasized joining faith to reason, and by the founding of universities. The philosophy of Thomas Aquinas, the paintings of Giotto, the poetry of Dante and Chaucer, the travels of Marco Polo, and the architecture of Gothic cathedrals such as Chartres are among the outstanding achievements of this period.
The Late Middle Ages was marked by difficulties and calamities including famine, plague, and war, which much diminished the population of Western Europe; between 1347 and 1350, the Black Death killed about a third of Europeans. Controversy, heresy, and schism within the Church paralleled the warfare between states, civil wars, and peasant revolts occurring in the kingdoms. Cultural and technological developments transformed European society, concluding the Late Middle Ages and beginning the early modern period.
The International Day of United Nations Peacekeepers is a day to remember those who served in United Nations (UN) peacekeeping operations. They also honor the memory of people who died in the name of peace.
Many activities are organized on this day. Activities include:
Notes in official UN documents and schedules.
Presentations during UN meetings and events.
Memorial services and wreath laying events for those who died in peace keeping missions.
Presentation of the Dag Hammarskjöld Medal as a way to honor military, police and civilian personnel who lost their lives while working for UN peacekeeping operations.
Awarding peacekeeping medals to military and police officers who are peacekeepers.
The launch of photographic and multimedia exhibitions on the work of UN peacekeepers.
The events take place in places such as the UN headquarters in New York in the United States, as well as Vienna, Australia, and other locations worldwide.
The UN Truce Supervision Organization (UNTSO) was founded on May 29, 1948. UNTSO's task was to assist peacekeepers to observe and maintain a cease-fire. This cease-fire marked the end of the hostilities between Israel and the Arab League forces. The hostilities started after the end of the British Mandate of Palestine on May 14, 1948. On December 11, 2002, the UN General assembly designated May 29 as the International Day of United Nations Peacekeepers. The day was first observed on May 29, 2003.
The International Day of United Nations Peacekeepers is a tribute to people who serve or have served in UN peacekeeping operations. The peacekeepers are honored for their high level of professionalism, dedication and courage. People who died for peace are also remembered.
UN Peacekeepers are usually clearly recognizable. They often display the UN flag and the letters "UN" on their clothing, equipment and vehicles. They also wear hats, helmets or other clothing with UN colors.
Learn About Composting Day is observed on May 29, 2014. Compost is organic matter that has been decomposed and recycled as a fertilizer and soil amendment. Compost is a key ingredient in organic farming. At the simplest level, the process of composting simply requires making a heap of wetted organic matter (leaves, "green" food waste) and waiting for the materials to break down into humus after a period of weeks or months. Modern, methodical composting is a multi-step, closely monitored process with measured inputs of water, air, and carbon- and nitrogen-rich materials.
The decomposition process is aided by shredding the plant matter, adding water and ensuring proper aeration by regularly turning the mixture. Worms and fungi further break up the material. Aerobic bacteria manage the chemical process by converting the inputs into heat, carbon dioxide and ammonium. The ammonium is further converted by bacteria into plant-nourishing nitrites and nitrates through the process of nitrification.
Your pillow brings you comfort every night but you've probably been frustrated at how this resource is often wastefully ignored throughout each day. However, during Put A Pillow On Your Fridge Day you can make sure your pillow is working all day to bring you prosperity and good fortune.
Before the invention of refrigerators in the 1920s, people in Europe and the USA would put cloth in their larder for good luck once a year. Food storage habits have changed since then, putting the future of this fine tradition in doubt. However, this event has survived the scare and is back stronger than ever. All you need to do is place a pillow on your fridge on the correct day. The observant among you may notice that the true equivalent of the old tradition would be to put a pillow inside your fridge. Perhaps try both to make sure you don't miss out on any of that luck!
Sweet or salty. Soft or crunchy. Simple or exotic. Everybody loves munching on biscuits, but do they know how biscuits began?
The history of biscuits can be traced back to a recipe created by the Roman chef Apicius, in which "a thick paste of fine wheat flour was boiled and spread out on a plate. When it had dried and hardened it was cut up and then fried until crisp, then served with honey and pepper."
The word 'Biscuit' is derived from the Latin words 'Bis' (meaning 'twice') and 'Coctus' (meaning cooked or baked). The word 'Biscotti' is also the generic term for cookies in Italian. Back then, biscuits were unleavened, hard and thin wafers which, because of their low water content, were ideal food to store.
As people started to explore the globe, biscuits became the ideal travelling food since they stayed fresh for long periods. The seafaring age, thus, witnessed the boom of biscuits when these were sealed in airtight containers to last for months at a time. Hard track biscuits (earliest version of the biscotti and present-day crackers) were part of the staple diet of English and American sailors for many centuries. In fact, the countries which led this seafaring charge, such as those in Western Europe, are the ones where biscuits are most popular even today. Biscotti is said to have been a favourite of Christopher Columbus who discovered America!
Making good biscuits is quite an art, and history bears testimony to that. During the 17th and 18th Centuries in Europe, baking was a carefully controlled profession, managed through a series of 'guilds' or professional associations. To become a baker, one had to complete years of apprenticeship - working through the ranks of apprentice, journeyman, and finally master baker. Not only this, the amount and quality of biscuits baked were also carefully monitored.
The English, Scottish and Dutch immigrants originally brought the first cookies to the United States and they were called teacakes. They were often flavoured with nothing more than the finest butter, sometimes with the addition of a few drops of rose water. Cookies in America were also called by such names as "jumbles", "plunkets" and "cry babies".
As technology improved during the Industrial Revolution in the 19th century, the price of sugar and flour dropped. Chemical leavening agents, such as baking soda, became available and a profusion of cookie recipes occurred. This led to the development of manufactured cookies.
Interestingly, as time has passed and despite more varieties becoming available, the essential ingredients of biscuits haven't changed - like 'soft' wheat flour (which contains less protein than the flour used to bake bread) sugar, and fats, such as butter and oil. Today, though they are known by different names the world over, people agree on one thing - nothing beats the biscuit!
Some interesting facts on the origin of other forms of biscuits:
The recipe for oval shaped cookies (that are also known as boudoir biscuits, sponge biscuits, sponge fingers, Naples biscuits and Savoy biscuits) has changed little in 900 years and dates back to the house of Savoy in the 11th century France. Peter the Great of Russia seems to have enjoyed an oval-shaped cookie called "lady fingers" when visiting Louis XV of France.
The macaroon - a small round cookie with crisp crust and a soft interior - seems to have originated in an Italian monastery in 1792 during the French Revolution.
SPRING-uhr-lee, have been traditional Christmas cookies in Austria and Bavaria for centuries. They are made from a simple egg, flour and sugar dough and are usually rectangular in shape. These cookies are made with a leavening agent called ammonium carbonate and baking ammonia.
The inspiration for fortune cookies dates back to the 12th and 13th Centuries, when Chinese soldiers slipped rice paper messages into moon cakes to help co-ordinate their defence against Mongolian invaders.
Paper Clip Day
May 29 celebrates a product that most of us take for granted. It's Paper Clip Day, an annual "holiday" that recognizes those handy dandy products that help keep us organized and our desks nice and neat.
The History of Paper Clips
While today's clips are available in a slew of colors, shapes and sizes, Johan Vaaler, a Norwegian inventor who lived from 1866 to 1910, is often credited as inventing the paper clip back in 1899. But it was Gem Manufacturing LTD that actually created the "double oval" shape design we still use today.
During World War II, the Germans forbade Norwegians to wear buttons with the Norwegian king's initials on their clothing. As a sign of solidarity, the people wore paperclips on their clothing to symbolize the Norwegian invention and to symbolize unity. Later, anyone caught wearing a paper clip was subject to immediate arrest! Today, a giant paper clip monument has been erected near Oslo to honor Vaaler's contribution.
The next time you use a paper clip to help tidy up your papers or work area, give a little love and a silent shout-out to the folks who turned small pieces of wire into a useful product that helps make our lives a lot easier!
International Coq Au Vin Day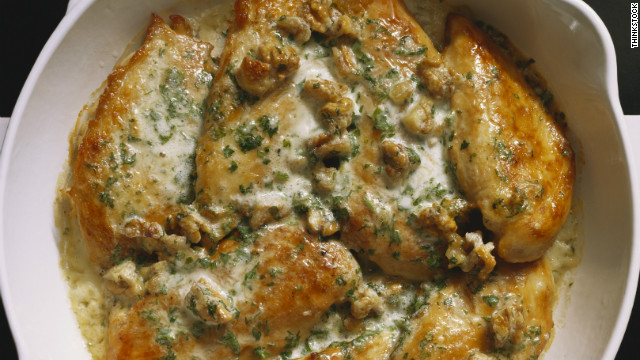 Today is International Coq Au Vin Day! Coq Au Vin is French for "rooster with wine." It is a popular dish made with braised chicken that is slowly cooked with red wine, mushrooms, pork fat, and various spices. According to some legends, Coq Au Vin has ties to Julius Caesar or Napoleon, but most historians agree that the dish has more humble roots. Roosters are only butchered when they are quite old and rather inedible. Peasant families most likely invented the Coq Au Vin recipe to avoid wasting the meat.
Coq Au Vin became popular in the United States thanks to Julia Child, who featured the dish in her cookbook Mastering the Art of French Cooking. It also appeared many times on her TV show "The French Chef." Today, it is a popular dish in many French restaurants, but it is also a fabulous dish to cook at home.
To celebrate International Coq Au Vin Day, embrace your inner chef and plan a French-inspired dinner party. Bon Appétit!